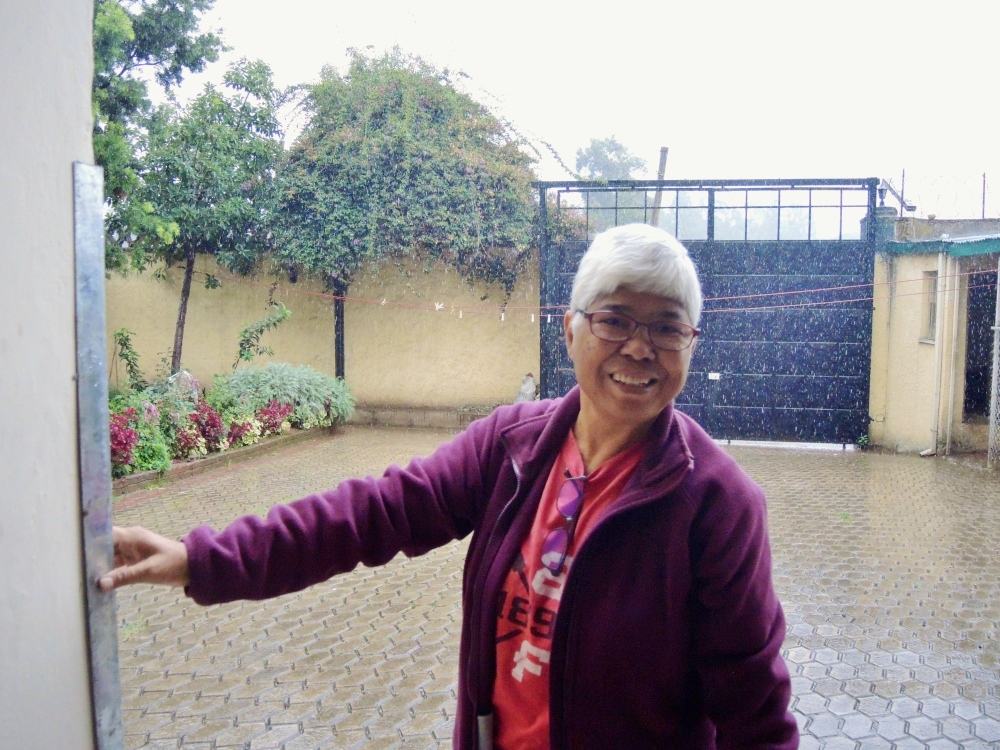 After Redito served as a doctor and a hospital director, her latest position is construction contractor. She oversees the construction of a new maternity and surgery wing, and then hopes to return to her native Philippines next year. (GSR photo / Melanie Lidman)
After 33 years as a doctor in Ethiopia, Sr. Antonia (Toni) Redito knows that everyone from the nurse to the obstetrician must know how to change a tire on a Jeep. And sometimes it's better to call the maintenance man than the on-duty surgeon. For this Medical Mission Sister, common sense, a cool head during emergencies and a willingness to be creative are the best ways to thrive as a doctor in challenging medical conditions of developing countries, she says.
Global Sisters Report met Redito as she was putting the finishing touches on a new wing at the Our Lady of Lourdes Primary Hospital in Attat, Ethiopia, where she was previously a doctor and the hospital director, and now is the construction contractor. Redito reflects on her three decades in Ethiopia as she prepares to return to her home in the Philippines next year.
GSR: You became a sister after already finishing your medical studies. What prompted that decision?
Redito: Many people who knew me before couldn't believe I became a sister. They said, 'You're a doctor, how could you turn your back on all that money?' My specialty was anesthesiology, and after I graduated I was trying to look for my mission in life. My friends and I were interested in working internationally. I passed the ECFMG exam [Educational Commission for Foreign Medical Graduates], which foreign doctors take who want to work in the U.S. I was also accepted at a few hospitals in Germany, but I dropped out of language school after two days because German was too hard. I had a very easygoing life. My parents had the means to send us to school, and I didn't really have to work if I didn't want to.
But then my father died suddenly in 1977. He was only sick for one week. And it hit me, life is there and then it's gone. I started questioning, what am I doing? I thought, maybe I will find my way through my profession as a doctor. I started applying to work as a volunteer at the U.N. or do some work with indigenous tribes. Then I heard about this group, the Medical Mission Sisters. My sister had a friend whose aunt was a doctor and an MMS. When I decided to become a sister, my mother was crying, 'Why are you leaving me?' All my siblings were saying, 'Don't worry, she'll come back, she won't make it. She'll have to cook and clean and wash her clothes, she'll come back soon.'
I joined the sisters at age 33. Right after my first vows, I was in this boat that caught fire. It was a ferry between islands and it caught fire in the middle of the night. I had to jump into the shark-infested waters. And suddenly, I realized that I had presence of mind to handle emergencies. Now I like challenges, I thrive in challenges. Like in the hospital, people will be running around saying, 'There was a car accident! So many victims!' And I will just look around and I can immediately assess what needs to be done.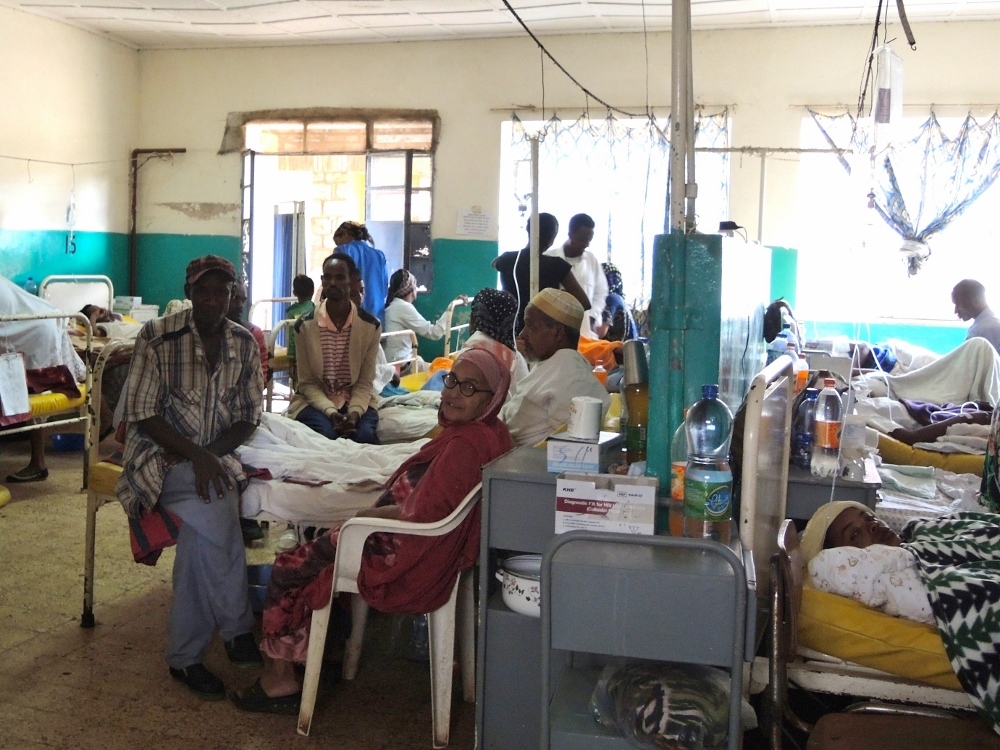 The Attat Hospital is a converted monastery, and the main inpatient wards are converted classrooms. The wards are crowded and, given the layout, it is not possible to separate genders. After the new wing is completed, the inpatient ward will also undergo renovations. (GSR photo / Melanie Lidman)
What is the most important thing that you've learned?
My biggest lesson is to learn from the people. Enculturation. When you come to a new place, these people have a history and a culture. There are good traditions and bad traditions. Here, the good traditions are the customs about hospitality and the respect they have for elders, as well as their community spirit.
Yes, the way they look at time and the way we look at time is different. But if it's not a big barrier, then just let it be. You have to adjust a lot. That's how I surmount problems in the bureaucracy. I didn't find it difficult to deal with Ethiopians, even in government offices. I always accomplished what I had to do. If you appeal to them in the right way, they'll give you whatever help they can. You must always behave as if you are the visitor in the country.
You also have to be creative. Once, I treated a 12-year-old boy who fell out of a tree and was impaled on a spear. I was alone at the hospital, and they said, 'Should we do an X-ray?' I said, 'No, call the maintenance man, and tell him to bring his saw.' I didn't need an X-ray, I saw exactly where the spear was. The maintenance man helped me cut up the spear piece by piece so I could repair the damage to his internal organs along the way. The surgery took four hours, but he survived. Twenty years later, he brought his mother to Attat for treatment and he recognized me! He has three kids now, and he showed me his scar. This is a miracle. Imagine!
Do you have any regrets?
My frustration here is when I cannot say what I mean [in Amharic]. I'm not so good in languages. That is a regret. When you're a doctor, immediately you start working and they give you a translator. I had only six weeks of language and then I started working. My advice is to learn the language no matter how short the assignment is. I was only supposed to be in Ethiopia for three years.
My other regret is that you leave your family. I had two sisters who died when I wasn't there. But I was there for my mother when she died. She was a big supporter after she saw how serious I was. There is a cost for everything, and you have to give up your family to do this.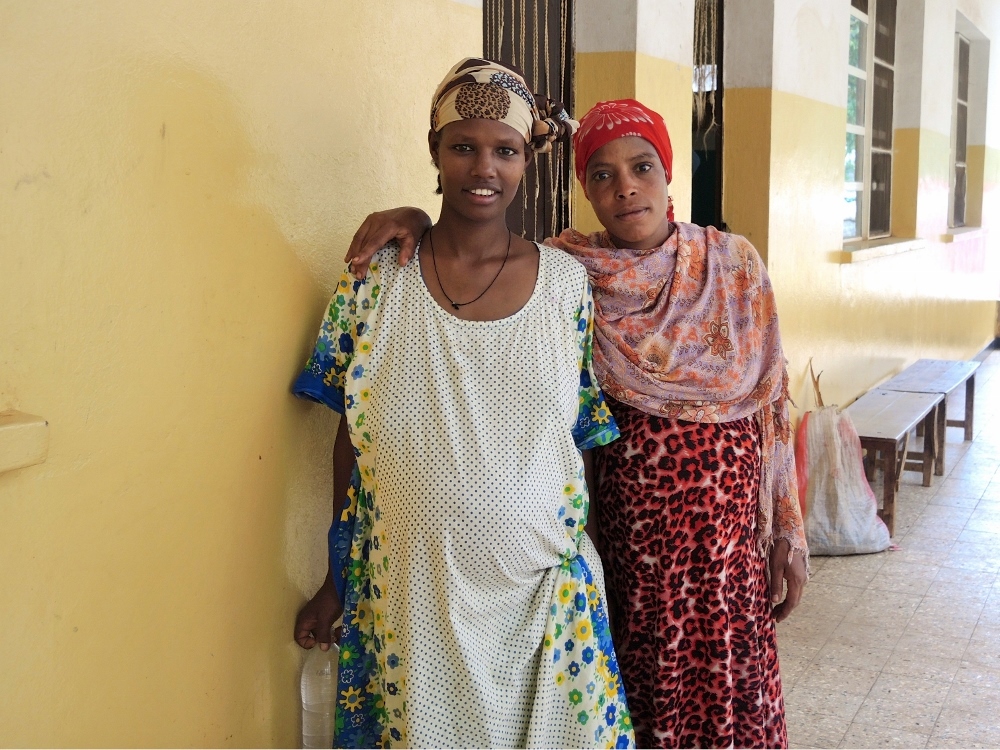 Two expectant mothers outside the maternal waiting area. The hospital's main focus is maternal health and deliveries. (GSR photo / Melanie Lidman)
How is it different being a doctor in a developing country than if you had gone to the U.S. or Germany?
When you're in Africa, you have to know everything, including being a mechanic and a plumber and a farmer in addition to being a doctor. Now when I see what needs to be done, I see if I'm able to respond in any capacity, and then I just do it. If something needs to be repaired, I do it. I'm everything from a cleaner all the way up to a doctor. That's how I became a hospital director, even without training.
I was a doctor, but there was no one to act as an administrator after one Indian sister went back to India. So I just did it. Being an administrator takes a lot of common sense and being able to feel what other people feel. The way I look at problems in my country is like typhoons coming in from the sea. One typhoon lands, and you deal with it, but there are several that are there waiting. Problems are there to be solved. But you solve one problem, and there's so many more to be solved.
What are your future plans?
I'm going back to the Philippines soon after I finish overseeing the construction of a new wing of the hospital. My family is saying, 'Come back.' It is time to slow down, but I'm not slowing down here because there's always so much to do. It has been a rewarding life.
Here in Ethiopia I've been so fulfilled as a professional and my soul has been nourished. I will always be grateful to the Ethiopian people and this country. Here, I am able to contribute. I have done something with my life; I can say that. For example, in the Gospel, they talk about how you are given talents, and they ask, have you used it? When you're in a place like this, you're always growing and discovering who you are. I made my first vows and then came to Ethiopia. I was supposed to be here for three years. That was 33 years ago. If I had to live my life over again, I'd do it the same.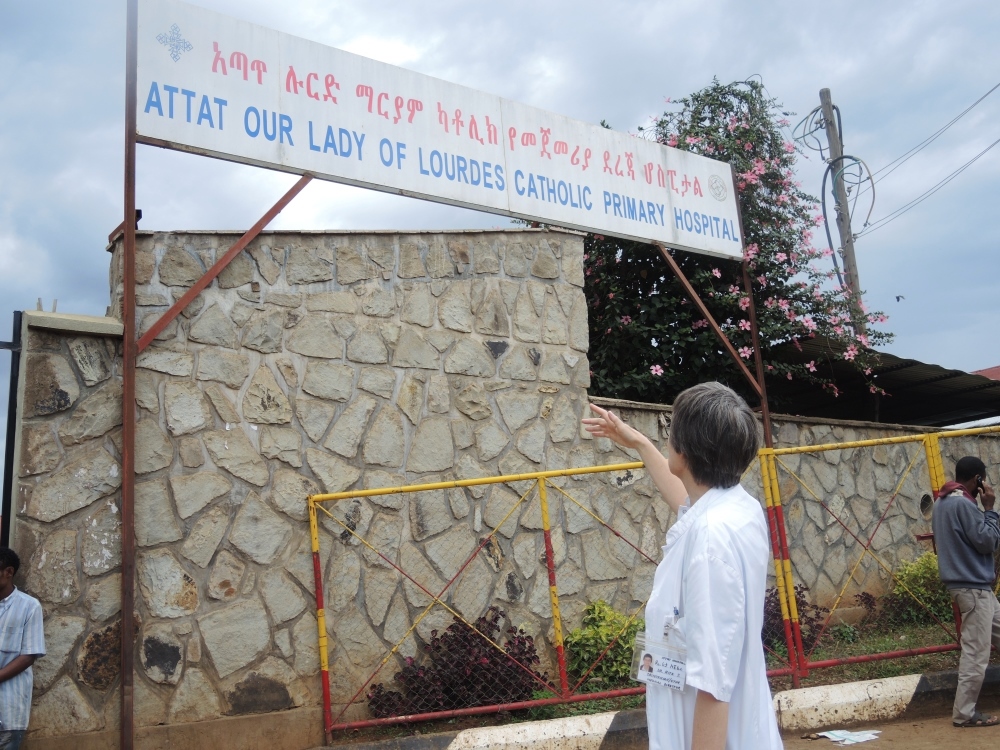 Sr. Rita Schiffer, a MMS sister from Germany, with the sign outside the hospital. "It's a long name, so everyone is happy," she said. (GSR photo / Melanie Lidman)
[Melanie Lidman is Middle East and Africa correspondent for Global Sisters Report based in Israel.]
Related - In Ethiopia, a little round house is the strongest medicine against fistula