Sr. Sebastina Tigga has been engaged in eradicating malnutrition among tribal people in a central Indian region for the past 25 years.
The 56-year-old nurse, a member of the Sisters of Don Bosco Secular Institute, uses a bicycle to visit 111 forest villages in the Jhabua district of Madhya Pradesh state, identify malnourished children and offer them medicine and nutritional food until they regain normal health.
Tigga, popularly known as the "cycle sister," has designed a 14-day special course to help such children. The nun, a member of the Oraon tribe from neighboring Chhattisgarh state, shared with Global Sisters Report the joy of her mission.
GSR: How did you become a "cycle sister"?
Tigga: When I came here 25 years ago, the region had no good roads or transportation facilities. People used bullock carts or walked long distances through the forest. I too had to walk miles to visit villages that were connected with footpaths. On average, I used to walk nearly 10 miles daily up and down to visit the people. Soon I realized a bicycle would reduce walking.
I got a bicycle and started riding it at a time when women riding bicycles were considered a taboo locally. Thus, I became the "cycle sister." Even today, people do not know my real name. The bicycle helped me visit more villages where people badly needed medical help, as malnutrition killed children and diseases, the elders. No government help reached them.
Tribal people cling to their tradition and culture. Did they accept you?
Yes, of course they accepted me. In fact, they were curious to watch me riding the bicycle. Initially, people used to come out of their homes to watch me ride the bicycle in awe. It helped me interact with them easily. With the bicycle, I could cover between 15 to 20 miles daily and meet more people.
What were the major problems they faced?
The people were poor, illiterate and lived in villages set inside forests that had minimum links with the outside world. They suffered from malnutrition, cataracts, tuberculosis and other diseases. Since there was no proper medical facility, they depended on their traditional medicines and shamans. They led a very primitive life without proper clothes or houses.
People hail your campaign among malnourished children. How serious was malnutrition when you first went to the villages?
It was pathetic, to say the least. Every family had five or more children, and all of them were malnourished. Most looked tired and lethargic with short height, thin body. Many had swollen legs and abdomen[s].
Why were the children malnourished?
I found the villagers totally unaware of ways to protect their children. They did not have the money to buy nutritional food and medical care for their children. Most children were underweight and malnourished. The villagers were not even aware of malnutrition. They thought the children just were weak for not eating. During my visits, I found many children dying of malnutrition. So my first priority was the health of the children, the future of a nation.
How did you manage to help them?
It was not a task of mine alone. Other sisters too joined me. We visited villages and tried to help as many people as possible. We had to stay overnight at faraway interior villagers to administer vaccinations and distribute medicines for diseases. On many occasions, we could not return to the convent, as wild animals and reptiles roamed in the forest at night. Even swollen rivers blocked our return during rainy season. I had to travel on a bullock cart to distant villages. I walked, cycled, and rode a bullock cart to reach villagers.
What did you do to contain the menace of malnutrition?
First, I visited house to house and identified malnourished children. Then, they were counseled and taken to the church-managed Jeevan Jyoti (Light of Life) Hospital. I took many children and their mothers on my bicycle to the hospital.
The next step was developing a 14-day course to treat malnutrition. During this period, the mother and the child will stay in the hospital, where provision for their stay is made. At the hospital, we check their condition regularly and administer medicine and nutrition. I have also prepared a highly nutritional food with wheat, chickpeas and jagiri that is given to the admitted children. We have record of children recovering their heath within 14 days.
What is the current status of malnutrition among the children now?
A drastic decline was noticed in the past five years. Earlier, I used to treat more than 1,000 malnourished children in a year. The figure has come down to a few hundred in a year now.
How many children have you have treated so far?
Sorry, I have not kept such details, as it used to be a daily routine. However, it would not be less than 25,000.
Now what are your concerns after malnutrition's decline?
I dream of a society with no menace of malnutrition. Now, I help the villagers to treat malnutrition on their own without any outside help. I teach mothers with malnourished children to prepare the special nutritional food so that they can feed their own and need not be dependent on anybody. Most often, malnutrition occurs because the mothers are ignorant about nutritional food their children require. I also educate them about child care.
Simultaneously, I also introduced women to focus on income-generation programs such as preparing detergent and saving money through self-help groups, among other things to make them self-reliant. Women are responding to it; however, their illiteracy further delays in getting the much-needed result.
Have you faced any opposition in your mission?
Some vested interests had tried to portray my work among the poor as a façade to convert the poor tribal people to Christianity and threatened me with dire consequences. I asked them to join me and see what I was doing on their own. I also told them that I would not stop my work. Later, they realized that my work benefited the poor and did not disturb me.
Why did you become a nun?
My father was a catechist, and we led a life based on Gospel values. We are seven children: four boys and three girls. One of my brothers is a Jesuit priest. I had the desire to become a nun since childhood. However, I finally made up my mind to become a nun after my graduation at the age of 26 in 1987.
How did the people allow you to stay home without marriage for so long?
It is true, according to our culture, a female is married off at the age of 14 or 15. I somehow resisted early marriage offers, saying I wanted to study. At that time, women rarely went for higher studies. When I was preparing for graduation, I received 12 marriage proposals, all from government employees. I turned them all down despite insistence from my parents and relatives. My life was meant for God, and I dedicated it to him.
Do you have any message for those aspiring to become nuns?
Everyone works, and if the work one does is for the bliss of the soul, it will make a difference in your life and also those for whom you work. I should feel happy deep within about the work I do. This requires strong spirituality rooted in the teachings of Christ. Only that can sustain a happy religious life.
[Saji Thomas is a freelance journalist based in Bhopal, a central Indian city. He has worked for several mainstream newspapers such as The Times of India.]
Images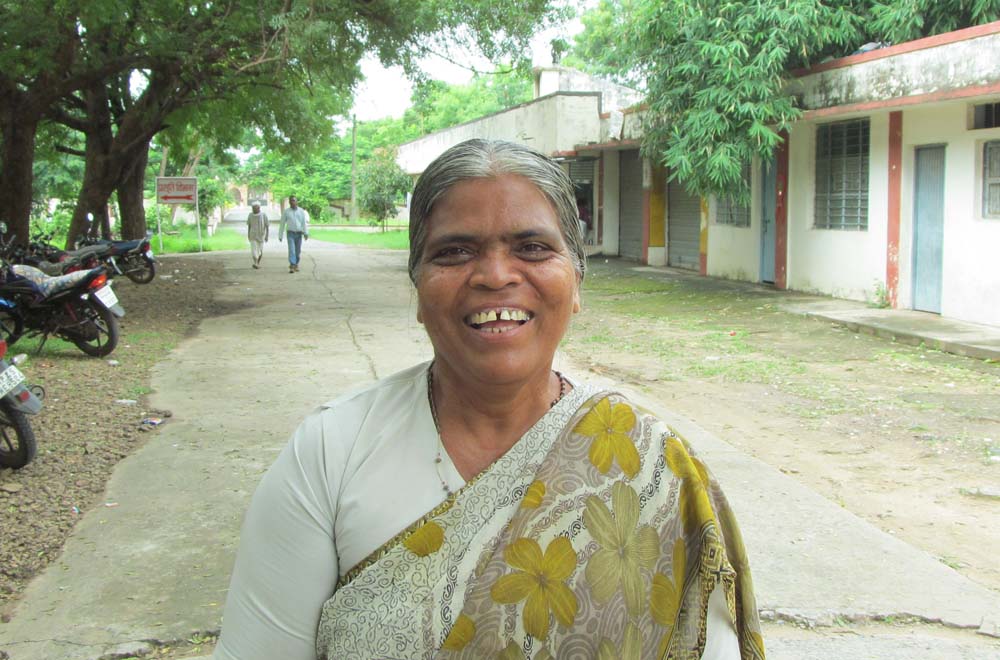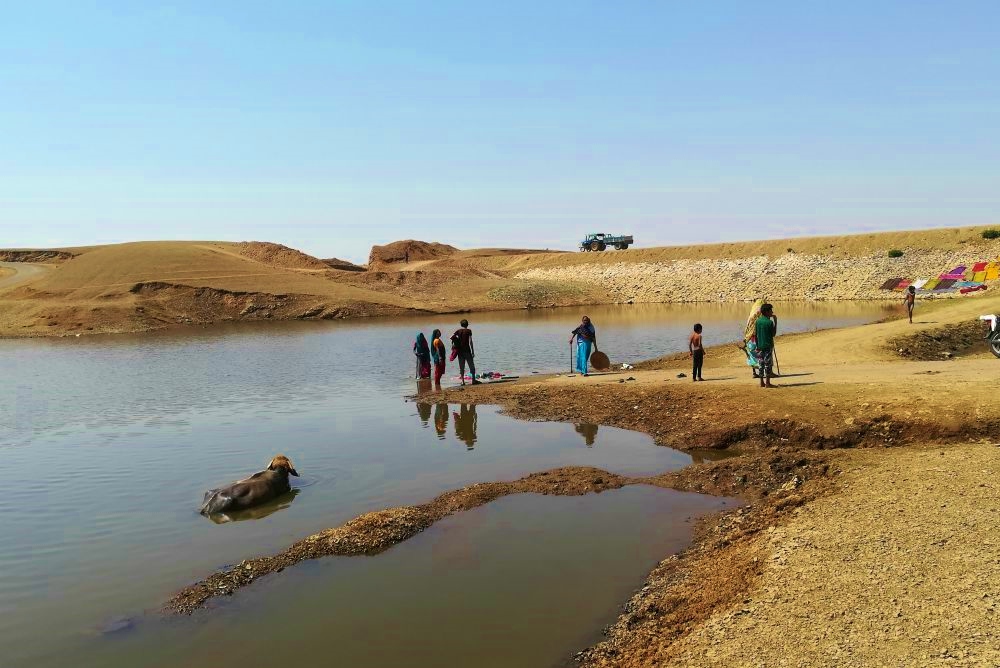 People and animals bathe in the pool created by an old check dam repaired with government support through an initiative of the Holy Spirit Sisters in Goeka Pargi village, Banswara district in Rajasthan state. (Saji Thomas)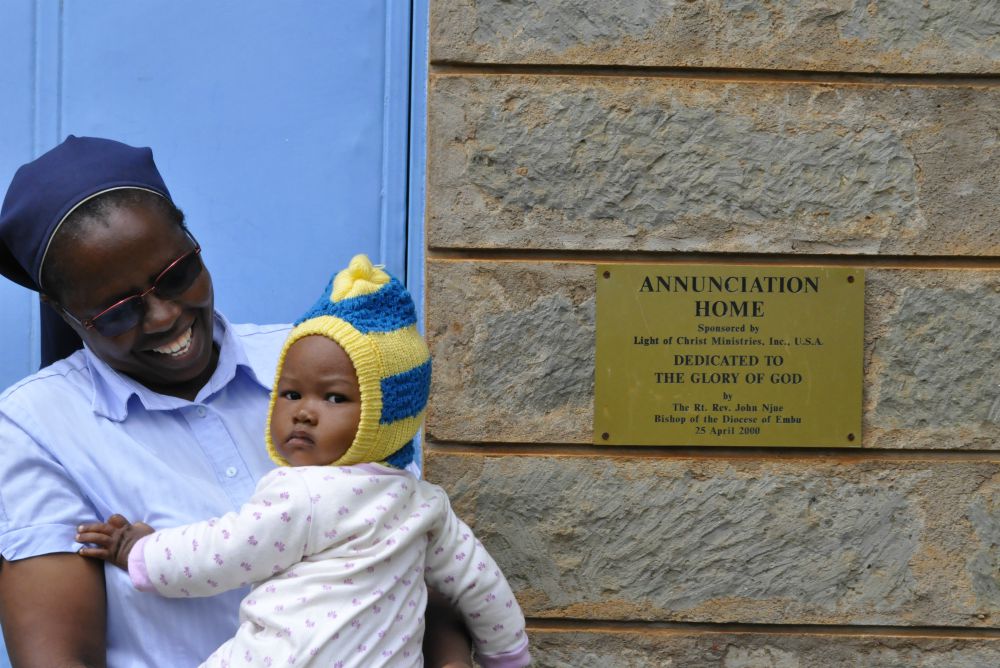 Sr. Margaret Wangeci holds a child belonging to one of the young mothers who has found shelter at the home. The sisters arrange to have the baby taken care of during the day while the mother attends school. (Lourine Oluoch)