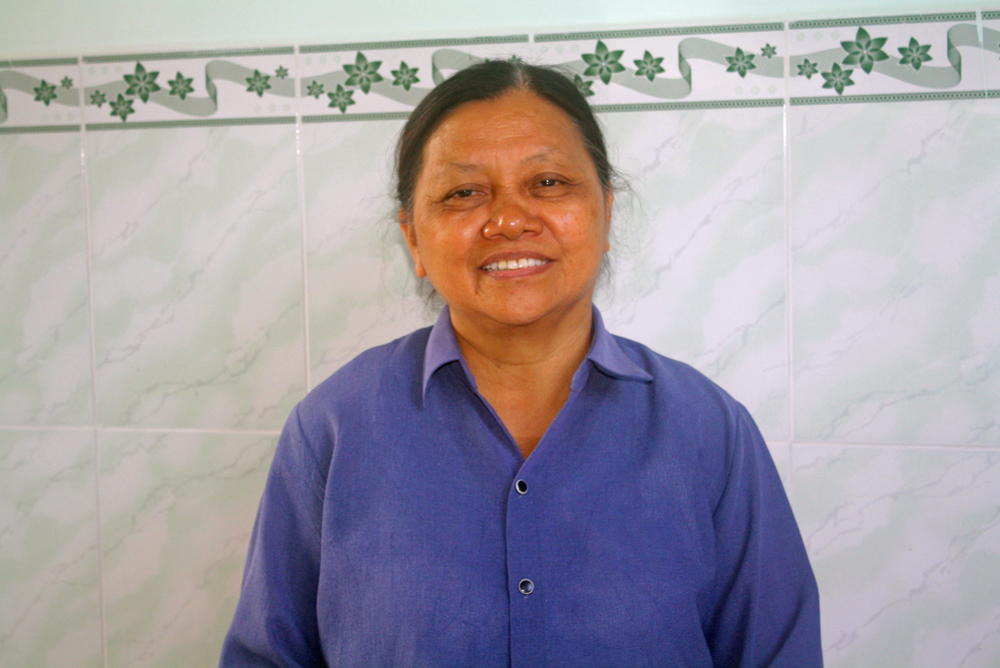 Sr. Mary Nguyen Thi Nguyet, vice superior of the Carmelites of Sacred Heart congregation. (GSR photo / Joachim Pham)
Nha Trang City, Vietnam — The Carmelites of Sacred Heart congregation (CSH) could be the youngest community in Vietnam. It was established in 2013 under the Nha Trang diocese in central Vietnam.
The first members of the Carmelites of Sacred Heart congregation were from a group of women gathered by the Discalced Carmelite (ODC) sisters in Nha Trang City. They helped Carmelites do the gardening, shop and contact people outside of the monastery. They also took vows and wore habits like Carmelites.
Later, they were sent out to parishes to live out the spirit of Carmelites among people and work as an independent community. They have spent a decade struggling for their vocations and survival. They had to work hard at various kinds of jobs to make a living.
Srs. Catherine Nguyen Thi Tuyet Mai and Mary Nguyen Thi Nguyet became the first superior and vice superior, respectively, of the congregation in 2014. They recently talked with GSR about their congregation's development and challenges.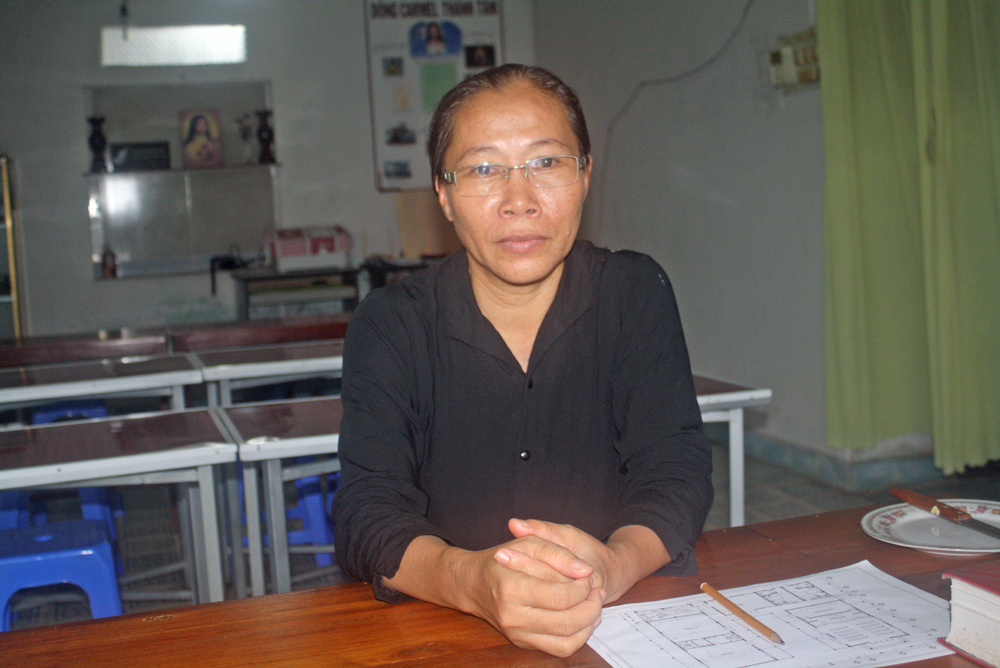 Sr. Catherine Nguyen Thi Tuyet Mai, superior of the Carmelites of Sacred Heart congregation. (GSR photo / Joachim Pham)
GSR: Please tell me about the history of the congregation.
Nguyet: Discalced Carmelite sisters in Nha Trang City gathered us laywomen to help them do gardening, shop and do other work outside the monastery in the 1990s. We trained, took vows, wore habits like Carmelites, and lived in the monastery. The mother superior of local Carmelites was our mother superior, too.
In 2000, four of us were sent to bear witness to the good news by living out the spirit of poverty and prayers at two parishes of Luong Son and Ngoc Thuy on the outskirts of the city. We lived at two houses owned by Carmelites and worked to support ourselves.
They also introduced new vocations to us and offered a little food and money to us at the first stage.
What happened then?
Mai: In 2009, the superior mother of Carmelites told us that by new laws of the Carmelites, she no longer managed or trained us. We had two choices: Either we would become an independent congregation if we wanted to pursue our vocations, or we would dissolve.
At that time, we were very surprised, shocked and disillusioned with the news. How could we exist independently? We had no status or property.
We older sisters dared not to tell the news to young vocations for fear that they would be sad, lose their motivation and leave the convent.
We all were determined to be faithful to our vocations and prayed hard to God for a solution to our crisis. And God answered. In 2013, Bishop Joseph Vo Duc Minh of Nha Trang recognized us and named Carmelites of Sacred Heart under the diocese. The following year, I was elected as the superior and Nguyet as vice superior.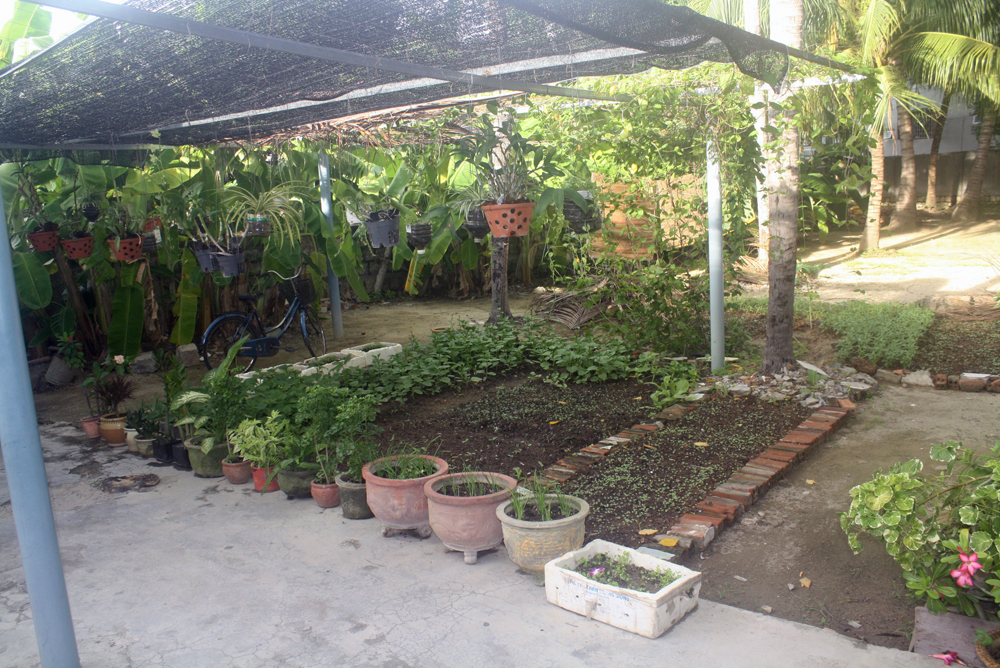 CSH nuns cultivate vegetables for their needs. (GSR photo / Joachim Pham)
What difficulties did you have?
Nguyet: We planted vegetables and fruit trees, raised pigs and poultry, and made vinegar for a living, but we failed. The pigs died of epidemic diseases and few people bought our vinegar, so we lost money and had no money to do other things. We also did other manual work to support ourselves.
We stayed in cramped conditions, collected firewood from forests for cooking fire, and limited use of telephone and electric fans because we had no money to pay bills.
In rainy seasons, our house was inundated by floodwater that isolated us from other places, and our sisters from another place came to offer food to us.
We also collected vegetables left at a local market and ate some of it, and used the rest for poultry.
A farmer allowed us to use his land to cultivate vegetables for ourselves.
Mai: A priest advised us to try to care for babies at our houses for a living. The priest called on local parishioners to send their children to us.
At first, we looked after one or two children, and the number of children increased. We asked a priest for his motorbike to us to travel around.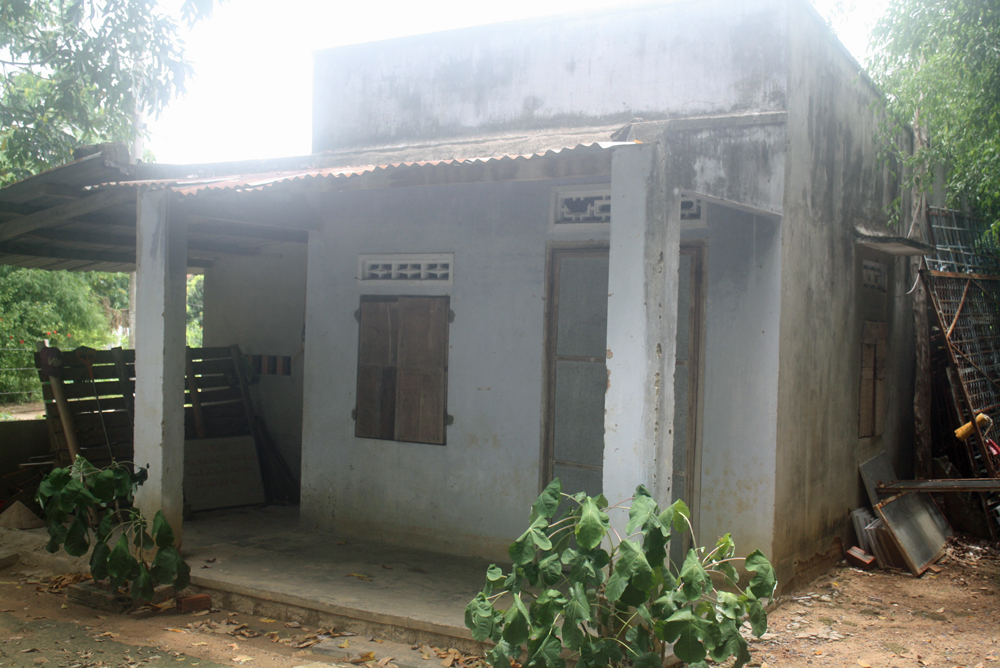 The house where CSH sisters have slept while they give pastoral work at Dien Tan Mission Station since 2015. Snakes and scorpions make them horrified at night. (GSR photo / Joachim Pham)
Why are you called farmer sisters?
Nguyet: We have no opportunities to study well, do not know computer skills, French or English. We live a simple life in poverty and in harmony with people.
We try to develop close relationships with neighbors, do all kinds of manual work for a living like others, and bear witness to the good news. Many people call us farmer nuns and treat us like their relatives and friends.
Mai: Since 2015, a young nun and I have traveled by motorbike to serve a mission station at Dien Tan commune on weekends. We practice hymns in the choir, teach catechism classes, prepare for Masses and visit local people. We have to stay at a small store near the chapel at night. Many times, we are too horrified to sleep when we see snakes, centipedes and scorpions running on the floor or under the bed. But we are happy to live in poverty to sympathize with and be close to the poor and marginalized.
What has your congregation achieved?
Nguyet: Thanks to benefactors' donations, we bought a plot of land and built a building last August. We use part of the building as a day care center that accommodates 80 children. We still owe the constructor the construction cost. He allows us to pay him gradually, thank God.
We still use a house of ODC sisters as our convent and day care center. Some 120 children are cared for at our two centers. Most of them are from poor families. Some parents could not afford to pay their children's school fees for months and then move to other places, but we do not worry. We want to offer good education to poor children.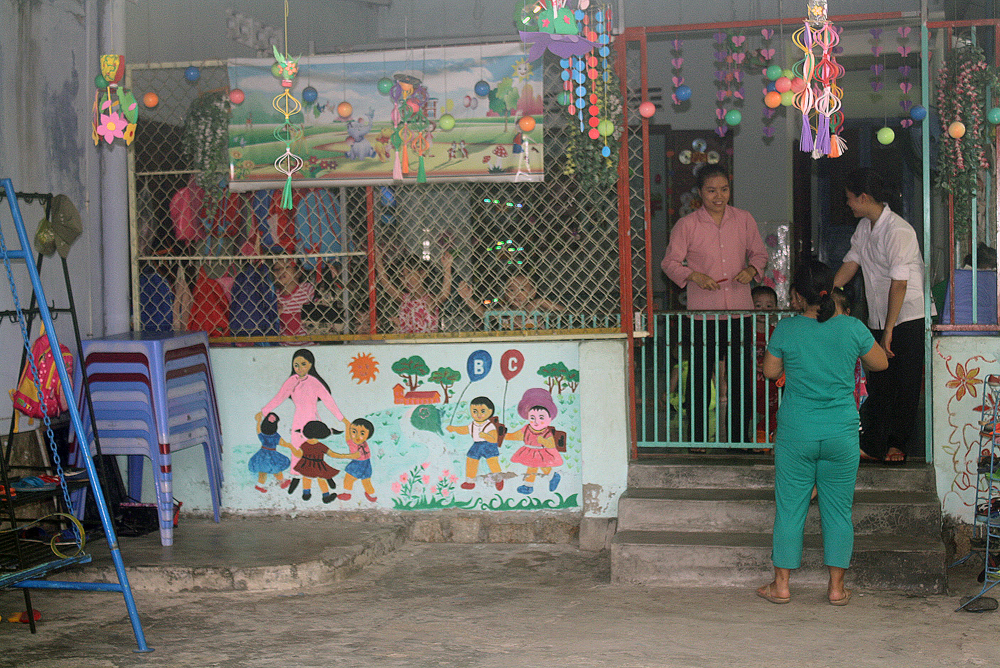 Caring for children from poor families is the nuns' major source of income. (GSR photo / Joachim Pham)
Caring for children is our main source of income. We trust in God's providence.
Mai: Our congregation numbers 17. Most are young people. Some nuns graduate in preschool pedagogy. We bring up students in secondary and high school and lead them to religious life.
Priests and lay teachers come to say morning Masses and teach church subjects to us from 5:30 to 6:30 a.m. or after our work.
Bishop Minh assigned us to serve the missionary station in a remote area in 2015. With the help of Franciscan priests, we provide pastoral work for 300 Catholics out of a population of about 3,000. In addition, hundreds of Raglay ethnic villagers from nearby villages also come to attend services at the station's chapel. Local people live in poverty and cultivate sugar cane, rice and other crops for a living.
This is a big field of evangelization God offers us. It is high time God gives us opportunities to show our poverty with our brothers and sisters and do evangelization work.
We just bought land near the chapel and plan to build a small house to live among local people. Through our preschool activities, we will meet with non-Catholic people, bring Christian values to them, and help them live with dignity.
What is the congregation's spirituality and mission?
Mai: Our spirituality is contemplation, apostolate and education.
We bring up orphans, disabled children, children from imprisoned parents, and offer free accommodation to ones from poor families. We visit, console elderly people and patients, and bring some to return to the church.
People respect us and appreciate our education work. They also give us fruits, vegetable and fish they catch.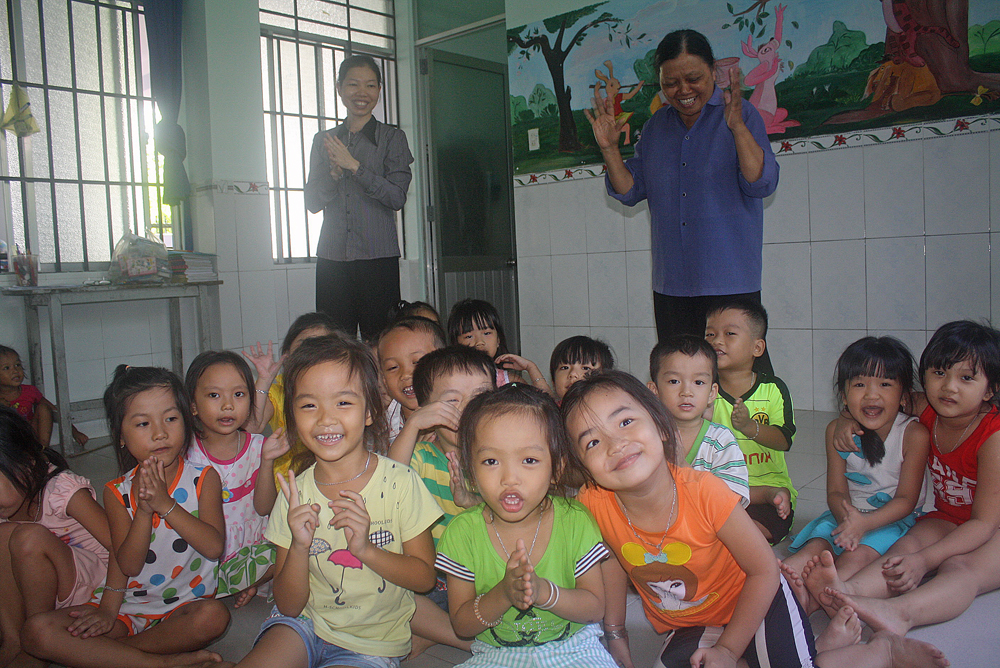 Sr. Mary Nguyen Thi Nguyet, another nun and children sing a songs to welcome visitors at their convent. (GSR photo / Joachim Pham)
Looking back at the challenges, what do you think?
Mai: Vocation is of God. He chooses me and leads me through darkness. He sends me difficulties to strengthen my faith. My duty is to trust in and follow him.
As Christians, we must follow Jesus who was in the world and among all people, loved and served all people.
We are happy that Pope Francis encourages people to live a simple life and reach out to people on the periphery.
[Joachim Pham is a correspondent for Global Sisters Report based in Vietnam.]