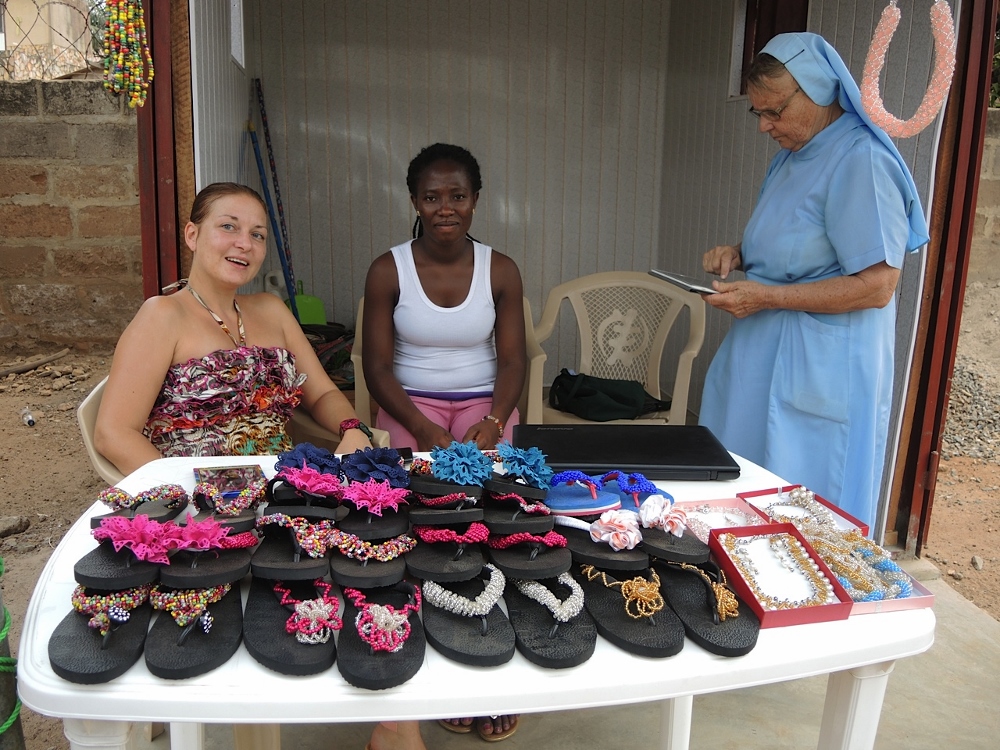 On Feb. 8, the Girls Porter Project opened a kiosk that is a 15-minute drive from the market in hopes of selling the beadwork that the girls learn during some of their informal classes. Sr. Angelina Gerharz, right, examines the goods with social worker Mavis Oppong, 23, and Yvonne Rogatsch, a volunteer from Austria. (GSR photo / Melanie Lidman)
Madina market in northeastern Accra, the capital of Ghana, is a riot of colors and smells: dried fish heaped on top of hampers filled with wiggling crabs piled on top of secondhand shoes leaning against a mountain of pineapples and tomatoes. Weaving between the hundreds of stalls and merchants are girls as young as 8, big tin bowls perched on their heads, carrying goods to and fro. People pay them a few Ghanaian cedis, the equivalent of a few dimes, for them to carry their purchases to a bus stop or their car, or sellers will pay them to transport some of their goods through the crowded market.
Up a flight of stairs in an orange building in the middle of the market is a respite of calm for the porter girls: a one-room space where the girls can rest, or perhaps take part in informal lessons. More than 200 girls between the ages of 8 to 18 cycle through each year.
Sr. Angelina Gerharz, 72, a Holy Spirit Sister who is originally from Germany but has been in Ghana for 48 years, founded the Porter Girls Project in 2010. Global Sisters Report recently visited Madina market to hear more about how the sisters are helping to empower the young girls desperate to make a living in the market.
GSR: How did you start this program?
Gerharz: We used to come to the market because it is the closest market to our convent. And these girls always asked us, 'Can I carry this for you?' 'Can I carry this for you?' These are our fellow girls. It really touched me to see them living like this. No one cares for them.
We went to the parish to ask what could be done, and the parish said that they used to take them for an activity on Sunday afternoons, but it died out. So we went to some of the people who had done this from the parish and tried to revive it. We wanted a contact point, to help them, to counsel them. We started, and it was two years before we got this room. Everyone is fighting to get a place in the market, so it was hard to find this room.
Who are the girls who work as porters?
They are migrants from three northern regions, the most economically depressed regions of Ghana. They come here for a period of time, they try to make money, and then they go back.
When they are here, they have nowhere to sleep. Sometimes, the girls sleep in the stalls at the market at night. In these places, they have no toilet, they have no water. Their rent for the kiosk can be 3 to 5 cedis per week [U.S. $0.75 to $1.25], but if you have 15 girls crammed in there, it's a lot of money [for the stall owners]. There's no security, either, so men can go in there and rape the girls. That happens a lot. This place is kind of like their home, because they don't know where they belong.
Tell me about your work with these girls.
At first, we wanted to start a small dance group so they could perform at events and maybe make some money. But they're migrants, they come and go. Next month, it will be different girls. So it was difficult to get a stable group among them. We're trying to influence them to learn something. But it's hard. If they go to school, then their parents lose money.
We teach them during the week, informal classes in this room, some math and English. We also tried to help them register for the Ghana National [Health] Insurance card by paying their registration. We get nurses here to give talks about health topics, like communicable diseases and personal hygiene. We noticed there were tribal divisions among the girls, so we held a two-day leadership formation to help them see their colleagues as one, in unity. They can also just come here to relax or play games.
What advice do you have for other sisters who are doing similar work?
It's important to work with other partners. We're working with the Catholic Action for Street Children. We asked for help from the Salesian Brothers of Don Bosco because they have a boarding house, and we want to build one.
What are some of your challenges in this work?
It's hard because we're in the market. Whenever they're here, they're always thinking about going back out to work. And we don't have enough funds or volunteers. The best time to reach the girls is Sunday, when they're relaxing. But our staff is already working six days a week — we can't ask them to come in for more. On Feb. 8, we started a kiosk where we are selling some of the beaded things that we teach the girls how to make. Right now, we're just using the funds to support the program. We can't give any of it back to the girls. We hope they understand that they are learning a skill so they can use it for the future.
What are your hopes for the future?
We could give them help on many different levels. In the future, we want our own building. On the bottom, there would be a place for workshops and classes, and on the top, there would be a hostel. The only way for girls to study is for them to live in a boarding house. If she's here, due to peer influence, she won't study.
There are more than 20 big markets like Madina in Ghana, and more than 50 smaller ones. Women from other markets have started asking sisters to come help if there's an issue, to help the women and girls fight for her rights. If we know a girl, sometimes we can help fight for her rights.
[Melanie Lidman is Middle East and Africa correspondent for Global Sisters Report based in Israel.]