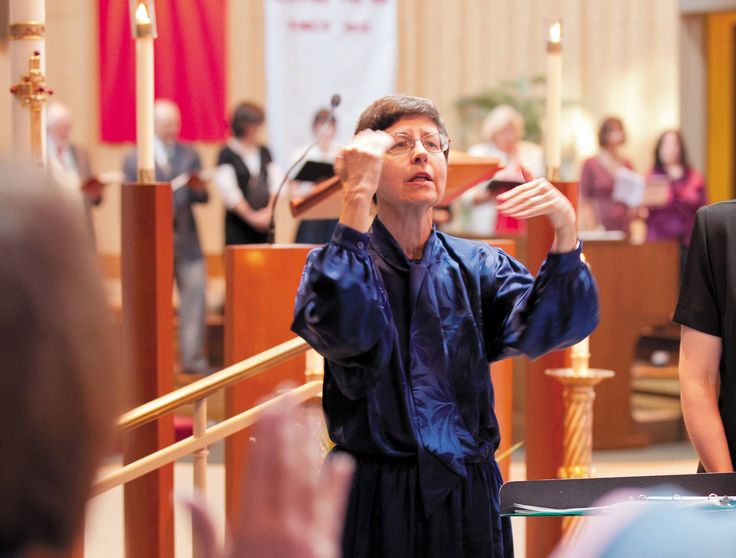 Sr. Linda Roby signs a Mass. (Submitted photo)
Editor's note: The lowercase "deaf" refers to the medical inability to hear. People who are deaf and have a strong cultural identity use "Deaf" (capital "D"). They are a part of the Deaf community and identify with the culture. GSR has used "deaf" to include all those who cannot hear. Sr. Linda Roby refers to the Deaf culture.
Linda Roby, a Sister of Charity of the Blessed Virgin Mary, is director of the deaf ministry for the archdiocese of Portland, Oregon. Her first experience with Deaf culture came when she was a novice; she had the opportunity to tutor a group of deaf middle-schoolers in reading and language during a summer program. After that, she pursued a master's degree in deaf education and taught deaf students in a residential school and later in mainstream classroom settings for a total of four years.
She moved to Portland in 1972 and volunteered as a religious education teacher for the deaf, assisting with signing at mixed hearing-deaf Masses.
She has been the director of deaf ministry in the Portland archdiocese since 1992 after holding the same position from 1978 to 1982. In the 10-year interim, she lived in Iowa, teaching in a Catholic school and later working in her community's initial formation program. But she always "kept a hand in Deaf ministry," she said.
GSR: What developments in new technologies for deaf communication have you seen over the years?
Roby: In the early 1970s, when I first began working with the Deaf, the only way to communicate with someone who was Deaf was face-to-face. Then someone began converting large old teletype machines so Deaf people could have them in their homes and use them to type to each other. (The floor actually shook when they used them!) That evolved into much smaller TTYs [teletypewriters], a compact, typewriter-like device used with a regular telephone line. Relay interpreters began facilitating calls between Deaf and hearing people.
And then technology took off for everyone, especially for the Deaf, with Internet access, email, texting, Facebook, Skype, etc. Videophones have now replaced TTYs for ease of face-to-face signed communication. Such a far cry from my having to drive to someone's house 40 years ago to see if they were home so I could ask them a question or have a brief chat.
What are some of the challenges deaf Catholics face in their lives that others might not be aware of? Is it hard to find a church that provides an interpreter for services?
The Deaf are a very small and often silent minority in a predominantly hearing world, and Catholic Deaf are even a smaller minority within the church. Historically, Deaf people in a hearing church have described themselves as strangers in a foreign land. Most hearing people think of deafness as a handicap rather than recognizing the richness of a culture that Deaf people are immersed in and proud of. The discrimination is not intentional; it is simply a different world.
Deaf ministry is not just a matter of providing sign-language interpreters in churches. It is a unique way of approaching God and worship and faith development that matches the gifts of Deaf culture. Most importantly, it is the calling forth of Deaf people themselves to become leaders in their faith community because their experience can enrich Scripture. For example, Deaf culture is visual, based on American Sign Language rather than on written text. As a story is told, it is relived; the teller becomes all the characters. Imagine the richness this provides in the experience of sharing and understanding the Scriptures.
Another example is that Deaf people are very comfortable with physical contact: tapping someone to get their attention or giving someone a hug as a greeting or farewell. The sign of peace at a liturgy with the Deaf is truly an exchange of affection and care . . . a warm meeting of eyes and hearts and souls.
These are just a few of the gifts of Deaf culture as it applies to a faith community.
What is your favorite part about working with the deaf population?
There are so many things I love about working with the Deaf. I'm attracted by their warmth and welcome and their openness and honesty in sharing their lives. I admire their tendency to be straightforward in expressing what they're observing and thinking. I love the way they pray with their whole person, and they have taught me to do the same.
One of my greatest joys is seeing the increase in Deaf involvement and leadership in Catholic Deaf ministry. At our national meetings of pastoral workers with the Deaf 40 years ago, almost everyone there was a hearing priest or sister. Gradually, a few hearing laypeople joined the group. Over the years, we've welcomed more Deaf sisters and rejoiced at the ordinations of many Deaf priests. At those same national meetings today, the vast majority of pastoral workers and lay leaders are Deaf themselves and are leading our organization. They are both our examples and our role models for what Deaf ministry can and should be.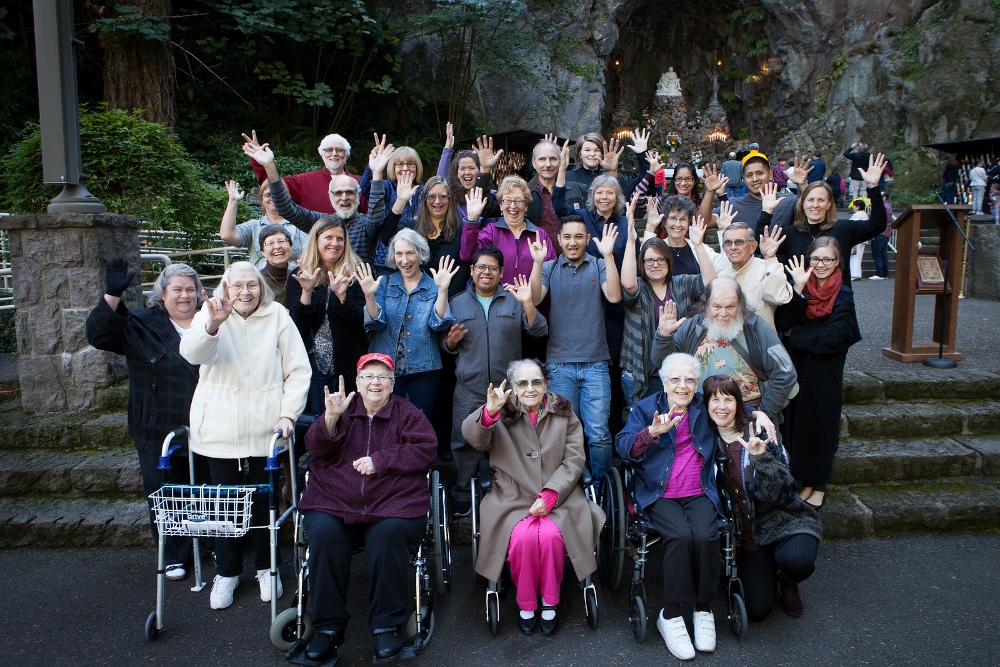 A gathering of the Deaf Community at The Grotto in Portland, Oregon. (Jesson Mata)
How does your ministry fit the charism of your congregation?
As BVM sisters, our charism is: 'becoming freed, and helping others enjoy freedom in God's steadfast love.' My religious community has certainly freed me to develop and use the gifts God has given me. Now I in turn am helping people who are Deaf to discover their gifts and to share them freely and joyfully within our faith community and beyond.
[Georgia Perry is a freelance writer based in Oakland, California. She has contributed to several print and online magazines, including The Atlantic, CityLab, Portland Monthly and The Portland Mercury. She was formerly a staff writer at the Santa Cruz Weekly in California. Follow her on Twitter: @georguhperry.]