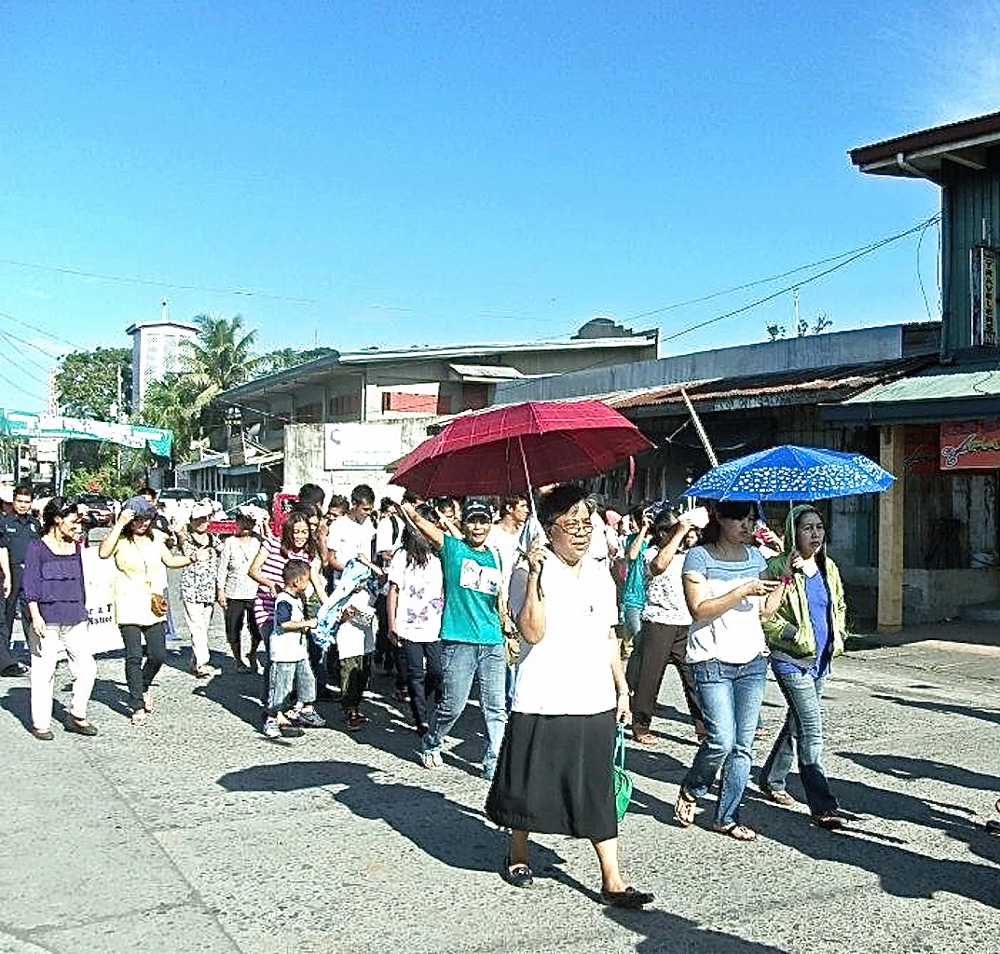 Sr. Marietta Banayo walks with students and parents in Malabang, Lanao del Sur to raise awareness for peace. (Photo courtesy of Missionaries of the Assumption)
The Philippine government's efforts to implement a peace agreement with the rebel Moro Islamic Liberation Front may have hit another bump in Congress, but on the ground, Missionaries of the Assumption nuns are relentlessly working to forge peace through dialogue.
Congress adjourned June 10 without approving legislation known as the Bangsamoro Basic Law (BBL) that implements a peace agreement signed by the government and officials of the Moro Islamic Liberation Front in 2014 after 17 years of negotiations. Legislators are expected to continue deliberations on the law after sessions resume in July.
Contentious issues include the constitutionality of establishing and providing for the Bangsamoro political entity, which would replace the Autonomous Region in Muslim Mindanao established in 1989 in the traditional homeland of Muslim Filipinos.
Sr. Marietta Banayo of the Missionaries of the Assumption community in the autonomous region's Malabang town told Global Sisters Report in late May that the law would bring hope, especially to people in the most underserved areas in Mindanao. More than 3.25 million people comprising 3.53 percent of the country's population live in that region. At least 90 percent of the region's residents are Muslims, and some 7 percent are Christians, mostly Catholics.
Estimates of the number of Filipino Muslims (Moro) range from 5 percent to 11 percent of the country's population.
In Malabang the nuns have joined locals and other supporters who are rallying lawmakers to enact the legislation as they continue programs and activities aimed at "Dialogue of Life and Faith." This involves engaging in a Christian way in human interaction with people of any faith, with no thought of conversion, and demands deep respect for the faith of others.
Twenty-nine sisters left the Daughters of Mary of the Assumption, which was founded in Canada, and under guidance of the late Archbishop Antonio Mabutas of Davao, to establish the Missionaries of the Assumption in 1989. The sisters ran schools and opened mission centers and are committed to solidarity with the poor and to working for justice, harmony and balance in society and the environment.
Banayo, in her e-mail interview, details her Assumption community's work for peace in Malabang, a municipality in one of the country's poorest provinces. (Phone and Internet services were not reliable for a live interview.)
Why did your community choose to serve in Malabang?
It has been more than 100 years since its foundation, but Malabang Municipality has not developed due to the existing conflict between warring Moro clans. These feuds called "rido" continue to affect very much the long-desired peace.
The constant killing of people, including Christians, had adversely affected the relationship of Muslims and Christians. Since the majority of the population here are Muslims, Christians tend to just, most of the time, stay low-key. It is in this context, that my congregation, Missionaries of the Assumption, tried to find meaning working for peace through the Dialogue of Life and Faith.
Part of our charism and mission as a congregation is to work among poor communities and dialogue with other faiths and culture, so this area is a fitting mission frontier for us.
What are your activities to build peace through 'dialogue of life and faith?'
Our peace-building efforts have different faces. In the ministry of presence, we just immerse [ourselves] in the community life of the people of any faith group. We join birthday celebrations, talk with locals in the marketplace or visit homes when a family member dies. Being present in different life events makes people feel good and happy. Animosity is lessened, if not removed totally.
In 2007, we set up the Peace Learning Center for kindergarten children. We named it the Vic Ong Peace Learning Center after parishioner Victoriano Ong to keep alive his example of love and care for both Muslims and Christians and efforts to build peace.
Vic Ong is one of the more than 80 Christians killed in the last 15 years. He was well known, respected and loved by many Muslim and Christians and was a local government official and active church leader who reached out to young and old; [he] was diplomatic with politicians and sultans, according to the local priest. He said Ong even forgave people who kidnapped him and his family in the 1990s [possibly for ransom]. On February 28, 2012, he was shot point-blank in front of his store. No one would testify [about] who shot him.
We run an education/formation program that aims to help develop in neighbors the deep desire and commitment to work for peace, by being at peace within the self, with others, with creation and with God. These modules help them realize the great challenge to be peace-builders, especially for parents in school who attend the formation sessions.
Our Lady of Peace and Good Voyage parish and school also organize activities involving Muslims and Christians, such as peace walks, seminars on peace education and the Kalilintad Festival. [The festival involves street dancing by both Muslim and Christian students from different schools.] For Christians, there is a time allotted for prayers for peace even during Sunday asses.
How do people view the Bangsamoro Basic Law and Congressional deliberations on the draft law?
The Bangsamoro Basic Law was a sign of hope for the people in Mindanao that would usher [in] the attainment of peace. Due to the Mamasapano incident in Maguindanao, in which 44 [Special Action Forces] commandos, members of the Moro Islamic Liberation Front and some civilians were killed, the people wondered whether the [law] will be enacted or not. 
How did you sort through that confusion?
We joined a peace summit in Iligan City on May 7. One hundred fifty delegates gathered, among them religious leaders. There were 70 Catholics, 30 Evangelicals and 50 Muslims who rallied for the approval of a joint statement addressed to the Congress of the Philippines urging lawmakers to pass the Bangsamoro Basic Law.
Aside from the statement of support, what did the summit achieve?
It allowed for the cultivation of contacts and camaraderie between Muslims and Christians. It was a way of consulting the grassroots. Muslim and Christian participants reached an agreement on the following points:
Work towards healing of the wounds caused by centuries of discrimination and animosity
Find ways to end the decades of war and violence
[The Bangsamoro Basic Law] is a concrete road to peace
The proposed law needs rational scrutiny
How damaging is the Mamasapano encounter to the peace movement in Mindanao?
The Mamasapano event was an incident that re-opened deep wounds. Sobriety and reason should predominate rather than emotional and irrational reactions. Mamasapano was a tree in the vast forest.
Aside from violence, what are other challenges you face?
There is still a big challenge to reach out to Christians who oppose inter-religious dialogue and respect for other gods.
In the face of the growing challenge, from where do you get affirmation of your work?
As a sister assigned in Malabang since 2012, my experience of the mission has been very challenging. My most affirming experience this year working for peace was my education and formation sessions with the parents of our Vic Ong Peace Learning Center here. Every month I had sessions with them on different topics related to peace and they were responsive to the challenge to work for peace. They also want peace to prevail in Malabang, in other parts of Mindanao and in the world. Really, education and formation processes are crucial in the work for peace.
[N.J. Viehland contributes to Global Sisters Report coverage on the Philippines]