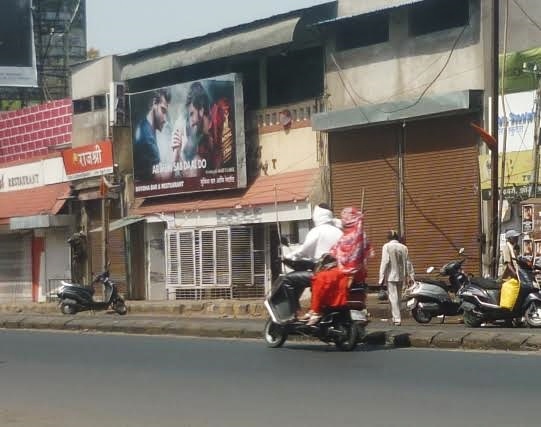 Only a few people venture out during summer in Nagpur, central India. (GSR photo / Lissy Maruthanakuzhy)
Nagpur, India — The Indian subcontinent has myriad cultures, languages and seasons. It also experiences freezing winter, scorching heat, heavy monsoons and salubrious springtime. Some places undergo extreme winter and summer. Nagpur, a central Indian city that has become my home for the past year, is one such place.
The temperature in Nagpur shoots up to 116 degrees Fahrenheit (47 Celsius) on some days in May and June. Average temperature in those months hovers around 113. I was told it had shot up to 122 in the past.
[India broke its 50-year record high heat on May 19, rising to almost 124 degrees (51 Celsius) in the desert town of Phalodi in the west. In the last four years, more than 4,000 people have died due to heat waves, according to India's Ministry of Earth Sciences. The prolonged heat puts rural workers and farmers most at risk. Relief from June monsoons came more than a week late this year, but rainfall is forecast to be above normal for the season, according to the India Meteorological Department.]
Those of us who live inside secure houses realize the severity of the summer heat only when we step outside.
Most people venture out only after they cover their head and face with scarves, cotton towels and whatever can protect them from the merciless sun. Those unfamiliar with the city and its weather learn to take these precautionary measures the hard way.
I learned my lesson twice in the past year.
The latest was in early April. One Sunday afternoon, a priest who works in an interior mission station, came to our convent and requested for some religious items from our book center, which is half a kilometer away.
Since I have seen and experienced the hard and selfless life of priests and nuns in interior villages, I always oblige them when they come for books or religious articles even when it is a Sunday or a holiday.
Although I had reached my convent only that morning after a long train journey, I went with the priest immediately to the book center situated inside the Nagpur cathedral campus.
When I opened the book center, it felt like being inside an oven. I quickly switched on the cooling system, but still felt suffocated.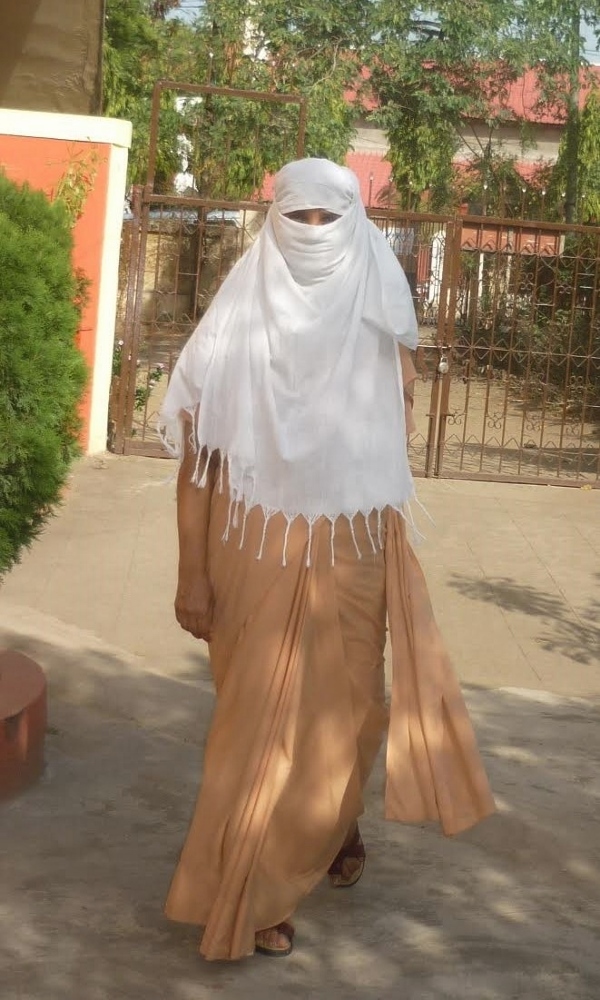 Sr. Lissy Maruthanakuzhy goes outside out with her face and head covered. (Provided photo)
Since it was already 4:30 p.m., I had presumed the heat would have subsided. I did not know Nagpur would start experiencing a heat wave even from early April. I had not covered my head or face.
The priest took two hours to select the items. I locked the place and walked with him in the sun to his vehicle parked at a distance. He thanked me profusely and drove away to his mission.
On reaching home, I felt unusually tired. It must be the effect of the journey, I concluded.
But when I felt stomach discomfort, I recalled what happened to me when I came to Nagpur. After going out for some time in the sun, I developed an upset stomach. When I went to the hospital then, the doctor smiled and said, "It is dehydration. You did not drink sufficient water."
She advised me to drink plenty of water. Since then, my stomach would indicate whenever the heat soared in Nagpur.
The next time, the doctor said, "Now I am giving you medicine to face the heat." She prescribed injections and medicines for seven days, and I came home. It took me two days to recover.
I now take lots of precautions during the summer. One method is to cover my head and face with a cotton shawl or towel. When I first saw women, including our sisters, doing that, I had laughed and said they looked like terrorists. But the two heat strokes made me join their gang. I also follow the doctor's advice and drink a lot of water even if I am not thirsty.
I also carry an onion with me whenever I go out. I learned this trick during my visit to a mission station in neighboring Madhya Pradesh state a few years ago.
The heat there was unbearable. The place experienced frequent dust storms that would bring the temperature down but cover us with sand. I was surprised to see the dormitory floor of the convent filled with water when I went to sleep at night. "The heat is too much. Water will cool the place and help us sleep," the superior explained.
It was she who told me to keep an onion in my hand or pocket during summer journeys to avoid heatstroke.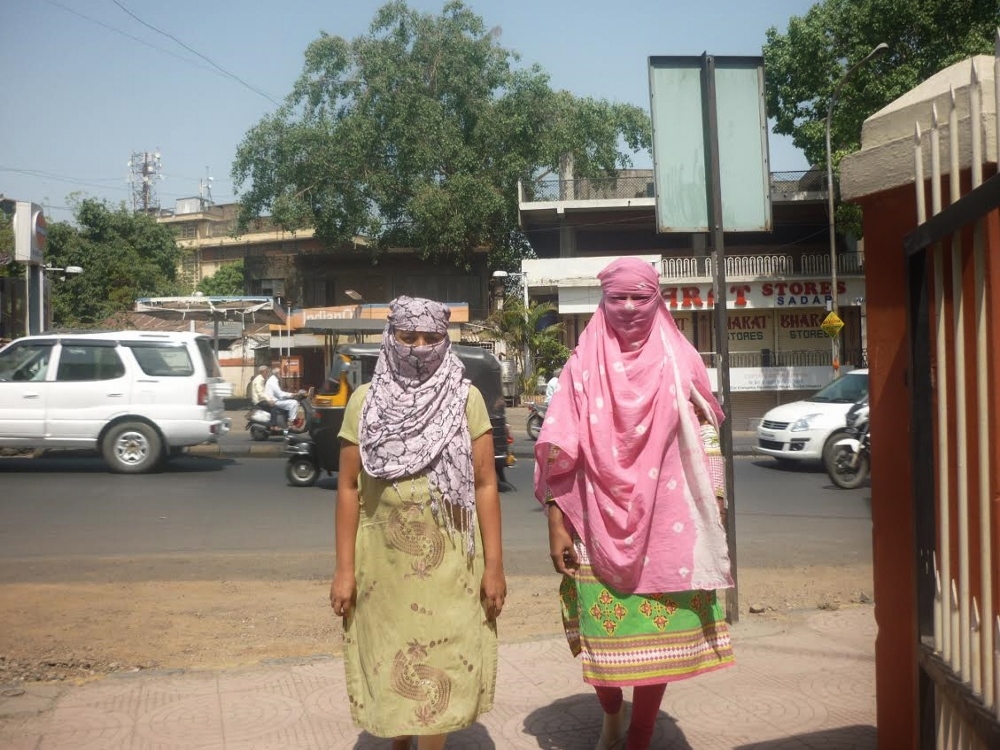 Two women, all covered up to escape heatstroke during summer in Nagpur, central India (GSR photo / Lissy Maruthanakuzhy)
I was not the only one to experience the heat wave. One of my companions is Sr. Ameena Varingva from the northeastern Indian state of Manipur, which enjoys a cool climate throughout the year. After a few days in Nagpur, her cheeks became like ripened tomatoes. We became worried as she also developed fever. It took a week for her to recover from the heatstroke.
We suffer heatstroke despite living in places with cooling systems, but there are thousands of homeless living on roadsides, exposed to heat and dust all the time.
I feel disturbed when I see children on the road in front of our book center; these are the children of villagers who migrate to cities in search of jobs. Occasionally they come inside asking for cold water.
Nagpur, the winter capital of the western Indian state of Maharashtra, is part of the Vidarbha region that has faced drought and crop failures for years. The state recorded more than 200,000 farmer suicides in the past decade, and Vidarbha accounted for nearly 70 percent of such deaths.
Those still brave enough leave their villages with their entire family as farms dry up and cattle die.
Come summer, one could see hordes of people alighting at the Nagpur railway station. They find a quiet spot in the city for their relatives or neighbors. The elderly and the tiny tots sleep on the pavement at night.
By 6:30 a.m. they gather in groups at road bends hoping for job contractors to pick them up and pay them daily wages. The unlucky ones return to their places dejected. They find jobs at construction sites or sell different items — from balloons to flash drives — at traffic intersections.
They seem immune to the climate changes. They work in the hot sun throughout the day, unmindful of the heat.
These children add to the school dropout rates in the city. Some engage in waste picking to add to the family income. I once asked a teenage girl selling balloons, "How much did you get today?" She said 20 rupees (U.S. 30 cents) and pointed to her mother sitting with a child on the pavement. Her father filled balloons and tied them on sticks. They struggle even for a meal a day.
We join some NGOs that organize street skits and snacks for the children at their places in the evenings. The objective is to keep the children focused on the importance of education. The parents are grateful for such intervention. But then it is only a drop in the ocean, we all realize.
People like us who have a cool place to stay and work are blessed. But we are called to pass on this blessedness to others in different forms. The least we can do is to provide water, or at times meals, to those coming to us.
[Lissy Maruthanakuzhy is a member of the worldwide Congregation of the Daughters of St. Paul in India and a correspondent for Matters India. This article is part of an ongoing collaboration between GSR and Matters India, a news portal that focuses on religious and social issues.]