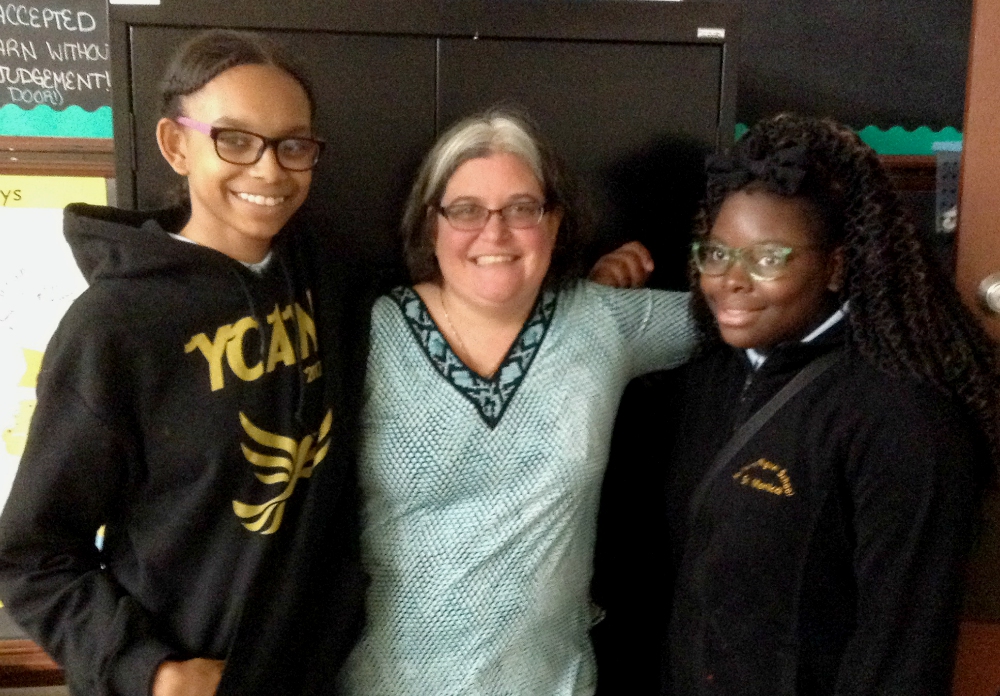 Mercy Sr. Jennifer Wilson with two of her students (Jennifer Ness)
The questions came fast as questions often come from eighth-graders. What should we wear? Can we have our cellphones? Can we bring snacks? Some of my eighth-grade students were preparing to attend a weekend retreat that focused on social justice and service.
The last question had me pausing to find the right words to answer. A student said, "Sister, I am not trying to be rude, but will there be only white people there?"
I responded, letting her know it was a possibility.
Another student said, "Well, it will be good practice for high school."
I had seen the retreat advertised and asked some of my students to attend. I was happy that they had agreed to go. They would learn about social justice and have an opportunity to participate in a service project.
I had not given much thought to the issue of diversity, of who would be on the retreat with them, when I asked them to go. The students I teach are all children of color from various ethnic backgrounds. They are primarily from families living below the poverty line.
I want my students to leave middle school with a solid education and good character. I wanted them to go on the retreat so they could continue to develop into good citizens as they become leaders in their communities. So, when the question came about color, it caused me to ask myself several questions.
Why should they have to practice being the only kids of color?
Why are they one of only a handful of kids of color at their private high schools?
Why do we still have to ask these questions about inequality?
I find myself in a privileged and heart-wrenching place. I often witness the innocence of my students and the moments when some of that innocence is taken away.
My students, ages 10-14, often do not see themselves as poor. They come from struggling families but do not usually go hungry or without access to some technology. Some of them live in neighborhoods where drug dealers often protect them as they get off the bus. They do not see this as a problem. They do not know that there is a different way. They live in communities where everyone is in similar circumstances. Our school often provides them with glimpses of something different.
The retreat they attended was one of those times. The excited chatter and questions after the retreat were moments when some of their innocence disappeared. Experiences from the weekend gave them a broader understanding of their reality.
They had each gone to a service site on the East Side. The East Side is an economically disadvantaged community. It happens to be the exact community where my students live. They did service, at a community garden, a nursing home, a shelter.
They told me that some of the kids liked their service sites but were scared to be on the East Side. My students were trying to understand why they would be scared. Both sets of kids come from different circumstances. They struggled to understand the reality of the other.
Spending a weekend together, the participants unintentionally started to break down barriers. Near the end of the retreat, they were chatting with each other, laughing and sharing music. I am reminded of something Martin Luther King Jr. said: "Men hate each other because they fear each other. They fear each other because they don't know each other, and they don't know each other because they don't communicate with each other, and they don't communicate with each other because they are separated from each other"
These kids signed up for a "Young Christians at Work" retreat and, by doing so, they certainly had an opportunity to put their faith into action. Organizers had many activities planned to help the kids understand social justice, to help them learn how to break down barriers. They learned about the two "feet" of being a Christian: to be aware of and try to change social justice issues, and also to do service.
A gift of the weekend and something that organizers might not have anticipated was the uniqueness of each individual present, their willingness to embrace differences. At their young ages, the participants showed up and listened to each other. They were not separate from each other. A reminder that coming together can effect change.
I often think about ways I can be a part of change. I pray and reflect on how to live my life in a way that makes life better for others. I can become very busy with helping and forget to ask if what I am doing is actually what the person needs.
My students gave me an opportunity to reflect, to remember an important lesson. I can become more intentional about being in solidarity with others. I can work together with those who are marginalized and not just do things for them. I can help them feel empowered to stand up and work toward equality and against injustices.
I sent my students to the retreat to learn about Catholic social teaching, unaware that I also would come away with new learnings from their experience.
[Jennifer Wilson, a member of the Sisters of Mercy of the Americas, is a middle school teacher at NativityMiguel Middle School in Buffalo, New York.]