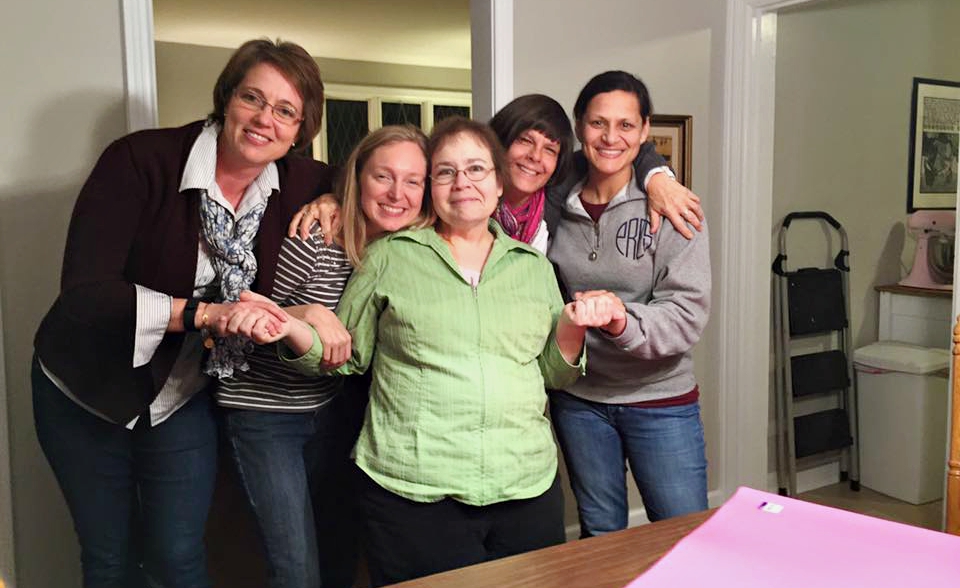 Marie (center) and a group of us shortly after her diagnosis in February 2016 (Provided photo)
On Friday, Oct. 13, I was reading about Resurrection for my liberation theology class. The next day, I was experiencing it at the resurrection liturgy for my friend Sr. Marie Flowers.
Marie was a Sister of Charity of Nazareth and a social worker. We got to know each other through the Future of Charity, an intercongregational group for younger, newer sisters. Early in 2016, she was diagnosed with advanced cancer, and after a brave year and a half, God called her home. She would have been 51 in November.
Jon Sobrino says in Christ the Liberator that Jesus' resurrection was not an isolated event, but one that continues to remake itself throughout human history. We, like the early disciples, can encounter the risen Lord. Resurrection erupts into our journeys through freedom, joy and hope that triumph over darkness and death. We can touch, in a real way, the new, everlasting life of Christ, and it transforms us. What's more, Ignacio Ellacuría said that if we follow Jesus, "we should live as already risen beings." Marie did. Both her life and death sang of Resurrection.
Throughout her illness, Marie adopted the motto "Flower power." The stories shared Friday evening at the wake and Saturday morning at the funeral showed that although her life was short, it was indeed powerful. Many tears fell, glistening with the profound sadness of untimely loss, but mostly the room was pregnant with Resurrection. Cancer was a cross, to be sure, but it did not win.
I want to share Marie with you and, as such, her call to freedom, joy and hope.
Freedom
My sister Andrea tells great stories about Marie from a silent retreat we went on together a few years ago, which was my first time meeting her.
Throughout the week, Marie could be found stretched out in the sunshine in the middle of a field, happily painting her toenails. Other than that, she wasn't really into the whole silent thing. During one of the silent meals, she peeked in the large dining room window, pointed at an unsuspecting Andrea, and motioned for her to come outside to the picnic tables for some chitchat.
That night, I went to the kitchen to get tea before bed, but Marie cornered me and blurted in a loud, excited not-really-whisper, "How's it going!?"
My favorite, however, happened in the common lounge one evening. Marie was in a comfy chair by the community CD player, where retreatants could listen to music on headphones. She had the headphones on, but she also had her head cocked back, eyes closed, rocking from side to side, belting out the words to a worship song that nobody else could hear into the "silence."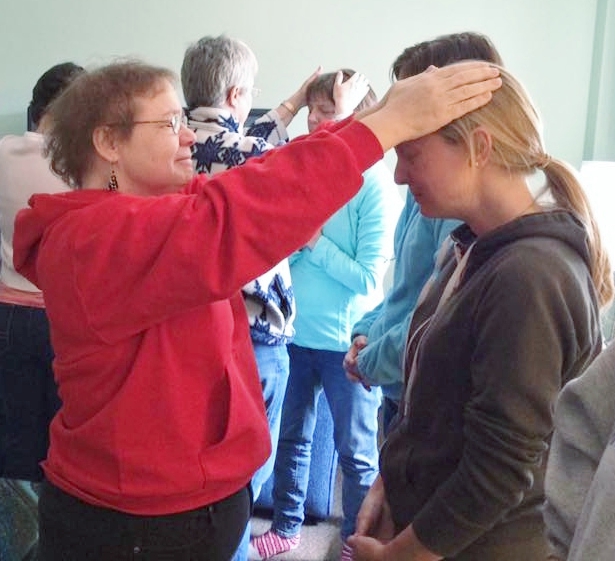 Marie blesses me at a Future of Charity retreat in March 2016. Now she blesses us from beyond! (Provided photo)
Marie knew she was God's beloved. She lived in total freedom to be herself and to sing her song, no matter where she was or who she was with. Because she was fully herself, she was also free to be in authentic relationships, always trying to connect with others. Sobrino says this is one of the surest signs of Resurrection: freedom, especially freedom to love. Marie loved deeply, caring for people, animals and Earth.
One person summed it up: "Marie knew what mattered." She didn't become mired in the things that don't. Marie was free. And she calls to us: Live what really matters. Be free to love.
Joy
Marie loved doughnuts.
On the eve of National Doughnut Day, she turned to one of her housemates and squealed, "Do you know what tomorrow is?" Her housemate didn't, but she would soon find out.
On the way to Marie's chemo appointment in the morning, they had to stop and get a special doughnut at a local doughnut shop. After the chemo appointment, Marie informed her they also had to go get a free doughnut at Krispy Kreme. And so on. Marie loved it. She relished every second and every doughnut.
As one relative said, "Marie created the fun." Like last winter, when she convinced fellow sisters to sled on cookie sheets in a blizzard. Or when she convinced her sisters in Belize, where she was only a short-term guest, to buy a puppy online. Or when she convinced her cousin and friend to light sparklers inside their D.C. hotel room on the Fourth of July because she didn't feel like going outside to do it. Never mind that the smoke alarm went off and the whole place was evacuated. Marie had ideas and spunk and joy to go around.
At her funeral, a fellow sister who is a miraculous cancer survivor said she and Marie shared the special bond of knowing what it is to live with a "death sentence." She told Marie once that she didn't pray for her to be cured of her cancer but to live each day well. They often asked each other, "Are you living today well?"
Marie could say yes. She sang, danced and played the flute. She baked cookies and shared them with others. Her passion for justice showed in her tireless advocacy for children through CASA. She loved flowers, her namesake, and she loved being a sister. She delighted in the gift of life.
Her joy shone even through her cancer. At our first Future of Charity meeting after her diagnosis, she told us that although it was scary, it only deepened her sense of gratitude and awareness. When Marie found out that she had to get a chemo bag as part of one of her endless treatments, she "glammed it up" with glued-on jewels. Those close to her say she never complained throughout her illness. Her smile was bright until the end, radiating joy out of struggle. And so, Marie asks us: Are you living today well?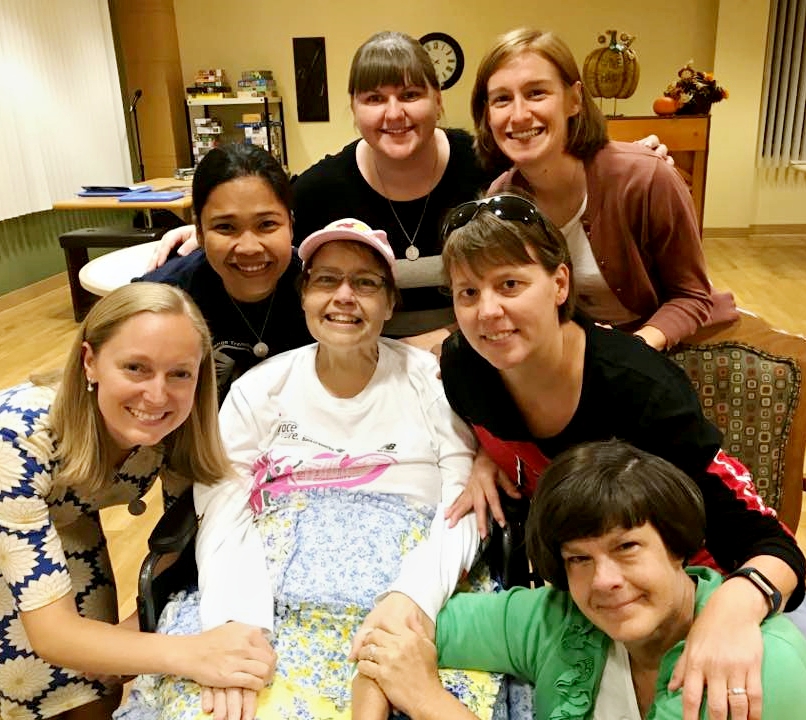 Our last visit with Marie in September 2017 (Provided photo)
Hope
Knowing her earthly life was coming to a close, Marie planned her resurrection liturgy. Her sweet nephew proclaimed the first reading from Jeremiah 29: "For I know the plans I have for you, says the Lord, plans to prosper you and not to harm you, plans to give you a future full of hope."
Cancer had not been in Marie's plan, but her housemate Liz said she accepted it with grace.
"God must have a different plan for me," Marie had reflected. "It's a new plan — an adventure. I love adventure!" She never lost the sense of the expansive possibility found in God.
I saw Marie with a group of Future of Charity sisters two weeks before she died. We sat with her and some family and friends at the nursing home, telling stories and singing songs. She was tired but in good spirits.
To close the evening, we gathered around her and blessed her, and then she asked us to sing one of her favorite songs: "I send you out on a mission of love, and know that I am with you always, until the end of the world." She beamed as she sang, albeit weakly. She said that her mission was calling her somewhere unexpected, but she knew God was with her.
And so, she urges us: Trust in the future full of hope. God is with you.
______
At Marie's Resurrection Liturgy, they placed a statue of a leaping little girl in front of the altar. Marie's parents had given it to her as a child because it seemed to capture her spirit. Throughout the Mass, I cried, but more often, I found myself bursting with joy. I pictured Marie leaping, like that exuberant girl, into the arms of her God. I pictured her dancing around the heavens, singing like she did on silent retreat, arms lifted and smiling with her whole face.
A statue of a girl leaping at Marie's funeral earlier this month (Provided photo)
Because of the way she lived, the transition into eternal life appeared seamless and natural. The sky was beautiful as we went to the cemetery to lay her to rest. The air felt limitless, boundary-less, and drenched in eternity. It was strange: Her body was in the coffin, but her Spirit was surely alive. She seemed to be everywhere, winking at us and urging us to celebrate instead of mourn. I felt a mystical certainty: Love triumphs over death.
In that powerful moment, I also knew, profoundly, that I was transformed and sent. Sobrino says that those of us who know the truth of Resurrection should, in turn, be "raisers." Marie was. Now, she has gone ahead, but her example propels us each on our own mission of love. In the midst of suffering, we can choose to be people of freedom, joy, and hope. Flower power!
[Tracy Kemme is a Sister of Charity of Cincinnati. Author of the blog Diary of a Sister-in-Training, Tracy is passionate about religious life. She currently studies theology at Xavier University and serves as bilingual pastoral minister at a local parish.]