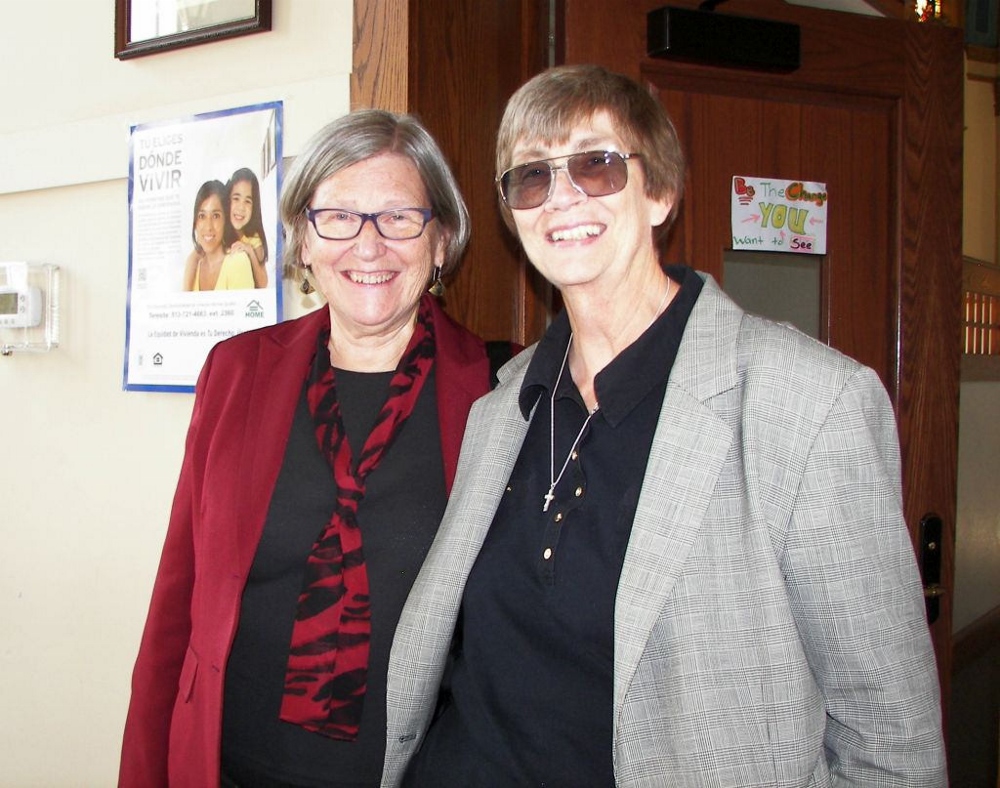 Social Service Sr. Simone Campbell, left, with Sr. Barbara Busch, a Sister of Charity of Cincinnati who founded Working In Neighborhoods. (Rigel Behrens)
During my eight years as the NGO representative at the United Nations for the Sisters of Charity Federation, I had the opportunity to travel throughout the world and observe poverty first-hand in Asia, Africa and Latin America. But then I discovered the poverty in my own backyard. Sr. Simone Campbell, executive director of NETWORK, a National Catholic Social Justice Lobby and founder of Nuns on the Bus, came to Cincinnati to give an evening talk on "Mending the Gap: Covering New Ground in the Journey for Justice."
During the day I had the opportunity to attend her two sessions with residents of lower socio-economic neighborhoods in the Cincinnati community. The first visit was to a pizzeria called Venice on Vine, which was founded by Sr. Judith Tensing, a Notre Dame de Namur Sister. Judy began work in the neighborhood 35 years ago by offering people skills training that could enable them to get jobs. One of her programs developed into a catering service and eventually a restaurant. Through these initiatives Judy trains young men and women in the catering and restaurant business so that they can gain meaningful employment.
Ten of the workers at the restaurant met with Simone to share their stories. I was alternately humbled and angry as I listened — humbled as I listened to one young man who said he could never pass up someone on the street begging because he knows what that is like.
"No matter if it is my last dollar, I will give it to him," the young man said. And I thought of how many times I have walked past not even glancing down at those begging on the sidewalk. Humbled, because one person after another talked of his/her struggles just to make it through the day, and I wondered if I would be able to walk a day in their shoes.
The anger surfaced as I listened to the hoops many of them had to jump through just to get basic services.
"In order to qualify for Section 8 housing," one woman said, "you have to have an address. I was homeless, so how could I have an address?"
Another gentleman who is disabled shared his struggles with trying to prove that he was disabled. This necessitated numerous visits to doctors and mounds of paperwork that would verify his condition. Of course, he had to rely on public transportation, which was very sporadic in his neighborhood and a distance from his home. Since walking was incredibly difficult for him, this created a tremendous hardship.
Another mother shared her difficulties with trying to raise three children. One had severe physical disabilities and used a wheelchair. This 15-year-old had a minimum of 10 doctors' appointments per month due to his delicate condition. They lived on the second floor, without an elevator, so she carries the wheelchair and her son down the stairs, and then they navigate several busses to arrive at the various doctors' offices. Her 14-year-old has severe autism and also requires special care.
Several people talked about making mistakes when they were younger and now had felony convictions on their records. Most places would not even consider hiring them. In one case, a woman was hired at four different places and worked the three-month probation period only to have the employers cite her felony conviction — and say could not hire her. She had noted the felony conviction on her initial application, but they allowed her to work one day short of the three months anyway. This way they did not have to pay any kind of benefits.
Another woman talked about the difficulties of getting to work using the poor public transportation. In the morning she can take a bus, but the bus stops running at 7 p.m., and she doesn't get off of work until two hours later. It costs $18 to take a taxi, which is a significant amount of money when one is working for minimum wage.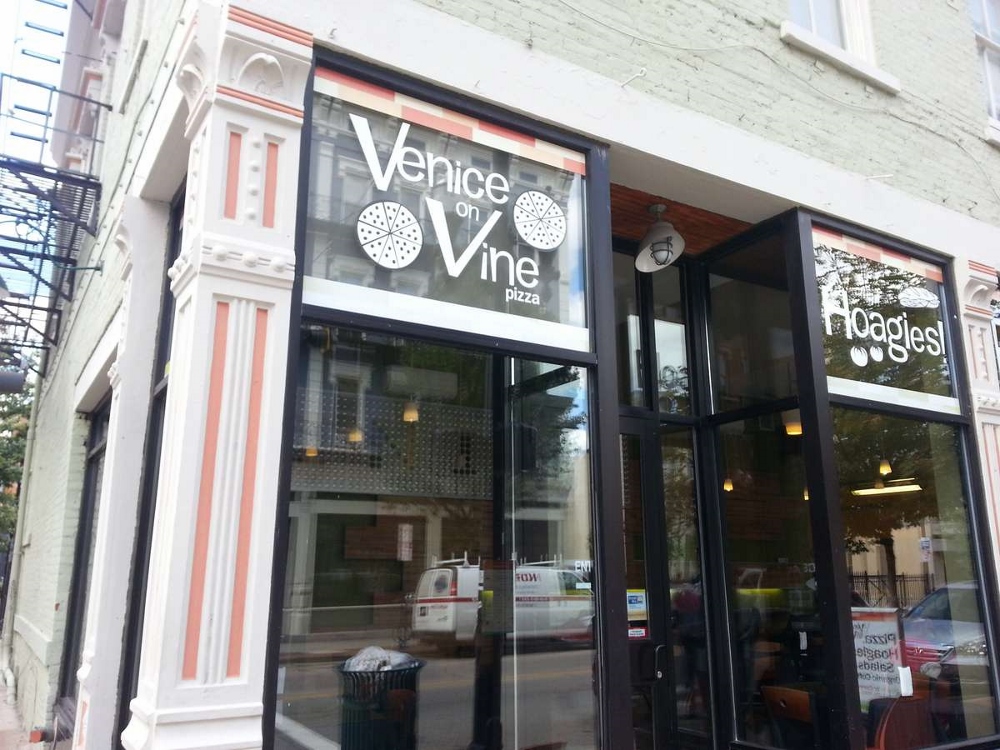 Venice on Vine is a sandwich and pizza shop that also provides catering -- and job training. (Courtesy of Venice on Vine)
Working in Neighborhoods (WIN), founded by Sr. Barbara Busch, a Sister of Charity of Cincinnati, was the next site visit. For over 35 years, WIN has assisted low- and moderate-income Hamilton County residents to bring stability to their neighborhoods and to their families. By brokering relationships with key decision-makers, WIN is an effective leader in the areas of housing development, foreclosure prevention, home ownership, leadership development, and energy conservation. WIN empowers people to make informed choices for themselves and their neighborhoods through community building, home ownership, and economic learning.
At this site, Simone met with about 50 members of the local community who recounted some of the successes of which they were very proud, while also noting that it often felt like for every step forward they were pushed back three. Public transportation was a major issue here, also, as this location was farther out of the city and had fewer routes and longer periods between busses.
A problem that arose at both sites was "payday" loans; local stores that lend money but at exorbitant interest rates. Here again people found themselves in an untenable situation. They needed small loans, unavailable to them at local banks, so their only recourse was to use the payday loan places. This, however, led to becoming deeper and deeper in debt as a result of the outrageous interest fees.  
These men and women were working to improve their lives and the lives of their families. Despite numerous obstacles they came to work every day and worked hard so they could lift their families out of poverty. But they found themselves caught up in a system that offered little support. The very programs designed to offer assistance too often placed insurmountable stumbling blocks in the paths of the very ones who needed the help. Agency A would say i needed a paper from Agency B before they could help, but Agency B required a paper from Agency A before they would even look at the request. Hours and hours going from office to office often led to discouragement and defeat.
In the evening, Simone spoke at a local church and provided a visual which encapsulated the frustration we saw during the day. She first noted that between 1949 and 1979 everyone's income increased by 100 percent, but that from 1980 forward, disparities increased exponentially. She created a human bar graph by choosing five people to represent quintiles (20 percent of the population) and had people take steps relative to the increase in their income over the 34 years from 1980 to 2014.
In a study guide produced by NETWORK entitled "We Can Mend the Gap: Mend the Gap Study Guide, Part 2," she says, "What's happened from 1980 to now?"
The income of people in the bottom quintile, who on average made $16,110, decreased in value by almost 9 percent. Meanwhile, the income of people in the top quintile, who on average made $217,021, increased in value by 61 percent. But more astounding still was when she separated the top 5 percent, who made an average of $448,489, and showed an increase of 106 percent in wealth over the 34 year period. And the top 1 percent? Their average income was $1,260,508, and their income increased in value by 168 percent over the same period of time.
A human bar graph video puts the numbers into perspective. By creating a human bar graph and having people take steps relative to the increase or decrease in their income, it was evident that those at the top knew nothing of the realities of those at the bottom because they were so far away that they could not even see them.
As discouraging as this visual was, Simone noted that it was policies that created these disparities, and so policies can change them. The bar graph provided great insight into the disparities, but it was the people I met during the day whose stories gave life to the numbers. I saw the face of poverty and the face of Christ in the people I met and realized that I did not have to travel around the world to encounter poverty; I simply needed to walk out into my own backyard.
[Caroljean Willie is a Sister of Charity of Cincinnati who has a Ph.D. in Multicultural Education. She has extensive experience working cross-culturally throughout the United States, the Caribbean and Latin America.]