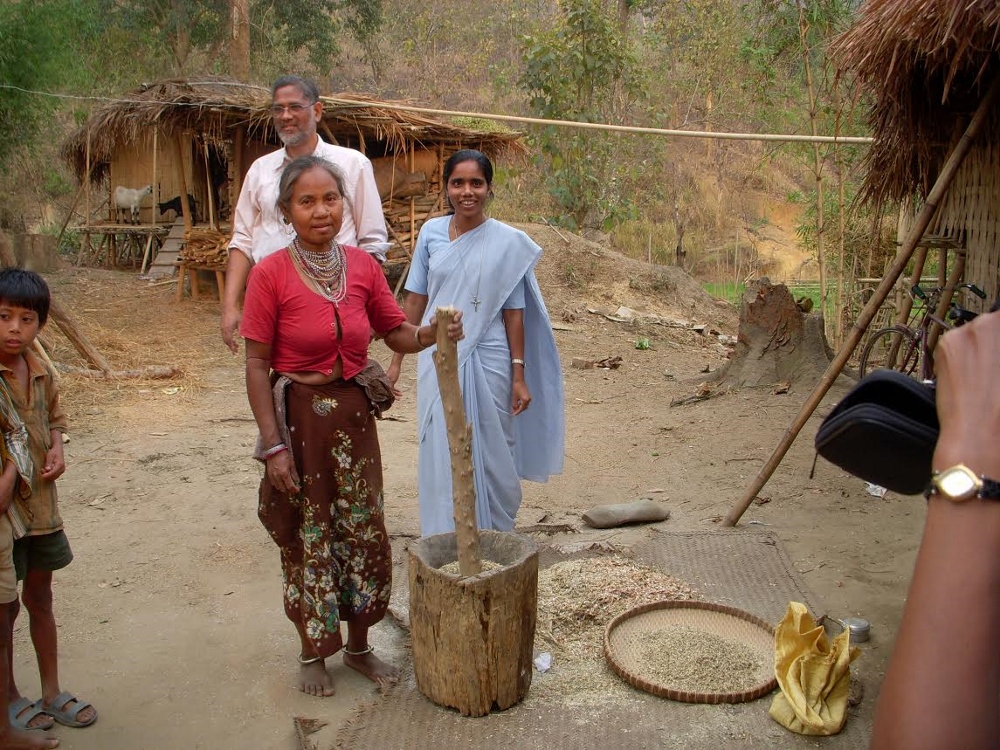 Sr. Janet Tellis visits with a woman from the Tripuri tribe who pauses from her work removing husk from rice harvested from a paddy. (Photo provided by Janet Tellis)
Tripura State, India — A cherished dream came true for me when I was appointed to work in India's northeastern region after my final vows with the Missionary Sisters Servants of the Holy Spirit in 2005. Cultures have always fascinated me, and northeastern India, I was told, was a melting pot of races and cultures.
I had expressed my desire to study anthropology while in the novitiate. My superiors must have kept that in mind while deciding postings for the newly professed members.
For they knew northeastern India, where I was sent, has more than 220 ethnic groups speaking an equal number of dialects. The region is called Seven Sisters because it comprises seven states of India. Spread over 98,653 miles (255,511 km2), the region accounts for 45 million people, or 3.7 percent of India's total population. Despite their great ethnic and religious diversity, the people share lots of political, social and economic similarities.
Into Tripura
After completing a master's degree at Bombay University, I was sent to work in Tripura, India's third-smallest state surrounded by Bangladesh on north, south and west sides. Its only link to India is through Assam and Mizoram states in the east.
Going from a metropolitan city to a remote village within a few days was both thrilling and frustrating. I felt I had traveled in a time machine and landed in a prehistoric era. For a few days I felt almost imprisoned in a room that the Divine Word priests provided me. They were already working in that interior village.
We have a boarding school for 165 girls, aged 3 to 18. As kids often went missing we had to be on alert always. We lived in constant tension, but it was worth the trouble. The first students are now studying in colleges outside the region.
Soon after landing in the village, I started working in the parish and helped boarding school children in their studies and the school management in the office work. I could also find time to visit nearby families.
I started making pastoral visits to the villages with the priests. It was during those visits I heard about the Reangs, a vulnerable tribe in India, one 75 tribes facing extinction in India.The Reangs are one of the significant ethnic groups in Tripura. With 188,220 people, they are the second largest tribe in the state. They came there hundreds of years ago. Forests play a significant place in their life and economy.
The Reangs, I soon realized, had the answers to some of the environmental and economic crises in the world. An in-depth study of the Reangs would enlighten the world, I was convinced. Despite knowing that such research would consume time and energy, I took it up with much joy.
They indulged in a unique method of cultivation known locally as Jhum (slash and burn). They hunt wild animals and birds, catch fish and gather forest produce.
Jhum helps them produce everything they need. The cultivation is accompanied by religious rituals. First, they clear the site on a hill slope and reserve it by pitching two poles of bamboo in the form of a cross – a warning against trespassing. Then they offer a special prayer to the presiding deity for a rich harvest. They sow after the first rains in June and harvest in winter around December.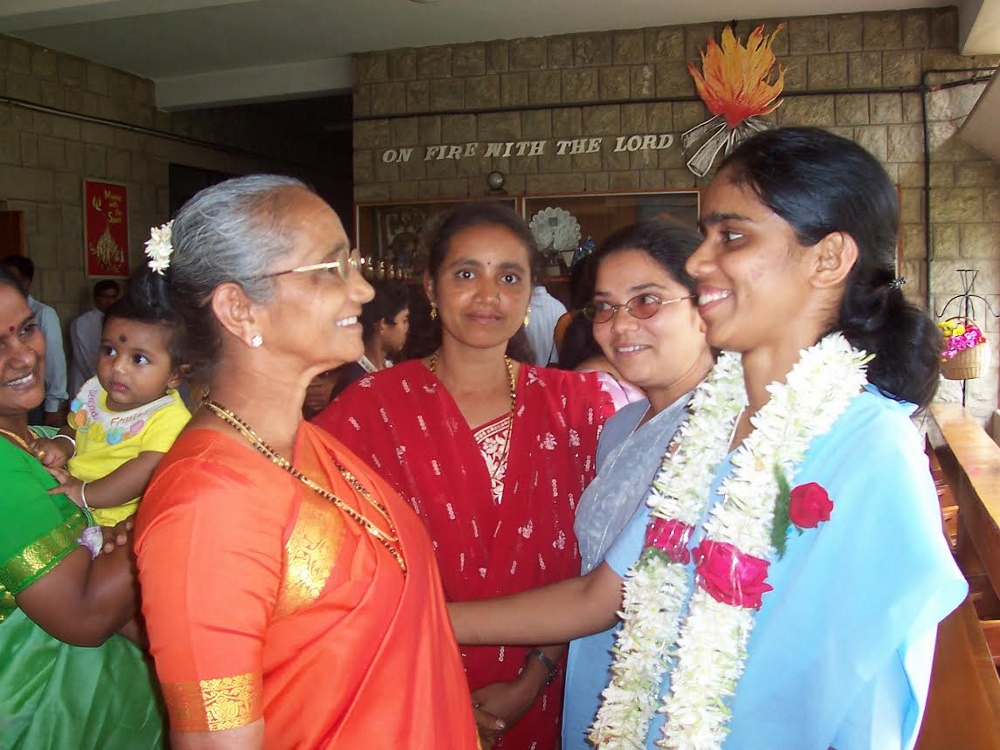 Sr. Janet Tellis poses with her mother, Leena Tellis, after taking her final vows. (Photo provided by Janet Tellis)
Into rich adventure
My life in Tripura was full of adventures.
Once I went to some remote villages walking four hours through hilly forests. After two hours we came to a river that had a bridge with a single bamboo pole as its base. I had never used such a bridge until then, so I was scared that I would fall into the water. The priest knew the trick, crossed the bridge first and then became busy with a camera. I learned to balance on the bamboo and reached the other end.
When we got to the village, people gathered inside a house to listen to us. We taught them some songs, and the catechist spoke about Christ. I could speak only a few sentences in their language, and what I knew about their culture and rituals I had learned from the girls from our boarding school. Being among the elders helped me to verify what the children had taught me.
I had to adjust to some hardships and sleepless nights: Bugs and rodents ran through the room where I slept, and there was no electricity or washroom. So I arose before dawn to go to the fields and was ready by 4 a.m.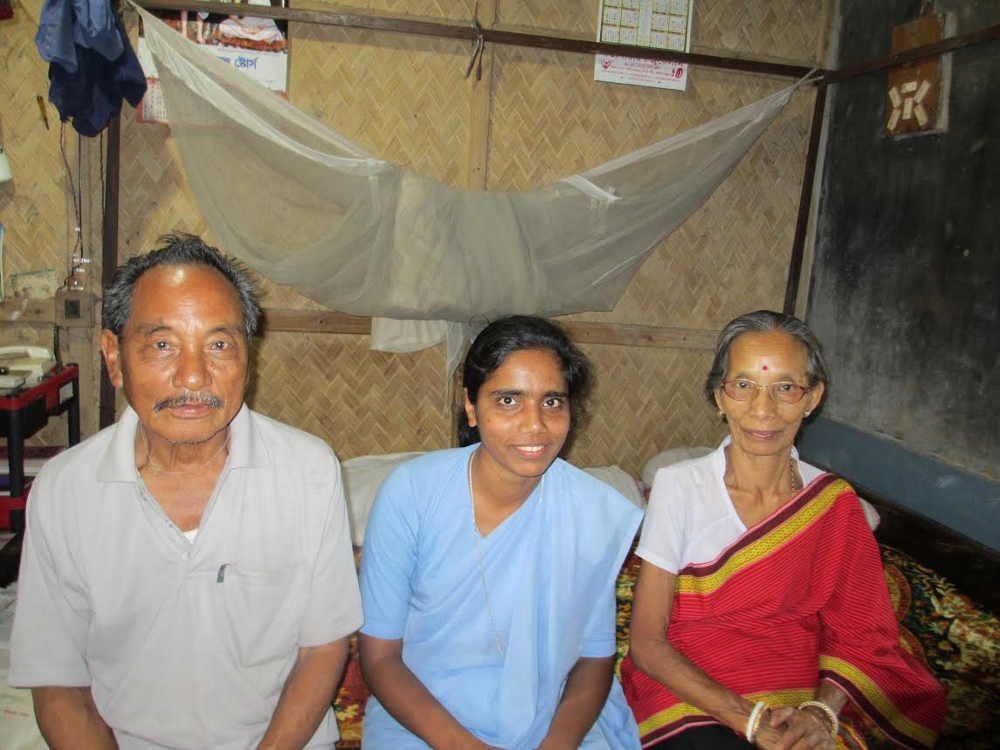 Sr. Janet Tellis visits with the first educated person among the Reangs, with his wife inside their house. (Photo provided by Janet Tellis)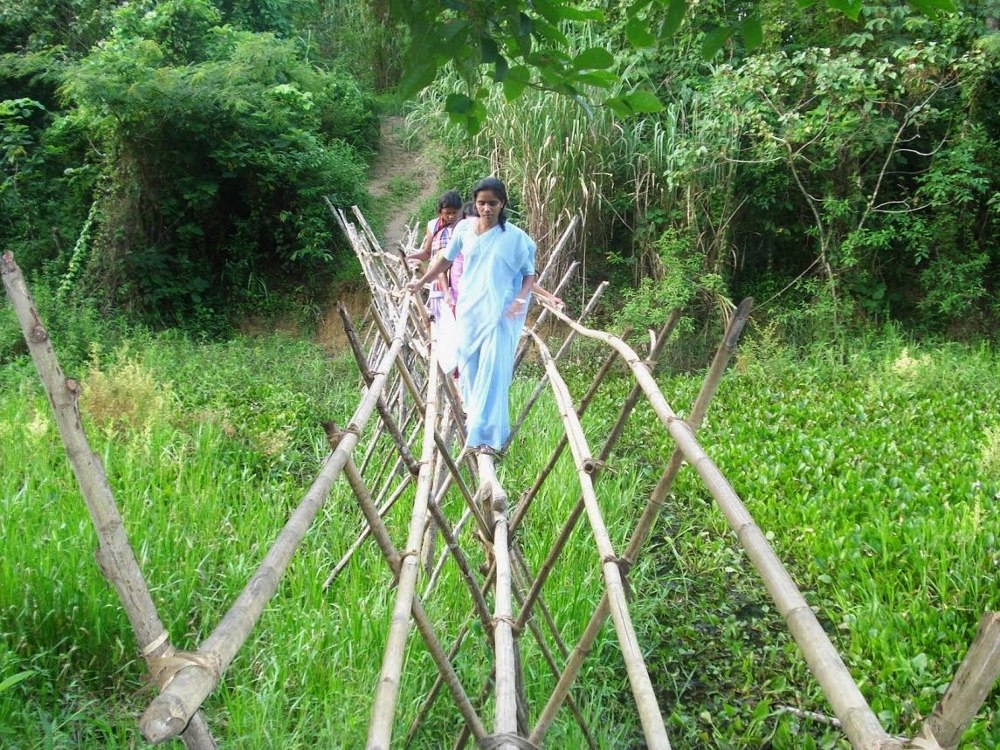 Sr. Janet Tellis carefully picks her way across a bamboo bridge to go to a Reang village. (Photo provided by Janet Tellis)
I received a cucumber for breakfast, but I was happy as I did not have to eat the rice cooked with fish. I asked one of my hosts if they washed the fish. They surprised me with their reply: There was no need as the fish were always in clean water.
Another time we had to cross a river to go to a village. After two hours of walking we reached the place but found the water level very high. There was no other way. I was dressed in my uniform sari. The others were all men, including the priest, and they crossed the river in neck-deep water. One parishioner came back and said he would carry me on his shoulders. That is what he did. We had our program in the village and waited for the water level to lower before returning.
I had other interesting visits. I used to go with the parish priest, catechist and a few parishioners. In one village we sat in a tea shop. The priest bought a few cups of tea. I felt uncomfortable, being the only woman there, as more men joined us. We took tea as they discussed local issues. Soon, our team narrated stories to make the crowd aware of the need for education and health in the villages.
We repeated this method in many places, and people began visiting our center to get children educated as well as to get medical help for their illnesses.
In some villages women were shy and hardly spoke or came out of their houses. They thought I was the priest's wife. Women would ask me where my husband was when we met alone later. They were seeing Catholic priests and nuns for the first time. We also conducted an adult literacy program for them. I taught them English, and they taught me their dialect kau bru. I sat with the women as they cooked food. They taught me the names of things in the houses. So, it was mutual give and take.
I stayed close to the indigenous people and engaged in social developmental activities, especially in empowering women. I began to learn more about these people and their customs and rituals.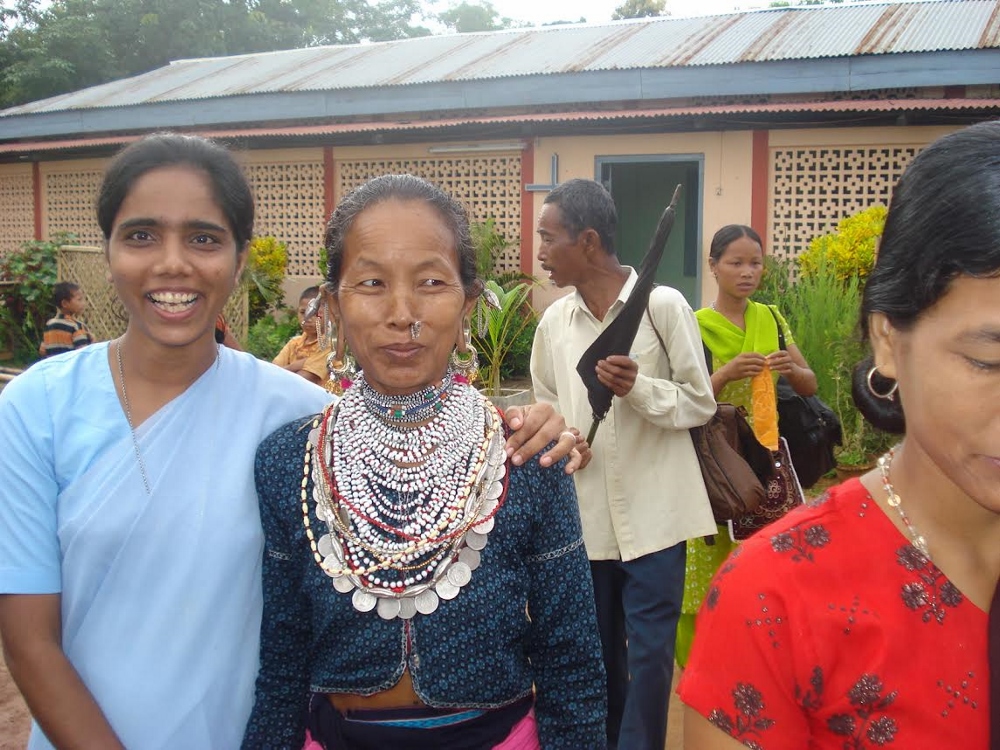 10. Sr. Janet Tellis visits with a woman from the Halam tribe. (Photo provided by Janet Tellis)
Into a welcoming society
In villages, I have slept in a place with animals around me. The grunts of pigs and goats mingled with my own breathing. Rice cooked with fish was a favorite dish. Nevertheless, it was a joy to be with those villagers. Although they had the bare minimum, they welcomed me with whatever they had. Of course, the Divine Word fathers backed my efforts to learn about a unique and diverse culture.
All these struggles made me feel one with the people, and I will never forget the welcome I received. The adventure included staying with unknown families and making them friends in a few days. Even a stranger became a friend after some time.
I went to Tripura villages seven years ago. Now, I can see development slowly has entered even those remote Reang villages. People now value education, and women are taking more and more leadership roles after the missionaries worked with them, which was one of our top priorities.
My stay with these most vulnerable people has taken me to unfamiliar shores. The daring and committed people have shared with me how they have spent sleepless nights, fearful that groups indulging in secessionist activities would target them. The restrictions on their movement within the state also added to their woes.
We made the villagers happy by bringing their girls to our boarding schools and helping them study. The future of this community is in our hands. We wish to give bright futures to these young ones in the society. We hope that our contribution makes a difference for this vulnerable group in the coming years.
Into a modern world
The Reangs are now in transition. They are adopting trappings of the modern world, such as a world view, education, economic activities, health-seeking behaviors and different clothes, recreation and food habits. The Reang society has changed and is changing. I, too, have changed a lot after walking with them.
A picture that remains etched in my memory is that of a young man in traditional dress carrying a spear and swaying to the music from a modern headphone. He had used the spear a few hours earlier to hunt animals. It was a perfect fusion of the ancient and modern. The sight made me think that their culture would eventually become mine one day. This made me sad, as I was sure another bit of diversity would disappear, and my world would become distressingly ordinary.
I have noticed that Reang elders were becoming increasingly concerned about the changes creeping into their society. The changes do not upset them but have made them anxious about their future. Educated Reang girls no longer wear the heavily beaded jewellery that characterizes their people.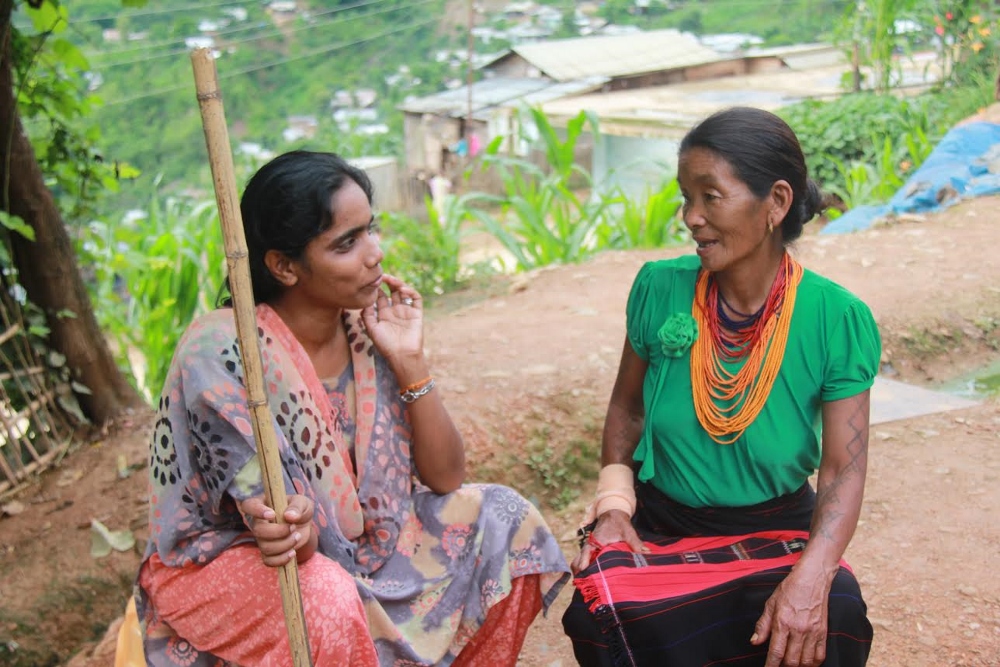 Sr. Janet Tellis chats with a woman from the Naga tribe. (Photo provided by Janet Tellis)
The study of the Reang people has helped me understand dominant values in their society and changes taking place among them. The Reang social life has changed because of their contact with outsiders, formal education and the introduction of a new political system and religion.
My love for the poor and marginalized section of society has increased after my time with the Reangs. I have understood their dreary existence in their own land and feel compelled to serve them with all my talents.
Life with the Reangs has taught me to become open to other cultures and people. We learn to coexist and respect others without discrimination. The Reangs challenged me to connect with others.
This in fact was what my master Jesus has taught me. He was not a loner. He reached out to the estranged, to the marginalized, to those who were different.
[Janet Tellis is a member of the Missionary Sisters Servants of the Holy Spirit who has been working in northeastern India since 2008. A native of Udupi district of Karnataka, southern India, Tellis received her Ph.D. from Gauhati University of Assam state on March 30, 2015 with a focus on the Reang people, one of the 75 tribes facing extinction in India.]