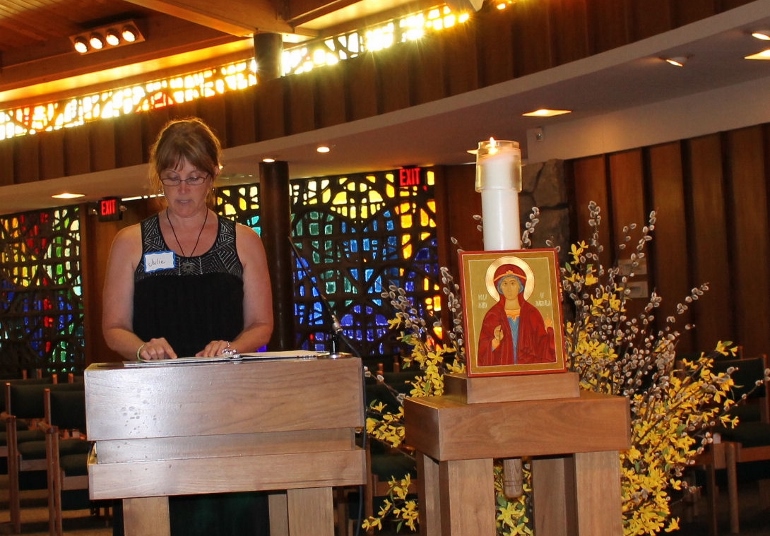 A woman leads a St. Mary of Magdala prayer service at a Michigan parish in 2012. (Courtesy of FutureChurch)
To say I was thrilled when the Vatican upgraded the celebration of St. Mary of Magdala to a feast on par with those of the other apostles doesn't nearly begin to cover it.
On June 10, Archbishop Arthur Roche, the secretary of the Congregation for Divine Worship, said:
It is right that the liturgical celebration of this woman has the same level of feast given to the celebration of the apostles in the general Roman calendar and highlights the special mission of this woman who is an example and model for every woman in the church.
St. Mary of Magdala, the statement says, "has the honor of being the 'prima testis' [first witness] of the Lord's Resurrection. ... [and] Precisely because she was an eyewitness of the Risen Christ, she was also, on the other hand, the first to bear witness to him to the Apostles."
I'm not sure if most of us realize just how big of a deal it is to have the Vatican say that St. Mary of Magdala was not a prostitute but an apostle in her own right, and the first to witness Jesus' resurrection.
Oh, you didn't see the "not a prostitute" part? 
Well it's there, but obliquely concealed by some tactful backtracking from Pope Gregory's disastrous sixth-century sermon that combined three New Testament women — Mary of Bethany, Mary of Magdala and the female "public sinner" who washed Jesus' feet with her tears — into one big time woman-sinner-prostitute.