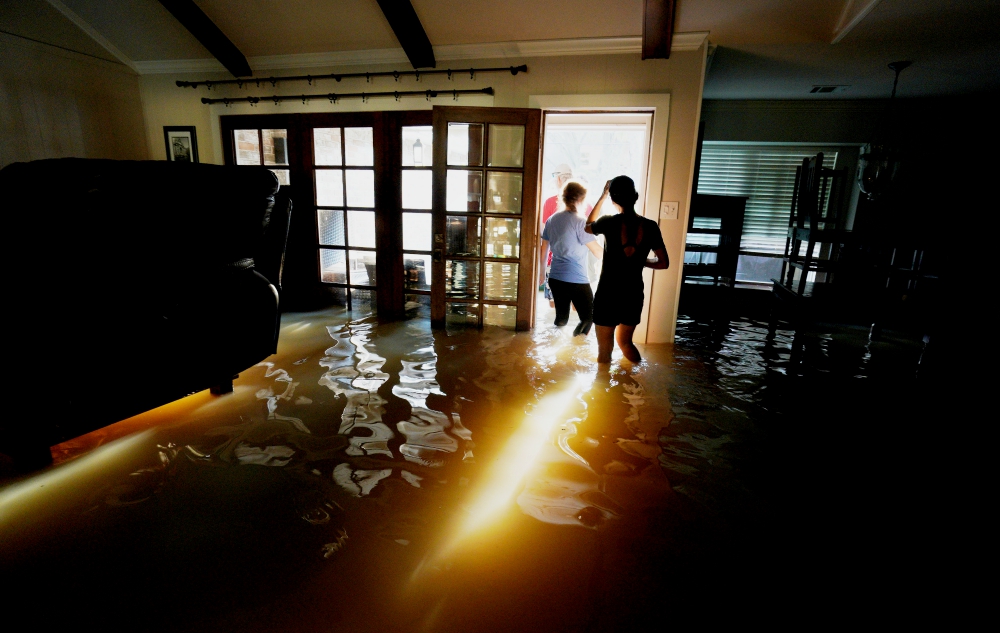 A family moves belongings from their flooded home Aug. 31 in Houston. (CNS / Reuters / Rick Wilking)
It's almost impossible to take in the images of the flooding in the USA — Houston, Louisiana, Florida and the Caribbean — without looking away. Our empathy for those who are suffering is measureless. And as much as we care about our brothers and sisters who've lost homes and livelihoods in recent hurricanes, there's another disheartening realization: Disasters are more devastating, and strike more often, than ever before.
I just did a Google search for "floods around the world 2017," and the day I'm writing this article there is a report that heavy monsoon rains have killed 1,000 people and directly impacted 41 million people in India, Nepal and Bangladesh. More than 300 were killed as landslides and flash flooding hit Freetown, Sierra Leone.
I have to stop scrolling down the page. It is too overwhelming. The experience of frequent storms is incredibly stressful, especially if we have friends and family in the affected areas.
Three other days when our country united around unexpected calamity still lie heavy in our hearts, especially on their anniversaries: Hurricane Katrina, Hurricane Sandy and, of course, 9/11. Every disaster evokes their memory within us, triggering depression and anxiety in survivors of these and other disasters.
So as I flipped through the websites and looked at images and news reports, I found myself unable to express the sadness that lay on my heart.
Events of this magnitude — whether storms, terrorism or accidents — make us confront fears too deep for words. By walking into them, as best we can, we discover that God is greater than our fear.
I remember how frightened I was in the days following 9/11, when the skies of Boston were silent and planes were grounded. In early October, just three weeks after 9/11, I had an airplane ticket for Reagan National Airport in the nation's capital, for a vacation with my family. I was seriously considering canceling the trip.
It was my mom who realized how terrified I was and who spoke to me very firmly: "God is present here. God is with you. You are safe in his love no matter what happens." Then she and Dad drove up to Boston to bring me back to Virginia for vacation. I breathed a sigh of relief.
These events call up questions about the meaning of life, God's power to protect us from harm, the purpose of suffering. Questions that have no easy and ready answers call for a great leap of faith. The tragic events of 9/11 precipitated many years of soul-searching for me. Why was I so afraid? I asked myself.
As I allowed the unexplored rumbling in my heart to surface over years of reflection, I realized that I was afraid ultimately of dying. This fear is natural. The need for self-preservation is strong. But should I live my life as if I were constantly snatching it away from the claws of death, or was there something God was calling me to?
I remembered the Cistercian martyrs of Algeria, a small community of monks implanted among the Muslims at Our Lady of Atlas — a community of witness, presence and prayer. In 1996, the year they were martyred, the last letter that Prior Fr. Christian de Chergé had mailed to his family in the event of his death was printed in The Boston Globe.
In that letter, he told his family and community that if he became a victim of terrorism, he would like them to associate his death with all the other equally violent deaths that were shrouded with anonymity.
My life has no more value than any other. Nor any less value. In any case, it has not the innocence of childhood. I have lived long enough to know that I am an accomplice in the evil which seems, alas, to prevail in the world, and even in that which would strike me blindly. I should like, when the time comes, to have enough lucidity to beg forgiveness of God and of my brothers and sisters in the human family, and at the same time to forgive with all my heart the one who would strike me down. ...

But these must know that at last my most insistent curiosity will be satisfied. For this is what I shall be able to do, if God wills: immerse my gaze in that of the Father to contemplate with him his children of Islam as he sees them, all shining with the glory of Christ, fruit of his Passion, filled with the gift of the Spirit, whose secret joy will always be to establish communion and to refashion the likeness in playing with the differences. For this life lost, totally mine and totally theirs, I thank God, who seems to have wished it entirely for the sake of that joy in and in spite of everything.
These words of Father Christian have resurfaced in my heart again and again: love, unity, forgiveness, handing oneself over to the mystery of God at work still, despite our violent hatred of each other. Many years after 9/11, I finally summoned up the courage to look death in the eye and to forgive: to forgive life, to forgive tragedy, to forgive a terrorist at whose hands I myself might die, to forgive myself, to become one with the whole mass of people on this planet who are living, suffering and dying.
After some years, my heart relaxed and finally knew peace. I began to desire to give my life rather than to save it. In 2005, I was deeply moved and drawn by a story I heard of a small group of Vietnamese Catholics in the Superdome in New Orleans in the aftermath of Hurricane Katrina. As help arrived to rescue people from a place that had degenerated into horror, people pushed forward — even violently — to be taken first. These Vietnamese Catholics quietly remained in their places, praying the rosary, asking that the others be taken first. 
Even if we don't feel courageous, we can walk with courage into the scary places within our own hearts, knowing they are holy places. Here we can find the Lord's presence in the "burning bush" no matter what is happening around us. We can allow the answers to emerge gradually, knowing we're asking sacred questions that humans have wrestled with for millennia.
As urgent as the question "Why?" may seem in times of tragedy, we will discover that the Truth upon which we can build our life is not the answer to this impossible dilemma, but rather the recognition that there is an ultimate reliability to reality and to God.
Bearing the burdens of life for others and for ourselves will break open the depths of the human spirit in magnificent splendor. Life flowers ultimately in hope, in the day-by-day miracle of putting one foot in front of the other when all seems lost.
You might want to take the time in these days to stand guard at the door of your heart, watchful, waiting for what will blossom there if you let life teach you.
[Daughter of St. Paul Sr. Kathryn James Hermes is the author of the best-selling book Surviving Depression: A Catholic Approach as well as a number of other titles. She works with individuals online at pauline.org/heartwork, and her newsletter can be found at pauline.org/sisterkathryn.]