For the first time since 1950 (when Brazil lost the championship to Uruguay 2-1 at the last minute) the World Cup soccer games will be played in Brazil for 30 days starting June 12. Brazil is the only 2014 contender that has won the World Cup five times, so enthusiasm here runs high. There have been years of preparation, building or remodeling stadiums and infrastructures in 12 cities — lots of money spent,  unavailable for public health, education, public transportation, housing and social programs. Numerous public protests have occurred as a result.
For religious women and men throughout Brazil, the World Cup Games are seen as a "mega event" that will augment an already very serious violation against human dignity: human trafficking in its various forms. We know that this is highly organized crime, with national and international networks of procurers, transporters and sellers. But religious have been organizing, too.
A Brazilian network called A Cry for Life (Um Grito pela Vida), created in 2006 is now present in 22 states, uniting over 100 congregations of religious women here. The network is part of the international one, Talitha kum, headquartered in Rome.

The efforts of this network of sisters are not limited to this 2014 World Cup. After the World Cup in South Africa in 2010, the network became aware that it needs to be better prepared for the  surge of tourists and sex-trafficking that accompanies such events.
The Conference of Brazilian Bishops selected the theme for Lent 2014: Fraternity and Human Trafficking, bringing the question into every parish and every Catholic community, into religious and public schools and into homes through TV and radio. The theme was chosen years earlier in large part because of the pressure of thousands of signed petitions from around the country, organized by religious women and their base communities.
I live in the heart of Brazil, in the capital of the state of Goiás, about three hours from Brasilia. What does the local chapter of the network do here? Sisters go wherever and whenever invited to present information, foment discussion and raise consciousness about issues of human trafficking.
In February Sr. Celina Loh, a Sister of the Immaculate Heart of Mary, came to speak at our parish, which joins eight small communities. The participants shared moving personal stories, including from those with relatives who thought they were going to Europe for work but ended up in the hands of traffickers.
Later Sr. Celina told me that one of the parishioners came to her after the presentation and shared that she was caring for her sister, who had returned after several harrowing years in Spain. She no longer is able to function, spending her days taking showers. The reality of human trafficking has come much nearer to home.
During Lent each community used material developed through the bishops conference to hold reflection groups in neighborhoods. At these weekly reflections I could also see how people's eyes were opened, their hearts sensitized to how each one of us is responsible for one another.
The grassroots chapter of the Conference of Religious, 15 sisters who live in the same pastoral region where I am, sponsored a public demonstration on May 31 with lay people on the outskirts of the capital city. This initiative brought the issue of human trafficking to the public through song, marches, speeches and presentations given by  youth groups and others.
One of the speakers talked about his daughter, who was murdered 19 years ago when she denounced her traffickers. "It is inhumane to make women and children the source of profit," he said. "A life is more valuable than everything in this world."
On June 7 religious sisters are organizing a similar march in the center of Goiânia to call public attention to the issue of trafficking, just days before the World Cup opening game. Similar events are taking place all over Brazil, especially in the cities hosting the matches and receiving so many visitors from all over the world.
The flyers that are being distributed state:
"In the realization of the 2014 World Cup, the opening kick is against the poor and vulnerable population. It plays with LIFE, exploring and enslaving children, adolescents youth and women. Stay alert to this reality! To exploit, enslave and traffic people is a crime."
[Sr. Maureen Finn, a Sister of St. Joseph of Rochester, has lived in Brazil since 1984.  She works as a pastoral agent in small Christian communities on the outskirts of Goiânia, a state capitol with a population of more than a million which was not selected as a host city for World Cup Games.]
Related - Religious make efforts to bring awareness to World Cup trafficking by Colleen Dunne and
Sisters launch 'Play for Life' in advance of major sports events in Brazil by Joyce Meyer or
Click the "Trafficking" button for a list of other stories.
Images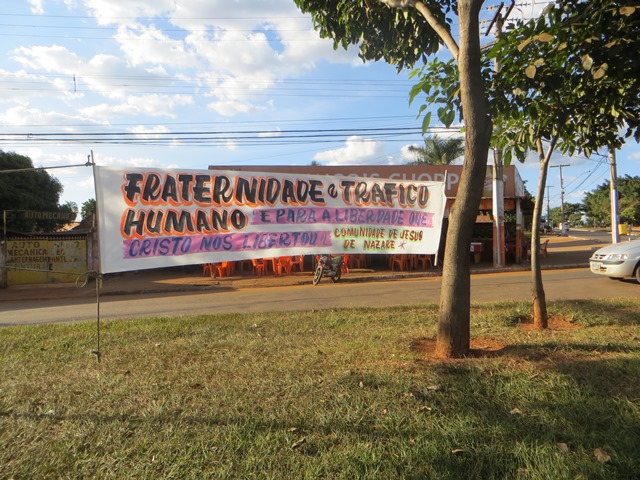 A sign for the May 31 event proclaiming our brotherhood and freedom in Christ. (Maureen Finn)