This story appears in the
Sustainable Development Goal 16: Peace, Justice and Strong Institutions
feature series.
View the full series
.
In Kenya, tribal tensions simmer just below the surface of every conflict. In December 2007, this tension exploded after a viciously contested election plunged Kenya into a three-month-long bloodbath of tribal conflict. Many activists and outside observers accused the Kenyan Election Commission of ignoring evidence of vote rigging to keep the current government in power. Tribes who supported opposing candidates stormed into each other's villages and shantytowns, burning down homes.
More than 1,000 people died in the violence, and 660,000 more were displaced from their homes, according to Amnesty International.
Many of the displaced victims ended up in Nairobi's biggest slum, Kibera, a sprawling network of trash-filled mud alleys and corrugated tin houses crammed into every inch of space. More than a million people live in this single slum, which is the second-largest on the continent after South Africa's Soweto.
Six years after the victims fled their homes for this crowded shantytown, their legal cases are in limbo as they wait for compensation from the government. Many of the displaced people were farmers, mostly illiterate, with high rates of HIV. When they were forced to leave their land, they lost the only livelihood they had.
The slums also removed the victims' network of social support, isolating people from their families, and forcing tribes from different parts of the country to live in close quarters. Cultures and traditions clash, especially since unemployment magnifies the feelings of helplessness. It is a recipe for disaster: Even the smallest spark can reignite a tribal war.
In order to decrease tension in one neighborhood of this slum, Catholic sisters have trained women to act as local peacemakers and mediators. Since 1999, the Association of Sisterhoods of Kenya's Justice and Peace Commission has trained 340 women during a summer-long intensive seminar. The women trainees are mostly laywomen but include a few sisters. They hail from across the country and gain tools for defusing small, local conflicts, like disputes over fences or resources.
These 340 women returned to their communities in all 25 dioceses of Kenya and shared their knowledge by creating "peacemaking circles," groups of women from the neighborhood whom they train to act as local mediators.
Solphine Othuol, an HIV counselor from Kibera, was trained in the first wave of women peacemakers. After the parish hospital laid her off last year due to a funding cut, she worked with the sisters of the Justice and Peace Commission to create a new local peacemakers circle, which started in August 2014.
In Kibera's Ngando neighborhood, just off of the busy Ngong Road where carpenters build wooden bedframes by the side of the highway, Othuol spreads a blanket in the dirt next to the church. Thirty women gather every week for seminars on conflict resolution, empowerment and health. They also learn beading techniques to make small crafts to sell at local markets.
"We think that the family is the foundation of peace," explained Sr. Mary Magdalene Kanini, an Incarnate Word Sister who is the country coordinator for Kenya's Commission for Justice and Peace. "If there is no peace in the family, there is no peace anywhere. Women are central in peacemaking, starting with their own children," she said.
The peacemaking circles do double duty as a therapeutic and supportive community for the women themselves, since many suffered trauma during the riots or are dealing with HIV/AIDS, including caring for relatives orphaned by the disease. In Ngando neighborhood, 75 percent of the women in the peacemaking circle are HIV-positive.
"They're coming together as a group because this is a place they come and speak their heart," said Kanini.
Even in the past few months, the mediation results have already started trickling down. "There is a lot of conflict here, like tribal clashes or petty issues with neighbors any time people live so close together," explained Othuol. "At home with the neighbors, if there is a conflict they look for me and I am called to reconcile people together," said Lucy Nyokabi, one of the members.
"In one of our training sessions we teach women, when there is an argument, to take a drink of water and hold it in their mouth," said Kanini. "This is how we teach people to hold their tongue and use non-violence. This gives you time to cool down and try to solve [problems] in a non-violent way. The hope is that if you're not violent, maybe the other person won't be violent."
In addition to mediation training, Othuol and Kanini organized artisans to come teach the women how to create beaded bags and jewelry to sell at local markets, providing them with a small income.
"Pope John Paul said that you can't preach to an empty stomach," Kanini explained. "Without meeting basic needs, you can't have peace. So we are trying to meet the basic needs and take care of the children as well." As the group develops they hope to tackle the housing and legal issues stemming from the displacement, but for now, the hope is that proceeds from the beadwork will enable women to buy food to improve their family's diet.
"Being together makes the stress of being lonely go away," said Susan Waja, one of the members of the group. "If you have no land, it is very difficult to pay rent, but now we can make some money for rent [with the crafts]. I can't be hired anywhere because I am too old, so the only way for me to make money is to use my hands."
There is not much of a market for their crafts, though, so they make very little money from their beadwork, a serious challenge for the sustainability of the group.
But Kanini is heartened by the influence of local women acting as mediators and problem solvers. She noted that African tradition holds that before leaving to fight, in a war or a raid or even a fight with a neighbor, a son must ask for his mother's blessing. "Without the mother's blessing, they won't go," she said. "So women have the ability to stop wars."
"Why women?" asked Othuol. "Because women make peace. Women have the children. They'll start building the children right from the beginning from a young age. In countries at war, the women disappear. But a woman can say, 'Stop it, my son.' She can stop the war and it can change. We're the majority, don't forget. If we focus on women, we're in fact helping the entire society."
[Melanie Lidman is Middle East and Africa correspondent for Global Sisters Report based in Israel.]
Click here to learn about a new fundraising initiative that is the first of its kind for sisters in Africa,
an online donation process through Global Impact that connects donors around the world to the sisters' work in Kenya.
Images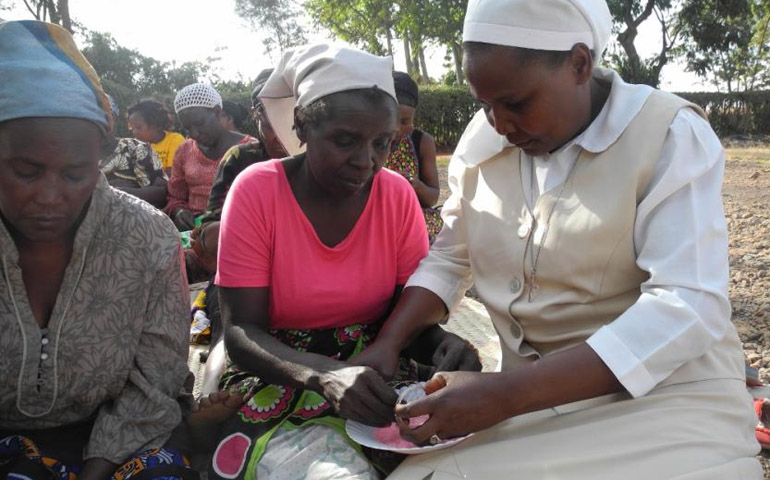 Sr. Josephine Muthoni Kwenga, a Sister of St. Joseph of Tarbes, right, helps a woman make a bracelet during one of the training sessions. (Melanie Lidman)