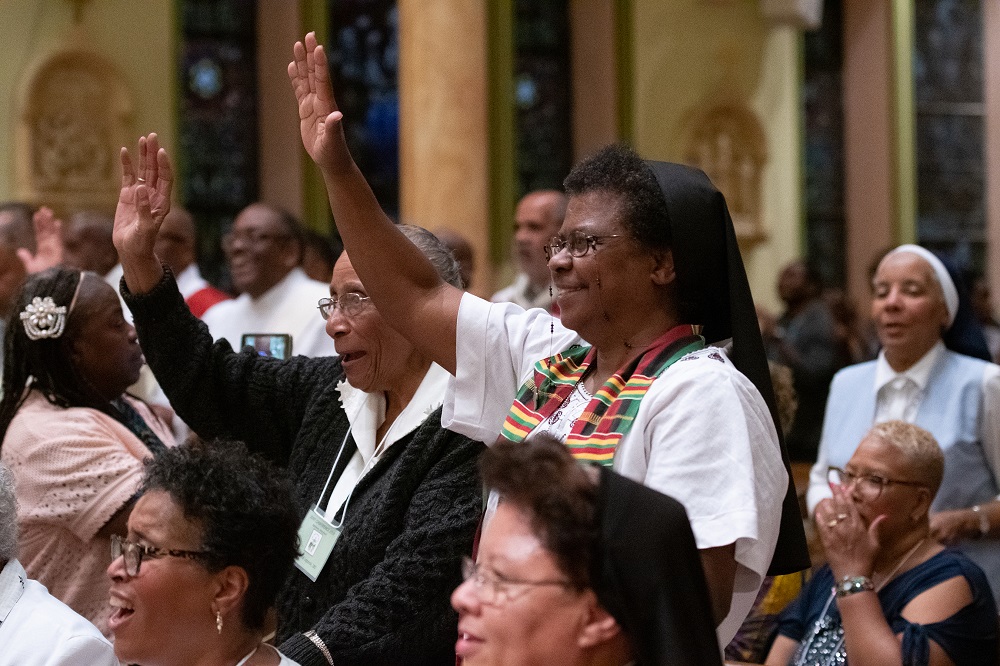 Sr. Beulah Martin, a member of the Sisters of the Blessed Sacrament, center right, of Powhatan, Virginia, waves in Baltimore's historic St. Francis Xavier Church at a July 22 Mass honoring jubilarians during a joint conference of black priests, women religious, deacons and seminarians. (CNS / Catholic Review / Kevin J. Parks)
Baltimore, Maryland — The joint conference of the national organizations for black Catholic clergy, women religious, seminarians and deacons finally made its first stop in Baltimore, a city noted for several firsts on the road to equality in the faith.
The annual conference brings together members of the National Black Catholic Clergy Caucus, the National Black Sisters' Conference, the National Black Catholic Seminarians Association and the National Association of Black Catholic Deacons. The Black Catholic Clergy Caucus was founded in 1968, followed in turn by the other groups. They began meeting jointly because of their commonalities.
One of this year's attendees, Sr. Beulah Martin, a Sister of the Blessed Sacrament, didn't wait for the formal opening of the July 20-24 gathering to soak up some of that Baltimore history.
Beulah was among the more than 100 priests, deacons, seminarians and religious women from around the nation at a July 22 Mass at Historic St. Francis Xavier, the first black Catholic church in the United States.
It was her 10th day in town, as Beulah had spent her annual retreat at the motherhouse of the Oblate Sisters of Providence, who in 1829 were founded by Mother Mary Lange, a candidate for sainthood, as the first community for sisters of African descent in the U.S.