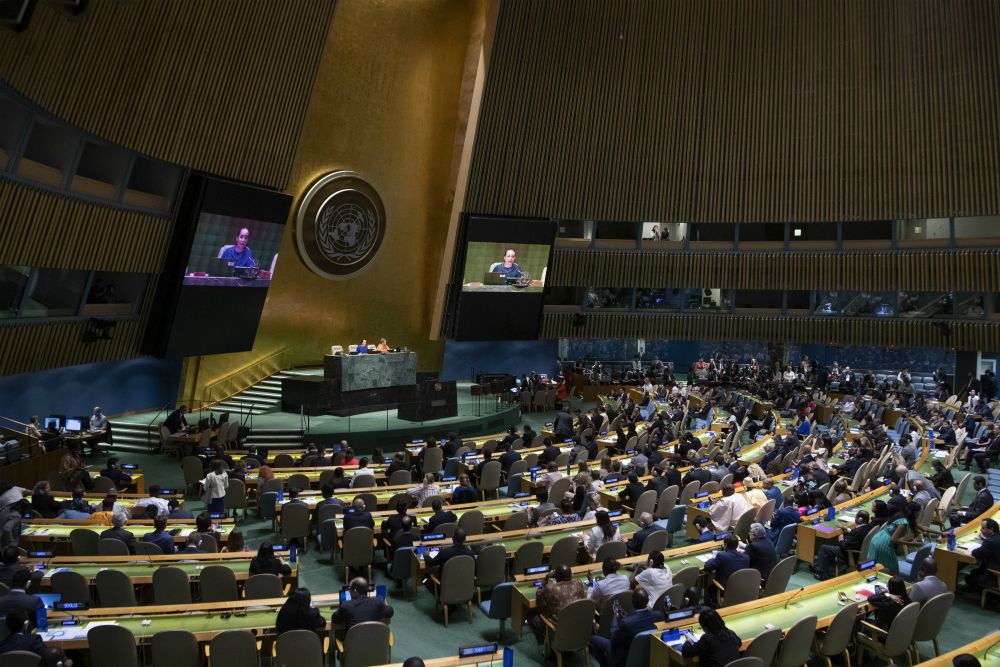 The U.N. General Assembly votes June 7 for it five non-permanent members for two-year terms on the U.N. Security Council beginning in 2020. (United Nations)
New York, N.Y. — A new book on the work of sisters at the United Nations does not pull any punches about the global body's shortcomings.
The U.N.'s structure is outdated and unwieldy, and it faces financial challenges and remains in thrall to its most powerful members, like the United States, writes Sr. Margaret Scott in her recently published Gospel Women at the United Nations.
But Scott, a member of the Handmaids of the Sacred Heart, still affirms the U.N.'s work and mission as well as the need for religious congregations to continue their advocacy and the practice of what she calls "public theology," promoting Gospel values in the public sphere, including at the international level.
Her congregation's aim at the U.N.? "To engage, at the crossroads of world affairs, with the social issues embedded in contemporary," Scott writes, "and to do public theology."
Religious congregations have chosen to do advocacy work at the U.N. so they "live a more dynamic renewal of their original charisms and to announce the gospel in a new place in a way," Scott writes, adding that there will always be "consecrated women involved in our global reality and in the United Nations, in Africa, Asia, Europe, Latin America, and the US — wherever God calls them to minister and to be."
Focusing in particular on the ministry of her congregation, Scott concludes her 134-page book by affirming the Gospel values of solidarity "with the poor and the vulnerable" through advocacy at a global level.
"Public theology is who we are and what we do, our identity and our mission," writes Scott, a board member of the U.N.-based advocacy coalition UNANMIA International, whose work also figures prominently in her book.
Scott said the U.S. province of the Handmaids, based outside of Philadelphia, is "a relativity small congregation without the finances and personnel" to have its own consultative status at the U.N., so it joined UNANIMA for the congregation to be part of its "presence and work at the U.N."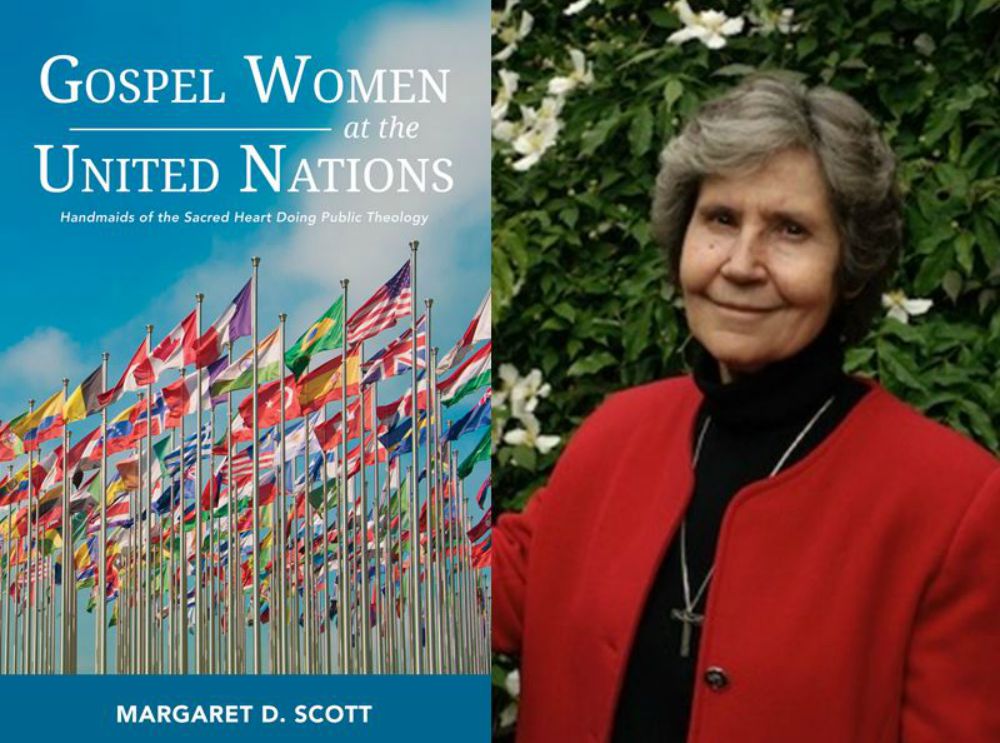 The cover for "Gospel Women at the United Nations" and author Sr. Margaret Scott (Provided photos)
Global Women at the United Nations — with a subtitle of "Handmaids of the Sacred Heart Doing Public Theology" — grew out of Scott's 2017 doctoral dissertation at Lutheran Theological Seminary (now United Lutheran Seminary) in Philadelphia. When Scott decided to publish the dissertation as a book, it didn't take long to adapt the original text, Scott said.
"I enjoyed writing it immensely," Scott told GSR. "I just love doing research and am passionate about the poor and the planet and am deeply energized by being in contact with like-minded people."
Scott acknowledges that any book on international issues dates quickly: The two years since the completion of her dissertation "have been packed with change," she said. "Several things have happened that would be good to add to the text."
These include the fact that the "onus is [now] on national governments" to implement the U.N.'s 17 sustainable development goals, Scott said. As part of that story, she said, UNANIMA and its member congregations are "concentrating on our membership on the ground to lobby and prod. To that end, we have been convoking regional meetings to encourage the sisters to do just that."
Similarly, Scott notes in her book that the global situation is in great flux, and the world faces enormous uncertainty. However, she writes, the work of her congregation and others at the United Nations is unshakeable because of the values such advocacy represents.
That's not surprising. As Scott told GSR — and as she relates in a history of the congregation included in her book — the Handmaids' Spanish foundress, St. Raphaela Mary, "was well ahead of her time and in so many ways refused to be limited by borders."
In the early years of the congregation, Scott said, "a Spanish bishop urged her to continue to open new communities in Spain, and Spain only. Her reply was heartfelt. 'No, we must be universal like the church!' She [Raphaela Mary] also said that she wanted the heart of each Handmaid to open to the whole world."
Scott said Raphaela and the first Handmaids "would be dismayed by the growing nationalistic unilateralism we are witnessing today and would have considered it short-sighted and impractical but also theologically flawed and indefensible from a Christian standpoint."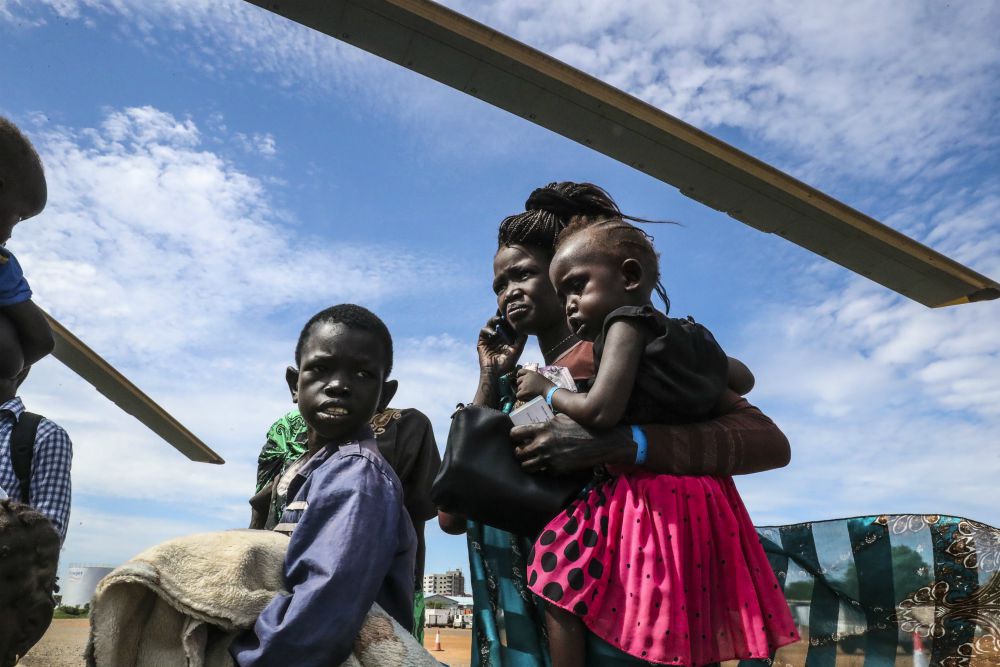 Eighty-four South Sudanese internally displaced persons recently returned from the nation's capital to their home town of Yuai. Since a peace agreement was signed last September, more than 27,000 people have left protection sites located next to United Nations-run bases around the country. War-torn South Sudan is one of a number of countries that has U.N. missions. (United Nations)
She added: "For them, we were all one family, dependent on one another and, with the fierce spirit that was theirs from the beginning, they would have no problem in opposing nationalism in any of its present forms."
Scott notes in the book that the United Nations, established after World War II, was meant as a bulwark against such nationalism. But nationalism and the dominance of "great powers" have always been a reality in the U.N.'s work and in the wider world.
The war in Syria serves as a reminder of those dynamics, Scott writes. What began as an uprising in the wake of the Arab Spring became "a brutal proxy war that has drawn in regional and world powers: Russia and Iran, the U.S., the UK, France, Turkey, Saudi Arabia, Qatar, Jordan, and Israel, each with their own agenda."
The result has been tragic, Scott writes, with casualties that "now number at least half a million dead and [as well] more than nine million refugees, forcibly displaced from their homes."
Scott asks where the U.N. has been amid this tragedy, "committed as it is to brokering peace, protecting civilians, and bringing humanitarian aid? Statements of concern have abounded. But little else, The United Nations has been effectively sidelined."
Scott said this reality partially mirrors her experience at the U.N., which she describes as alternatively "inspiring and heartbreaking."
The problem, Scott said, is that member states continue pursuing their national interests, with some nations refusing "to not sign or ratify U.N. protocols." Equally troubling, she said, is that the U.N. "is badly out of date and in need of reform."
Yet Scott praises the committed U.N. staffers — "great people," she calls them — who give her hope, as does U.N. Secretary-General António Guterres, whom she calls "an amazing man ... [who] continues to raise important issues."
Scott also said the U.N.'s commitment to reducing poverty and other social ills through its promotion of the sustainable development goals as well as "recent protocols on immigration and trafficking, together with the Paris Climate Agreement, are all wonderful examples of the U.N. being true to its founding charter and the [landmark 1948] declaration on human rights."
Moreover, Scott said it is important that the U.N. be a global public forum, a place where she has "witnessed memorable moments, like the voice of the indigenous peoples being heard and recognized."
As such, Scott said the U.N. offers is a place where groups of "like-minded" people — like sisters — who are determined to work together can "try to find solutions for the world's problems."
"I think that the U.N. will continue to limp along into the future," she said, "but is still and will remain the only truly global forum where governments and civil society together can try to make the world a better place."
The work of sisters is no small part of that, Scott notes. In the book, she quotes former Ambassador Joy R. Ogwu, a Nigerian diplomat who argues that religious congregations at the U.N. "are the most influential faith-based NGOs," or nongovernmental organizations.
"They have not only played a range of positive roles," Ogwu said, "but have also affected UN decision making and its approach to global issues by the moral and ethical consciousness they bring to the entire process of peace, security and development."
[Chris Herlinger is GSR international correspondent. His email address is cherlinger@ncronline.org.]