It's easy to say you believe in something that doesn't affect you. But when the issue is so close, so personal that it affects every thing you do, every day, principle can sometimes fall by the wayside.
Not for Mercy Sr. Mary Healy.
Healy had always opposed the death penalty – but it might have been understandable if she had relaxed her views when her brother was murdered. Instead, she testified for the defense during Ronald Taylor's sentencing, arguing that the man who murdered her brother should not be put to death.
Joseph Healy had been a Catholic priest for 23 years before leaving the priesthood to run a ministry working with young widows and widowers and be a professional storyteller. On March 1, 2000, Ronald Taylor went on a killing spree, killing two people and critically wounding two more before he walked up behind Healy in a suburban Pittsburgh Burger King.
"He was shot in the head from behind," Mary Healy said. "He never knew what happened."
But as horrible as the crime was, Healy said there was no point in adding another death.
"I knew, absolutely knew, my brother would never want somebody's life taken because his life was taken," Healy said. "It's not our role, it's not our place, to take somebody's life."
As 2014 ends, the Death Penalty Information Center reported that the number of executions in the United States is the lowest in two decades. The declining numbers come as several states and the federal government are locked in disputes over their use of lethal injection drugs.
Thirty-five people were executed in the U.S. in 2014. The center, which opposes capital punishment, also found that the 72 death sentences issued in 2014 represents the fewest in 40 years.
Whatever legal disputes might have contributed to the drop this year, Healy was steadfast about her moral opposition before.
When Taylor's defense attorney called to see if anyone in the family would consider testifying during the sentencing portion of the trial – Taylor was convicted of three counts of first degree murder in 2001 – Healy said she would.
"I have never supported the death penalty and I had no problem with that [testifying] at all," Healy said. "I feel it very strongly, and losing my brother didn't change that."
Was it hard to get on the witness stand and argue your brother's killer should not receive the ultimate penalty for his crime?
Yes, Healy said, but only in the sense that she wasn't really allowed to talk.
"The prosecuting attorney was so upset with me he objected every time I opened my mouth, so I had very little opportunity to speak," Healy said. "My testimony I had to give to the media waiting outside. I told them I was absolutely certain Joe would not have wanted that man to die for his crimes."
The hardest part, she said, was in the hallway.
"When I got there, there were families from the other people shot, and I was the only one testifying for the defense. They had heard, so they knew why I was there, and there were various levels of anger toward me," Healy said. "That was difficult. But the most difficult part was when somebody directly challenged me in a very direct way, and I just told her I respected her and understood her views, but I needed to do what I felt was right."
It also got easier when Healy met Taylor's family.
"Once I realized how very mentally ill, how very sick this man was, that made it easier," she said. "There was no question he needed to be locked up, I knew people needed to be protected from him. But not the death penalty."
Her truncated testimony didn't work; Taylor was sentenced to die.
A few years later, she had to put those views to the test again: The state of Connecticut, where she lives (she recently retired from her work as a prison chaplain), was considering outlawing the death penalty. Once again, Healy testified against capital punishment, this time in the state capitol.
"One of the big reasons they gave for keeping it was justice to the families, that families deserve closure," Healy said. "My testimony was that there is no such thing. There is no closure. It's a fantasy to think there is ever closure. You don't ever forget."
The bill passed, and in 2012 the death penalty was outlawed in Connecticut.
Today, Taylor remains on Pennsylvania's death row, and Healy is in a club she never imagined holding membership in: Family members of victims opposed to capital punishment.
"There's one woman whose mother was murdered, another whose son was murdered. There's a man whose wife was murdered," Healy said, "and they're all so staunchly convinced that life has to be respected no matter whose it is."
Lifetime spent on justice
St. Joseph Sr. Helen Prejean agrees life has to always be respected – and has no patience for those who say they are pro-life but support the death penalty.
"It's such a direct opposition to what Jesus stood for," Prejean said. "Catholics who say they're against abortion but for the death penalty, I ask them, so you're only against taking certain lives? And you can pick which ones?"
Prejean shot to national prominence when her 1993 book, Dead Man Walking, was made into a movie in 1996 starring Susan Sarandon and Sean Penn.
It has since sold hundreds of thousands of copies and been translated into 10 languages, and Prejean spends her time working to end not only capital punishment, but also support  for it among those who call themselves people of faith.
"There was a terrible statistic that came out in the 1980s that said the more people went to church, the more they believed in the death penalty," Prejean said. "The thinking was that since Jesus suffered and died for sins, these people need to suffer and die for their sins, too."
Prejean said the entire system is based on a falsehood.
"The death penalty epitomizes the idea that we can separate out the worst of the worst and that we have a system that can apply justice," she said. "It's extremely arrogant, and the attitude behind it is broken."
Believing the state can fairly and effectively administer the death penalty is as incomprehensible as the crimes capital punishment seeks retribution for.
"I have been with people who've done unspeakable things. I look into their eyes and I can tell they do not comprehend what they've done. That's not to say they don't accept responsibility – you can accept responsibility, but comprehending it is truly impossible," Prejean said. "Because the reality that just the forefinger on a trigger during a state of rage can blow two people into eternity is incomprehensible."
But society seems to have made a turn, she said.
"I think people see it more and more as futile. It's futile and it's costly. There's not the same feel for it now," Prejean said.
Statistics support Prejean: The Pew Research Center reported earlier this year that the percentage of Americans who support the death penalty for those convicted of murder has dropped to 55 percent, down from 78 percent in 1996. The percentage of Americans who oppose the death penalty has risen during the same time period from 18 percent to 37 percent.
Why the change?
"I think it's a number of things. The botched executions have made people reflect on what goes on. There's the cost, there's the whole secret ritual," she said. "The other is the impact of people making mistakes they didn't even realize. We really do have an imperfect system."
The fame the book and movie have brought her are humbling, she said, because she knows she's just a part of something much larger happening.
"It's part of your being, you have to be faithful to it," Prejean said.
But it's also not about her, she said, or even because of her.
"It's so important to belong to a community where you're loved and supported in the work," Prejean said. "There's no way to tell my story without telling the story of the sisterhood."
And Prejean said she knows how this story ends.
"I can sense the change, and it's moving in the direction of goodness and wholeness," she said. "We're going to put this down someday; I truly believe that."
[Dan Stockman is national correspondent for Global Sisters Report. Follow him on Twitter @DanStockman or on Facebook.]
Religion News Service also contributed to this report. A version of this story appeared in the special section, Pro-Life, of the print edition of National Catholic Reporter, Jan. 2-15, 2015.
Related - Sr. Helen Prejean urges students to help abolish death penalty in U.S.from Catholic News Service
Images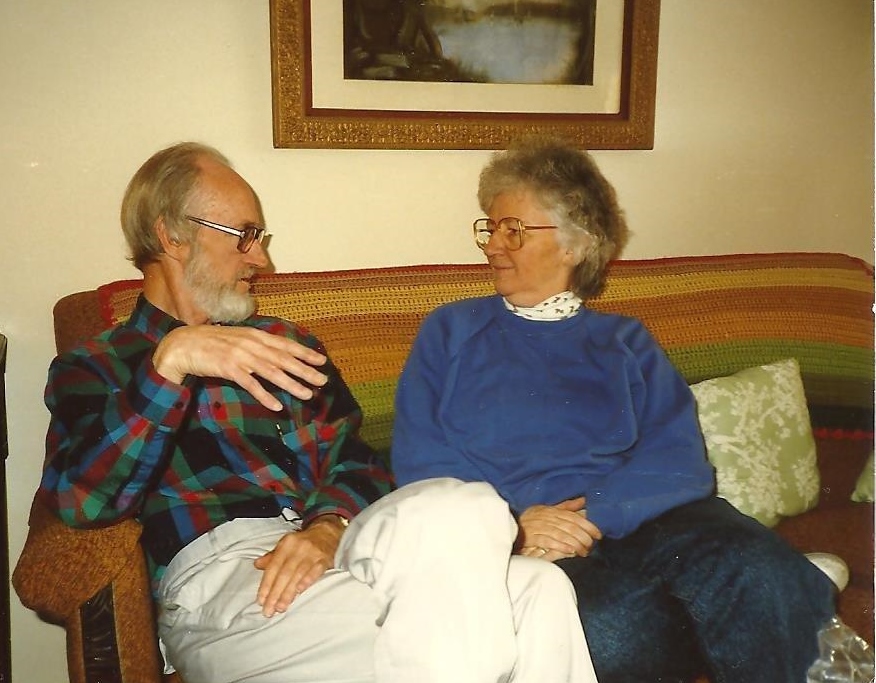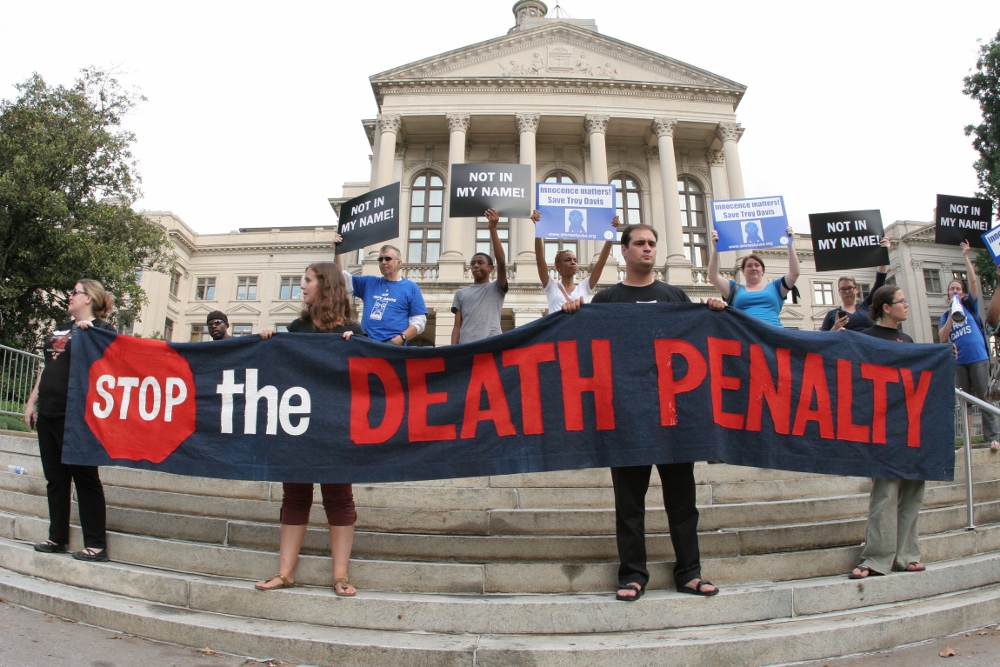 St. Joseph Sr. Helen Prejean spoke with His Holiness the Dalai Lama in a panel discussion that included Prof. Vincent Harding at the University of Arkansas, Fayetteville, May 11, 2011. (Courtesy of Ministry Against the Death Penalty)