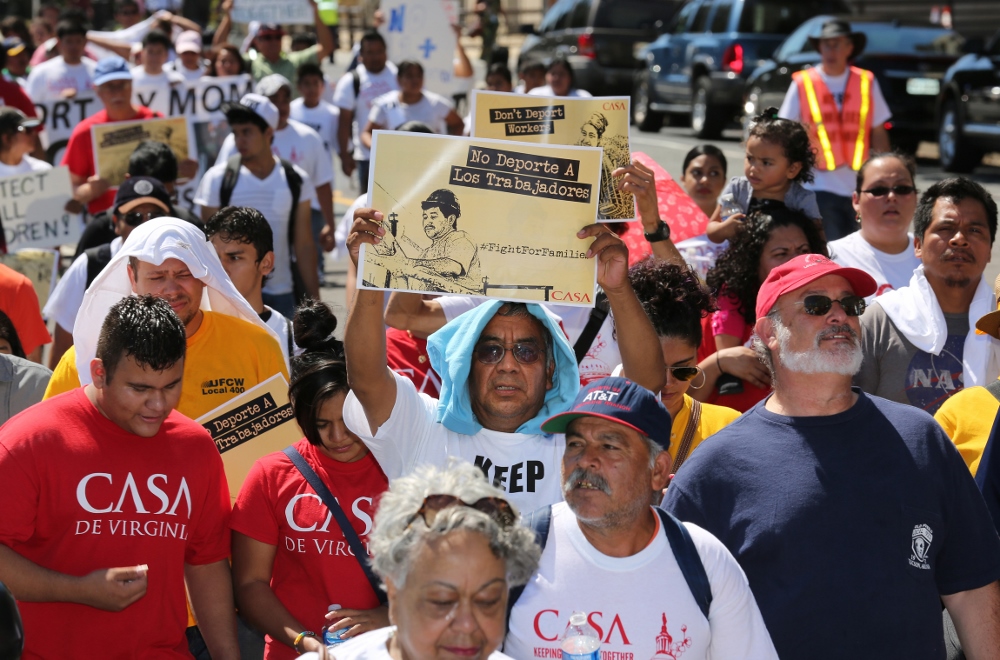 A man displays a sign during an immigration march and rally near the U.S. Immigration and Customs Enforcement headquarters in Washington Aug. 28. Taking photographs of the Artesia facility where families are being detained is prohibited by U.S. officials. (CNS photo/Bob Roller)
Organizations responding to the immigration crisis on the United States' southern border initially faced their biggest challenge in the overwhelming numbers of refugees coming across.
Now, their challenge is a federal administration bent on sending them back.
In response to the tidal wave of people from Guatemala, Honduras and El Salvador arriving at the border seeking asylum or refugee status, Department of Homeland Security officials vowed to speed up deportations. In early August, officials began moving immigrants from Central America to the front of the deportation line, meaning their cases could be heard within months instead of years. But about the same time, officials made changes so that many families crossing the border will not get a hearing at all.
Kevin Appleby, director of migration policy and public affairs for the United States Conference of Catholic Bishops, said the law that guarantees unaccompanied minors a hearing before an immigration judge does not apply to families crossing the border. Instead, they are interviewed to determine whether there is a credible threat to their safety if they return home. Those without a credible threat are deported.
Appleby – who has toured the government's family detention center in Artesia, N.M. – said the initial screening is so fast it is known as "shotgun screening."
Albuquerque immigration attorney Olsi Vrapi, who represents clients in Artesia, wrote in a blog post that screenings that normally take all morning or all afternoon are now being done in an hour – including translation time. He called the Artesia detention center a "due process travesty."
An official from the American Immigration Lawyers Association called Artesia "a deportation machine."
As of Aug. 20, nearly 300 women and children had been deported. More than 1,000 women and children remain in the government's family detention centers at Artesia and at the Karnes County Residential Center in Karnes City, Texas, the Los Angeles Times reported. About 63,000 single parents with children have been apprehended along the border in the last nine months, the paper said. About the same number of unaccompanied children has been apprehended in the same timeframe, according to The Washington Post.
On Aug. 22, civil rights groups sued to stop the expedited deportations, saying the families' due process rights were being violated.
Appleby said the travesty begins when the government puts refugees in what is essentially a prison while they wait to be processed: The Artesia Family Residential Center was a law enforcement training facility hastily converted to house immigrant families. Artesia is a town of about 11,000 in the middle of the desert, where the closest big cities – El Paso, Texas, and Albuquerque, N.M. – are at least three hours away. Families are held there under federal guard. One attorney has said the isolation and lack of attorneys and due process is similar to conditions at Guantanamo Bay.
"If they are bona fide asylum seekers, they're doing what the law allows them to do," which is to seek asylum, Appleby said. Yet they're being held as if they are criminals and subjected to "shotgun screening" in an effort to deport them. "Having seen the families first hand, it's heartbreaking. These are mothers with small children – they shouldn't be in a prison."
Jeanne M. Atkinson, Executive Director of the Catholic Legal Immigration Network, said many of the immigrants have no idea what their legal rights are and have little access to an attorney who might be able to tell them. CLINIC, which is not party to the Aug. 22 lawsuit, was founded by the USCCB and operates as a legal support agency for diocesan immigration programs; it has Silvana Arista at Artesia working 18-hour days, seven days a week. The Diocesan Migrant and Refugee Services of El Paso offers twice-weekly classes explaining legal rights.
"She's predominantly working with other volunteer attorneys on the ground to coordinate the provision of services to make sure as many of the women and children as possible are represented," Atkinson said. "It's our opinion there is no good place in this world for family detention . . . but what we're hearing is they're being held in that facility until they can be removed from the U.S."
Atkinson said she traveled last fall to El Salvador, Guatemala, Honduras and southern Mexico to see first-hand the root causes of why so many are fleeing their homes to brave dangerous journeys in hopes of entering the United States.
"Unquestionably, the majority of unaccompanied children are fleeing violence. And the families, these are women who are bringing their children here to get them away from the violence," she said. "There are a variety of factors at work; there's no one, simple answer, but the drug cartels have targeted children specifically."
Atkinson said children are recruited to the gangs or are being beaten or killed as retribution to their parents.
"These are failed or failing states that are unable to protect these kids," she said.
And now, advocates say, the United States is failing them, too, by denying them asylum or refugee status, and trampling their due process rights to do it. According to the Transactional Records Access Clearinghouse, a data research group at Syracuse University, 77 percent of children not represented by an attorney were deported from 2005 to June of this year, while only 28 percent of those with an attorney were sent home.
Atkinson said the numbers show that these children have credible claims and simply need legal representation to ensure their rights are protected. But even worse than deportation, she said, is what might happen when they're sent back.
"We have heard there are credible reports of children going back to Honduras and being killed," Atkinson said.
Judy Coode, communications director for the Maryknoll Office for Global Concerns, said Maryknoll sisters, priests and missionaries have seen these issues for decades. The Maryknoll OGC is a collaborative ministry of the Maryknoll Sisters, the Maryknoll Fathers and Brothers and the Maryknoll Lay Missioners.
"We need to address root causes," Coode said. "There are significant economic disparities and economic disparities that are forcing people to flee, but even more than the economic situation is we have to recognize violence is a major driver of this."
The biggest driver of refugees, she said, is violence.
"Maryknoll missionaries to Central America for years have spoken of the profound impact of violence and how it affects the communities they live and work with," Coode said. "It's unconscionable to send children back to these terribly violent situations."
In the meantime, even those who cannot help directly are helping in any way they can. Sr. Suzanne Brennan, a Holy Cross Sister and executive director of Holy Cross Ministries in Salt Lake City, Utah, called the administration's tactics "immoral and cruel acts." Holy Cross Ministries is active in working on immigration issues in the Salt Lake City area and Holy Cross sisters are sending emails, calling Congressmen, calling the White House and holding information sessions.
"We are very disheartened by the president's aggressive actions towards immigrants," Brennan said.
The USCCB's Appleby said the Gospel makes Christians' duty clear.
"These are vulnerable children and families that are fleeing horrific violence. Part of our teaching is people have a right to protection from bodily harm," he said. "Just as Jesus and the Holy Family fled the terror of Herod in Mathew's Gospel, the situation these people are in is similar. We have an obligation to provide that protection to them."
[Dan Stockman is national correspondent for Global Sisters Report.]
Read an interview at NCRonline.org with Angela Ferguson, an immigration lawyer based in Kansas City, Mo., who was in Artesia earlier this month: New Mexico immigration detention center filled with sadness, defeat by Vinnie Rotondaro. Related on GSR: Immigrants, activists urge Obama to act on immigration reform from Catholic News Service.