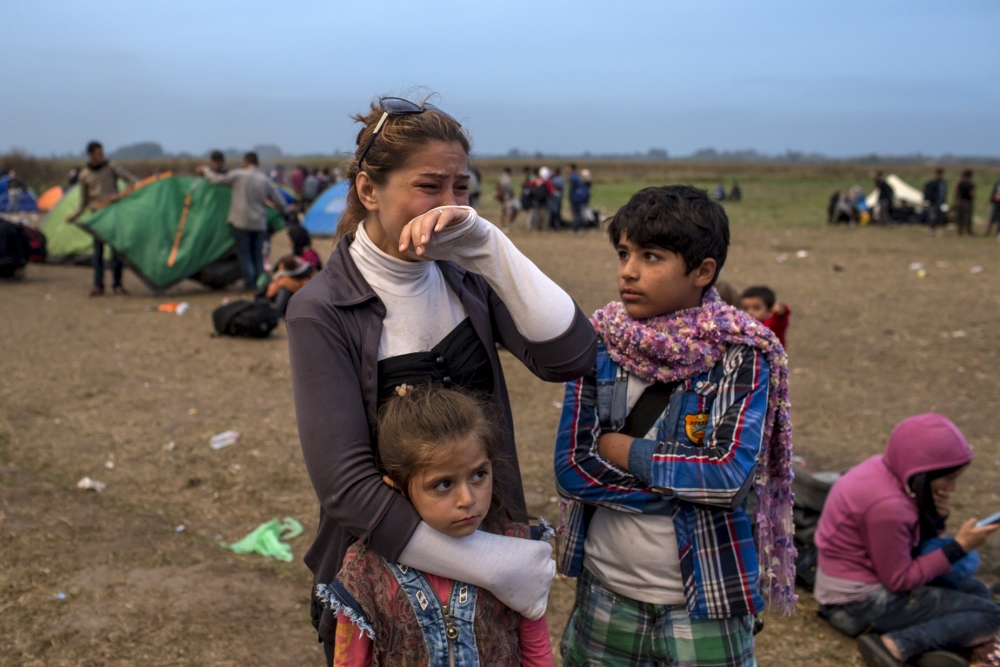 A migrant from Syria cries as she stands with her children on a field after crossing into Hungary from the border with Serbia near the village of Roszke Sept. 5. (CNS photo / Marko Djurica, Reuters)
Oxford, England — When Pope Francis made a special appeal in early September on behalf of refugees from Syria and the Middle East, Catholic communities all over Europe mobilized to do more to help.
While bishops urged a generous attitude and Catholic charities stepped up their aid efforts, the continent's women religious also responded with offers of shelter and support.
"Each religious congregation has its own charism and tradition and has had to think how it can best help," said Sr. Martina Salmaier from Germany's Franciscan Sisters of Vierzehnheiligen, which is between the eastern cities of Bamberg and Coburg.
"While some have taken in refugee families, others have given financial assistance or offered work in their houses. This may all count as marginal alongside what's been done on the scale of the whole country. But German history has made us especially sensitive to helping those in need."
Throughout the year, refugees have been arriving on southern Europe's Mediterranean shorelines aboard battered boats or been rescued on the open sea by naval ships from unscrupulous people-smugglers. 
But thousands have also drowned during perilous crossings from Libya and elsewhere despite an anguished appeal to the European Parliament by the pope in November against allowing the Mediterranean to become a "vast graveyard." 
In late summer, attention switched to Serbia, Macedonia, Hungary and Croatia as large crowds made their way overland into the European Union from Greece and Turkey.
And though presidents and prime ministers from the EU's 28 member-states agreed in late September to take in 120,000 people, some countries have resisted, and anti-immigrant groups have protested.
As the chaos continues and EU countries fear losing control of their borders, it's fallen largely to church leaders to provide firm moral guidance by encouraging solidarity and compassion.
In a September statement, the Brussels-based Jesuit Refugee Service compared the refugee crisis to that of World War II and urged governments to institute "comprehensive resettlement programs" before the onset of winter.
On the same day, the commission representing Europe's Catholic bishops, COMECE, also demanded a "common European solution" and said that Christians have a duty to help.
It is wrong that some countries seek to "disengage entirely from their responsibility," COMECE added, and said it was shocking that some refugees were encountering "harassment and hostility."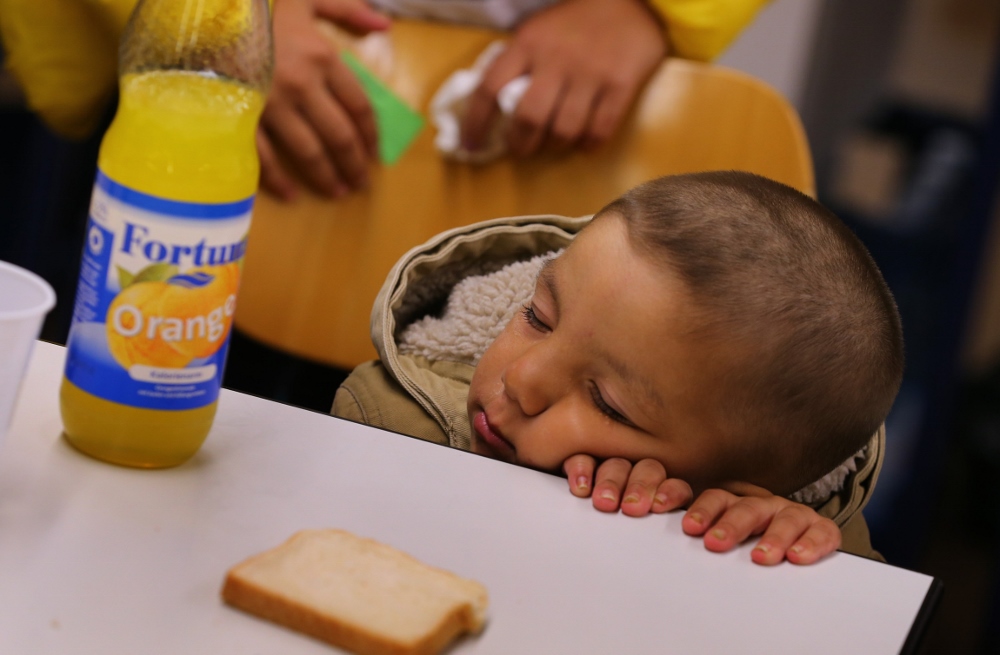 A refugee child from Iraq falls asleep at a table inside a shelter in Wertheim, Germany, Sept. 14. "Do not abandon victims" of conflicts in Syria and Iraq, Pope Francs said. (CNS photo / Karl-Josef Hildenbrand, Reuters)
When Pope Francis called Sept. 6 for dioceses, parishes and religious orders to "express the Gospel in concrete terms" by each taking in at least one family, his words appeared to endorse what many were already doing. 
"While some convents are too small to offer much, some of the larger ones have offered hundreds of places to refugees after having their facilities checked," Salmaier told Global Sisters Report. 
"Some can provide long-term accommodation, while others have had to limit shelter to a few months only. And while many local communities were doubtful at first about having refugees in their midst, the atmosphere has quickly improved once they've seen the refugee children playing and laughing in our gardens." 
In Salmaier's native Germany, the Catholic bishops' conference has set up a dossier on refugees and named Archbishop Stefan Hesse of Hamburg as the special refugees' representative during its autumn plenary at Fulda.
While at least 100,000 Catholic volunteers are helping refugees there, Germany's 27 dioceses have disbursed 98 million euros (U.S. $110 million) in refugee aid so far this year, compared to 72 million euros in 2014. Even then, the bishops have appealed for more accommodation. 
At least 36 percent of the country's women religious congregations have offered shelter to refugees, according to Arnulf Salmen from the Deutsche Ordensobernkonferenz (DOK), or German superiors' conference, while others are converting premises and getting ready to follow suit. 
"Many women's orders here are already experienced at receiving and sheltering refugees, having been active since 2013, when the pope first encouraged monastic communities to take them," Salmen told GSR.
"In this sense, the pontiff's recent call has served to confirm their existing commitments rather than initiate anything new."
There are complex challenges to be faced. Many sisters are elderly, making it harder for them to cope, while some refugees are traumatized and need professional help.
But the DOK's secretary-general, Sr. Agnesita Dobler, said safety and suitability checklists have been made available, as well as guidance from local authorities on insurance and fire protection, legal procedures, medical and educational needs, and infrastructural requirements. 
Her own Franciscan order accepted refugees at its small house in Weingarten, near Stuttgart, back in March 2014, while numerous other convents have since stepped up their efforts.
In Wurzburg, the Sisters of the Redeemer have taken in more than 100 people following an appeal by Bishop Friedhelm Hofmann. Augustinian sisters in Essen offered space for 50, but local officials told them that only a dozen could be safely accommodated.
Meanwhile, in Rottenberg, the Sisters of Mercy of St. Vincent de Paul offered to create a Muslim prayer room in one of their buildings, according to their assistant-general, Sr. Karin Weber, while in eastern Germany's Magdeburg diocese, the 13th-century St. Mary Helfta abbey, restored by Cistercian nuns in 1999, has also opened up for refugees under its new prioress, Christiane Hansen.
In neighboring Austria, the bishops' conference has created a website, Asylhilfe ("Asylum help"), and set up a special coordination group.
"Help for people on the run is a non-negotiable Christian duty," Austria's bishops, headed by Cardinal Christoph Schönborn, declared after meeting this summer at Mariazell. "The human right to asylum is a valuable asset and an obligation under international law. It thereby allows for no compromises." 
At least 5,000 refugees are currently being sheltered by convents and other church institutions in Austria — 1,600 of them in the capital, Vienna — while the church's Caritas organization is giving help to 12,000 more.
In August, some national media criticized religious orders for maintaining empty monasteries.
"Show us a religious house which has space where refugees haven't been accepted!" Sr. Beatrix Mayrhofer, president of the Association of Women's Orders and a School Sister of Notre Dame, told the Wiener Zeitung daily in August.
"But more needs to be done, and the religious communities are being encouraged to do it. Each of us must ask: What can I personally contribute, and how can our communities help?"
Among other orders, Franciscan sisters at Vocklabruck have provided a home for Muslim refugees fleeing political and religious persecution in Syria, Chechnya and Macedonia, while the Sisters of Charity at Innsbruck have adapted their houses to take in 130, and Elizabethan sisters at Klagenfurt offered free rooms and apartments.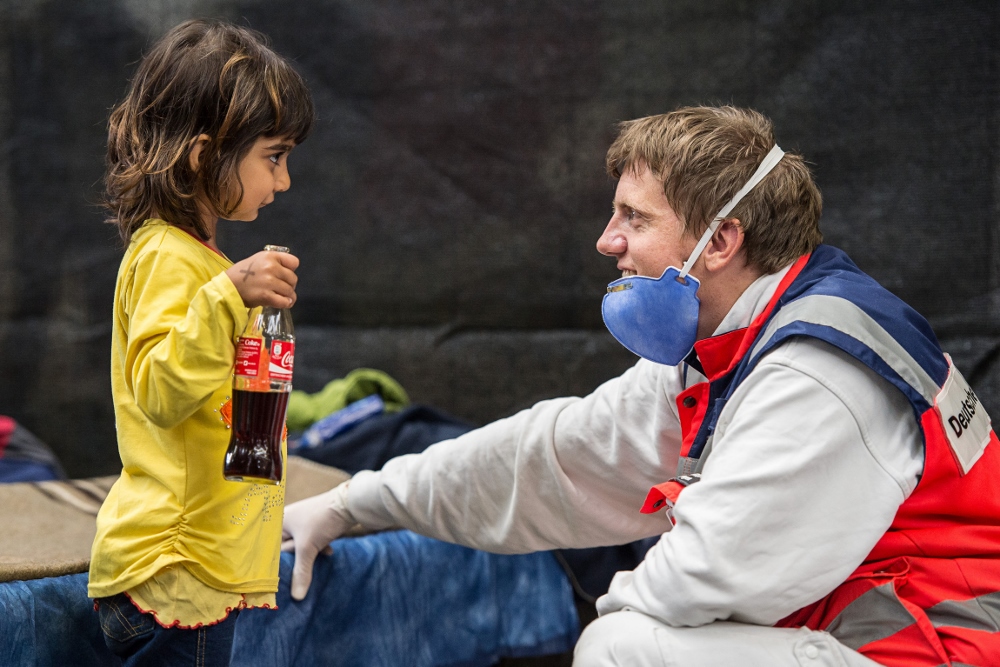 A volunteer from the German Red Cross plays with a migrant girl from Syria in an emergency shelter in Rottenburg Sept. 16. (CNS photo / Wolfram Kastli, EPA)
Johannes Pernsteiner, an expert at Austria's Kathpress agency, said the church is trying to collect data from local Catholic dioceses on the help being provided by religious orders, many of which have provided shelter without announcing it publicly.
Some Catholic orders, including the Salesians, have long traditions of sheltering refugees, he said, including from waves of repression in communist-ruled Eastern Europe and from the Balkan wars of the 1990s. 
"The female congregations have been very open to this and have only been impeded by the lengthy official procedures and technical requirements," Pernsteiner told GSR. "The Austrian church has clearly set an example in this area."
Not all national churches have been so willing to help.
Catholic bishops in the Czech Republic, Hungary, Romania and Slovakia have been divided over the desirability of accepting refugees from the Middle East.
And while some orders in Poland, such as the Franciscan Missionaries of Mary, have long sheltered the homeless and displaced, the deputy secretary-general of the country's Conference of Higher Female Superiors, Sr. Ernestyna Wajs, told GSR that her organization had "nothing to do" with the refugees and had not even discussed the issue.
Across from the continent, in Britain, where Prime Minister David Cameron's Conservative government has refused to accept any of the refugees now in Europe, the bishops' conference spokesman, Margaret Doherty, said it would be left to local dioceses to coordinate possible help for refugees by Catholic convents.
With church leaders urging a forthright Catholic response across Europe, however, pressure to help the refugees could increase — placing the continent's religious sisters at the forefront.
Besides agreeing to settle 120,000 refugees in late September, EU heads of government also committed themselves to clamp down on human trafficking and process asylum claims faster, as well as increasing aid to refugee camps in Turkey and Lebanon and stepping up efforts to end the war in Syria.
By saddling Europe's southern states with the overwhelming refugee burden, however, current rules and procedures are widely believed to have failed while comprehensive new plans have yet to be agreed on. 
In the meantime, with thousands still crossing the EU's frontiers daily and with the possibility that millions more may follow, the crisis is set to continue. 
"For us, it's simply the order of the day — to provide assistance as far as we can," Dobler, the German superiors' conference secretary-general, told her country's Catholic Dom-Radio.
"Each religious community should consider what it can do in this pressing situation. It'll be a constant organizational challenge to have people of such different cultural backgrounds among us. But it'll also be a source of enrichment, making us look beyond our horizons."
[Jonathan Luxmoore is a freelance writer covering European church news from Warsaw, Poland, and Oxford, England.]
Related - German archdiocese plans new residents for old abbey: Refugees