A federal judge ordered the release of children and their parents from immigration detention centers "without unnecessary delay" and gave immigration officials two months to comply, according to court documents filed late Friday, Aug. 21.
The order from Judge Dolly Gee of the Central District of California criticized legal arguments made by attorneys representing the Department of Homeland Security in response to her July 24 ruling that called for the end of the detention of minors. The judge had given both sides a chance to respond to her order.
Attorneys for DHS "submitted a 51-page brief that served primarily as a vehicle for a thinly-veiled motion for reconsideration, rehashing many of the same arguments which the Court previously rejected," Gee said.
Friday's ruling outlined her final decision; Homeland Security has until Oct. 23 to implement it.
Peter Schey, executive director of the Center for Human Rights and Constitutional Law and one of the attorneys who represented the children, applauded the judge's decision.
"The federal court's orders will protect refugee children and their mothers from lengthy and entirely senseless detention by the Department of Homeland Security in unsafe adult lock down facilities run by private corporations raking in millions of dollars in profits," Schey wrote in an email.
DHS officials disagreed with the decision.
"While we continue to disagree with the court's ultimate conclusion, we note that the court has clarified its original order to permit the government to process families apprehended at the border at family residential facilities consistent with congressionally provided authority," department spokesperson Marsha Catron said in a statement. "As family residential centers continue to operate consistent with this order, DHS will continue to screen family members' claims as expeditiously as possible, while ensuring that their due process rights are protected."
The ruling came nearly four months after Gee tentatively ruled that family detention violated the 1997 Flores agreement forbidding the detention of unaccompanied minors in unlicensed lockdown facilities. Attorneys for the federal government argued that family detention was necessary to deter future surges of immigrants like the one that overwhelmed immigration officials at the U.S.-Mexico border in 2014. But in her latest ruling, Gee countered that this was "speculative at best, and, at worse, fear-mongering."
Gee said if another "influx" of minors occurs, DHS could have "some flexibility to reasonably exceed the standard five-day requirement so long as the minor is placed with an authorized adult or in a non-secure licensed facility."
It is still unclear if attorneys for DHS will file an appeal or whether they will modify detention facilities to comply with the court's requirements that they be licensed and nonrestrictive.
"We continue to review the decision and consider available options with the Department of Justice," Catron said in the DHS statement.
Currently, there are three family detention centers in the country, two in Texas operated by private contractors and one in Pennsylvania run by Berks County. Immigration and Customs Enforcement oversees all three facilities.
Activists, faith-based groups and members of Congress have increasingly criticized the Obama administration's policy to detain women and children seeking asylum. In July, 178 House Democrats signed a letter urging DHS to end the practice.
The U.S. Conference of Catholic Bishops, which has publicly condemned family detention, issued a statement in July asking the Obama administration not to appeal the judge's initial July 24 ruling, which Gee reaffirmed Friday.
"Appealing the decision would only prolong a flawed and unjust policy of treating this vulnerable population as criminals," said Bishop Eusebio Elizondo, auxiliary bishop of Seattle and chairman of the conference's Committee on Migration.
Meanwhile, attorneys representing children and their parents wait to see what steps the federal government will take next.
"Secretary Jeh Johnson should be thoroughly ashamed of his 'anti-mother' detention policy that over the past year has caused thousands of detained innocent children to needlessly suffer severe psychological and often physical harm," Schey said. "We hope this ruling marks the end of brutal policy that has nothing to enhance border security."
[Nuri Vallbona is a freelance documentary photojournalist. She worked for the Miami Herald from 1993 to 2008 and has been a lecturer at the University of Texas and Texas Tech University.]
Images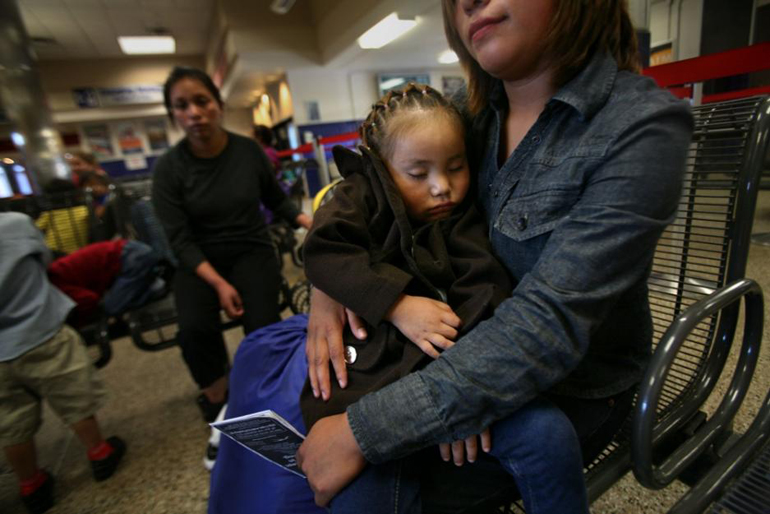 Janet Perez of Guatemala holds her daughter, Ariana,3, after being released from the South Texas Family Residential Center in Dilley, Texas, on July 14. She and other immigrants were at the Greyhound bus station in San Antonio waiting for buses that would take them to be reunited with family and friends. (GSR/Nuri Vallbona)