Every day 9-year-old Le Quang Binh (not his real name) spends his time taking care of two cows belonging to a neighbor. He takes them out to graze, washes them and cuts grass from rice fields for feed. He finishes his work after 6 p.m.
Binh, who looks thin and wan despite his suntanned face, catches birds and fish in the fields for fun and plays with three other child herders. The owner of the cows shouts at him and threatens to leave him to starve whenever he ignores the cows and accidentally lets them eat other people's crops.
"I am paid six million dong (U.S. $286) a year to support my grandmother," Binh said. He and his ailing grandmother, age 74, live in a small house in the central Thua Thien Hue province.
In 2012 when he was in second grade, this father died of HIV/AIDS and his Laotian-Vietnamese mother returned to her home nation and left him behind. He was left in the care of his grandparents and dropped out of school. This is all too common in Vietnam.
Binh said although he is not able to read, he got interested in school again recently when he and over 100 children spent a day at the Summer Camp of Humanity held by the Daughters of Our Lady of Immaculate Conception nuns. This event marked the U.N. World Day Against Child Labor, June 12. A local volunteer persuaded his boss to allow Binh to go to the camp.
The children had a day to act like children: they played soccer, volleyball and traditional games on the beach, had singing competitions and took swimming lessons. They enjoyed a picnic of various kinds of food prepared by the nuns and volunteers.
The organizers also offered prizes – money and bags of candies – to 25 children who had performed well in school this past academic year.
"The annual camps aim to heighten awareness of children's right to attend school, which is granted by national law. It also provides entertainment and encourages local people to protect those rights," Sr Consolata Bui Thi Bong, a camp organizer, said. Nuns started to hold such camps in 2011.
Sr. Bong, 72, said the nuns provide monthly allowances of 300,000 dong (U.S. $14) as well as books, sugar and milk for poor children and those who are from families with HIV/AIDS. Their goal is to keep them in school. For those who have dropped out of school and are unable to return, the nuns provide material support so they can learn vocational skills. To support their families, those children work hard at local brick kilns, markets and construction sites, polish people's shoes, or sell lottery tickets or used items they've collected. In all, 175 children in this area receive support from the nuns.
Sr. Magdeleine Nguyen Thi Ngoi said they just gave a three-month course in dressmaking and tailoring to 135 children who have finished sixth and eighth grades. Last month, a garment factory in Quang Dien district employed most of them and put them on a salary of 1.8 million dong a month.
Sr. Ngoi said the nuns also give 10 million dong each to a dozen poor families with three to four children, so that they can run small businesses or raise cattle for a living. The goal is to help them continue to support their children's studies at schools.
"We also encourage local people to ensure that their children's basic rights are respected – and especially not to make them to leave school to go do hard work," she noted. But all too often, parents are not even aware of their own human rights.
Sr. Bong said, "Local people who live in poverty and have received a poor education themselves could not care less about their children's rights. They only want their children to start working early on in order to get money for their daily needs; in doing so, children learn vocational skills to make a living later."
Sadly, it is what happened to these parents when they were children. And the cycle continues like a worn out mandala.
Binh's illiterate grandmother said many children from her commune accompany their parents to Laos and work for a living.
Those who remain at home with their grandparents drop out of school and fall prey to gambling, smoking, stealing and using foul language, she added.
"I sent my grandson to herd the neighbor's cows, and in return, the neighbor will teach him practical experience in dealing with problems in life and how to do something to lead a proper life," said the elderly widow, who started to work for a family as maid when she was seven years old. "He (Binh) does not need to get a proper education, but it is important that he can work to make a living for himself after I die."
She argued that some local people who are illiterate earn a fortune and live a life of luxury – although she said she does not know what they actually do.
However, Huynh Thi Nga, a 42-year-old widow who is one of the people receiving material support from the nuns said, "I have to ensure my three children enjoy their childhood and get proper education. It is the only way to escape from poverty in the future. So while I am alive, I am trying my best not to let them work early but to help them go to school." To support her family, she cultivates rice, raises a cow and works part-time as a brick layer.
She said after school, her children in elementary and high school help her herd the cow, do housework and work on the rice farm.
Thua Thien Hue province recorded some 1,000 children aged 10 to 14 who have left school early to work to support their families. Their means of livelihood include selling food on the street and working at markets, restaurants and construction sites.
In mountainous areas bordering Laos, where government authorities prevent nuns from working with the local people, the women still quietly go about their visits, encouraging ethnic minority children to keep going to school or giving them food as way to prevent them from having to work for it.
The International Labor Organization estimated that Vietnam is home to 1.75 million children who are working every day from the early morning on. On average, about one-third of them have to work more than 42 hours a week, which naturally affects their schooling.
Even though national law says all children must attend school through high school, parents do not follow the mandate, as most of them endured the same situation when they were children.
While the 2014 FIFA World Cup in Brazil has been happening, ILO also launched a global campaign called Red Card to Child Labor aiming to "draw the attention to the role of social protection in keeping children out of child labor and removing them from it." There are at least 168 million children working around the world.
[Joachim Pham is a correspondent for Global Sisters Report based in Vietnam.]
Images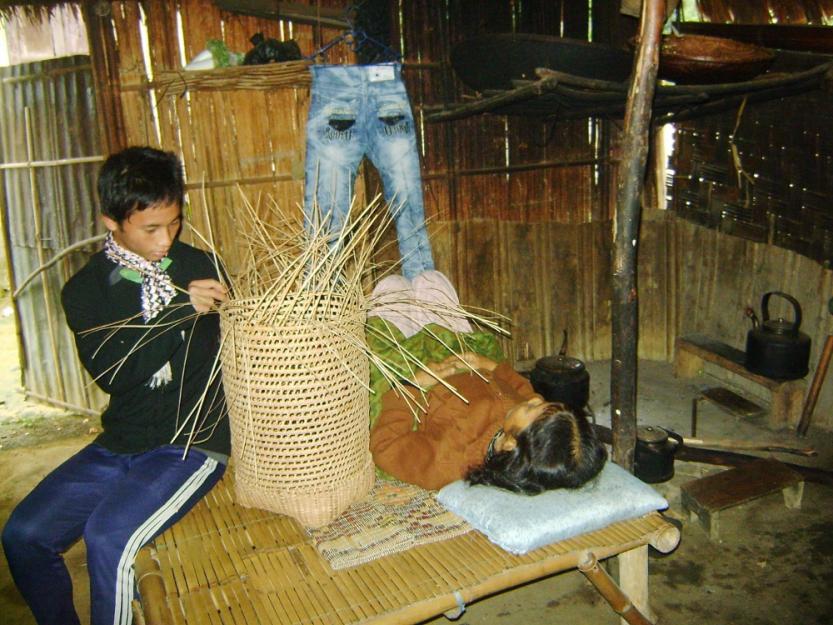 Ho Van Son, a 14-year old ethnic Pa Co, makes a bamboo basket for a living, looking after his bedridden mother suffering from a serious lung disease. Son left school eight years ago. (Peter Nguyen)