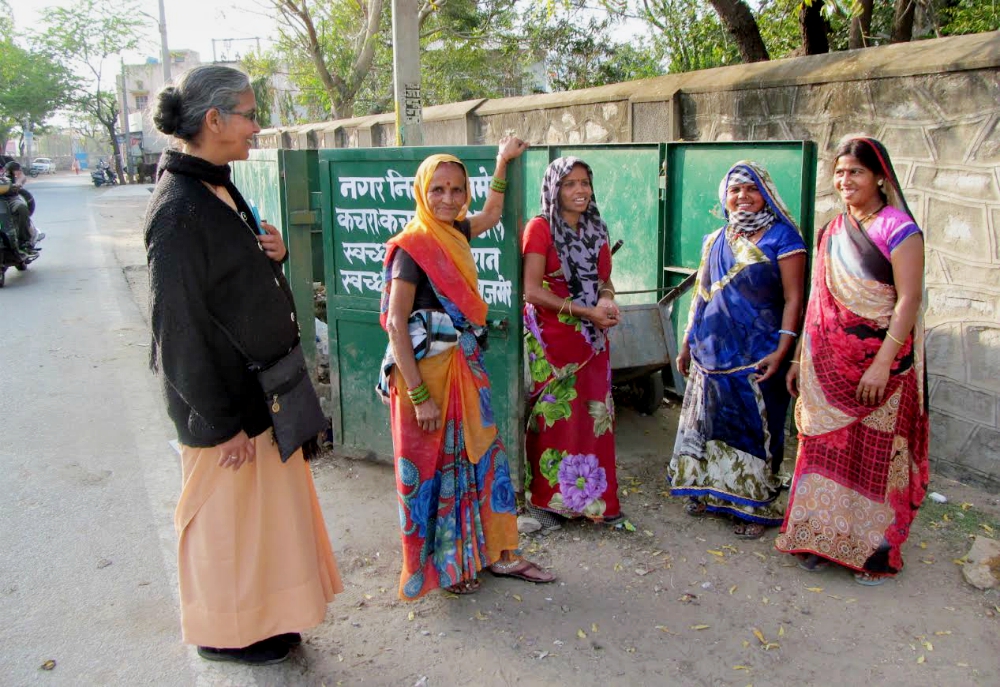 Sr. Mariola Sequeira interacts with women sweepers on the roadside in Ajmer, Rajasthan, in western India. (Saji Thomas)
Ajmer, India — A Catholic nun's curiosity about some strange noises from a prison on the other side of a wall bordering the college where she taught led her to become a crusader for the rights of prisoners, poor people and minorities.
"I used to hear some unusual noises from the jail and wanted to know what it was and also about the life of people in the prison," recalled Sr. Mariola Sequeira, a member of the Mission Sisters of Ajmer and state coordinator of the Prison Ministry India since 2004.
Sequeira taught English for 20 years at Sophia Girls' College in Ajmer until her order transferred her in April to a new mission in the east. Ajmer is a pilgrimage city in Rajasthan, a northwestern Indian state.
As Sequeira's curiosity grew on her side of the wall from Central Jail, Ajmer, she approached her superiors for permission to visit there. She also obtained the necessary clearance from prison officials.
"At my first visit, I realized that everything was not well with the prisoners and felt a strong urge to work for them," the 60-year-old nun told Global Sisters Report.
She was allowed to teach the prisoners English and start literacy and hygiene classes. She also conducted cultural programs for them after college hours. And she prepared prisoners to achieve graduation and continue their studies.
Although she found it tough to adjust to teaching prisoners and doing social work, "my mind always encouraged me to do more for them," especially those awaiting trial. "Many of them languished in the prison for no fault of their own."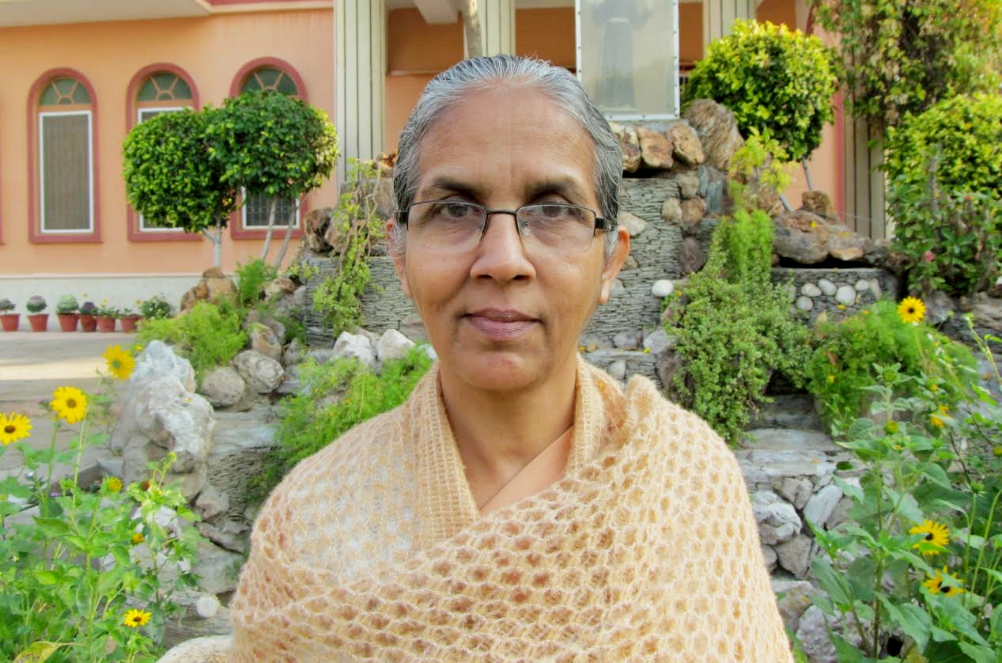 Sr. Mariola Sequeria, a member of the Mission Sisters of Ajmer (Saji Thomas)
She says she shifted her focus to female prisoners after realizing they faced the highest level of discrimination behind bars. "I was shocked to learn that women prisoners were not allowed to join the common celebrations," such as the brother-sister bonding of the Raksha Bandhan festival, although the men were, she said.
As she mingled with the women more, she learned that many did not even know why they were in jail. Some languished there because they had no means to fight their cases.
"This was a real eye-opener for me, and I put my heart and soul to wipe out their tears as much as I could," Sequeira recalled.
She became the proponent of the first open jail for women in Rajasthan. An open jail has minimum security and allows prisoners to work outside and lead a life like other citizens. They have to report back to the jail in the evening.
Rajasthan has 23 open jails for male prisoners but none for women. "I found this absolutely unacceptable and decided to do my bit for an open jail for females," Sequeira said.
The project is in the last leg of implementation. But now Sequeira is 1,300 miles away, teaching in a Salesian college in Meghalaya state in northeastern India.
Sequeira says the project will go on without her.
Radha Kant Saxena, a former director general of prisons in Rajasthan, says the state government has agreed to Sequeira's suggestion "in principal" and cleared the project. "Now its official notification is awaited," he told GSR.
Lauding Sequeira's efforts, Saxena said that if the Catholic nun had not taken the initiative, nobody in Rajasthan would have thought of an open jail for women. "She fearlessly fought for translating her dream into reality, against all predictions of doom or impracticality. Her sheer persuasion made the difference," he says.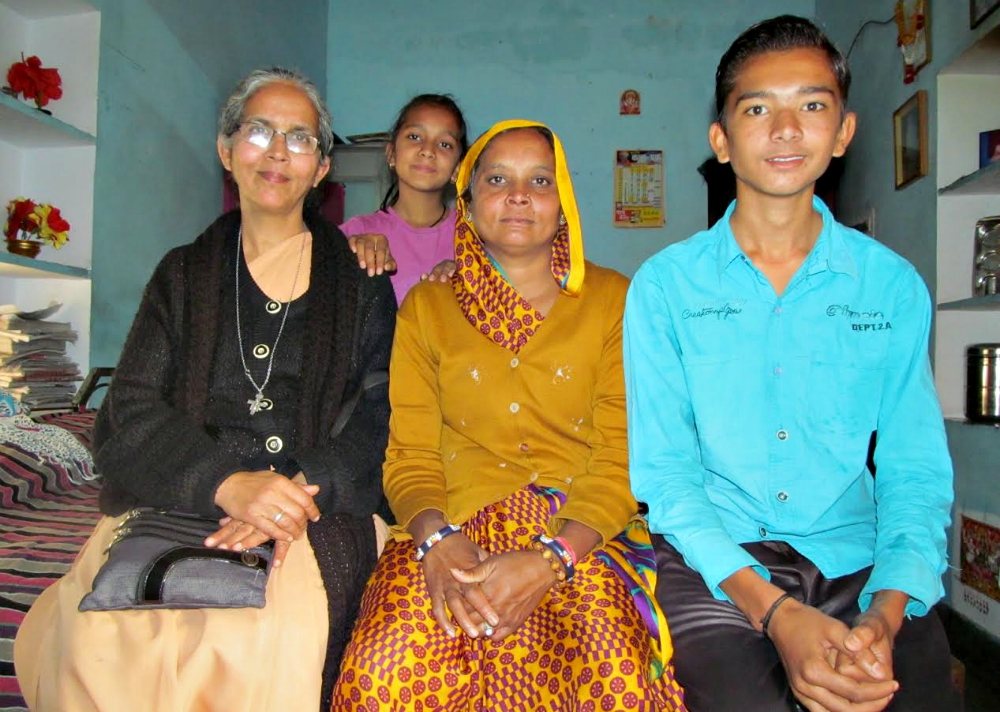 Sr. Mariola Sequeira visits a widow and her children at their home. The nun had helped save the woman from a false case filed by her in-laws. (Saji Thomas)
Ajit Singh, current head of prisons in Rajasthan, also commends Sequeira. "It is hard to find a person such as Sequeira who is interested in prisoners' welfare," he said.
Sequeira's admirers include Jaipur Bishop Oswald Lewis, who tells several stories of her boldness.
Without a law degree or experience in legal practices, Sequeira argued a case in the court and succeeded in freeing Basanti Pillai, a woman convicted and sentenced to 15 years in prison for possessing drugs, Lewis said.
Sequeira says she found out that Pillai was a victim of a drug mafia involving her husband. On the pretext of going on a pilgrimage, he took Pillai on a smuggling trip, but they were caught at Ajmer. Pillai was shifted to Jaipur federal prison.
On one of Sequeira's visits, she found Pillai on the verge of death because of ovarian cancer. As she had no one to help, the nun got permission to argue her case in the state High Court. She convinced the court to release Pillai on medical grounds. "She died peacefully a month after her release," Sequeira recalled.
The nun has also helped reunite several female prisoners with their families. She rehabilitates them, finds them jobs and provides accommodations, especially for those abandoned by their families.
Indian President Pranab Mukherjee honors Sr. Mariola Sequeira for her contributions on International Women's Day in 2015 at the president's residence in New Delhi. (Provided photo)
Her contributions have won awards from government, private television stations and social organizations. On March 8, 2015, International Women's Day, Indian President Pranab Mukherjee honored her with the Stree Shakti Puraskar (Women's Power Award) that recognizes exceptional contribution to society.
The Rajasthan government appointed her as a member of the state's Minority Commission in 2012 for three years. She was among the first Catholic sisters to get a post on the commission, a statutory regulatory body with powers to safeguard and protect the rights and interests of religious minorities such as Christians and Muslims.
Ashfaq Kayamakani, a Muslim politician-turned-social-worker in Rajasthan, terms as "unparalleled" Sequeira's stint at the minority commission. "She is a fighter who is never scared," he told GSR.
Kayamakani says his Muslim community started receiving minority certificates to manage its educational institutions only after Sequeira became the commission member. "She did what even our Muslim members in the commission could not do for us," he said.
The certificate is required to avail benefits guaranteed by the Indian Constitution to religious and linguistic minorities to manage their educational and cultural institutions for the good of their communities.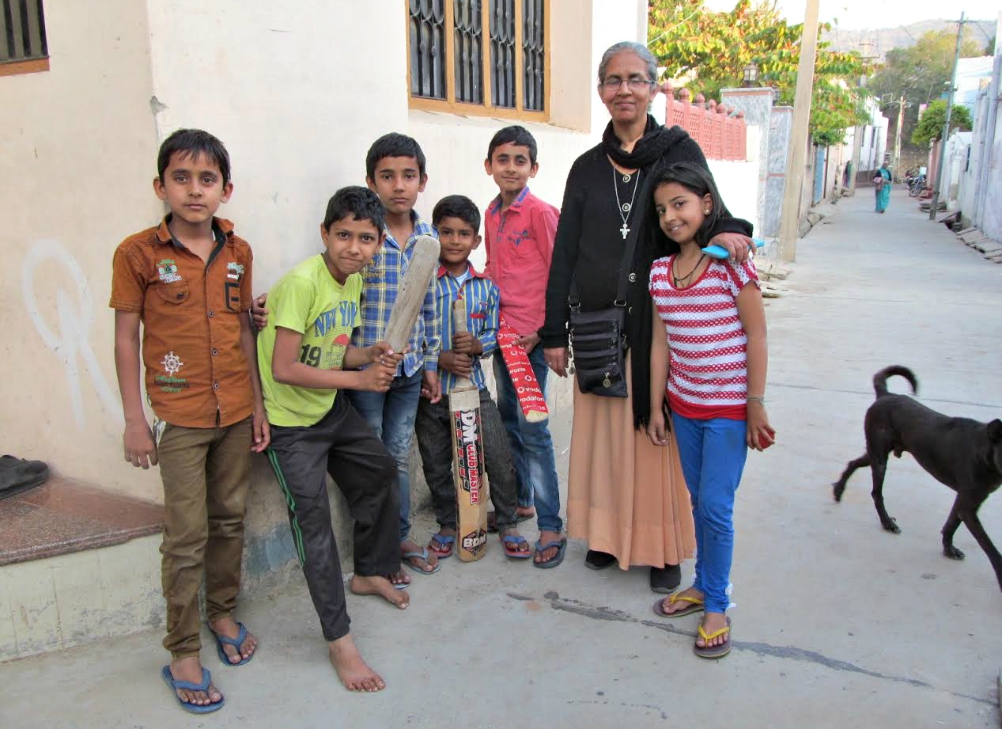 Sr. Mariola Sequeira, with children she knows in the neighborhood of her provincial house in Ajmer, Rajasthan (Saji Thomas)
Kayamakani recalls the Catholic nun going alone to places where Hindu-Muslim riots had taken place. "She prepared independent reports and sought action against the perpetrators of the crimes," he added.
He says Sequeira was effective in the commission since she had "no ulterior motive or political leaning," unlike other members who got the posts because of their political affiliations.
Zuban Khan, a former minority commission member and a Muslim, agrees. Sequeira would pull up officials when they failed to deliver. "She boldly presented the issues of the minority communities and sought action even from the state chief minister. We could not do such things," Khan recalled.
He says the nun prepares herself well for her social activities. To make herself more effective in the commission, she studied its scope, as well as various practices introduced by its counterparts in other Indian states.
Emeritus Bishop Ignatius Menezes of Ajmer says Christians faced no sectarian attack during her tenure at the minority commission. "We used to inform her of our difficulties and she took them up with the government. She was a voice of the Christians in the state," the bishop told GSR.
Sunny Sebastian, an editor with the Patrika Group, a newspaper conglomerate in Rajasthan, has observed Sequeira's activities from the beginning. He says her departure from Rajasthan has created a "vacuum" in the state's socio-religious and human rights scene.
Sequeira "used to be a strong bridge between the church, the powerful bureaucracy, political leadership and the general public," Sebastian told GSR.
Sequeira's provincial, Sr. Mabel Joseph, justifies her transfer, saying both Sequeira and the congregation were planning a change for her when the request for an English professor came from the Don Bosco College in Tura.
"She will face several social issues in northeastern India," Joseph told GSR.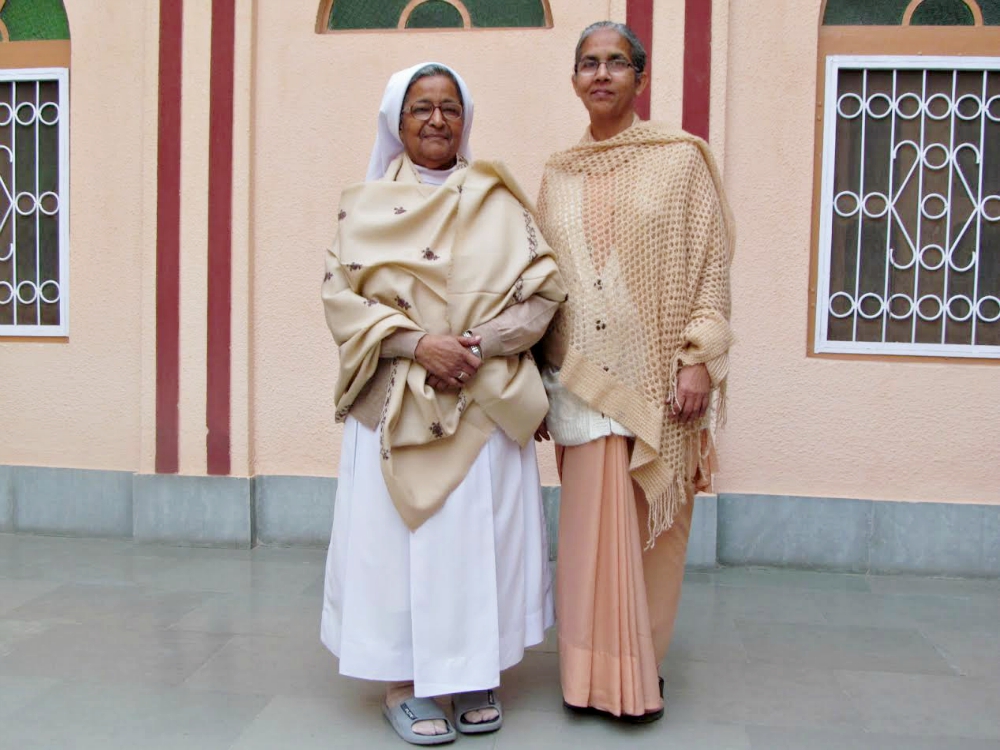 Sr. Mariola Sequeira with her provincial, Sr. Mabel Joseph, in the provincial house in Ajmer (Saji Thomas)
Sequeira's new base, Tura, is about 1,300 miles east of Ajmer. Unlike Rajasthan, a Hindu-majority state with hardly 1 percent of its population being Christian, the state of Meghalaya is 75 percent Christian.
However, northeastern India, home to hundreds of ethnic groups, faces poverty and secessionism and, among its youth, unemployment and substance abuse.
Sequeira says she is getting the feel of the place and will decide gradually what else to do, apart from teaching in the college.
"The transfer should not in any way be construed as an end to her social activities," Joseph said. "She can very well continue them in the new place if she wants."
The provincial hails Sequeira as an "embodiment of valor and courage" who is ready to help those in need, even risking her life.
Joseph also said Sequeira "does everything for the good of the public, making lots of personal sacrifices. So, we approve her programs even after their implementation."
Such freedom and support from her superiors help Sequeira respond to anyone in need at any time, says Sebastian. Sequeira emerged as a rallying point for Christians of all denominations in Rajasthan, where the community has no effective leadership, he says.
She writes news reports for portals and poems for magazines on the plight of the poor. She is a member of the Indian Catholic Press Association.
The sister joined religious life in 1979 at the age of 22 after quitting a job in the tourism department in her home state of Goa, western India. She says she received her vocation in the most unexpected manner.
Sr. Mariola Sequeira blesses a bride before her marriage in Ajmer. (Saji Thomas)
One of her neighbors was a Mission Sisters nun, who she recalls was always pleasant and happy. "Normally, the nuns I had met were very serious and seldom joyful. But whenever my neighbor came home for holidays, the entire family burst into laughter and became lively. This was the first time I found a nun so cheerful, mingling with people so freely," Sequeira said.
She then asked her neighbor about her congregation and decided to join it.
Her family discouraged her choosing religious life after quitting a secure government job that paid well.
The driving force behind her work, she says, is inspired by Hebrews 13:3: "Remember those who are in prison, as though you were in prison with them; those who are being tortured, as though you yourselves were being tortured."
[Saji Thomas is a freelance journalist based in Bhopal, a central Indian city. He has worked for several mainstream newspapers such as The Times of India.]