Sr. Norma Pimentel made news Jan. 10 when she was invited to a roundtable discussion of border issues as President Donald Trump visited the U.S. southern border. The Missionaries of Jesus sister had invited him in a public letter the day before to visit the Humanitarian Respite Center she runs.
But Trump had dismissed the border visit beforehand as a waste of time and mere photo op, The New York Times reported. Pimentel's presence at the roundtable was just that — she was in the audience, not at the table, and not allowed to speak. All those speaking praised Trump administration policies.
Yet behind Pimentel's witness for more humanitarian treatment of asylum-seekers by the administration is a host of women religious who have traveled across the United States and Canada to volunteer at the border in recent months. The wave of volunteers comes in response to information and a call to help issued in October by the Leadership Conference of Women Religious.
At least 286 sisters have volunteered at the border, and congregations have sent more than $340,000 to the agencies working there, such as the Humanitarian Respite Center in McAllen, Texas, and Annunciation House in El Paso, Texas, and many others, said Sr. Carol Zinn, executive director of LCWR.
Zinn a Sister of St. Joseph of Philadelphia, said those are only the volunteers and donations LCWR knows about, and that she wouldn't be surprised if the true number was more than 500 volunteers and more than $500,000 donated, and the volunteers and donations continue to flow south.
"It's been a remarkable response," Zinn said. "But I don't know any way to quantify the true amount of volunteers and donations that have gone. And there's no way to count the number of hours they've given."
Global Sisters Report for weeks in November and December carried blogs by sisters volunteering at the border who wrote moving accounts of the people they served there and the incredible, unending need they found.
Trump visited the border to highlight his call for construction of a massive wall from the Gulf of Mexico to the Pacific Ocean. The presidential optics of his visit — including caches of drugs, cash and weapons confiscated not at areas a wall would protect but at ports of entry or elsewhere — didn't show the reality of border security issues, the Times reported.
The federal government is in a partial shutdown in a stalemate as Congress refuses to fund Trump's request for $5.7 billion for the first section.
Trump made a pitch for the wall in an address from the Oval Office Jan. 8, a speech the Sisters of Mercy of the Americas said in a statement was "rooted in untruths, fear and division."
"Make no mistake, there is a humanitarian crisis on the border, but it is one of the Trump Administration's own making," the statement said.
It concluded: "We are at a pivotal moment in history, one that asks our nation to reflect and act justly upon what it truly means to welcome the stranger. Our faith demands that we not be on the wrong side of history."
Pimentel, executive director of Catholic Charities of the Rio Grande Valley, wrote an open letter to Trump in The Washington Post on Jan. 9. She helped establish the respite center in 2014 to tend to the needs of immigrants after their large numbers overwhelmed immigration officials.
"Before the respite center opened, dozens of immigrant families, hungry, scared and in a foreign land, huddled at the bus station with only the clothes on their back, nothing to eat or drink, and nowhere to shower or sleep," Pimentel wrote in the op-ed. "They waited hours and sometimes overnight for their buses."
The center on some days serves up to 300 asylum-seekers, Pimentel wrote, saying more than 100,000 people have passed through its doors since it opened.
"Every day of the year, from morning to evening, families coming over the border are welcomed at our center with smiles, a warm bowl of soup, a shower and a place to rest," she wrote. "Most families are exhausted and afraid, carrying little more than a few belongings in a plastic bag. They come in all forms and at all ages. Few speak any English. Most are in great need of help."
The need just never seems to end, Zinn said, which was behind LCWR's call to action.
"It's real, on the ground, Gospel, at-the-periphery work," Zinn said. "The situation is pretty dire."
Among those currently volunteering are five members of the Dominican Sisters of Peace in Columbus, Ohio.
Spokeswoman Dee Holleran said the group left Dec. 26 and will come back next week.
The sisters have reported back about the immense need and the incredible outpouring of help, but also about the kindness of airline employees, Transportation Security Administration employees and even Border Patrol agents.
"They've been very kind, very humane to [asylum-seekers] when they get to the airport," Holleran said. "They've been so kind, so helpful to these people who've never been in the United States and maybe never even been in an airport before."
One of the sisters transporting asylum-seekers to the airport related the story of a family with a little boy who was so frightened, but tried to hide his fear by talking to his stuffed animal, saying, "Don't worry, don't be afraid. I'll take care of you," Holleran said. "It's just heartbreaking what these people are up against."
[Dan Stockman is national correspondent for Global Sisters Report. Follow him on Twitter @DanStockman or on Facebook.]
Images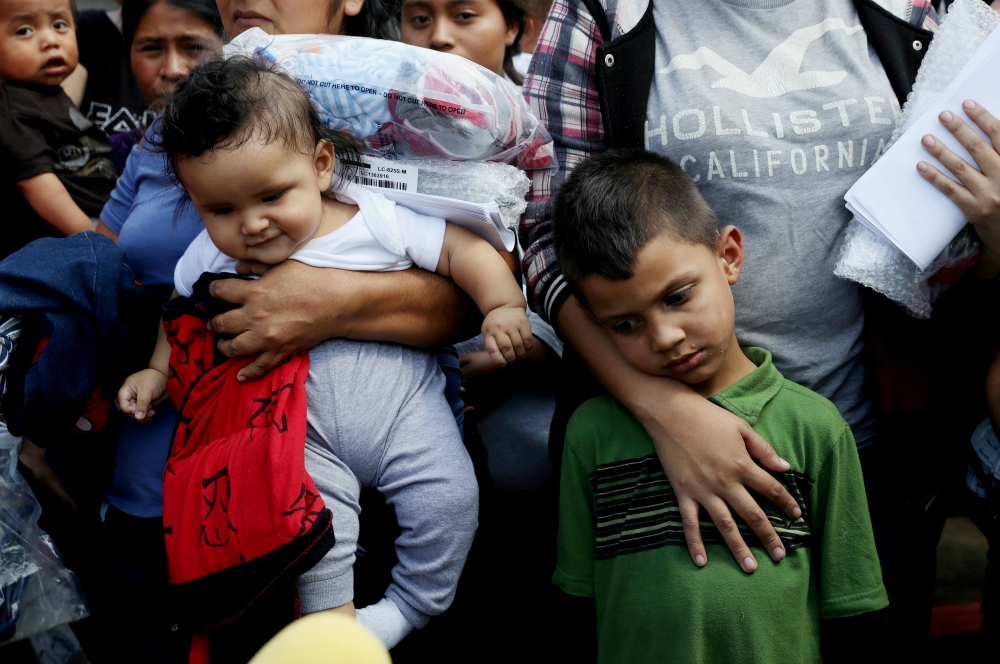 Immigrant children are seen at a bus depot June 22, 2018, in McAllen, Texas. Sisters volunteering at the border are doing "real, on the ground, Gospel, at-the-periphery work," says St. Joseph Sr. Carol Zinn. "The situation is pretty dire." (CNS/Reuters/Loren Elliott)