Editor's note: You can read more of sisters' work here at the Writing Workshop series page.
"Can you see me?"
The dozen sisters sat in a wood-paneled room in Yangon, Myanmar, fuzzy at first and then slowly coming into focus. These were Myanmar's leading sister theologians, brought together for a conference to celebrate and strengthen local theological thought in Myanmar. The Women of Wisdom and Action initiative, part of Santa Clara University's Jesuit School of Theology and the Verbum Dei Missionary Fraternity, organized the conference, held Oct. 16-20, 2018. (Women of Wisdom in Action is partially sponsored by the Conrad N. Hilton Foundation, which also sponsors Global Sisters Report.)
Global Sisters Report took advantage of the unique meeting to offer our first multiday online writing workshop for sisters.
"Write what you know," I told the sisters from my home in Israel, 6,300 kilometers (4,000 miles) away. "There is no one who can tell your story better than you."
Writing is an essential tool, the way sister theologians in Myanmar can share their thoughts and ideas with people around the world and ensure the diversity of theological thought. But sometimes it takes a little bit of encouragement for sisters who never considered themselves writers to discover that writing voice. Here, five sisters who participated in the writing workshop share their stories.
For privacy reasons, some of the sisters have opted not to publish their full names.
The most joyful moment of my life
The most joyful moment of my life was the day of my first profession. I took my first vows in 1992 with the congregation of St. Francis Xavier. It was the fulfillment of my mother's promise to Mother Mary when I was just a year old if Mary would help keep me alive.
I almost died when I was a year old, one evening in the month of May around 5:30 p.m., as the sun was going down. While all my older brothers and sisters were praying rosary in the church, I remained at home with my mom because I am the youngest. At that time, my mom was busy doing housework, cooking rice and carrying water near the pond. I wanted her to pick me up, so I cried and followed her wherever she went.
But she didn't have time to soothe her crying daughter, so she gave me a plastic container to play with to stop my crying. As soon as I got the container, I went to the pond to fill it up with water. I was too small and slipped into the pond and sank. Suddenly, my mom started looking for me. She looked everywhere, anxiously, but didn't find me.
Finally, she saw the plastic container she had given me floating on the surface of the pond. She realized I had fallen in. Even though she did not know how to swim, she jumped into the pond to look for her dying daughter. She pleaded and promised to offer me to Mother Mary if her daughter was still alive. Thankfully, she found me in time.
As I grew up, my mother told me this story and her promise to Mother Mary over and over again. As I grew up myself, I also wanted to become a nun. Through 10th grade, I stayed firm in my devotion. But after I graduated from high school, before college, I met my sweetheart.
Gradually, I understood I couldn't keep both my mom's promise to be a nun as well as my sweetheart. My parents and brothers warned me about becoming close to him. At the same time, I also did not want him to love another woman. I had very hard time dealing with my feelings and making a decision for my whole life.
It gave me a lot of trouble, and I was overloaded when it was almost time to enter the convent. I had to choose: religious life or married life? This is a decision for your entire life, and life is long.
I persuaded my sweetheart to be a priest because he told me if I left him and entered the convent, he would not be happy and would die very soon. Finally, we both agreed to serve God by living a consecrated life. I made my decision, by the grace of God, to follow Jesus.
When I was in the convent, I had many temptations every day: reading his letters, phone calls, visits with friends, and I was still dealing with all these thoughts in my mind.
Sometimes I doubted myself and my vocation, wondering, "Did I make the wrong decision?"
After many trials, I heard the voice of God: "I called you before you were born. I am the one who chose you. You did not choose me."
Hearing God's call and looking back on my mother's promise, I have had enough strength to commit my life to do God's mission. My sweetheart also entered the seminary. At present, he is a good priest.
In 1992, I made my first profession. That was the most joyful day of my life. I was so happy that my entire dream came true.
— Sr. Susan Ma San, Sisters of St. Francis Xavier
My journey with blind friends
Life is always there, waiting for you to experience it and learn from others and all the events that come in your life. And change never comes without the price of patience, acceptance and understanding. In my religious life, I never thought I would be journeying with blind people.
Our journey started when we opened our community in Tatkone, Myitkyina, which is the capital of Kachin State. We chose to open our community house in the midst of poor families who are mostly Christian. As we started our mission, we became friendly with the neighbors, especially the blind people who live nearby. There is an institute for the blind in Tatkone, and many blind people come from all over Myanmar to be near to it.
One day, when I was visiting a nearby family, I met a blind woman who had three kids. Her name was Maria Ah Roi. While I was talking with her, I noticed that there were unfinished packing bags around her. I asked her, "Why are you packing things? Are you going somewhere?"
Her answer moved my heart. I didn't know what to say in response. She said: "This is my relative's house. We move from place to place because we cannot afford to pay rent. Now we have to move and find another place. But I don't know where that would be yet. Maybe we will stay in the institute for the blind first and find a place."
That conversation was the starting point of our inspiration to work with blind people. We started thinking about how to help the blind families who have nowhere to live and cannot stay in the institute for the blind, perhaps because it is full. The inspiration came to our hearts without financial stability. But God used his people, who generously shared their compassion to those in need. We were able to build three small family houses: two single houses and one house to accommodate three families.
Maria Ah Roi was the first person to live in our shelter. There were other three blind families who also moved in.
This was how the Sisters of our Lady of La Salette started a blind ministry in the area. Day after day, unexpectedly, we learned many different things, including the sensitive relationships between the blind families living in the shelter. The families who live in our lot often quarreled with each other, shouting and using bad words. Whenever they quarreled within their own family or with another family, we had to run to see them, even at night. There were always arguments. We never thought that they would bring that many problems. We had rules, but they never seemed to care about them.
I was assigned to accompany them, and I reflected how I would begin my journey with them. I started to have a Bible-sharing meeting, and it was going on very well. Suddenly, however, this Bible sharing stopped. I asked around, and all the reasons came from Maria. The other blind people have great patience with her up until now, but they could not endure her any more.
Her sharp words and attitudes destroyed relationships. She would say that other families could live in the shelter only because of her. One Catholic family wanted to move out because of her. Such attitudes irritated me a lot. I didn't know how to talk to her.
Gently and wisely, I would ask her to think about others, to put herself in their shoes. But she was always going on about "her right," even telling me, "I only like that you are agreeing with me. You have to side with me." Sometimes, I said, "Yes, yes," just to make her happy. But there were times when I said, "Why should I should say yes? You are not right this time."
She was always drawing more and more attention, and it was actually exhausting my energy to love her in every problem and issue she got into. Sometimes I strongly argued with her. She was so tough, and I was, too. But I never gave up my hope to relate to her, and I found I was called to accept her as who she is. I told to myself that she is teaching me to be patient and teaching me with her life what it means to love others.
From her side, I never thought she would change. But everything and everyone can change!
I was looking for different ways to accompany them. I asked for a donation from a friend to hold two seminars for the blind. I organized the group and invited a facilitator who could give a seminar in collaboration with me. I was able to hold two seminars on the relationship between parents and children and child rights as well as attitudes and temperaments. I personally urged Maria and her son to attend the seminar. At the beginning, there was a lot of resistance, but in the end, they came.
I learned how important it is not to give up easily. During the seminars, she was not an active participant. But after the seminars, she asked me to talk directly to her son, who is problematic and lazy. In the past, I tried to talk to her son whenever he got in trouble. But this time, I was so happy that she came to me and trusted me with her son personally.
I told myself, "It is now that I need to get in her life." Then I started to tell her how much I appreciate her as a mother. I told how much I am also worried for all her children. But I told her that she needed to fix her family environment, and she needed to change some of her attitudes, too. Then, I listened to her attentively. She seemingly gave a pause to understand the other side. Unlike before, she slowed down a bit, and she paused to listen when I was speaking, which was a great change in her attitude. And these days, I don't hear much shouting. There is no news about their quarrels. It helped me understand: Everything is in God's time. Now we can discuss and cooperate when there is something going on. She has learned to give personal respect to me, too.
This is another beginning of our journey as friends!
— Sr. Mary Hka Raw, La Salette Sisters
Learning how to love more
One of the challenging experiences that I have had was with a family in difficult circumstances at our nursery school in Kunlong, Shan State. In 2017, I was assigned to take care of the nursery school. When I arrived there, I saw that although there were Catholic families in the area, only a few children came to enroll in the school. Then I found most of the people are poor and cannot afford for their little children to go to nursery school. I did not expect this would be my struggle.
I remember one child who sometimes came to the nursery school, a 6-year-old named Hau Za Man. She was always sick and frequently absent. One day I went to visit the family, and she wasn't at home. I asked the father, "Where is Hau Za Man, your daughter?"
"She is in the hospital with her mother," he said. "A few days ago, we brought her to the hospital."
I was sad to hear that, but he didn't give me any more information. I went to speak to the neighbors and understood that it was not a happy story. The family is so poor. As they are poor, they cannot take care of their child very well. Some days, the child didn't bring her lunchbox, and most of the time, her food is not the kind of nutritious food a child needs. If the father has no work for the day, they hardly survive their daily life. Therefore, they don't even give school fees, though I ask the parents to contribute something small. Sometimes, I give Hau Za Man's fees from my pocket money, and sometimes, I manage to fill the budget from the balance from expenses that is meant for school.
Before, I could not understand why they don't try to give fees, even if it is a small amount. However, this experience with Hau Za Man's family made me understand the mentality of the poor people and their difficulties. I am challenged to love beyond the limitation of "what should be done" that we usually hold.
I believe God is there to teach his compassionate love toward the poor. Sometimes I think to myself, "I am taking care of the child more than her mother." But I am now free to give all my love to her, to fill up her unpleasant family situation. The child is teaching me how to be kind and serving. I overcome my human arrogance in this way. I can say now that I will be a good caretaker to manifest God's love.
— Sr. Rose Mary, Franciscan Sisters of St. Aloysius Gonzaga
Miga and Miju
In Myanmar, many children move out of their homes to live at boarding houses. Some cases are due to their parents' poor economic situations. Some who are from mountainous areas are sent out to attend schools. Miga and Miju are the youngest girls of our students living with us. Miga is 11 and Miju is 10 years old.
They are not sisters, but they have been living like sisters since they have moved out of their parents' houses to live at a boarding house when they were only about 5 years old. Miga and Miju come from big families, where they have about nine or 10 siblings. The girls don't even know the names of their younger siblings since they've lived out of their home for a long time. The parents struggle to feed all the children, so they send them away to boarding houses with little money or sometimes at no cost.
Miga and Miju ended up with our congregation and have been under our care for more than a year now. They are just like any other young girls. They like snacks, coloring books, doing all sorts of things to their hair and watching television. It's hard to see if they miss their parents. Or is there anything they miss at all? It seems like their whole life is where they are right at this moment. At such a young age where you would think that they would need so much dependency, the girls seems to be comfortable and self-contained.
Sometimes I walk the girls to school, but because of my foreign identity [Lee is Korean-American] and visa situation, it's not good for their teachers to see me. The girls are aware of it, and I usually stop across the street from their school. I kiss each of them on their foreheads and wish them God's blessings as we part. Looking at them walking away from me, I see two little girls who are closer to God than anybody else in this world.
— Sr. Lucy Lee, Sisters of the Blessed Korean Martyrs
An addicted flower
I was assigned to Danai Parish in Tarung province three years ago, and there was a certain Mr. Zau H family in my assigned area. Their livelihood was planting opium, not just for distribution — they also consumed it. To the people around them, they were rich, educated and influential. But inside, the family was divided and having problems all the time.
Mr. Zau H had a personality of looking down on women and trying to control the entire situation happening around him. His wife was not happy but endured all the sufferings of married life in order to preserve the family. As a result, the family problem was ongoing, and they had difficulty caring well for the children.
The children did not listen to their parents. They were children with no goals, no plans in their life, and were always on the road after worldly fun. They did not go to church and were not involved in any of the church organizations.
Mr. Zau's wife requested that the sisters visit their house to talk to her husband and children. We visited and conversed with them, hoping we might be able to bring them back to the church. We approached them gently and were very cautious dealing and talking with them. Most of all, we tried to regularly visit them. I felt sorry looking at their situation. Sometimes it was uncomfortable, but I felt a lot of empathy for their family.
After some meetings, Mr. Zau H said, "I'll get rid of planting, consuming, dealing opium. But you have to educate me for other alternatives and something to hold on for a living for future." So I advised them to think of alternate livelihoods, such as a mustard plantation or teak plantation instead of opium. By the grace of God, now we could start see a bit of change in them. The parents started attending church, and the children often joined Sunday school. We are always trying to find ways that programs, recollections and Bible readiness can help people to have a constant change to their lives.
— Sr. Cecilia Kaw Ja, La Salette Sisters
Giving priority to what is important
Five years ago, I did my ministry in Thingangyune, near Yangon, and one day, someone came to me and told me that Aunty Sophi was sick.
Aunty Sophi was a member of Legion of Mary, and every day, she and her daughter, Janet, attended Mass. After Mass, she would greet us and then go home. But I noticed she did not come to Mass for nearly a week. Someone told me that Aunty Sophi was hospitalized. A few days later, I heard she was discharged.
We didn't visit her right away because we were very busy at church, teaching songs for Sunday Mass, running the classes for youth, arranging the flowers and decorating the altar.
After Sunday Mass, I said to my companion, "Aunty Sophi is discharged from the hospital. Let us go and visit to her." My friend said that we hadn't informed our superior, so we should go and visit after the evening Mass, because we had to go back to the community and wash our clothes.
But at that moment, someone said Aunty Sophi was asking for us, so we went. When we arrived at her house, Aunty Sophi was sleeping on a mat. She heard that sisters were coming and slowly turned on her mat in pain to face us. I saw on her face a tear was coming down. While she was lying, she wanted to try to talk to us but could not say anything. Her children were crying, "Mom, get up and look the sisters! You are waiting for them along time. Now they are here!" And then there was no more breath, and she died.
We prayed to God to grant Aunty Sophi eternal rest in peace. On the way back to the community, I felt so sad. I reflected on the fact that we hadn't visited Aunty Sophi earlier, that we were more concerned with doing our work.
Aunty Sophi taught me many things by her way of life. Don't give priority to your work. Being with a person who is dying is more important than all the work you can do in this world.
— Sister Clarita, Servite Sisters
You can use our guide to run your own writing workshop with your congregation, read stories from other sisters who took our writing workshop, or contact Global Sisters Report for more information on scheduling an online writing workshop.
[Melanie Lidman is former Middle East and Africa correspondent for Global Sisters Report. She is based in Israel.]
Images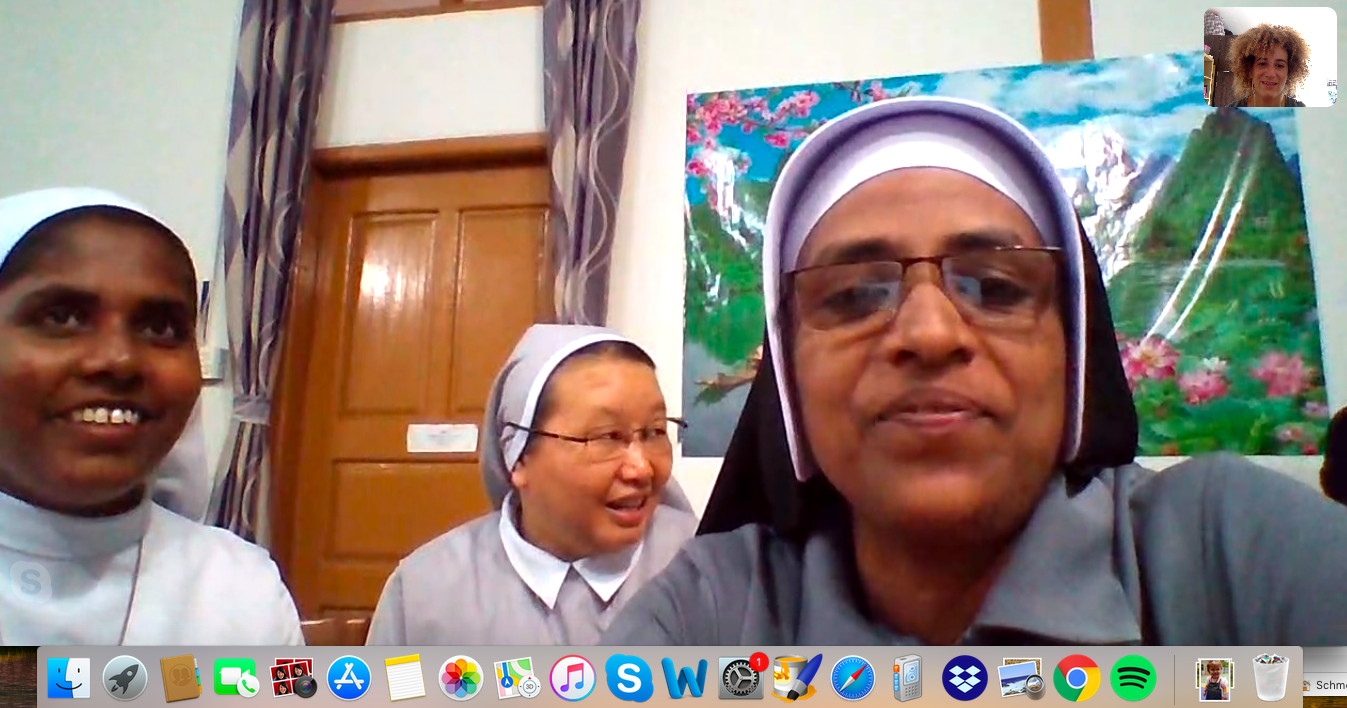 Screenshot of the multi-day online workshop that also included time for small group editing and coaching. (GSR photo)