Religious life in the United States and the leadership organization that represents most of the women living that life are changing. But Sr. Carol Zinn is uniquely prepared to lead an organization facing transformation.
Zinn, a Sister of St. Joseph of Philadelphia, became executive director of the Leadership Conference of Women Religious a year ago, just in time to oversee the process of LCWR examining how best to support religious life and what its role in that might be.
"I believe in this life, and I believe it is critical to the furthering of the Gospel," Zinn said. "But I can also see how, just in my lifetime, the face of it has changed dramatically. The expression of the life is taking on a whole new form."
In 60 years, religious life in the United States has gone from vast numbers of sisters working as teachers and nurses, living in motherhouses and often forming a low- or no-wage army of workers for the church, to a smaller but effective group of leaders and collaborators. The renewal the Second Vatican Council called for has brought religious life into the outside world, the way the council opened up parish life to laypeople.
But those changes, as well as the dramatic numeric shift, mean LCWR must change, too, Zinn said.
Fifty years ago, the Center for Applied Research in the Apostolate reports, there were more than 160,000 women religious in the United States. In 2018, the research group said, there were 44,117. A 2016 study projects sisters will number fewer than 30,000 within five years. Meanwhile, the number of associates of sisters and the number of foreign-born sisters ministering here have increased substantially.
LCWR, which is made up of the leadership of 300 of the 420 religious institutes in the United States, is meant to support women religious. How best to do that as the number of sisters declines and the support their leadership needs changes has become the central question of a long planning process.
"Religious life is always from the culture and from the historical time it is in, so it's not surprising we're in a huge shift in what the life form looks like," Zinn said. "But we're also new to this in that most of us thought religious life would always be what it was. These kind of changes only happen every 350 to 400 years."
Society is changing, too, with many young people, even those who don't consider themselves religious, seeking spirituality. Zinn was an important early supporter of Nuns and Nones, which brings together women religious and millennials who have a spiritual longing. Zinn even attended the first Nuns and Nones gathering in November 2016 at Harvard Divinity School.
Leading any organization in a time of change is daunting. But Zinn's time in religious life seems to have uniquely prepared her for the challenge.
She entered religious life in 1968 in the midst of the renewal and upheaval of Vatican II. She became a teacher, eventually teaching at every level from pre-K to postgraduate, and later moved into administration. In 1996, she began ministry at the United Nations, representing Global Education Associates, a nongovernmental organization, for six years. She then spent seven more years at the U.N., representing the 15,000 Sisters of St. Joseph around the world.
That experience gave Zinn a more global view of religious life, she said, a view LCWR is now gaining through a closer partnership with the International Union of Superiors General, which represents women religious internationally.
"LCWR is not the end-all, be-all of religious life," Zinn said. "We need to recognize we're part of the global sisterhood, and I think the closer connection with UISG will help us do that."
In 2009, she left the U.N. and joined her congregation's leadership team and LCWR. She served as LCWR Region 3 chairperson from 2010 to 2012, then was elected to the LCWR presidency, serving from 2012 to 2015.
Four months before Zinn was elected incoming president, the Vatican announced the doctrinal assessment, which required LCWR to change its statutes, review publications and programs, create new formation material, make the Eucharist and the Liturgy of the Hours a priority at events, and have a bishop delegate approve speakers at major programs.
At the assembly where Zinn was elected, the LCWR membership voted to work in good faith with the bishop delegate but not to compromise their expression of religious life or the integrity of LCWR's mission.
Zinn wrote in However Long the Night that LCWR leadership came to understand not only that the mandate was a vehicle for conversations about broader changes beyond LCWR, "but the very real and painful reality of the need for these kinds of conversations."
This was especially true since the conflict seemed to be based on sisters' following the Vatican II call for renewal, she wrote.
"One of the first conversations we had with the LCWR national board revealed the inherent connections between the mandate and some of the aspects of the vision of Vatican II," Zinn wrote. "From the very beginning of our work with the mandate, it was clear to us that this mandate did not exist in a vacuum and that while it was directed to LCWR, it was really about issues, perceptions, and realities that went beyond LCWR."
But the organization also had to remain focused on the core issue at hand.
"Each time we met among ourselves or with the archbishop delegate or CDF [the Congregation for the Doctrine of the Faith], we remained steadfast in respectfully posing the question at the heart of the mandate: in what way(s) are we unfaithful?" Zinn wrote. "This haunting question carved a deep space within us and it allowed us to keep focused on the desire to engage in honest dialogue based on mutual respect."
In April 2015, four months before Zinn ended her term as past president, the mandate came to an end with a joint report praising sisters and calling the work between sisters and the bishops "a blessing to be appreciated and further encouraged."
Holy Cross Sr. Sharlet Wagner, current president of LCWR, said Zinn was one of the right people in the right place at the time of the mandate. Helping guide LCWR through those years now gives Zinn an insight few can match, Wagner said.
"I was not in leadership at the time in LCWR, just in my congregation, but we had the right people in the right place at the right time, and they rose to the occasion," Wagner said. "The fact that Carol helped guide LCWR through that, she's been able to draw on that wisdom and experience."
After leaving the LCWR presidency in 2016, Zinn joined the consulting world at the financial services giant Plante Moran, which counts many religious orders as clients. As a part of the firm's Religious Institutes Services Team, she helped communities plan for the future of their charism and mission.
"It was really a discernment process with the communities about where are they called and how do they see themselves living out this vocation, not just until retirement, but until they meet God?" Zinn said.
When Zinn was appointed executive director of LCWR in 2018, the diverse threads of her career came together.
During her time at the U.N., she traveled extensively in the United States and abroad: To represent members properly, she said, she needed to know and understand what they were experiencing. For LCWR to be effective, she said, it must remain firmly grounded in the grassroots of its members living around the world, which also provides perspective on the global sisterhood.
"We need to have our eyes on the horizon but our feet in the religious institutes where our members are," she said. "It's like the passage in Isaiah [43:19]: 'Behold, I am doing something new, do you not perceive it?' Much of the work of LCWR is helping perceive what is happening in the bigger picture."
At Plante Moran, she helped institutions ask questions about their future needs to guide current decisions. LCWR is gathering input from members through focus groups and charrettes to guide the process of reshaping the organization.
Zinn can also draw on her academic experience as a research fellow on leadership and transformation at both Episcopal Divinity School and Harvard University, as well as her bachelor's degree in education, master's degree in theology and doctorate in curriculum development and education.
Wagner said one key to Zinn's success in the position so far is that she is comfortable in LCWR's unique four-person leadership structure: the employed executive director and an elected incoming president, president and past president serving at the same time.
"I appreciate Carol's ability to stay in the moment and allow events to unfold," Wagner said. "She works well with the whole team. We wanted shared leadership among the team of four, and Carol has been able to step into that."
Zinn is quick to point out that having a great organization with a great structure isn't enough.
Sometimes, "we can add up all the different pieces, we can paint a big picture, but something [can be] missing — it's the hand of the Spirit, the activity of grace," Zinn said. "Whatever we put together is just the sum of those things we gathered added up. We need a global vision of these gifts from God that you can't get from just adding together all the details. It's a faith perspective. It's mystery."
That also requires faith and trust in God that changes however things change, it will be to what is needed.
"The larger picture of religious life is God's project, not ours," Zinn said. "God does the calling. Our work at the detail level is to create the space for God to do what God needs to do. It's not just holding on to whatever we're convinced religious life should be."
As LCWR examines its own role, Zinn said, it can be easy to focus on diminishing numbers, but what those in the planning process are discovering is new religious life emerging.
"God is still calling people to religious life around the world. It looks different, the numbers are different, but it's what is needed," she said.
LCWR officials are also seeing that partnerships will be critical and that collaboration between the many organizations that serve religious life will need to be much closer than before, she said.
And as the organization is looking inward, many outside religious life want to get in.
"There are groups of people who would like to access some of the resources of LCWR, such as the leadership formation, the publications, and the opportunities to be in the kind of conversations that use contemplative dialogue and discernment," Zinn said. "And it's everyone from media to nonprofit organizations to faith groups."
The reality is that religious life has always been about itinerancy, she said.
"It's much like the life of Jesus, to be on the peripheries and on the move," Zinn said. "We can't stand still because religious life has never stood still."
And Jesus taught us that the answer is always simple, she said.
"In every situation, we have an opportunity to choose love over fear," Zinn said. "We can play into the fear, we can play into the judgment, we can circle the wagons and say, 'We're right and they're wrong,' but no matter how challenging things are, no matter how awful things get, that's Jesus' MO: Choose love over fear."
[Dan Stockman is national correspondent for Global Sisters Report. His email address is dstockman@ncronline.org. Follow him on Twitter and on Facebook.]
Images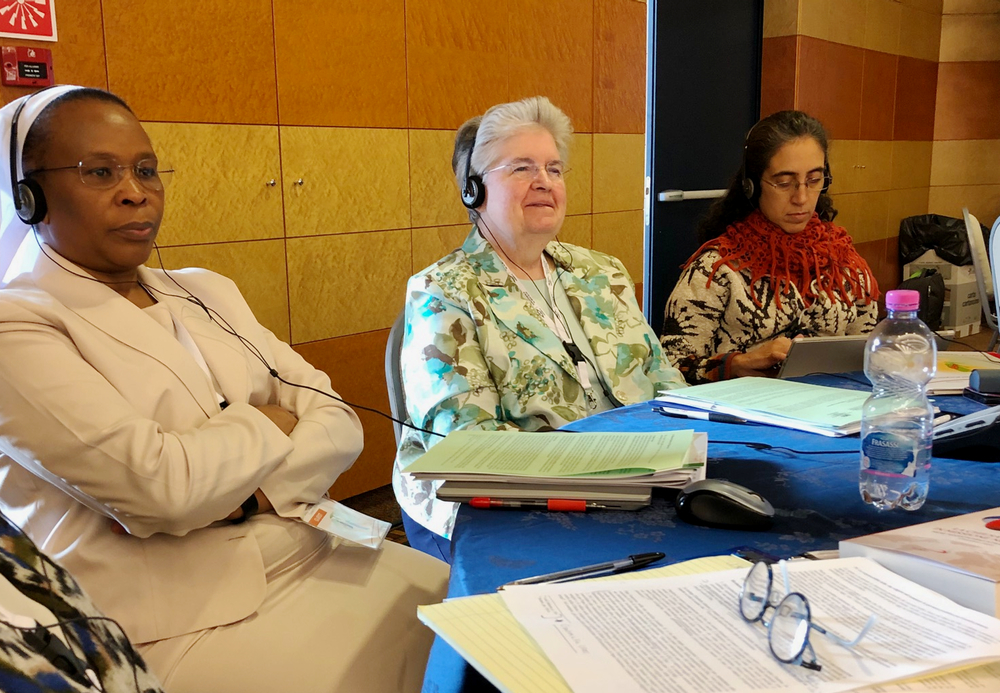 LCWR executive director Sr. Carol Zinn, second from right, listens during the International Union of Superiors General plenary in May in Rome. (Courtesy of LCWR)