In a short play staged after the beatification of Sr. Rani Maria in Indore in the central Indian state of Madhya Pradesh Nov. 4, actors depict Sr. Selmy Paul, the younger sister of Blessed Rani Maria, tying a sacred thread on the wrist of Rani Maria's assassin, Samandar Singh, in jail in 2002 to accept him as her brother. (Saji Thomas)
Indore, India — The beatification of a martyred Catholic nun will help evangelization in India, where preaching Christ's message has become increasingly difficult, church leaders say.
Sr. Rani Maria Vattalil's beatification "is a major turning point in the history of Christianity in India, where peace-loving Christians face persecution," said Shibu Thomas, head of Persecution Relief, an ecumenical forum that records attacks against Christians in India.
Rani Maria, a member of the Franciscan Clarist Congregation, an indigenous order, was beatified on Nov. 4 in Indore, a central Indian city 560 miles southwest of New Delhi, the nation's capital. She is India's first female martyr on the road to sainthood.
The nun died on Feb. 25, 1995, when she was stabbed multiple times by an assassin hired by landlords who resented her work among landless laborers in Udainagar and surrounding villages in the Indore Diocese. Rani Maria, as she was widely known, had encouraged the laborers to demand fair wages and the right to a dignified life, showing them ways to avoid predatory interest rates on loans.
More than 15,000 people, including the assassin, Samandar Singh, attended the beatification ceremonies.
Rani Maria's sacrifice at the age of 41 has become "a beacon of light for the multitude of missionaries, who find in her inspiration and protection for their difficult work for the good," said Cardinal Angelo Amato, prefect of the Congregation for the Causes of Saints and special representative of Pope Francis for the beatification ceremony.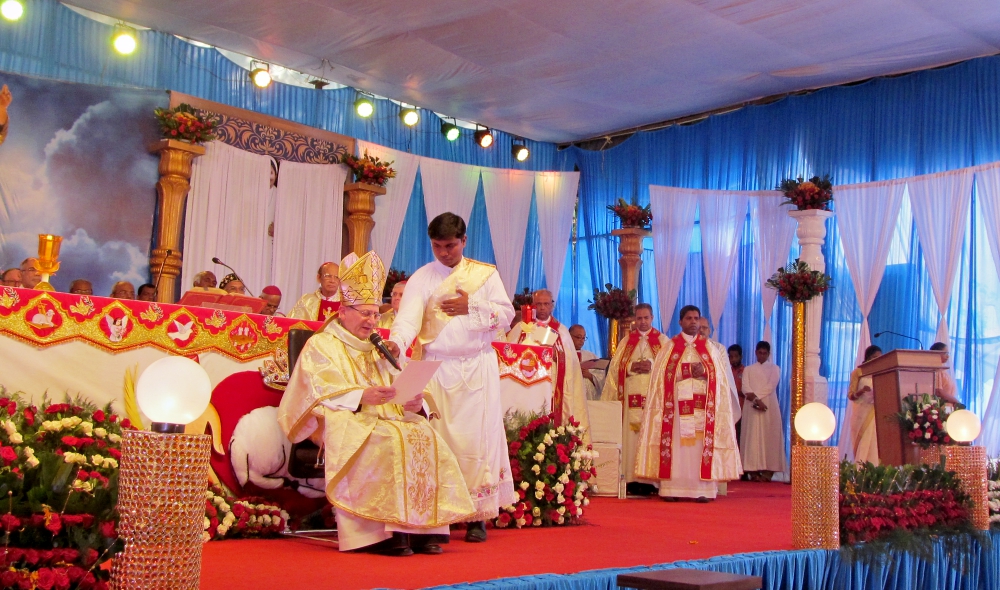 Cardinal Angelo Amato, prefect of the Congregation for Causes of Saints and special representative of Pope Francis, reads the papal decree of beatification of Sr. Rani Maria at Indore, central India, on Nov. 4. (Saji Thomas)
Reading from Francis' letter declaring Rani Maria blessed, Amato said the "virgin and martyr" had recognized "the face of the suffering Christ in the poor and afflicted, and loved them in him even unto the shedding of blood."
The Vatican had cleared her beatification in March this year and Amato announced Feb. 25 as her feast day.
Thomas said Rani Maria lived and died for Christ and was privileged to get the gift of martyrdom. The martyr's blood, he added, is the seed of the church and it will "definitely strengthen" Christians in India who are facing an "alarming" increase in persecution.
"We have recorded more than 600 incidents of attacks against Christians this year itself," he told Global Sisters Report. The incidents include physical assault, threats, destruction of churches, registering false cases and restraint from praying.
"Sr. Rani Maria will become a model for those suffering persecution," said Thomas, who predicts that she would draw more people to Christ. "Rani Maria has shown that one does not need to fear death that destroys only the body and not the soul."
Amato echoed similar views in his homily, which noted Rani Maria's martyrdom as "a blessing not just for the mission of Udainagar but for the entire Catholic Church in India."
The cardinal urged Christians to place charity, not hatred, at the center of their lives. He also encouraged them to view their neighbors not as adversaries, but as friends to love, help and defend.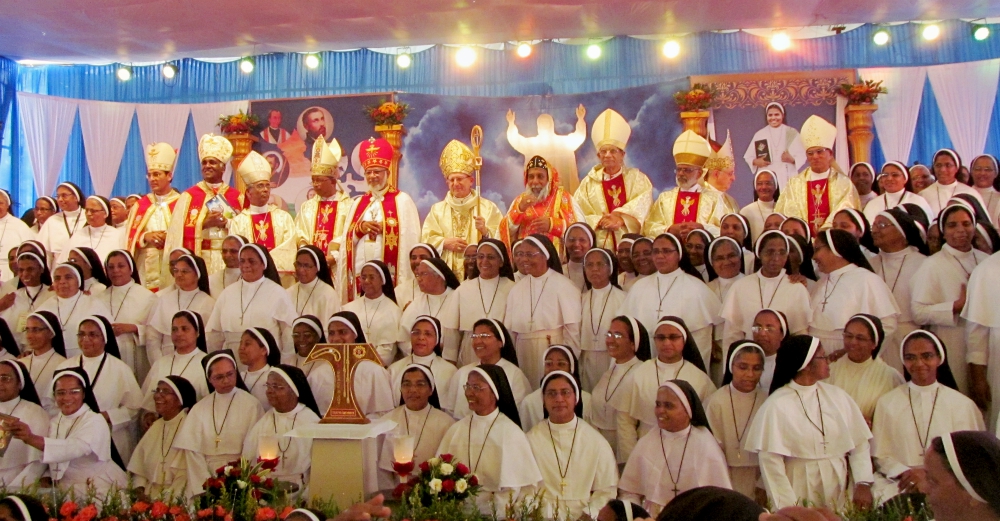 Franciscan Clarist Congregation sisters pose for photo with cardinals and bishops after the beatification of Sr. Rani Maria on Nov. 4 in Indore in Madhya Pradesh. (Saji Thomas)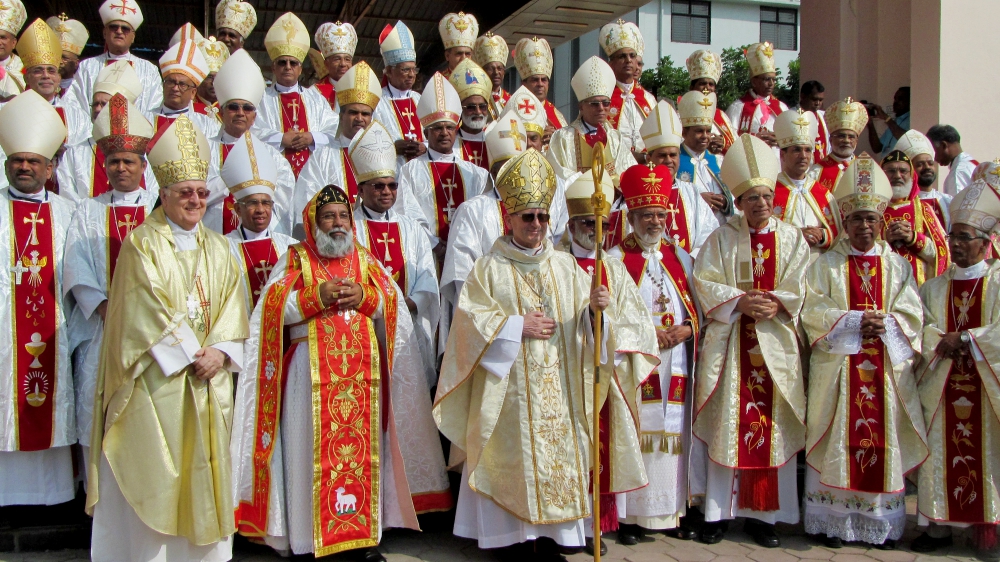 Cardinals and bishops posing for picture on Nov. 4 after the beatification of Sr. Rani Maria in the campus of St Paul Higher Secondary School in Indore in the central Indian state of Madhya Pradesh. (Saji Thomas)
Rani Maria "spurs us on, finally, to pray for the persecutors of the church, so that grace may transform their hearts of stone into hearts of flesh," he added.
Bishop Chacko Thottumarickal of Indore finds the beatification a "very significant event" for the Indian church and acknowledges that those working for the Gospel will be persecuted.
"Those who endure suffering for the sake of the Gospel will also be rewarded with heavenly blessings," said the Divine Word prelate, who has worked for decades in a region where Christians make up a tiny fraction of the population.
Hailing Rani Maria, he wants Christians to follow her example to boldly proclaim their faith and lead a Gospel-based life. "Persecution against Christians is nothing new. Jesus Christ himself was persecuted," Thottumarickal said.
Most cases of persecutions were reported from regions where tribal and Dalit (a former untouchable caste) communities have adopted Christianity.
"We are not scared of such attacks," says Bishop Basil Bhuriya of Jhabua Diocese in Madhya Pradesh.
"Most Catholics in my diocese are tribals. But once they accept the faith, they will not give it up whatever happens. They are ready to die like Blessed Rani Maria," the prelate, who is from an indigenous tribe, told GSR. He urged Christians to be prepared, as she was.
Sisters and other pilgrims pray at the tomb of Blessed Rani Maria inside Sacred Heart Church, now renamed Blessed Rani Maria Church in Udainagar, Madhya Pradesh state, India. (Saji Thomas)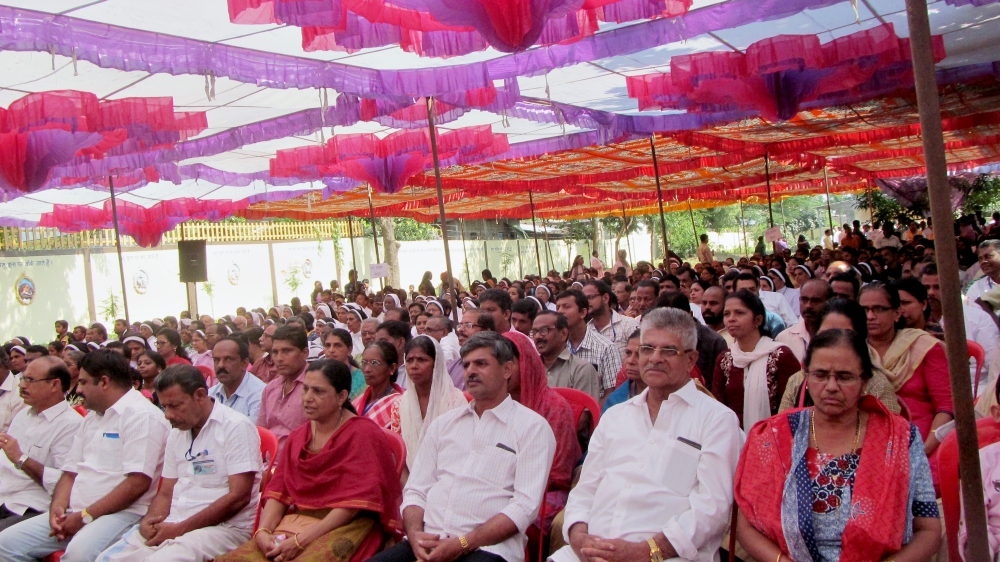 A thanksgiving Mass is celebrated Nov. 5 at Udainagar where Blessed Rani Maria's mortal remains remain. (Saji Thomas)
Tribal leader Gulzar Singh Markam views Rani Maria's work and murder differently. "I do not look at her as a Christian religious, but the manifestation of humanity," he told GSR, adding that only great humans can work for the liberation of the marginalized from oppressors through risking one's life.
Markam agrees people are attracted to Christianity because of its good work for impoverished people. However, such work upsets those with vested interests who accuse missionaries of religious conversion and attack them. Such attacks, he said, are the outcome of a well-orchestrated conspiracy against Christians who try to empower the downtrodden.
Sylvester Gangle, who attended the beatification ceremonies, said the event would embolden Christians who live in constant fear of becoming targets of right-wing Hindu groups.
"The Hindu radical groups are out to damage the image of Christians and eventually wipe out Christianity from India," the Indore-based Catholic lay leader told GSR.
According to him, direct evangelization has become unthinkable in northern India. "The Hindu radicals oppose even ordinary humanitarian activities of missionaries," he explained.
He cited the case of Sr. Valsa John Malamel, a member of the Sisters of Charity of Jesus and Mary who was hacked to death on Nov. 15, 2011, for opposing the mining lobby's attempts to acquire tribal lands in the eastern Indian state of Jharkhand.
"We have hundreds of such incidents. But, unfortunately, law enforcement agencies support the oppressors, not the oppressed," lamented Gangle.
His worry is based on a series of recent arrests of Christians who were traveling in groups by train and other means in Madhya Pradesh.
In May, Hindu radicals forced the police to arrest nine Christians from a train at Ratlam, a tribal town. They were accompanying some 60 Christian children to Bible classes in neighboring Maharashtra state. The adults were arrested for violating a state law that restricts religious conversion.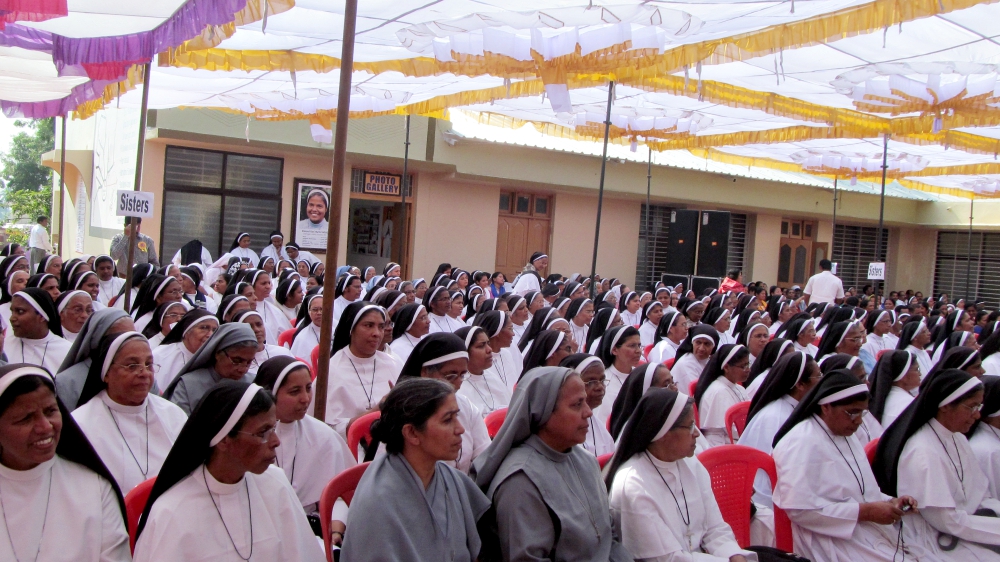 Sisters attend the Nov. 5 thanksgiving Mass in Udainagar, Madhya Pradesh. (Saji Thomas)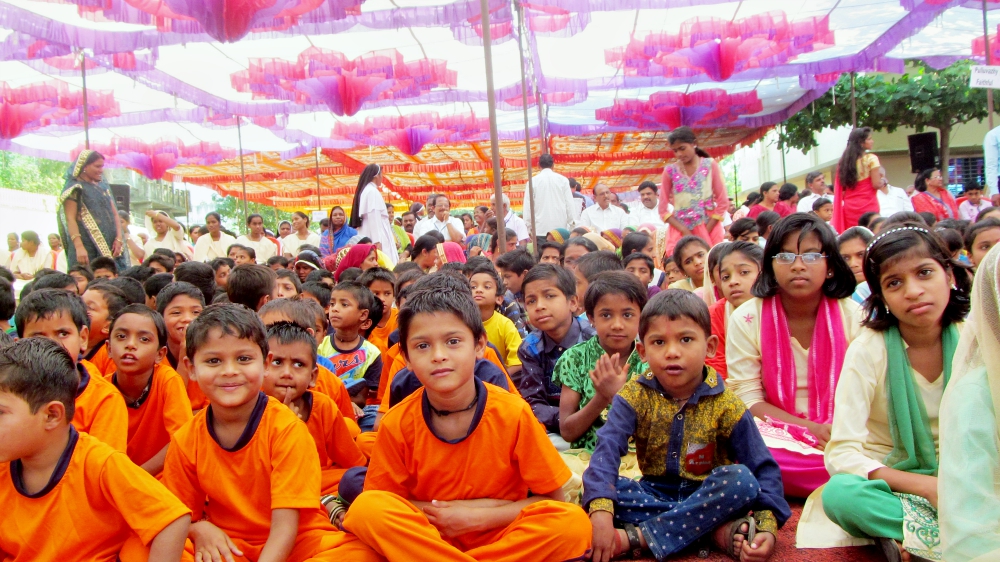 Children at the thanksgiving Mass at Udainagar on Nov. 5 (Saji Thomas)
Madhya Pradesh is among six states in India that have enacted special laws to restrict religious conversion.
The police did not spare the adults even after the children and their parents proved their Christian identity. A court sent two of the accused to jail.
Gangle alleged that the Hindu radicals "always arm-twist police and other law enforcement agencies" with fake charges of religious conversion.
In June, police detained a Catholic nun in Satna, another town in Madhya Pradesh, for accompanying four tribal girls on a train. Police charged her with abduction, but she evaded arrest.
On Oct. 30, the Madhya Pradesh High Court released to parents seven tribal children detained seven days earlier for going to Bible classes in Mumbai. The young Christians were kept in a government center for children after the police arrested their adult companions.
Aman Singh Porthe, a tribal leader, says the real issue is not religious conversion, but the resentment of the wealthy against progress made by the marginalized with the help of Christian missionaries.
The missionaries reach out to remote places to start schools and health care institutions. Many from those areas have become educated and have found jobs with government and private companies. "The powerful Hindu radicals do not like this. They perceive the educated low-caste and tribal people as a threat," Porthe said.
Under these circumstances, missionaries such as Rani Maria offer hope, says Sr. Soni Maria, provincial councilor of the Franciscan nuns' Aluva province and Rani Maria's first cousin. "Her martyrdom will help instill confidence and hope in missionaries who are frightened," Soni Maria says.
Sr. Selmy Paul, Rani Maria's younger sister and a Franciscan nun who works in the Sarni mission of Bhopal Archdiocese, agrees. She says her elder sister has made her fearless to face challenges and persecution.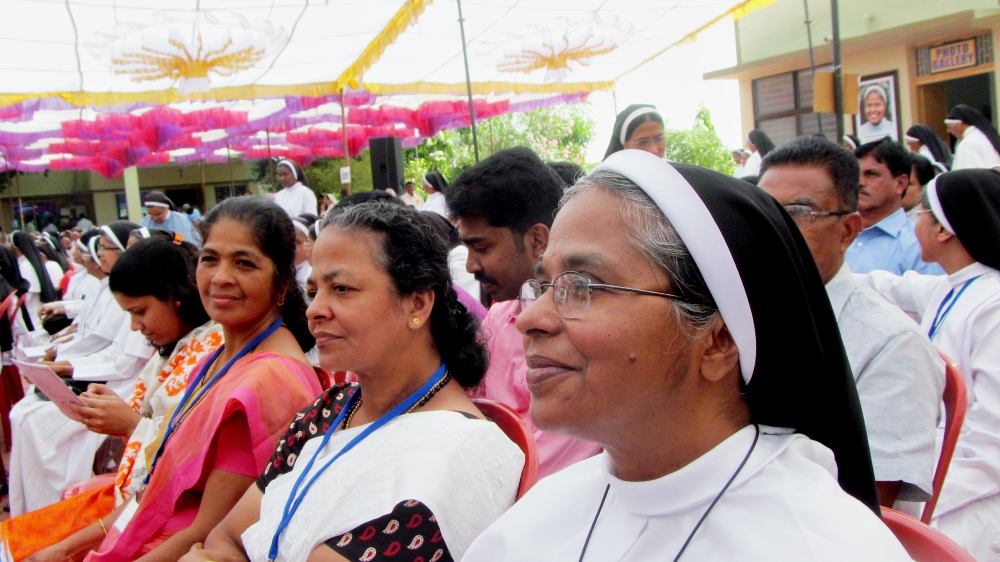 Sr. Selmy Paul, right, the younger sister of Blessed Rani Maria, sits with family and friends from her home state of Kerala at the thanksgiving mass on Nov. 5 at Udainagar. (Saji Thomas)
Samandar Singh offers floral tributes at a memorial to Sr. Rani Maria erected at the spot where he killed her in Nachanbore Hills, a deserted place between Udainagar and Indore. (Saji Thomas)
She and other members of the family attended the beatification and other related programs.
"I want to die like my didi [elder sister]," Paul says, standing near Singh, the assassin, whom she has accepted as her brother.
Singh, who now leads a reformed life cultivating his farm in a village near Udainagar, says violence is no solution to any problem. "It only ruins the life of those indulging in it and their people," the 44-year-old Hindu man says.
Singh's wife left him when he was in jail. His contractors for the crime never kept their promise of help. He was convicted and given a 20-year prison term but was released after 11 and a half years because of the intervention of Rani Maria's family.
[Saji Thomas is a freelance journalist based in Bhopal, a central Indian city. He has worked for several mainstream newspapers such as The Times of India.]