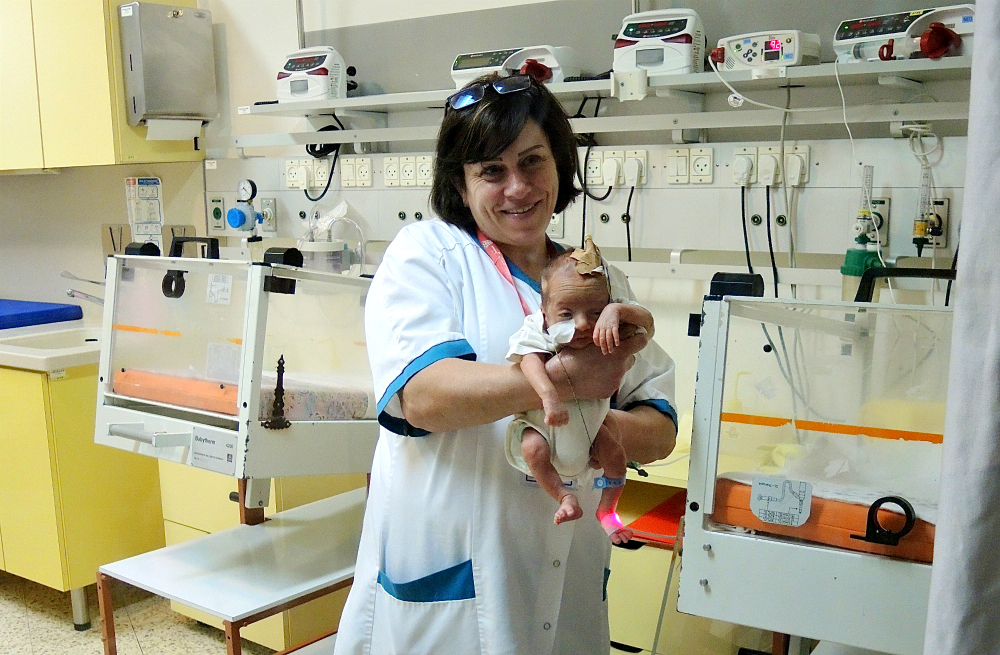 A nurse in the neonatal unit of Caritas Baby Hospital in Bethlehem holds a premature baby. Babies from across the West Bank and Gaza are transferred to the hospital, which has one of the most advanced neonatal units in the Palestinian territories. (GSR photo / Melanie Lidman)
Bethlehem, Palestinian Territory — The first sign visitors see for the Caritas Baby Hospital in Bethlehem is spray-painted onto a 30-foot-high concrete guard tower, a particularly imposing part of the separation barrier between Israel and the Palestinian territories that slices through Palestinian neighborhoods.
"Caritas Baby Hospitl: 60 Years!" the graffiti from 2012 cheerfully boasts, with a cartoonish image of twin babies. This concrete wall, which started construction in 2003, is the most visible sign of the Israeli occupation of the Palestinian territories, and of Bethlehem in particular.
This barrier was built by the Israelis in response to bloody terror attacks during the Second Intifada from 2001 to 2004. The wall has irrevocably changed Bethlehem, severing the Palestinian city from the economic engine of Jerusalem, 5 miles away, causing unemployment to soar. Many residents in Bethlehem speak of living in an "open-air prison," as they are unable to leave the West Bank except through Israeli-controlled checkpoints and must obtain permission from Israeli authorities to do so.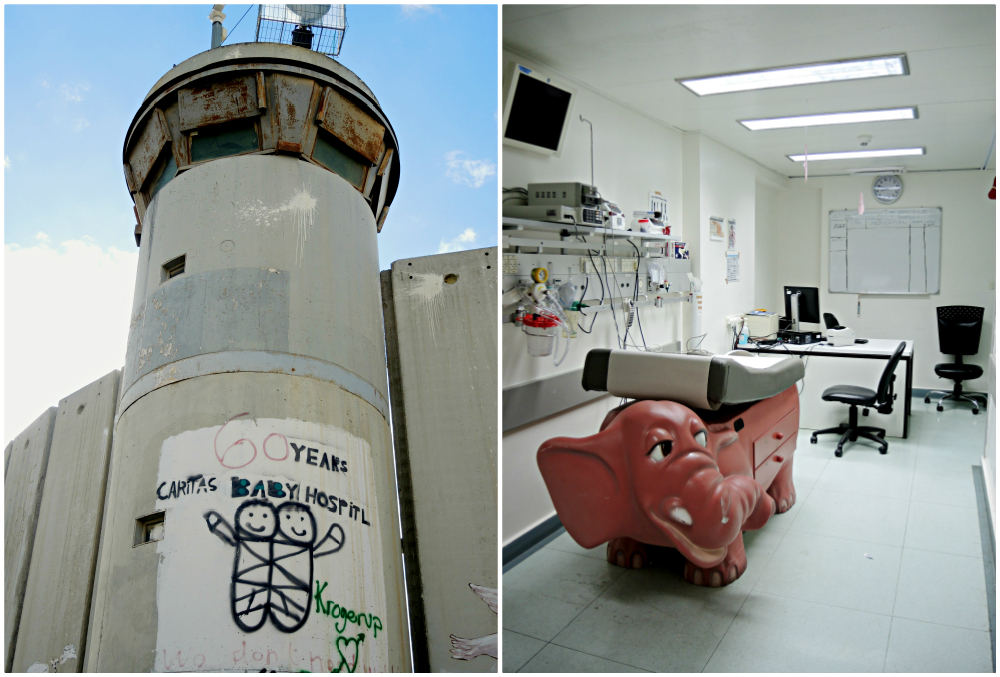 Left: The Caritas Baby Hospital sign painted onto a guard tower in the separation barrier. Right: A pediatric examination room at the Caritas Baby Hospital in Bethlehem. (GSR photos / Melanie Lidman)
Sr. Lucia Corradin arrived in Bethlehem from her native Italy in 2002, at the height of the Second Intifada, to serve as director of the neonatal unit at the Caritas Baby Hospital. Today she heads the organizational development arm of the hospital as quality director and risk manager. She remembers when Israel began building the separation wall, about 50 feet from the entrance to the hospital.
"They started at the end of 2003 and it was built by March 2004," she said. "I can remember because we were going to visit these families [in the neighborhood]. They were in a really bad situation, as they were losing their land," she said. The worst part, she said, was many Bethlehem residents went to work for the Israeli contractors and ended up building the wall themselves. "They needed the money," she said.
After their shifts at the hospital, the sisters spent hours sitting with families affected by the wall's path, sharing tea and coffee as they tried to offer their support and presence. "One of our missions was just to show our solidarity as human beings," Corradin said.
Despite the wall's imposing proximity, the Caritas Baby Hospital is a point of light for thousands of patients each year. Within its airy corridors, the staff annually cares for more than 40,000 children, newborn to age 14, from all over the West Bank and Gaza.
Fr. Ernst Schnydrig founded the hospital in 1952, after passing through the Aida refugee camp on his way to the Church of the Nativity on Christmas Eve. Amid the crowded, dirty camp, filled with Palestinian refugees from Israel's 1948 War of Independence, Schnydrig saw a man burying his young son.
"This priest was really touched by seeing a child who had died in the moment when he was going to the Nativity Church on Christmas," said Corradin. Along with his traveling group, which included a doctor, Schnydrig returned to the camp and rounded up the sickest children. They rented two rooms, hired local nurses and started the Caritas Baby Hospital with 14 patients.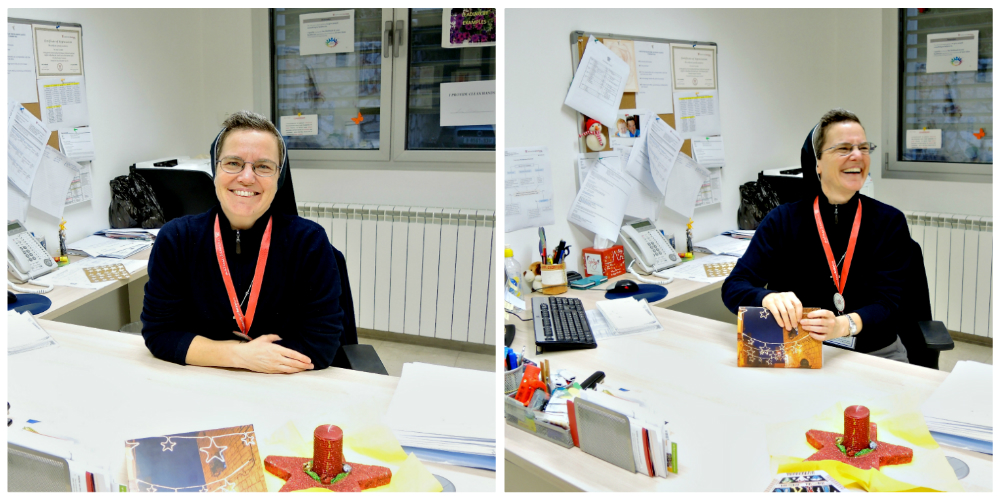 Sr. Lucia Corradin has spent the last 13 years in Bethlehem and now works as the quality director and risk manager of Caritas Baby Hospital. (GSR photos / Melanie Lidman)
The hospital is not related to Caritas International charities, though Schnydrig was a member of Caritas. He returned to Europe and founded Children's Relief Bethlehem, the nonprofit institution that supports the hospital. The hospital's $10 million budget is 90 percent dependent on donations, mostly from Italy, Germany, France and Switzerland.
The Franciscan Elizabethan Sisters of Padua arrived in 1975, part of Schnydrig's vision of having religious sisters run the institution and live on the premises.
Of the five sisters here, including Corradin, three work in the hospital in administrative roles, one recently retired and volunteers in a kindergarten, and another runs a women's empowerment project that sells traditional Palestinian embroidery to hospital visitors.
Corradin is most proud of the hospital's mothers' residence, a unique approach that gives mothers of the young patients a separate wing of the hospital where they can sleep and relax.
"When the baby is admitted, the mother is really supported to stay [in the hospital] with the baby," said Corradin. "This is not because we want to reduce the number of nurses!" she adds with a musical laugh. "The aim of this mission is to ensure that the mother is educated to continue the care when the baby can go home ... and to let the mother relax. Because their life is difficult, if they have a lot of children, it can be tough. We want to guarantee that nobody is asking them, 'Come and run here, bathe me, wash this,' whatever."
Mothers at the residence take part in daily programing, focusing on health and nutrition. Social workers and psychologists are on hand to help with personal issues. This can include existing problems, including domestic violence, that are exacerbated by a sick child.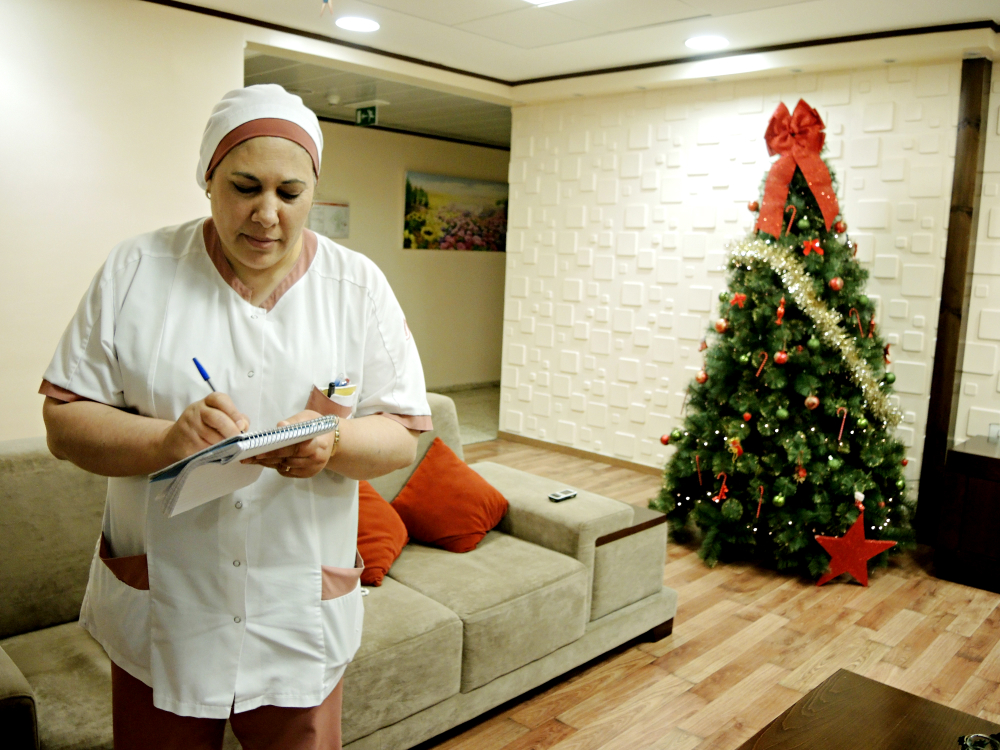 Fatimah Abu Aker has worked in the mothers' residence for the past seven years. She said she enjoys helping mothers relax and unwind during a very stressful period. (GSR photo / Melanie Lidman)
The approach can be controversial, at first. Some mothers want to stay with their children 24/7. "There is no huge chair or a bed [in the patient's room] where the mother is always in contact with the patient," said Corradin. "The founder didn't want that. It really needs to be a chance for the mother to take a rest," she said.
The staff noted that oftentimes the mother's continual presence can exhaust both the mother and the patient, extending recovery time.
One evening, two weeks before Christmas, Iman, a new mother from Hebron, was relaxing in the mothers' residence, watching the news and talking to friends on her cellphone. Her son, Adam, was born two months premature and had spent his first two weeks in hospitals, first in Hebron and then here, though he was expected to leave Caritas in a few days.
"I would never go home if my baby is here," Iman said. Still, she said she sometimes needed to feel "safe" by getting away from the hospital room to breathe freely for a bit.
Nurse Fatimah Abu Aker is responsible for helping create this "space to breathe" in the mothers' residence. "Here, I speak to them about their problems, I give them lectures, and I let them feel safe," said Abu Aker. "It's like a hotel with seven stars for the mothers!"
"They're all sitting here, talking, telling stories, sometimes they even dance together," said Abu Aker, who has worked in the residence for seven years. Surrounded by other mothers of sick children, the women can share their stressful feelings with people who immediately understand their situation, she said.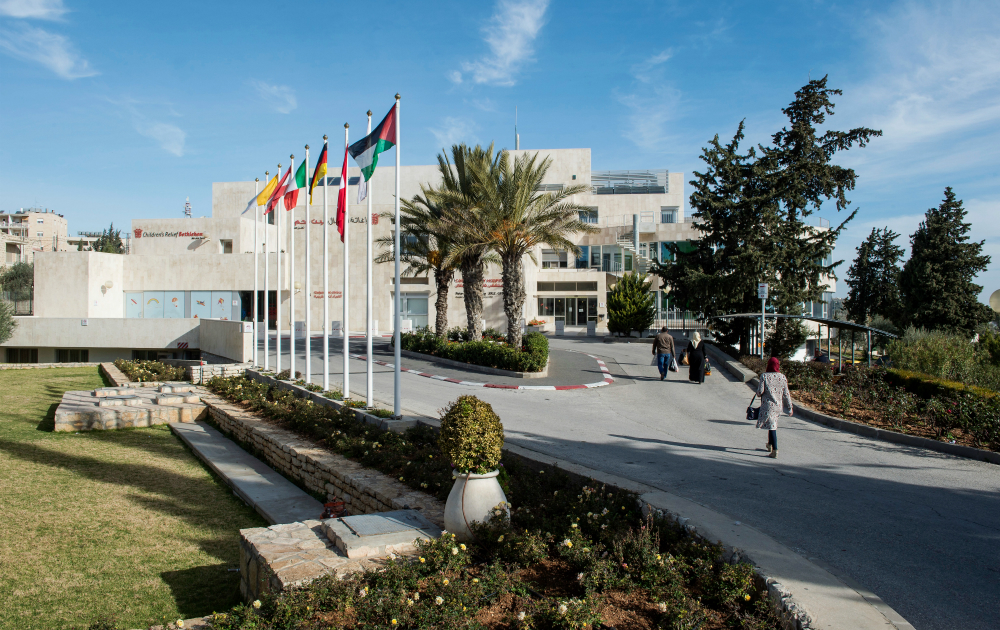 The Caritas Baby Hospital in Bethlehem serves more than 40,000 patients per year, 4,000 of them as inpatients. (Courtesy of Caritas Baby Hospital)
For Corradin, this emphasis on motherhood and caring for mothers just over a mile from the place where Mary gave birth to Jesus is especially fitting.
"The children here give me a chance to become a mother," she said. "I didn't deliver any child, but, spiritually, I delivered many children."
"Whenever there is a time to say goodbye [to a dying child], this goodbye is not for good. Part of me is already in heaven with these children. They are a part of me, so that part has risen. I believe that. We have spent such close time together, so when they leave, part of you is with them, it's not here anymore."
"I learn a lot here, because it is not always an easy life here," Corradin added. "I need to fight, but I believe Jesus was also fighting in a nonviolent way. He was really fighting to encourage the people not to stop loving each other and believing in the humanity."
Corradin noted that a unique challenge for sisters in Bethlehem is that, as foreigners, they are allowed to enter Israel without a permit. This means they are forever apart from the Palestinians, who must obtain permission to leave the West Bank.
"I have a privilege that they don't have, and that's still hurting me," said Corradin. "Let's say a Palestinian will come to my country, and maybe I can't leave my city, but the Palestinian person is going around from north to south. Of course, I will not be happy. So I put myself in their situation and it's difficult to accept."
Every few months or so, the political situation will careen out of control with the latest clashes, from something small like local riots against the Israeli army to a bigger ground operation in Gaza, setting tensions flaring across the West Bank. Corradin said that the sisters try not to express political opinions, focusing instead on the work rather than choosing sides.
"I believe that God is asking us, as religious, to show love, hope and peace, but sometimes the situation around you is showing the opposite," she said. "It's not easy, when you feel the power of the negative surrounding you. You really need to support the people not to give up. It's normal to give up, to say, 'Today, that's it, I've had it.' It's normal to have the lows and the highs ... people are really looking at us to shine as the love of God. Even in this situation. They say, 'Help me to understand how I can see him in this particular moment when I'm suffering.' Sometimes, there's no words, you just need to be silent and say, 'Let's pray together.' "
 [Melanie Lidman is Middle East and Africa correspondent for Global Sisters Report based in Israel.]