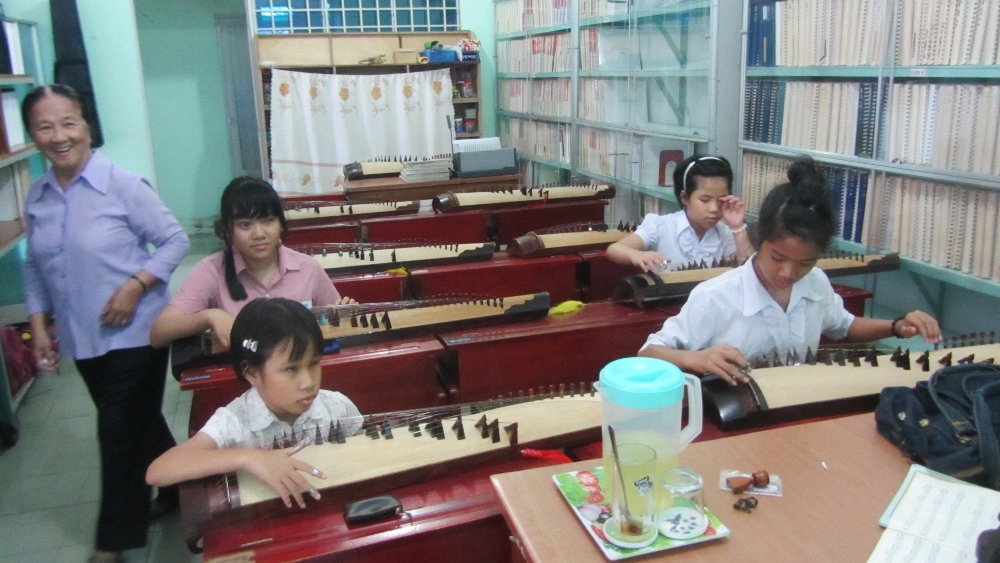 Visually impaired students learn how to play musical instruments at the Huynh De Nhu Nghia (Fraternal Affection) Center for Blind People in Ho Chi Minh City, Vietnam. (GSR photo / Joachim Pham)
Ho Chi Minh City, Vietnam — Sixteen years ago, Bui Minh Tuan, born blind in a poor family in northern Vietnam, was illiterate and living under his family's care. However, his life took a major leap forward when he was admitted into Huynh De Nhu Nghia (Fraternal Affection) Center for Blind People in 1998.
Tuan was offered opportunities to finish his elementary education and learn massage therapy skills at the center. Now he runs a massage salon with four other workers who are also blind.
His wife is also blind and used to live at the center, too. They have three children who have normal eyesight, and together they enjoy a happy life.
"I am deeply grateful to the nuns who have changed my life. Without their help, I would never have what I have today," Tuan said with a smile on his face at a year-end celebration in the center before the Lunar New Year in February.
His success story is one of many among the people with limited sight who are trained at the center run by Franciscan Missionaries of Mary, based on the outskirts of Ho Chi Minh City.
Sr. Mary Rose Dao Thi My Dung, who works at the center, says it provides free accommodation and food for nearly 40 blind students from ages 5 to 21. Many were born with impaired vision, while others lost their sight from diseases or from unexpected explosions of old ordnance left over from wars and still buried around the countryside.
The center's participants are from poor families and half of them come from northern provinces, where few centers for people with physical disabilities run by the church are approved by the government.
They study at local public schools for sighted students and they use walking canes or sticks to get there by foot or bus.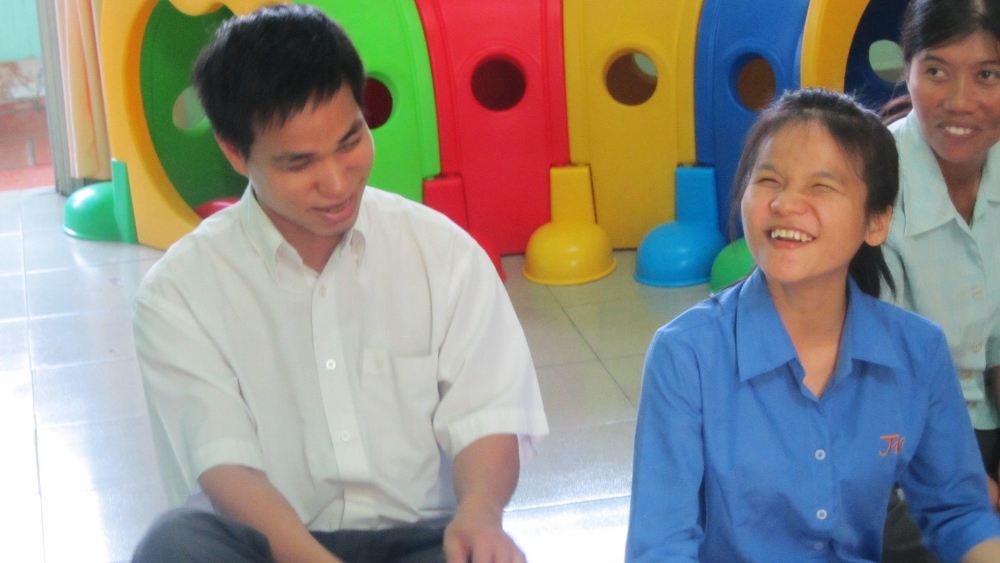 Bui Minh Tuan, left, shares his life experience with others at a year-end meeting. (GSR photo / Joachim Pham)
Caring for blind people with maternal love
Before they can transfer to routine public schools, Dung says newcomers have to study Braille and learn how to use walking sticks, look after themselves, make their beds, communicate with others and perform other basic skills. Some of them are 9 years old by the time they enter first grade.
Eight nuns and nine teachers work with the students after class. They help them revise their lessons and teach them things like computer skills, musical instruments, chess, track and field, and especially to perform Aikido, a modern Japanese martial art that practitioners can use to defend themselves.
Their students take part in sports competitions for disabled people in Vietnam and also in Malaysia and Singapore. They also perform musical concerts abroad.
Dung says blind students take exams in Braille and nuns translate them into Vietnamese. Then teachers, who do not know Braille, grade them.
"We care for them and bring them up with motherly love. We treat them like our children and offer them good chances to develop holistically," she says.
Staff members take annual courses on caring for visually impaired people and understanding children's rights. 
Dung said since its establishment in 1993, the center has trained 150 blind people. Most of them finish high school, and many are given opportunities to study further at colleges and universities.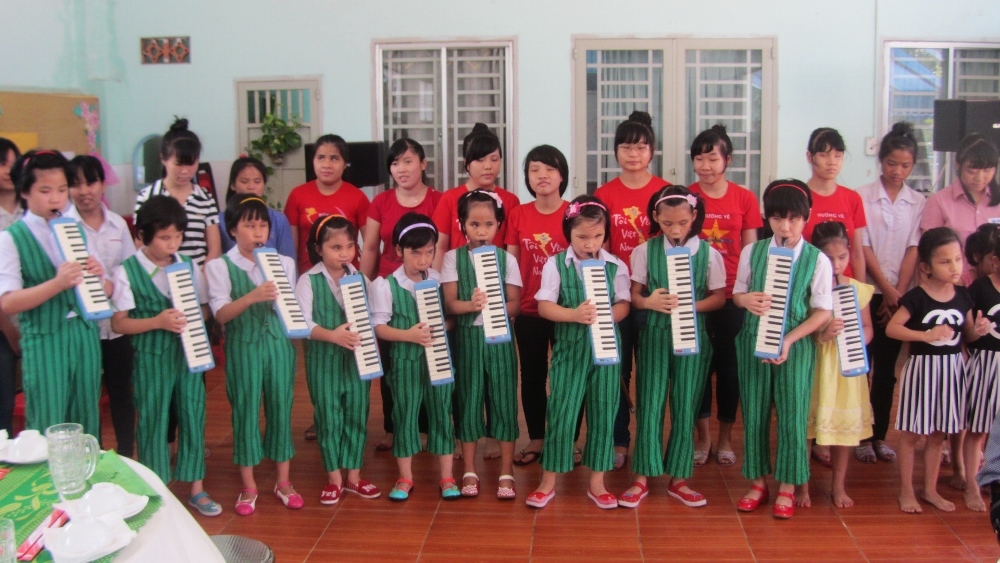 Visually impaired students perform at the Huynh De Nhu Nghia Center for Blind People in Ho Chi Minh City, Vietnam. (GSR photo / Joachim Pham)
They learn vocational skills, especially massage, to equip them to make a living. Many of them run massage parlors and companies or teach at colleges.
They return to the center on a yearly basis to share their experiences with the younger people living there. Twelve couples from the center have been married so far.
Ko Jong Prong Sunni, a Chu Ru ethnic girl who has low vision, said her two siblings also have visual impairments.
"I am lucky to learn from the sisters here, to study at school and play with friends," said the sixth-grader who has lived at the center for six years. She can see things that are near to her and explain them to other people.
A man called Thai, 45, was blinded in a bomb explosion when he was 18 years old.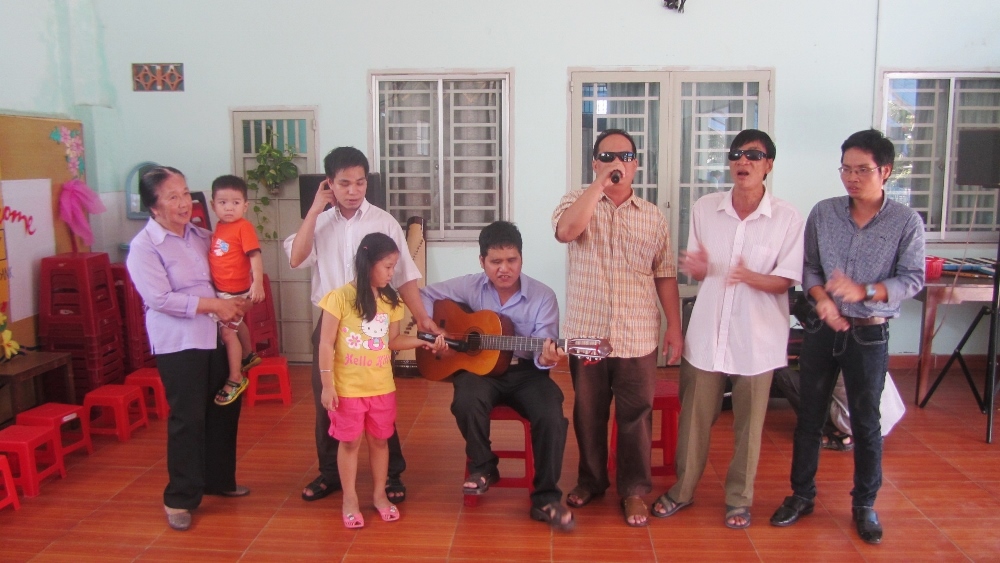 Sr. Elizabeth Tran Thi Quynh Giao, left, holds a blind man's child as people who used to stay at the Huynh De Nhu Nghia Center sing songs and play the guitar at a gathering. (GSR photo / Joachim Pham)
"I lived in the center for two years and my life really changed. I was moved by the nuns, who took loving care of us, though we were not their relatives. So I learned to cook, look after myself and respect my life. I was encouraged to do things as the nuns do. Then I helped others use the restroom and wash their clothes. I am deeply grateful to the nuns," Thai, who married a woman with normal sight, said proudly.
Tuan said he is ready to employ people from the center to work at his parlor. "The sisters offered me opportunities to build my life, so I now have to help younger people as a way to repay my gratitude to the sisters," he said.
Many said that, without the nuns' support, they would have died. The center is their second family, and the nuns are their mothers.
Sisters persevere in their mission
Sr. Elizabeth Tran Thi Quynh Giao, who established the center and ran it during its early stage, said foreign benefactors gave her money to buy land and build the facilities. Children Action, a Swiss charitable foundation, has paid the center's expenses and equipment costs.
"The center aims to offer blind children from poor families in remote areas chances to get a proper education, integrate themselves into communities, live independently and not become a burden to society," Quynh Giao said.
She said the nuns sought out blind people living in remote areas of the northern provinces and took them to the center. Some entered the center when they were 20 years old.
She said at first, local public schools refused to accept her students for fear that they would not catch up to the others. After she persuaded a school to accept them and they performed well, other schools were ready to welcome them.
Quynh Giao said the nuns have petitioned local government authorities many times to approve the center, but they refused and instead caused problems for them. One time, nine officials unexpectedly came and checked the center, and one student told them, "You see the nuns care for us properly although they are not our relatives. They have spent much time and energy asking for your permission but failed. Please give official permission for the center. We implore you." Then the officials left the center.
"It is strange that in this country we are required to ask for government permission to work for the common good and then are denied. We have to be steadfast in our determination to serve the poor," Quynh Giao said.
She said government authorities had just agreed to approve the center and offer ownership papers of the property to the nuns earlier this year.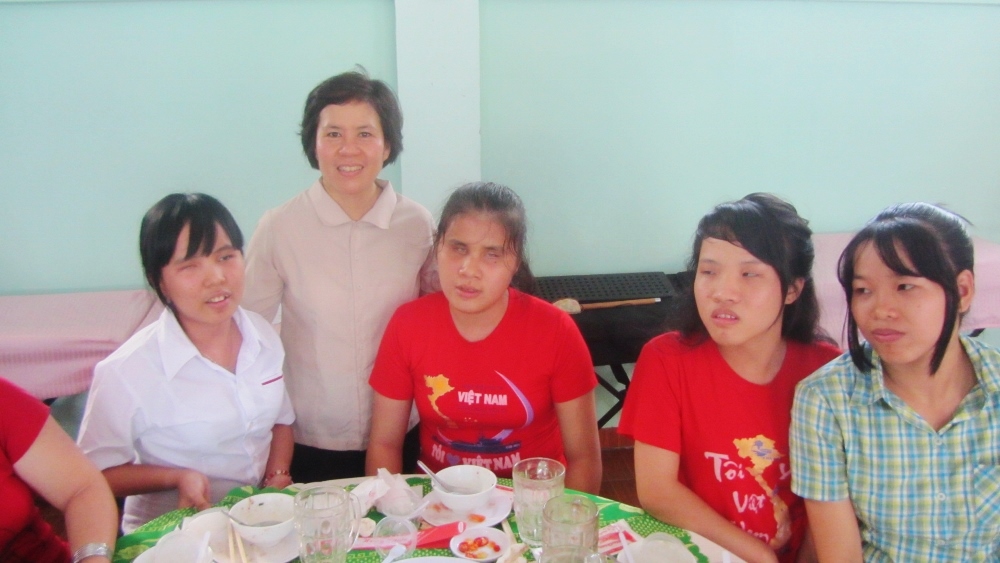 Sr. Mary Rose Dao Thi My Dung works with blind students at the Huynh De Nhu Nghia Center. (GSR photo / Joachim Pham)
[Joachim Pham is a correspondent for National Catholic Reporter, based in Vietnam.]