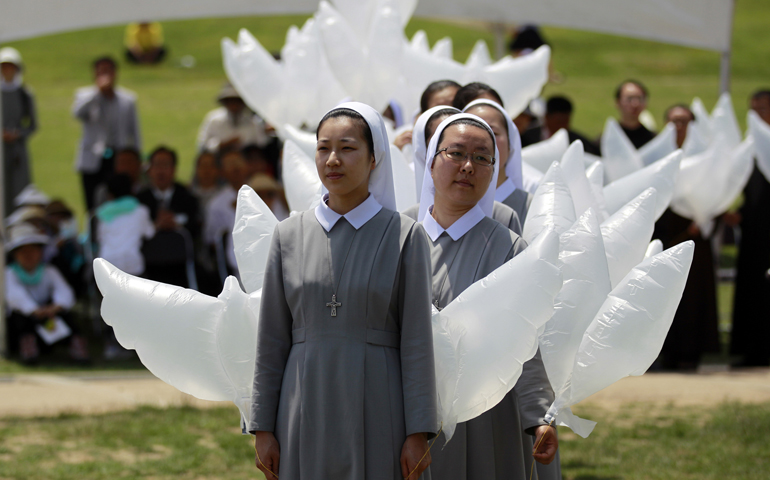 Nuns hold dove-shaped balloons during a Mass for peace and reunification of the Korea peninsula in Paju, South Korea, in June 2011. (AP Photo/Lee Jin-man)
Editor's note: Tom Fox will be reporting from Korea during the papal visit, filing news stories to NCRonline.org and sisters' stories about their ministry in Asia to Global Sisters Report.
Analysis
Traveling through South Korea for five days, Pope Francis will be hard pressed to meet local challenges. He will be called to offer greater meaning to the nation's young people plagued by consumerism, fresh hope to its economically marginalized, encouragement to tired peacemakers, and reconciliation within a fragmented society seemingly searching for a 21st-century identity and a path forward.
To help achieve these daunting ends, he will reach into Korean history, calling upon a people's revered martyrs, citing their special spirit and faith, to kindle, mold and exalt a refreshed Korean Catholic soul.
Beneath the widespread anticipated excitement and programmed pageantry, every ounce of Francis' personal charm, knack for breaking with official form, and ability to articulate a no-nonsense, Gospel-based faith will be required for his journey to have a lasting impact.
Read and comment on the full story at National Catholic Reporter.

Tom Fox also conducted an audio interview with Sr. Sophia Park about The church Francis will find in Korea.