Facts about Hansen's disease:
• It may take two to 10 years before any signs and symptoms of Hansen's disease appear.
• The disease is spread by a bacteria that can be transmitted by coughing or sneezing.
• Only 5 percent of people are susceptible to contracting the infection.
• Hansen's disease is curable with antibiotics for six months to two years.
• Once treatment begins, the disease is not contagious.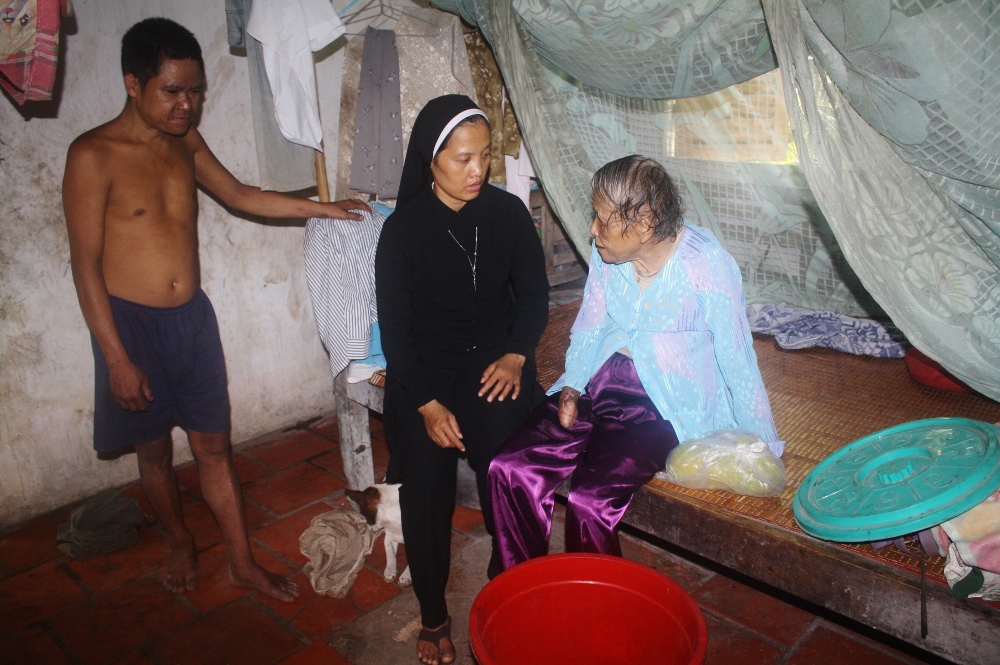 Sr. Mary Nguyen Thi Hong Hoa talks with Nguyen Thi Sinh and her son, who suffers from mental illness, at their house. (Joachim Pham)
Tra Vinh City, Vietnam — Although leprosy defined the outwardly neediest of God's people in biblical times, today, the diagnosis and treatment of the affliction known as Hansen's disease is easy, and leprosy is in decline in most parts of the world.
But the number of new cases detected every year in Vietnam is still high, even though the prevalence of the disease has dropped to less than one case per 10,000 people since 1995, when lepers began getting access to free treatment with multi-drug therapy at healing centers or at home.
However, the stigma of leprosy remains much as it was in ancient times, as those who have not been cured of leprosy are marginalized by society.
Leprosy is a long-lasting infection caused by bacteria that can be knocked out by antibiotics. The disease can lead to disfiguring skin sores, nerve damage and muscle weakness. Only about 5 percent of adults are susceptible to the bacteria, but close and prolonged exposure to untreated persons can increase the chance of infection.
Most of the 420 lepers living in the provinces of Ben Tre and Tra Vinh in southern Vietnam lose their toes or fingers as a result of the disease, and they live in extreme poverty. Many are elderly and live in remote ramshackle houses without power and running water; they often have to walk through their neighbors' yards to get to the road. Plus, the government does not give them the usual social security allowance other people receive.
They live alone with a debilitating complex about their disease and physical disabilities. Some are single and some others have been abandoned by their children.
But there is some light.
Over the last decade, 140 patients have benefited from emotional and material support from Sr. Mary Nguyen Thi Hong Hoa and other members of the Lovers of the Holy Cross, who are based in in Cai Mon in the Ben Tre province.
Hoa provides them with monthly allowances, basic food, medicine and wheelchairs. In many cases, she asks local volunteers to visit them on a regular basis, too, to care for and give food to those in remote areas.
She takes them to the hospital when necessary, and the order's support covers medical and funeral expenses. Support extends to the people's children, who receive financial aid to study at the local public schools.
Each year Hoa works to build some 10 new houses for them, complete with new water wells and cement containers to collect rain. Each home costs between U.S. $1,500 and $2,500 and are funded by generous foreign benefactors.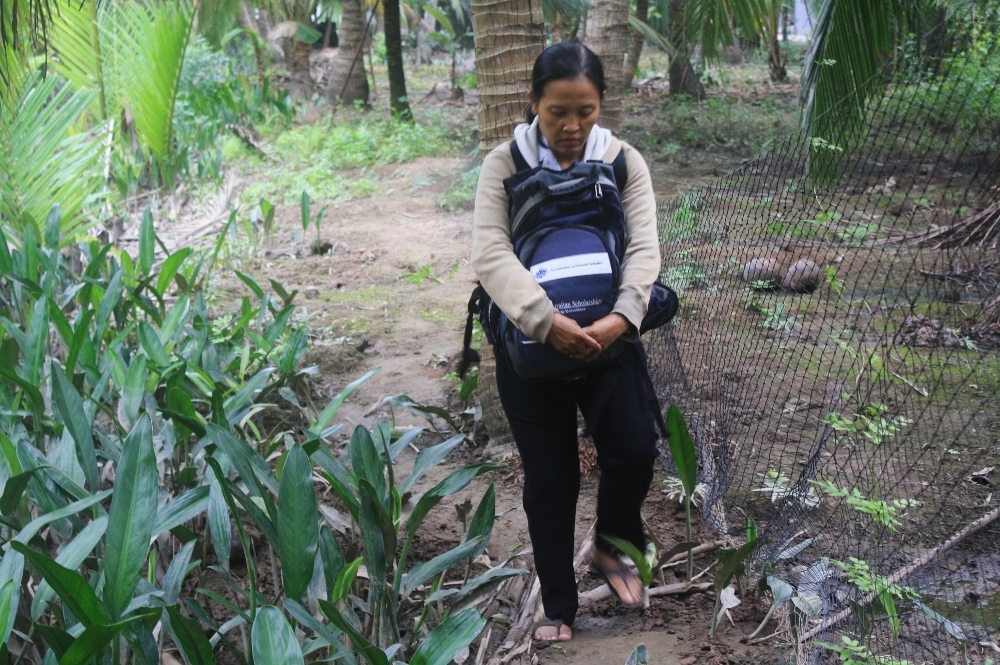 Sr. Mary Nguyen Thi Hong Hoa of the Lovers of the Holy Cross walks along a channel to visit a leper in Tra Vinh City. (Joachim Pham)
Khmer ethnic Thach Gia Ruong, a man with leprosy, pumps water out of the well Sr. Mary Nguyen Thi Hong Hoa has just built for him near his leaf hut. (Joachim Pham)
Serving lepers is serving Jesus Christ
Hoa said she is from a poor peasant family and as a child used to trudge more than 6 miles (10 km), to school. "So my heartfelt sympathy easily goes out to the victims," she said.
"I see Jesus Christ's sad face among people I work with. My favorite Bible verse is, 'Whatever you did not do for one of the least of these, you did not do for me.'"
Hoa spent four days in December visiting some of the people the sisters have helped, giving them rice, instant noodles, meat, bread and money so they could better celebrate Christmas. At most, she could visit only five people a day.  
To reach them, she rode her motorbike along narrow, winding paths covered with wild plants and through rice fields of smelly waterlogged stubble. In dry patches, a passing van might stir up clouds of dust, while other places were covered by mud.
"I have fallen on the path or into the channel and gotten wet," she recalls. "The scooter broke down, and I wheeled it on a long path to look for a repair shop."
Most patients happily saw her and would tell her, "I miss you a lot. You haven't come here for quite a while."
For many, she is like their only relative. She listens to their stories and needs, and advises them to keep up with personal hygiene. 
Hoa said, "I don't care about the risk of prolonged exposure to the bacteria of Hansen's disease. I believe God protects me from leprosy so that I can work for patients."
Nguyen Thi Sinh, 76, who has lost her fingers and toes, was bathing herself by a channel when Hoa came. Sinh's son, who suffers from a mental disorder, helped his mother get dressed and comb her hair.
The son was moved to tears to receive meat and dumplings from Hoa, who also put a memorial gift of fruit on his late father's altar as a way to respect the dead.  
Thach Gia Ruong, who is ethnically Cambodian, lives alone in a hut made of leaves and surrounded by rice fields. The man, old before his time, has never been able to wash his long, lifeless matted hair.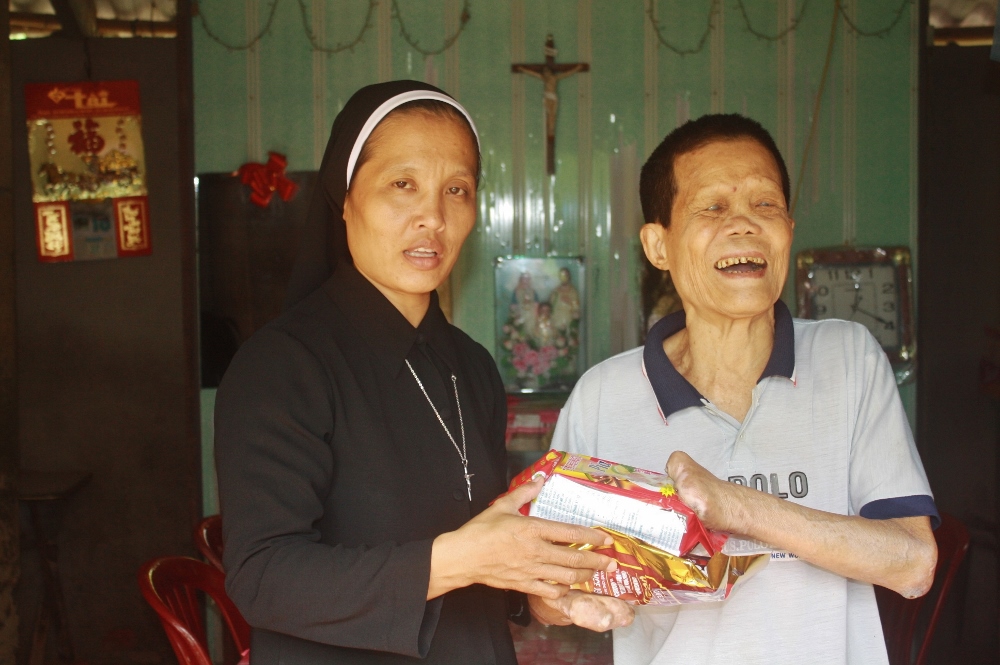 Ho Van Thoi, whose face, feet and hands have become deformed, was happy to receive food from Sr. Mary Nguyen Thi Hong Hoa at Christmas. (Joachim Pham)
Ruong smiled and welcomed his visitors warmly. He suggested giving Hoa his friendly dog as a show of gratitude to her.
Hoa said that in the past local health workers could not approach Ruong, who threatened them with a knife and drove them away. They asked her to work with him.
"I visit him regularly and have offered him a monthly allowance of 300,000 dong (U.S. $15) for the past two years, and I dug a well for him," she said.
Ho Van Thoi, whose face, feet and hands are deformed by leprosy, lives alone and has converted to Catholicism. "I would have died years ago without Sr. Hoa's loving care. I am deeply grateful for all her help," he said.
This year benefactors have offered to make donations to support the victims of leprosy for the coming six months and to build three new houses, including one for Ruong. Construction is starting this month.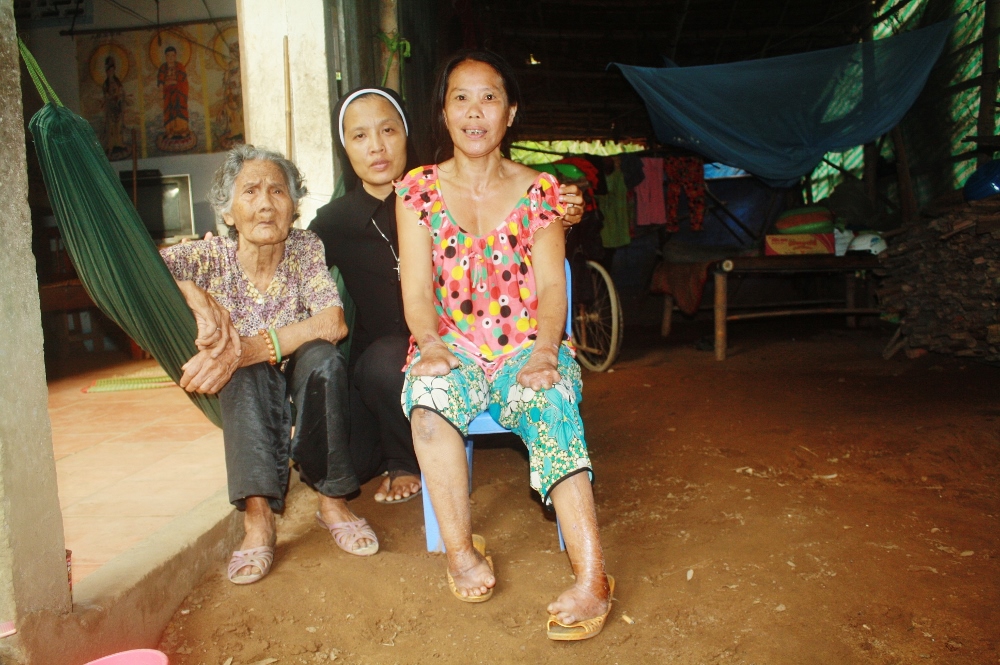 Sr. Mary Nguyen Thi Hong Hoa visits a woman with leprosy, right, and her mother at their house. The ill woman daily "walks" on her knees begging for a living at a local market. (Joachim Pham)
[Joachim Pham is a correspondent for Global Sisters Report, based in Vietnam.]