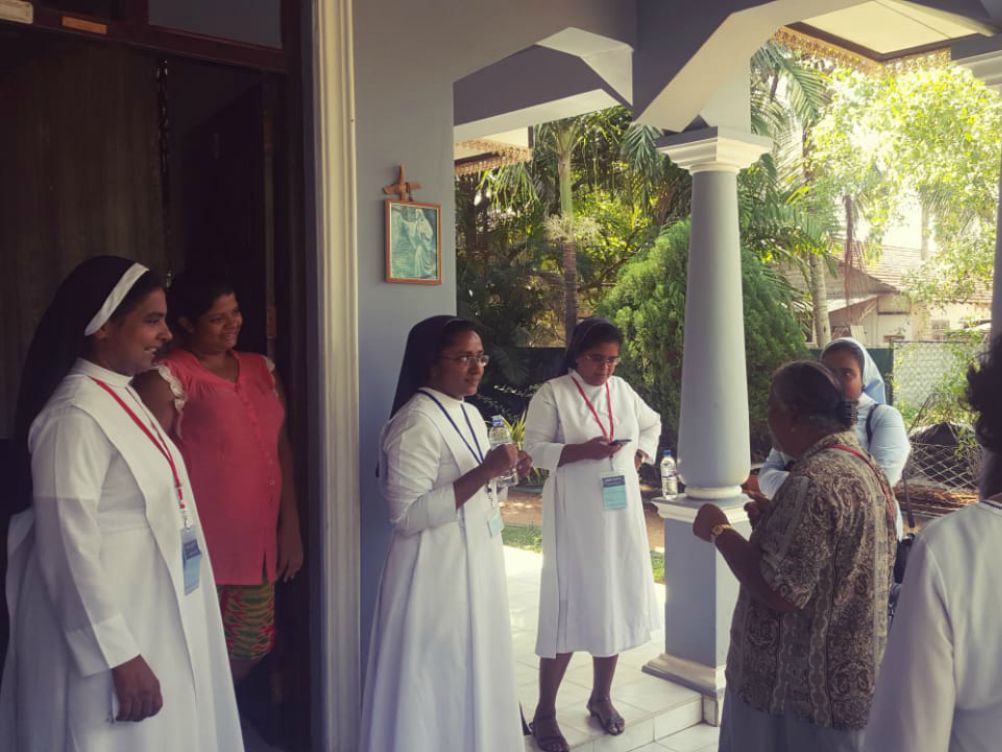 Nuns and therapy team members share a light moment during refreshments between home visits as part of a healing mission after the bomb attack on Christians. (Thomas Scaria)
Negombo, Sri Lanka — Vindya Fernando, 13, and her 7-year-old brother, Vinanga, were busy making colorful drawings when some Catholic nuns came to their home in Negombo, a Christian enclave in Sri Lanka hit in the worst church bombing on Easter Sunday.
Their mother, Kumari Fernando, who opened the door for the guests, said she encourages her children to spend their time creating artwork "so that they can forget their Easter Sunday experience."
The mother, who has a bandaged hand, recalled they were all inside St. Sebastian's Church, their parish church in Negombo, on April 21 when a suicide bomber triggered explosives kept inside a knapsack during morning Mass.
"Thank God we are alive today. We were at the back of the church," Fernando told GSR.
Deeper inside the church, however, were 116 Catholics from 70 families who were among at least 250 people who died as suicide bombers stormed two more churches and three luxury hotels in two other places, including Colombo, Sri Lanka's capital.
The victims included 43 overseas visitors who were at breakfast in Colombo's three luxury hotels. According to Unicef, some 45 children also died, mostly in churches. Estimates of the injured reached 500, with most of those having been released after medical attention.
On June 12, Indian authorities investigating an Islamist cell in southern India rounded up seven men with suspected connections to the Easter Sunday suicide bombers. In early June, all nine Muslim ministers and two Muslim provisional governors in Sri Lanka resigned in the backlash from the Buddhist-majority country over the bombings, according to The New York Times.
On June 14, five Sri Lankans believed to have had links to the bombings were deported from Saudi Arabia and brought home in police custody, Reuters news agency reported. One of the five, identified as Hayathu Mohamed Ahmed Milhan, was a senior member of a little-known domestic group that authorities believe carried out the attacks with a second Sri Lankan group. Islamic State has claimed responsibility for the bombings.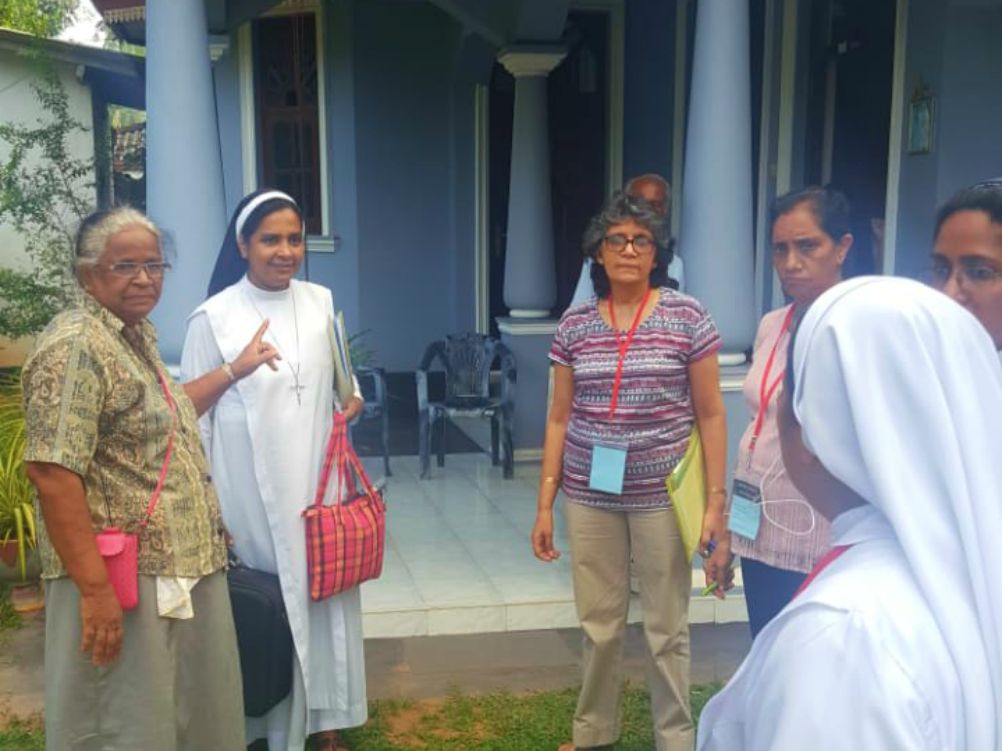 The church healing mission team does a quick evaluation before moving to another family affected by the bombings on Easter Sunday in Negombo, Sri Lanka. (Thomas Scaria)
After the headlines, three stages of help
Sr. Dinalika Perera, a trained counselor who led the nuns' team to the Fernando house, said they started visiting affected families immediately after the bombings.
The member of the Our Lady of Charity of the Good Shepherd congregation is among more than 200 sisters assigned by the Conference of Major Religious Superiors of Sri Lanka with the mission of healing.
"The major superiors held an emergency meeting soon after the bombings and decided to provide psychological support to the parishioners," Perera told GSR.
The nuns help the survivors in three stages.
"In the first stage, we visited 70 families who have lost their dear and near ones in the bomb explosion," Perera explains.
In the second round, they visited families of severely injured, and, in the third, they tended to the rest of parishioners, such as the Fernandos, she says.
Supplementing the nuns' efforts was the Archdiocese of Colombo's social service wing, Caritas Sri Lanka-SEDEC (Social and Economic Development Center). It took the lead in providing hospitalization, food and other materialistic support.
Cardinal Malcolm Ranjith, archbishop of Colombo, also asked priests and nuns "to be with the people for at least three months."
Perera says in most houses all they do is just listen to people as they air their feelings.
The team also makes psychological assessments of the family members based on a questionnaire. After an hour of intervention, the team leaves for another home.
At the Fernando house, Vinanga, the boy, was busy showing his artwork to Perera's team, who patted his shoulders for each picture he drew. He looked cheerful, but his elder sister, who did more colored-pencil drawings, remained silent.
Her eyes turned red as her mother explained that the bombing killed her five Sunday school companions, who were among the victims in the Negombo church.
Their mother said she still feels guilty for not doing anything for a bleeding man who had pleaded for her help. She was holding her two children and trying to flee as the tiles from the church roof fell on them.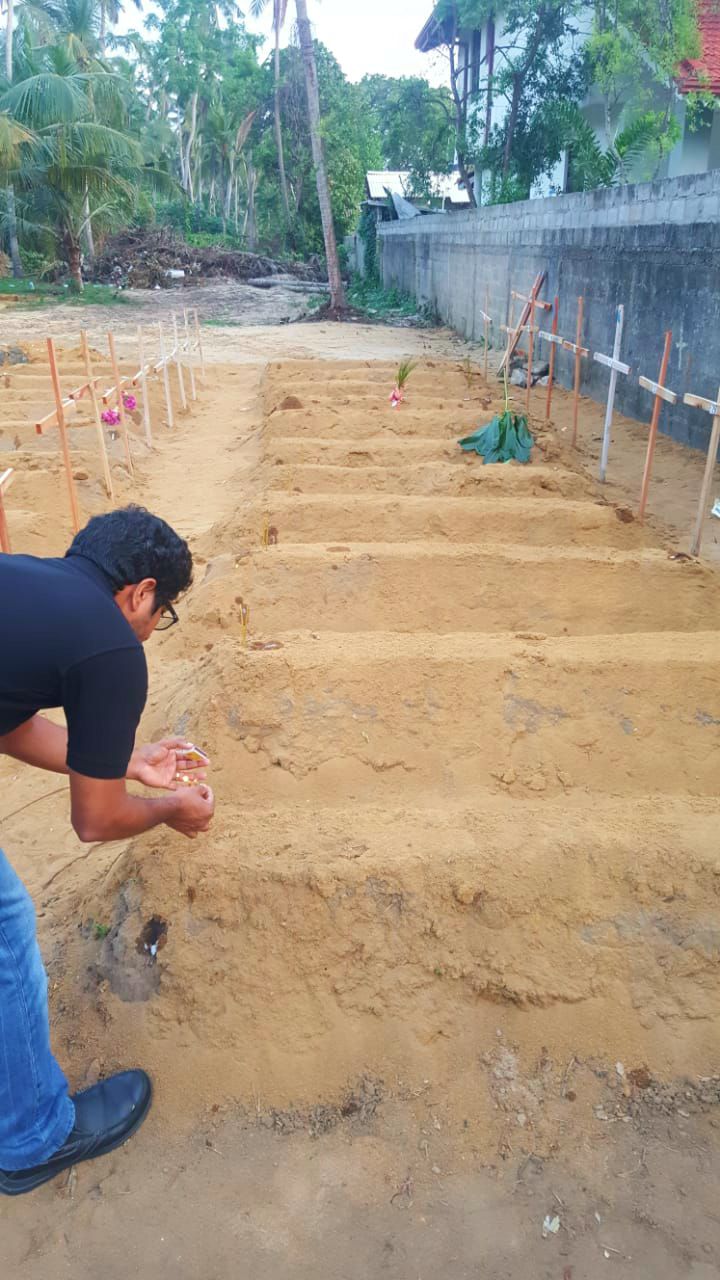 A relative of one of the victims of the Easter Sunday explosions lights a candle at a mass grave in Negombo, Sri Lanka. St Sebastian's Church in Negombo used two sites to bury the dead. (Thomas Scaria)
"Several of us sitting on the back bench got hurt from falling tiles," she said.
The nuns' visit proved a blessing for Fernando's mother, Piyaseeli, who was an orphan looked after by Good Shepherd sisters. The nuns also had helped her marry.
Piyaseeli Fernando had a dramatic reunion when Perera put her in touch with an aging Good Shepherd sister she had known when she was an orphan. The two spoke for 10 minutes over Perera's mobile.
Sr. Laksmi Fernando (no relation), another Good Shepherd nun on the team, said some of them visited homes of the victims on the first day after the attack.
"Most of us joined the crisis intervention team a day after the blasts, consoling the families and spending time with them," said the nun, who has a master's degree in counseling from the Philippines.
The volunteers were divided into groups of two nuns, one priest and two lay people for the first round of visits. Later, a trained psychologist joined them.
Each team was allotted a fixed number of families for continuous support.
All this has helped Negombo, known as "the Rome of the East" because of its Catholic predominance, to slowly return to normalcy, Sr. Fernando claims.
'Rome of the East'
The St. Sebastian's parish at Katuwapitiya, a Negombo suburb, has 3,400 Catholic families with more than 10,000 people.
Perera said the local Catholics celebrate Easter as a family festival, and members from far and wide come home for Holy Week.
Normally, all family members attend Mass together, sitting on the same bench, she said, adding, "That was the reason why more members from the same family died together."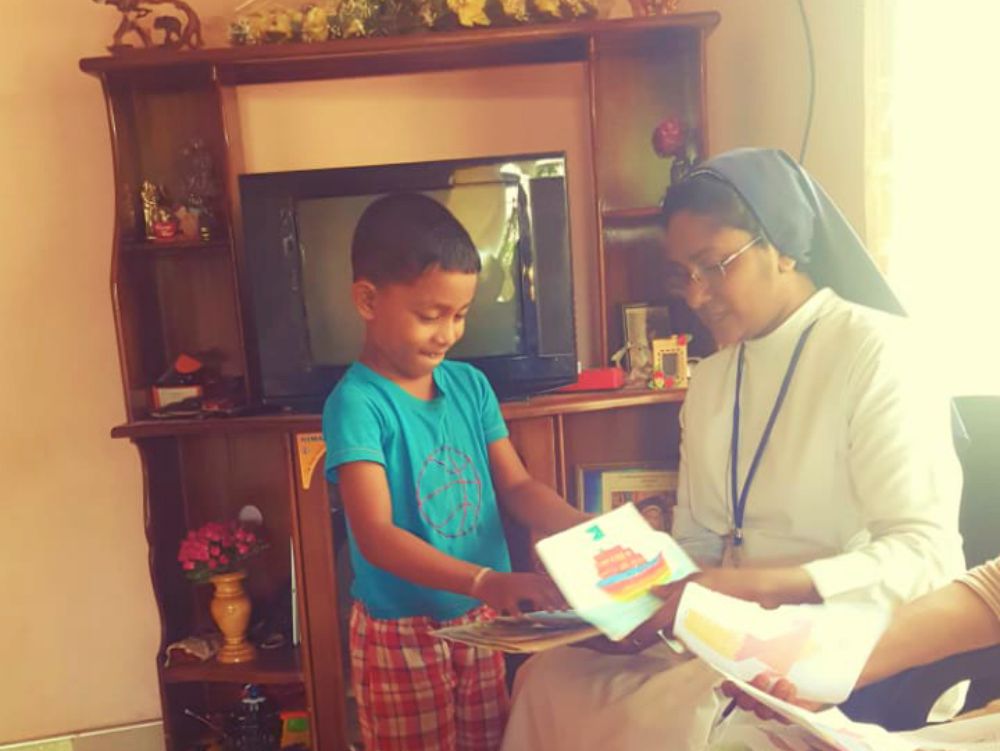 Vinanga Fernando, 7, who survived the bomb blasts in St Sebastian's Church, Negombo, Sri Lanka, shows his drawings to Sr. Dinalika Perera, who visited his home with a healing mission team. (Thomas Scaria)
The initial teams were mostly Catholics, but later a few Buddhists joined them.
Soumya Senaratne, a Buddhist professional counselor, said she began working with the Catholic nuns voluntarily a week after the blasts. Several of her friends and colleagues from the Sri Lankan Psychological Association also serve the people alongside the Catholic nuns.
Indira Boluvalona, another Buddhist volunteer counselor, said she has found many people suffering from guilt because they could not help others as they fled the scene.
Depression, sleeplessness, nightmares, phobia and suicidal tendencies are some symptoms noticed in the survivors, she told GSR.
The teams give families a checklist to detect possible symptoms of imbalances among the members. They were also given referral numbers to contact for services.
Most Catholic women religious congregations have members trained in psychology and counseling for the healing mission.
Sr. Ranjana Silapulle of the Sisters of the Divine Savior, known as Salvatorians, says that the family visits have strengthened her faith. "Even after such a terrible experience, most families have accepted the tragedy and surrendered to God's will," she told GSR.
Silapulle says the nuns have also faced moments when they felt helpless in their work. In one family, they found that all members, except the grandmother, had perished.
"We did not know how to console the woman, who was screaming. She asked us to give her some poison as she did not want to live anymore," she recalled.
Even Apostolic Carmel Sr. Mary Dayalini had a similar experience when she visited affected families under St. Anthony's Shrine, the Catholic church in Kochchikade, Colombo, where the first bomb exploded.
"I was fully in the field since the last two weeks, and the painful memories will never fade away," she told GSR.
In one family, three children, aged 7, 5 and 2, were killed, and their parents were severely wounded. "It was heartbreaking when the bodies were brought home," she said. The children were born in peaceful times after Sri Lanka's three decades of civil war.
Franciscan Missionaries of Mary Sr. Nilanthi Ranasinghe said one of her community members, Sr. Samantha Kuruppuarachchi, lost her sister and her husband in the explosion, leaving three children orphaned.
"So far, this was the only casualty reported which directly affected the family of our sisters," she said.
Describing it as an extreme challenge, Ranasinghe said, "All I could do was to be with them as a support." The children have returned to normal with the continuous psychological support from the nuns, she added.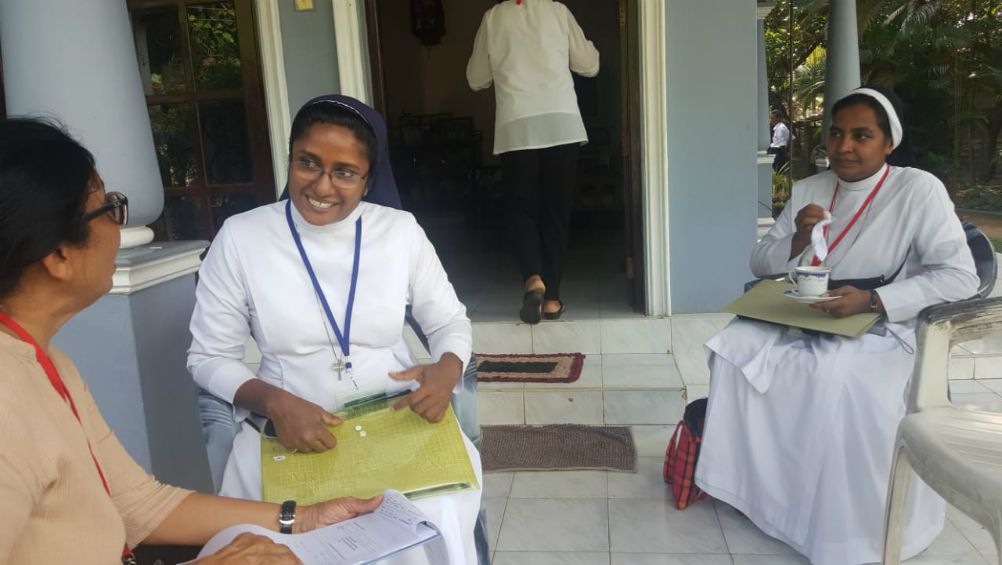 Good Shepherd Sr. Dinalika Perera discusses a case study with a therapist on the "healing mission" team that visits families affected by Easter Sunday bomb blasts in Negombo, Sri Lanka. (Thomas Scaria)
[Thomas Scaria is a senior journalist based in India who has worked in Sri Lanka until recently in an inter-governmental organization. He has written for UCA News since 1991 and received its 2000 Best Reporter award. He also writes for Matters India, a news portal that focuses on religious and social issues and collaborates with GSR.]