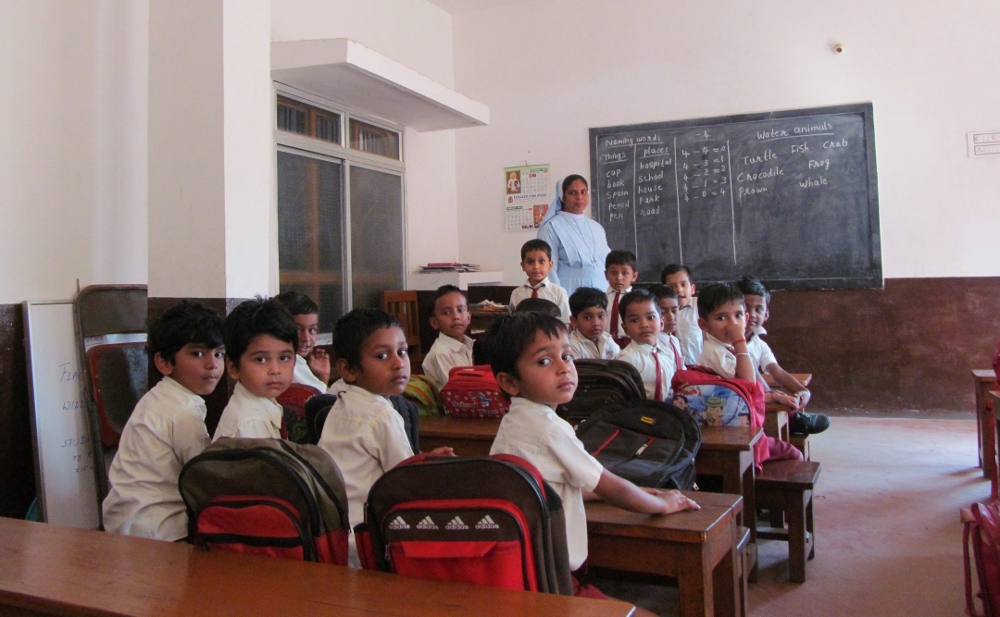 A Deen Bandhu Samaj nun teaches in a village school in Bastar. (GSR photo / Saji Thomas)
Gangaloor, India — Ten years ago, Sr. Ann Mary Chempakasseril faced a tribunal in front of 10,000 villagers, people that her order was founded to serve in the lush Bastar region of India. She and 13 others stood accused of collaborating with the Maoists, Communist insurgents known locally as "Naxalites," in trying to overthrow the Indian government.
Forced from her convent that morning by 50 men armed with guns, swords and axes, she stood before 25 judges, local people appointed by the government militia. She knew several of them and, only a few hours early, had given medicine to one of them. But no one showed any sign of recognizing her.
With a gun trained on her, one of her judges thundered, "Do you give medicine to the Naxalites?"
She replied that she gave medicine to everyone who came to the dispensary she operates with the sisters of Deen Bandhu Samaj (Society of the Friends of the Poor). "I do not ask their caste or religion. I only treat patients," she said.
"Very prudent reply," her interrogator shouted with thick sarcasm.
She witnessed others as they were kicked and cut, "mercilessly dumped into a pit behind the stage," she recalls. But she was asked to return unharmed to her seat. "I was the only one left without a scratch that day."
Chempakasseril's 2006 experience was a common one, shared among others in her order, who serve marginalized tribal people in the Bastar forest under a canopy of political unrest. The Supreme Court of India disbanded the government militia in 2011, but the Naxalites and security forces continue to battle, putting missionaries and villagers in the crossfire.
And yet, the nuns are respected by the Naxalites and grudgingly accepted by the pro-Hindu ruling party for the work no one else is doing among the poor and starving people in an undeveloped region of central India.
After Chempakasseril's ordeal, three of her judges came to the convent to apologize. She said she was not afraid. "God's providence was with me," she said. As she had awaited trial, she was assured by a voice within that said, "I will tell you."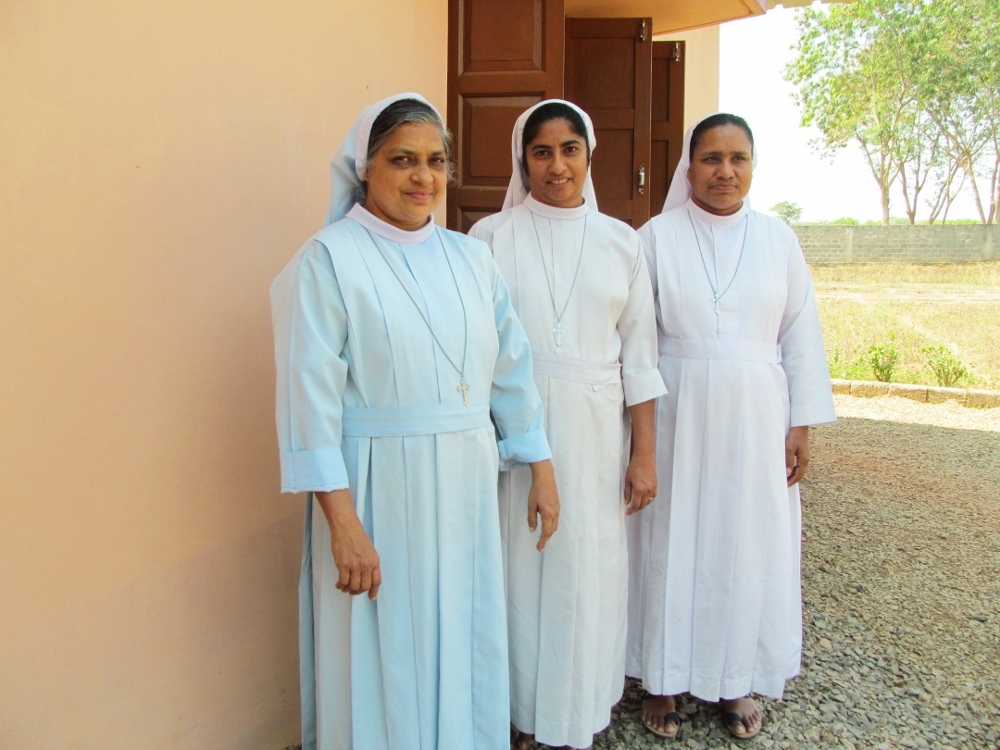 Deena Bandhu Samaj Srs. Marykutty Jose, Julie Mathew and Pavana Kurian stand in front of their convent in Bastar region of Chhattisgarh state, central India. (GSR photo / Saji Thomas)
The Deen Bandhu Samaj order is known for its courage under fire. It was founded in 1978 by Carmelite Bishop Paulinus Jeerakath of Jagdalpur, who drew together a dozen nuns from various congregations looking for a challenging mission. Today the congregation has 136 members and 19 candidates, all working in villages that lack basic amenities.
They find plenty of challenges in the 15,000-square-mile diocese, a region of hills, valleys and forests spread over seven districts of Chhattisgarh state. More than a third of the population here is made up of tribal groups of people who for centuries have been marginalized, exploited and impoverished.
So, the order's main focus from the beginning has been to bring qualitative changes to these people, said current Superior General Jancy Vattakanal. "We continue to do so despite all odds," the 49-year-old nun told GSR.
The odds include destitute circumstances the nuns share in Gangaloor, one of their first mission centers, about 185 kilometers (115 miles) southwest of the diocesan headquarters in Jagdalpur.
Sr. Mary Teresa, 79, the order's first superior general, said that when they landed there 38 years ago. only forest dwellers lived in and around Gangaloor. The villagers used to run away when they saw the nuns, she recalled.
Teresa, who now guides junior sisters based in Gangaloor, said most villagers then were barely clothed. "They survived mostly on forest products and had no links with the world outside."
Another pioneer, Sr. Elsis Joseph, said the nearest bus stop was 15 miles away. Like the villagers, the nuns had to walk that distance through the forest to procure food, medicine and other needs. "We used to carry everything on our heads," the homeopathic doctor recalls.
When a dirt road was built in the forest years later, the nuns started using bicycles or bullock carts. During the rainy season, the villagers helped them cross swollen rivers. "There was always the fear of attack by wild animals," Joseph said. "We had providence that no one was ever bitten by a snake."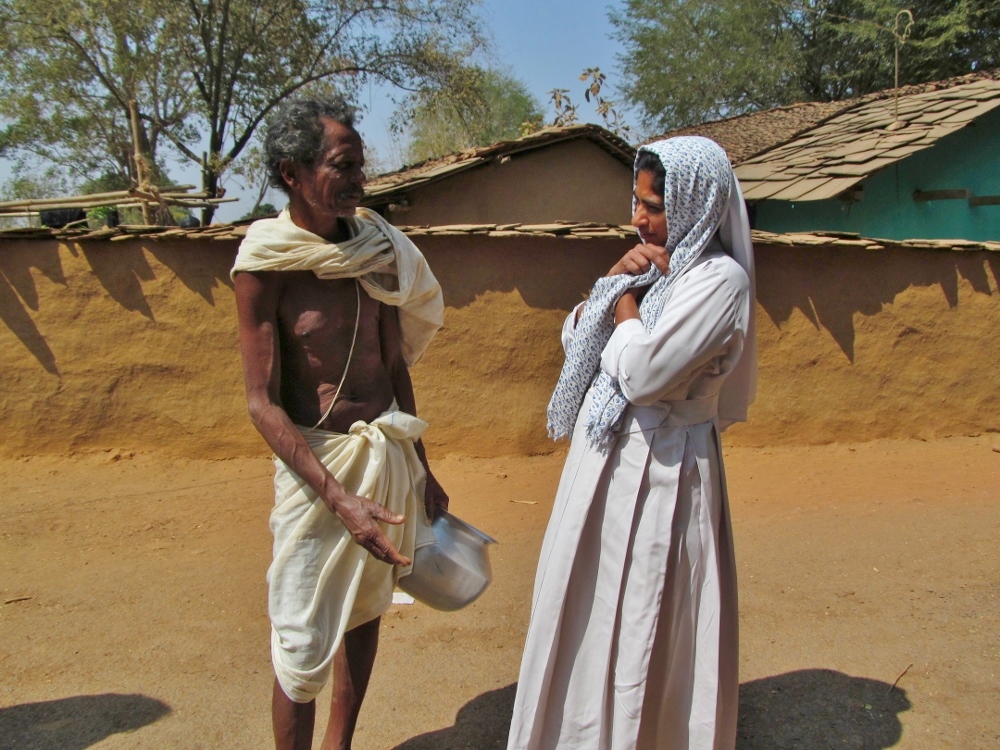 Deena Bandhu Samaj Sr. Julie Mathew talks to a villager in Bastar. (GSR photo / Saji Thomas)
Because of the distance from their center, the nuns sometimes would stay with villagers for a week. "We had to eat whatever they provided. There was no choice," recalls Joseph. Language could also pose a problem, as there are 70 dialects in the Bastar region. "It's very tough to interact with villagers unless you learn their language," said Joseph, who has mastered several of the languages.
Sr. Marykutty Joseph, who joined the congregation in the 1980s as a young nun, recalls poverty and starvation were part of daily life. They worked on their 15-acre farm and grew vegetables and "all that we needed." A dozen junior nuns shared one water bucket and took turns bathing at night.
Food was scarce, but when a priest came to offer Mass for them, "we pretended as if we had food," she said. One of those priests was Carmelite Fr. Thomas Chandy. "It is true the nuns skipped meals for priests," he told GSR.
The nuns have taught the villagers farming techniques, cattle and goat rearing, tailoring, and how to grow and prepare herbal medicines. Villagers cultivate crops and vegetables instead of depending only on forest produce. Mangala Thakur, who has 5 acres of land in Thakaraguda village, credits the sisters for saving his family from poverty. He said the nuns taught them crop rotation, which helps them save money after meeting all their expenses.
In addition, the sisters operate three village schools that serve about 1,500 children.
Although they work with people who are illiterate, the nuns have equipped themselves professionally. Most of them have bachelor's or master's degrees, and the congregation includes medical doctors, nurses, counselors, social workers and trainers.
The boys hostel Gangaloor mission station in Bastar, Chhattisgarh. (GSR photo / Saji Thomas)
The nuns organized local women into small groups and taught them about their rights. Sr. Pavana Kurian, one of the social workers, said their aim was to make the villagers, especially women, self-reliant, to create "a huge turnaround" in their way of life.
"What we are today is [due to] the generosity of the nuns," villager Sumawati Bai avows. "We have learned the art of living with hard work rather than depending on the forest for our needs."
Y Kaware, a retired school headmaster and village leader in Gangaloor, agrees the nuns' presence has "brought drastic changes" to his people. "The nuns taught them how to wear clothes, brought them to schools, and gave them medicine," the 84-year-old said.
Before the nuns arrived, Kaware recalls, his people used to take their sick to shamans. Hospitals were off limits because most villages had no roads, so the nuns set up and operated six dispensaries that catered to at least 20 surrounding villages.
However, the government interrupted this health care system, Vattakanal said. It mandated that every dispensary have a qualified doctor, forcing the order to close its local dispensaries. "Practically, such rules will only deprive the poor of medical facilities. The government has failed to extend health care to them," the superior explains.
Vattakanal said Bastar still has several villages where people live without clothing and other basic amenities — but the order can no longer send its nuns there because of the changed political environment.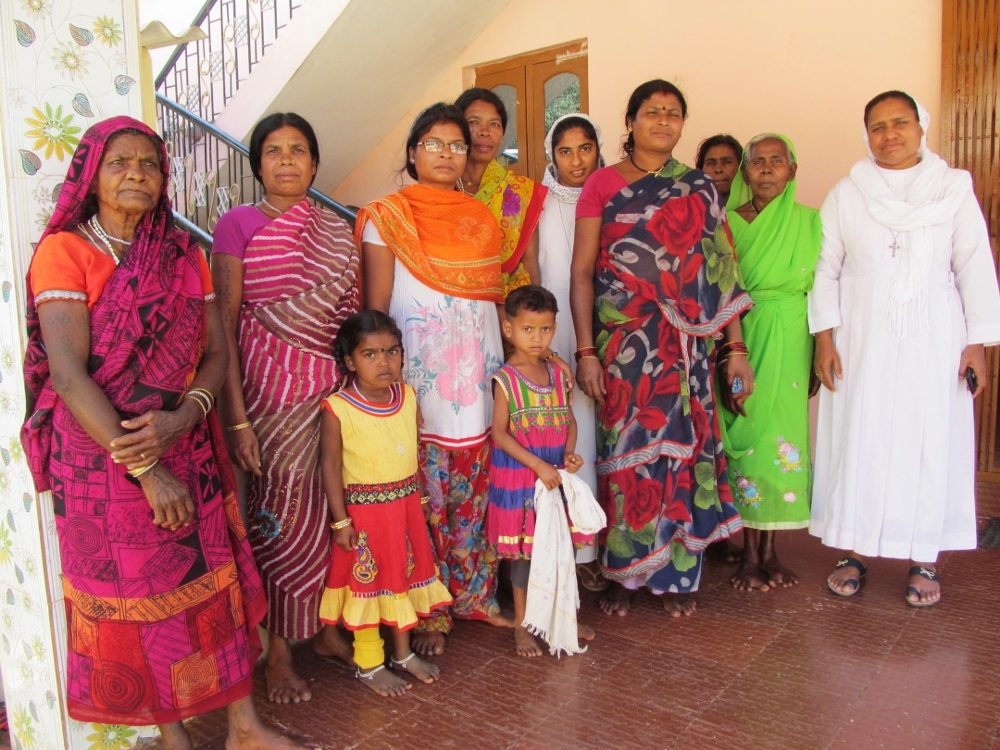 Deena Bandhu Samaj Sr. Pavana Kurian residents of Bastar, Chhattisgarh. (GSR photo / Saji Thomas)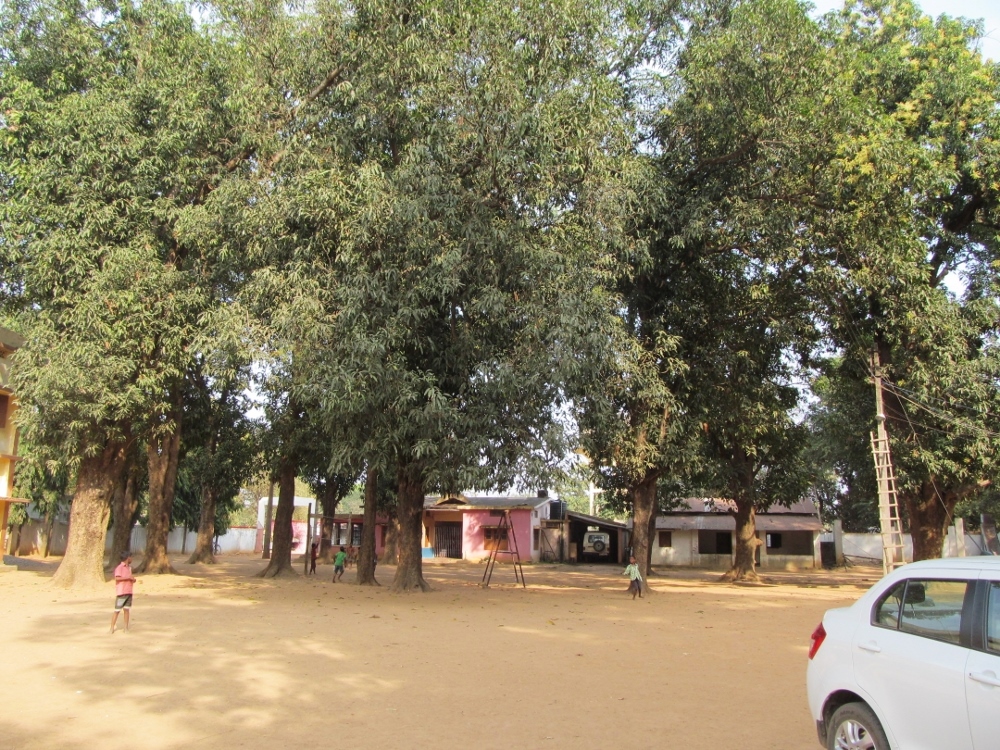 The mission campus of Gangaloor, Bastar region in Chhattisgarh state. (GSR photo / Saji Thomas)
Chhattisgarh state is ruled by the Bharatiya Janata Party (Indian People's Party), which is considered the political arm of the right-wing Hindu groups that view the church's work among the poor as a façade to convert them to Christianity.
The Maoist movement came to Bastar in early 1980, promising to save villagers, who were suffering from years of abuse and subjugation by landlords and government officials. But soon the Naxalites started harassing villagers, too, recruiting youth for their cadres. They dealt ruthlessly with people they suspected were police informants.
The security forces deployed in the region, in turn, have allegedly killed villagers believed to have joined or supported the Maoists.
The air is thick with suspicion and fear, and it was palpable on the now paved road to Gangaloor from Bijapur district headquarters. A gun-toting paramilitary force strictly monitors the road now, checking on any strangers. The Naxalites take similar measures. And the local people avoid any outsiders and the trouble they may bring.
Vattakanal said her nuns often have brushes with death, but they maintain their courage.
Elsis Joseph recalls coming under the Naxalite-and-police crossfire during one of her village visits. "Despite such difficulties, we were all happy as we could serve the poorest of the poor who really needed our help," she said.
The dangers are so pronounced that the order and the Jagdalpur diocese wanted to close the Gangaloor mission. However, Chempakasseril and other nuns objected, saying they could not abandon the children or the villagers. Chempakasseril, who now works in a hospital in Jagdalpur, said she heard a voice within, reminding her, "You did not suffer even a scratch" at the kangaroo court.
Such inner voices continue to guide the nuns to find happiness living among the forsaken villagers. What sustains them, the nuns say simply, are Daily Mass and devotion to the Blessed Virgin Mary.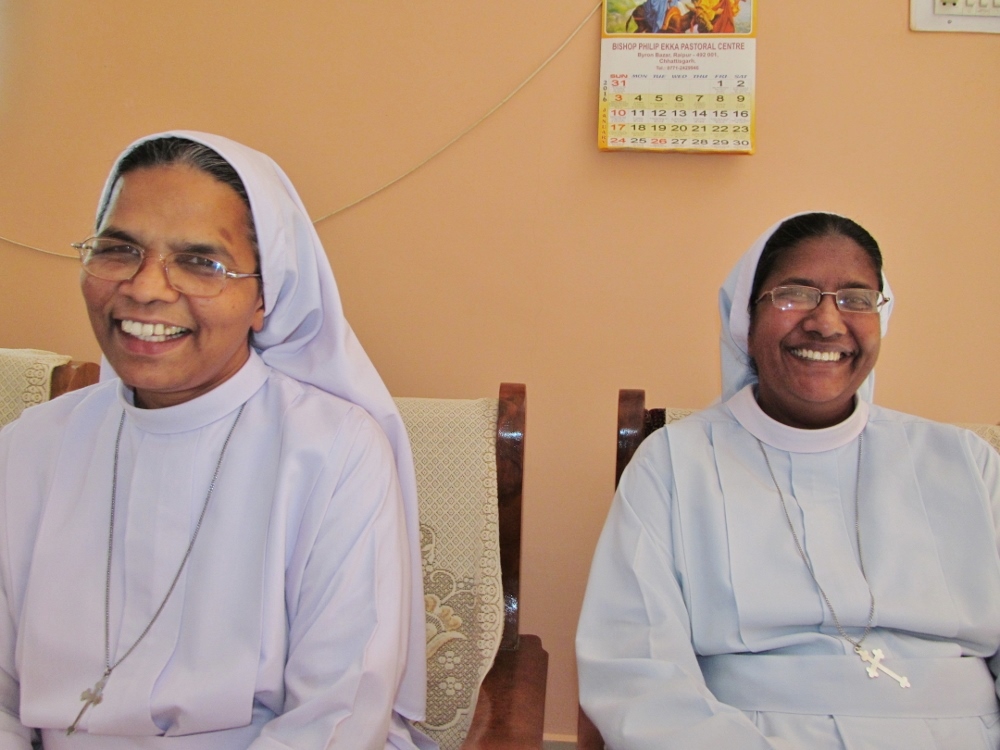 Deena Bandhu Samaj Superior General Sr. Jancy Vattakanal, left, with Sr. Ann Mary at the Generalate, Jagadalpur, Bastar region, Chhattisgarh. (GSR photo / Saji Thomas)
[Saji Thomas is a freelance journalist based in Bhopal, a central Indian city. He has worked for several mainstream newspapers such as The Times of India. This article is part of a collaboration between GSR and Matters India, a news portal started in March 2013 to focus on religious and social issues in India.]