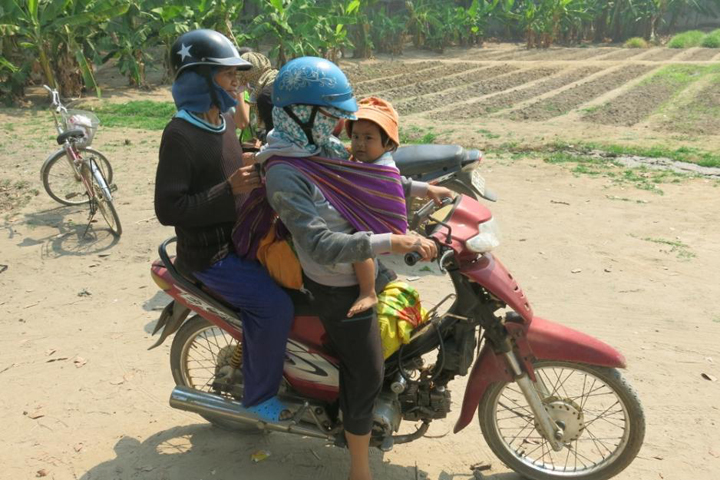 I'hon, left, heads home on a motorcycle driven by her daughter after the food exchange at the convent. (GSR photo / Joachim Pham)
Kon Tum City, Vietnam — On a hot Sunday in March, I'hon, a 70-year-old Ba Na ethnic woman, carried bunches of bananas to the Saint Paul de Chartres Sisters' convent in Kon Tum City to exchange them for rice.
She immediately ate some of the bread she received and guzzled down a mug of water. "I haven't had anything to eat this morning. I am so hungry and thirsty," she said with a smile.
I'hon prepared to take her rice home, saying she has exchanged bananas for other basic food at the convent on a weekly basis for years. Her village is 10 kilometers (6 miles) away from the convent in the Central Highlands, home to dozens of ethnic minority groups struggling to survive.
"We are old and live in poverty. Bananas are our major source of income," said I'hon, who is thin and dressed shabbily. She and her husband cultivate some 50 banana trees on their farm.
She gives the nuns five to seven bunches of bananas each time (about 100 fruits on average) and receives rice, instant noodles, dried bread and fish from them in return.
I'hon said she appreciates the nuns' food-exchange program, which for years has saved poor people like her from starvation. "The nuns generously exchange rice and other basic food that we don't have. What they offer us is more than what we give them. We are extremely grateful to them for their help," she said.
I'hon said her people prefer to exchange their bananas with the nuns rather than with other traders who pay 3,000-5,000 dong (14-22 cents) per bunch, not enough for the villagers to buy rice. (A typical bunch, or hand, as it is called in some languages, is a tier of 10-20 bananas.)
Sr. Marguerite Vo Thi Thanh Huong, the initiator of the program, said the exchange "aims to provide rice for local ethnic people who lack food all through the year." Rice is the main traditional staple for poor subsistence farmers who cannot grow enough food to feed their families.
Huong said bananas are common in the area, but traders offer such low prices that farmers cannot afford other basic foods. Ethnic minority people, who are undereducated or illiterate, can be easily tricked by traders from the majority ethnic group, Kinh, she said.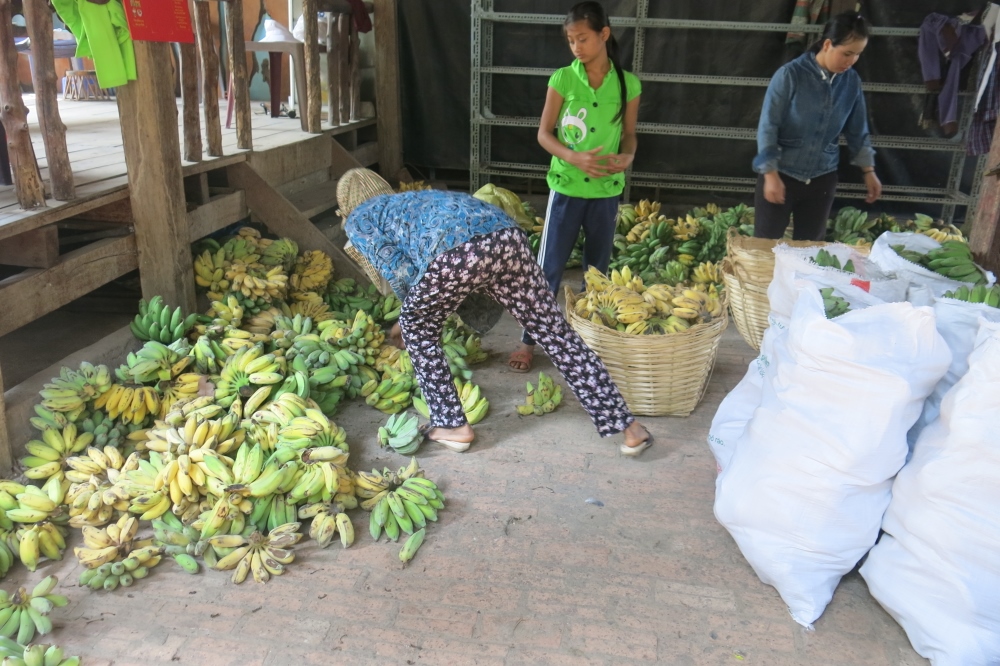 Volunteers package bananas in bags before transporting them to church-run homes. (GSR photo / Joachim Pham)
Minority villagers trade all kinds of products, ranging from fruit, root crops, vegetables, pumpkins and bamboo shoots to firewood and even solid cow waste. In return, they get instant noodles, rice noodles, dried fish, fish sauce, meat, soft drinks, clothing, household goods and other basic commodities.
The sisters' program has lasted more than two decades, Sr. Juliana Dang Thi Loan, head of the Saint Paul de Chartres convent in Kon Tum, says. One sister and several lay volunteers operate it, and local and foreign benefactors donate the goods or the money to buy them, she said.
Huong said the nuns exchange a metric ton of rice for bananas every four days in the rainy season and every week in the dry season. (That's about 2,200 pounds of rice.)
The villagers transport their agricultural products by motorbike and bicycle to the convent, or travel on foot, carrying goods on their shoulders.
Huong said the nuns distribute the bananas to hostels for ethnic students, centers for orphans and to people with leprosy and disabilities. Bananas are also used to feed those who arrive hungry, having traveled from their homes to the convent on an empty stomach.
Due to a flagging economy, fewer donors have funded the program recently, Huong said. "We have managed to send bananas to other places to sell and get money to buy rice," she explained.
Binh, a Ba Na woman who has worked for the program eight years, said groups of villagers come to exchange food products at the convent from dawn till dusk. If remote villagers cannot get their products to the convent, the nuns have people deliver rice and goods to them, she said.
For years, every two weeks, Sr. Teresa Lan, a St. Paul de Chartre nun based in the Binh Duong Province, takes donated goods by van from donors in her area and Ho Chi Minh City, southern Vietnam, to religious communities in Gia Lai and Kon Tum provinces. The food-exchange program is the result of cooperation between these two provinces, Lan said. Then she transports the bananas to church centers in other places.
The locally grown fruit is a popular commodity here. Lan said, "Agricultural products grown by ethnic farmers are clean and safe because they are not sprayed with pesticides." Contaminated food is a hot issue of concern to people throughout the country.
Overall, Loan said, more than 100 nuns in the Da Nang Province work in Gia Lai and Kon Tum provinces, providing agricultural skills, food, health care and faith education for ethnic groups, people with leprosy and their families. The sisters also offer free accommodations and scholarships to children who study at public schools.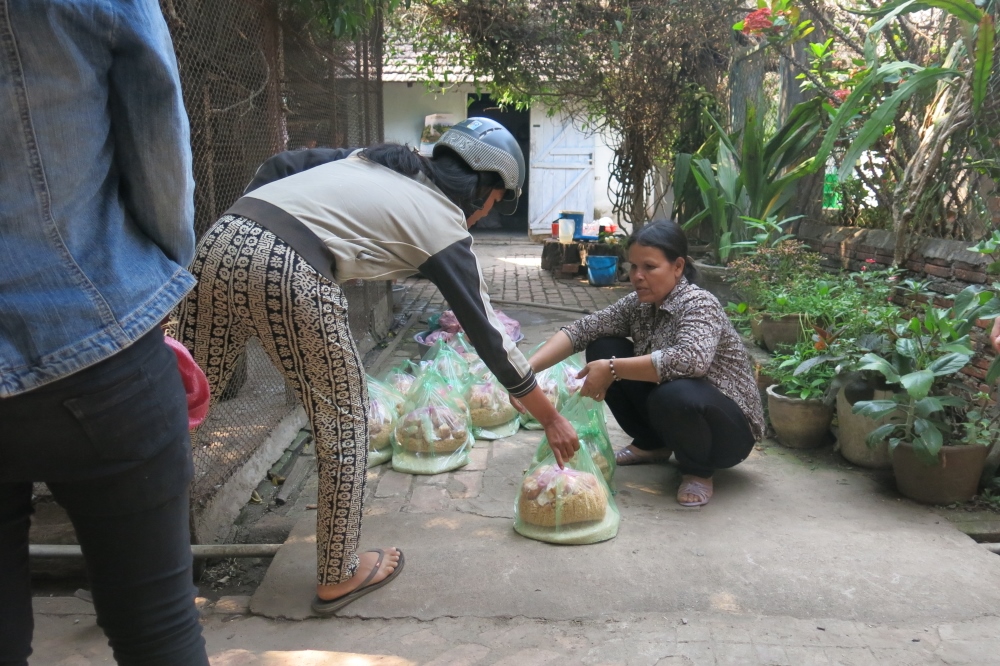 Ba Na ethnic volunteer Binh distributes rice, instant noodles and pork to ethnic villagers at the convent. (GSR photo / Joachim Pham)
[Joachim Pham is a correspondent for National Catholic Reporter, based in Vietnam.]