A woman identified as Trinh, who is pale, thin and disheveled, often takes pains to hide from her husband, who shouts, swears and beats her every time he comes home.
Her husband technically has abandoned her, but he comes back home on a regular basis. He works as a casual laborer and spends all his money drinking. He has set fire to the house and burned his family's clothes and personal papers, forcing them to flee at night.
"My children and I often sleep under the jackfruit tree near the house at night because we cannot stand his terrible deeds," Trinh said.
"One time while I was heavily pregnant, he beat me badly one night, and I managed to run away to the Marian grotto nearby. I gave birth to our fifth daughter there," said the 38-year-old mother.
Trinh has seven children, aged 18 months to 12 years old, and lives in Dong Nai province, southern Vietnam.
She said, because her husband does not support their children, she works hard from dawn until dusk collecting used items from people and selling them to make a living. She earns only 70,000-200,000 dong (U.S. $3-9) a day, and so they live in extreme poverty.
Trinh and other women in her situation find that help from women religious is their only option for surviving domestic violence and its destructive impact.
Domestic violence remains widespread in Vietnam's patriarchal society where men give themselves rights to make decisions on all things in their families and treat their spouses as inferiors.
Many men drink alcohol, too, which leads them to be cruel to their spouses. Others seem to need the boost of alcohol to confront their wives, who have offered "unwanted advice" or have complained about their husbands' bad habits, such as gambling.
Bui Thi Khue, 27, mother of two, died at a hospital in Ho Chi Minh City on March 26 after she had been burned by her husband, a fisherman. He gave her 90,000 dong ($4) to go pay for alcohol he had bought on credit, but she paid the seller only 40,000 dong and used the rest to buy food for their two kids. Angry, drunk, he doused her with gasoline and set her on fire.
On March 17, Vo Van Thuong, from Long An province in the Mekong Delta, was sentenced to life imprisonment for killing his wife, whom he beat on a regular basis. He stabbed her to death after she petitioned for divorce.
Social workers say few victims of domestic violence trust police, who fail to protect them, give helpful legal advice or otherwise meet their pressing needs. 
They say family members often hide domestic violence from others and even accept it because they feel ashamed of their problems. Consequently, the violence worsens.
Government statistics from 2010, the latest available, show that 58 percent of married women have experienced at least one form of domestic violence in their lives, but that only 43 percent of violence cases were recorded and handled by police.
Economic damage resulting from domestic violence was an estimated 3.2 percent of Vietnam's GDP, almost U.S. $5 billion in 2012.
Calm in the storm
Trinh said she exists, thanks to material and emotional support from Catholic sisters.
Dominican Sr. Mary Nguyen Thi My said the nuns tried to console this woman by building her a new house several years ago, offering food to her and fostering two of her kids at the convent staffed by seven sisters.
Just before this story was published, Trinh reported that her husband claimed he has legal rights to the land where the house is, though, and forced her and the children to move out. They are now living in a rented house 5 miles away for 700,000 dong (U.S. $30) a month.
The nuns cannot afford to help them with the rent.
"The rent is high for me, but I will work harder and save money to pay it. It is better to live away from the cruel man," Trinh said.
Trinh's three oldest kids used to look after the house while she was out, but their father often dropped in at those times and beat them.
"I pray to God for me to stay in good health to bring up the kids. That's it," Trinh said. She had converted to Catholicism to marry her husband. "I am deeply grateful to the nuns who support me materially and spiritually. I will need their prayer for my family."
My said recently that Trinh's delivery tricycle was stolen and was found at a used goods store. The nuns gave her money to buy it back.
Now Trinh has to carry her youngest kids on an old shabby motorbike while she works because she has no money to send them to daycare centers.
"We plan to take two of her kids to be raised at the convent as a way to share her burden of bringing them up," My said. Trinh's children fear and hate their father, so they need to be brought up in a good environment in order to develop well, she added.
At their convent, the nuns offer free accommodation, food and scholarships to 12 orphans and children from poor families or divorced parents.
Nuns work toward reconciliation
Public agencies fail to stop domestic violence or to support families in need, Trinh said.
To help fill the need, St. Paul de Chartres Sisters in Thua Thien Hue province offer advice, material support and vocational skills to families in abusive situations and also work to reconcile family members.
Sr. Ephrem Nguyen Thi Luu said families with abusive members live in poverty, have poor education and don't receive any professional advice on how to deal with their problems.
"We try to help them live with dignity," she said.   
Dang Quang Thien, who works as a driver and who used to shout at his wife so often that she resorted to trying to kill herself by burning, said he bitterly regrets using violence against his wife.
"I follow the nuns' advice — loving and treating my wife and kids with respect. Now we enjoy married life, even though we are poor," the father of two said.
Luu said she is calling for donations to build a house for them.
Sr. Pascale Le Thi Triu said Daughters of Charity of Saint Vincent de Paul Sisters in Ho Chi Minh City provide advice and accommodation for victims of domestic violence. Victims are treated for psychological and physical wounds, urged to reflect on their past life and causes of violence, and counseled on how to have more constructive conversations with their husbands and deal with family conflicts.
Triu said nuns also work with husbands to change their patriarchal behaviors and thoughts, and respect their spouses' dignity, opinions and contributions.
On March 14, then-Prime Minister Nguyen Tan Dung announced June as the month of national action for prevention of domestic violence, with the aim of raising public awareness to protect women and children and build happy families.
[Joachim Pham is a correspondent for Global Sisters Report and based in Vietnam.]
Images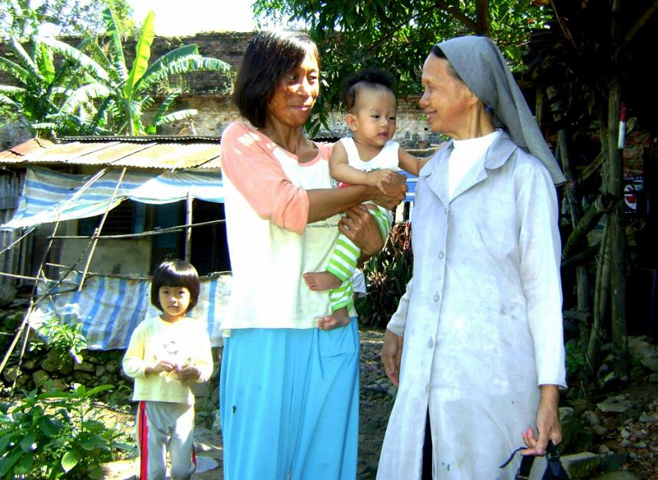 Sr. Ephrem Nguyen Thi Luu, a St. Paul de Chartres nun, visits a woman who has been a domestic violence victim. (GSR/Peter Nguyen)