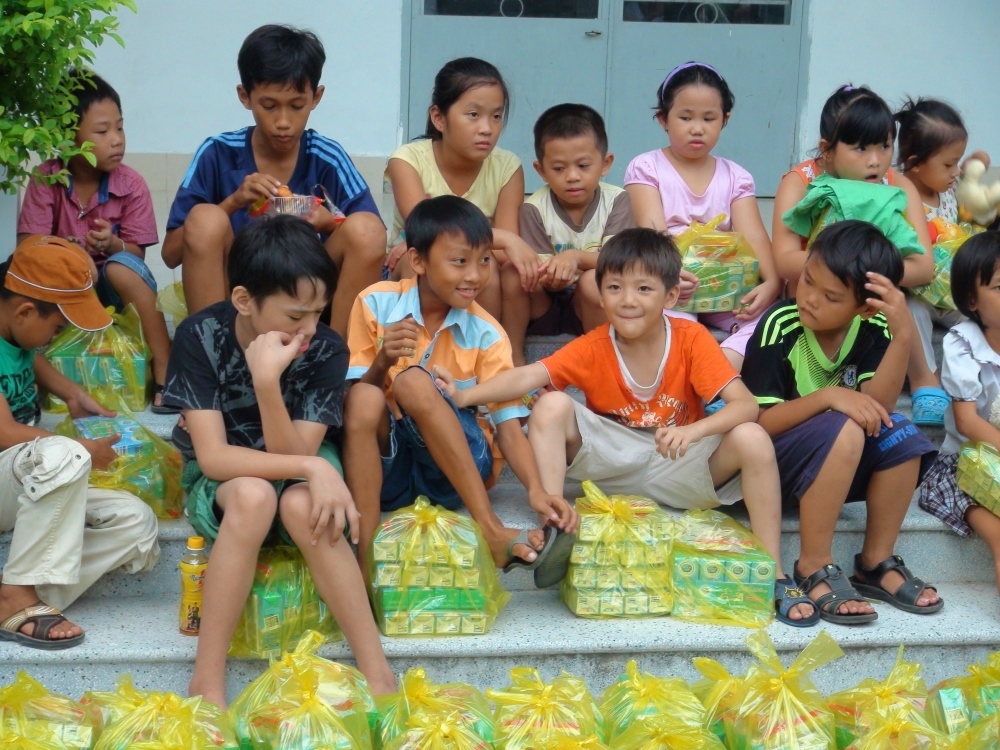 Children whose parents live with HIV/AIDS are given milk and cake to celebrate the Mid-Autumn Festival on Sept. 25. It is one of the ways Sr. Mary Nguyen Thi Phuc of the Secular Institute of the Sacred Heart of Jesus helps support the families. (GSR photo / Joachim Pham)
Nha Trang City, Vietnam — "What would you like to drink," a woman with a sweet smile inquired of a motorcyclist who stopped by the sidewalk on a day in late September.  
She made a plastic cup of sugar cane juice skillfully and gave it to the man, then she billed another customer for a soft drink and cleaned the table in a cheerful mood.
"I am happy to do this business and earn 200,000 dong [U.S. $9] an average day. It is enough to support my two children," said the woman, who started early this year to sell soft drinks, sugar cane juice, coffee and cigarettes on the streets of the coastal city of Nha Trang to make a living.
The woman, identified here as Tran Thi Phuong, is someone who became infected with HIV from her boyfriend. She said she never thought she would be a breadwinner or be able to integrate into the community. In the past, she said, she lived off food and help from her siblings and neighbors, was treated with disrespect by other people and was invariably in a generally foul mood.
Phuong is one of 18 women living with HIV/AIDS who joined a savings and credit program designed by Sr. Mary Nguyen Thi Phuc of the Secular Institute of the Sacred Heart of Jesus.
In the group, 10 of them, including Phuong, are loaned 5 million dong (U.S. $223) each, and the rest are loaned 3 million dong. They have to repay the loans in 10 months.
Phuc said those who get 5 million dong are required to repay regular sums of 500,000 dong, pay interest of 2,500 dong and save 100,000 dong at monthly intervals. The head of the group collects all the money and gives it back to Phuc, who then deposits the money in a bank account and loans it to other women.
After 10 months, they have repaid all their debts to Phuc and have saved 1 million dong. After five years, they will withdraw their savings of 5 million dong and leave the program to other women in similar straits.
They also use the interest on the loans to assist members who have accidents, suffer illnesses or die without money to provide for their funerals.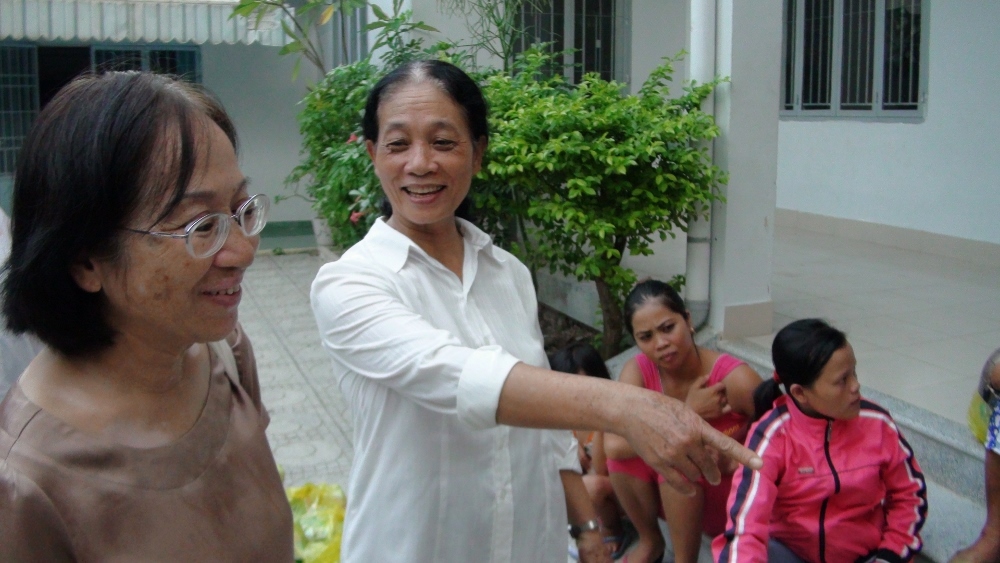 Sr. Mary Nguyen Thi Phuc, right, talks with women who joined the savings and credit program on Sept. 25. (GSR photo / Joachim Pham)
Phuc, who has worked with local people with HIV/AIDS for years, said the project, initiated in 2009, has increased its capital from 30 million dong borrowed by 15 women to 74 million dong with 18 borrowers. At first the women were allowed to borrow only 2 million dong each and gradually they could borrow 3 to 5 million dong.
An organization based in the Netherlands had offered the starting capital. The lending program is a straightforward, community-based way to set people on a path of stability and self-sufficiency.
Most of the women were infected with HIV/AIDS by their husbands or boyfriends and have poor education and no vocational skills, so being able to get a start in something productive makes a difference in their lives.
The nun said some women borrow money so they can buy motorbikes and carry passengers for a living. Others run small businesses such as selling coffee, soft drinks, cigarettes, fruits and food on the streets, the beach and in parks. Some raise poultry. These small enterprises, initially fueled by the loan program, allow the women to have enough money to pay for their children's school fees and other costs when the academic year begins in September, for example.
A woman identified as Hanh, the head of the group, appreciates the program. Without it, she said, "We have to borrow money from moneylenders with an interest rate at 30 percent a month." Her children study in sixth and 10th grades, and her husband died from AIDS 10 years ago, she explained.
Phuong agreed. "I am grateful to the project that gives me the opportunity to do this for a living and retain dignity," she said. She is in her early 30s. "Now my life has changed, and I have to work hard to bring up my children well."
Besides providing a means for women to support themselves, the project also brings unity among the them. "Most importantly, the project aims to loan the women money to work and support their children, and creates opportunities for them to regularly meet and encourage one another to overcome difficulties," Phuc said, adding that they would rarely meet if it weren't for their financial connection through the program.
She appreciates those women who repay the money on time and who show their commitments to the project. "One woman had borrowed money from the project and died of AIDS, but two years later her daughter came and repaid the money to me. I was deeply moved and forgave her the debt," she recalled.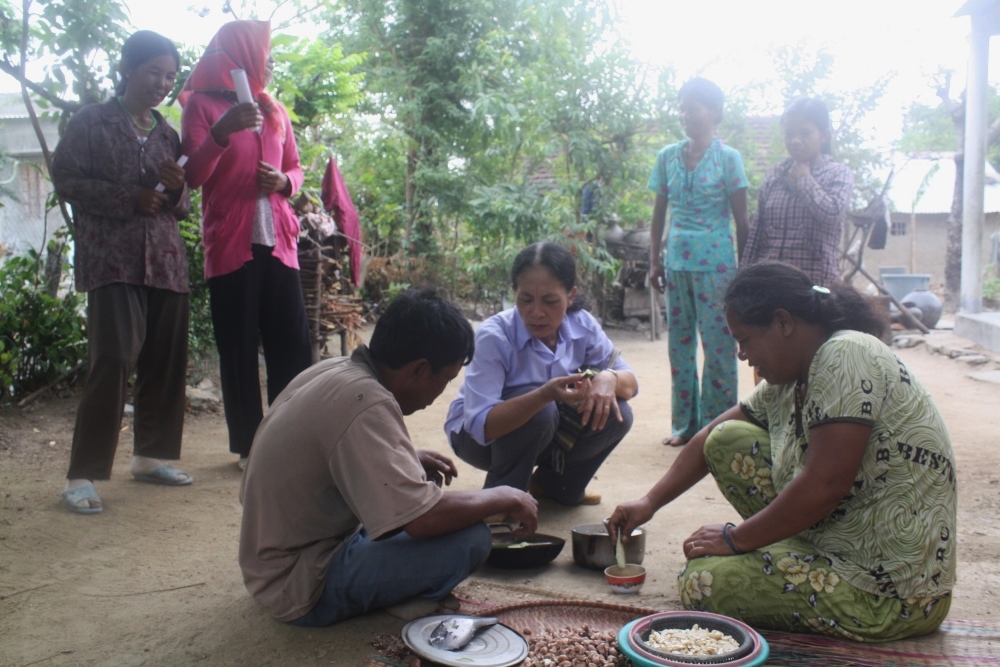 Sr. Mary Nguyen Thi Phuc visited Raglay ethnic women in Ninh Thuan province in Southeast Vietnam in 2013. Thirty ethnic women have been loaned money by the credit and savings project to cultivate crops and raise poultry for years. (GSR photo / Joachim Pham)
Phuc, who obtained a master's degree in sociology in the Philippines, also organized the same savings and credit enterprise for former sex workers, but the scheme failed when the participants moved to other places without repaying the money.
Phuc, who works at a church-run center for orphans and teaches sociology at a seminary, said she collects donations of food, scholarships, notebooks, pens and clothes at holiday times and offers them to nearly 90 children of the 65 women living with HIV/AIDS in the city.
She also organizes other savings and credit programs for 120 poor Catholic women, including people from ethnic minorities in the Khanh Hoa and Ninh Thuan provinces. The women are given 3 million to 5 million dong each to cultivate crops, raise poultry and run small businesses to support their families.  
[Joachim Pham is a correspondent for National Catholic Reporter and Global Sisters Report, based in Vietnam.]