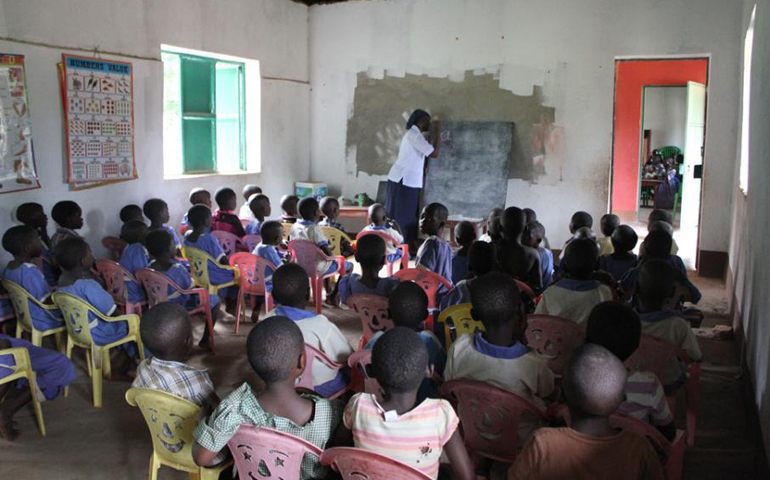 At a nursery school in Riimenze, a small village near Yambio, South Sudan, a sister from Solidarity with South Sudan teaches a class. There are four classes like this, but only two teachers, said Spanish Sr. Anna Sánchez Boira of the Congregation of Missionary Daughters of the Holy Family of Nazareth. (Provided photo)
New York, N.Y. — While South Sudan may be regaining some stability in the wake of recent violence, Catholic sisters serving as part of an interfaith coalition hope that efforts to improve conditions in the world's newest nation can be sustained, but they also warn about the possible escalation of ethnic conflict.
The ethnic component of the recent wave of violence five years after the country's independence "seems to be more and more strong, and the current ceasefire could be followed by more conflict," said Sr. Yudith Pereira Rico, the associate executive director of the church-supported coalition Solidarity with South Sudan. "The risk of reproducing a conflict like Rwanda or Burundi is very possible."
Ethnic loyalty often overrides national identity, Pereira, a Spanish member of the Congregation of the Religious of Jesus and Mary, told GSR in an emailed response to questions late last week as she returned to Rome following a visit to South Sudan.
"South Sudan was formed before the people had a consciousness of being one people," she said.
Extreme poverty following more than two decades (1983-2005) of civil war that eventually resulted in South Sudan's independence from Sudan has exacerbated tensions between ethnic groups. That results in them seeing others as enemies and "making them not ready to unite as one people," Pereira said.
But outsiders — even countries that support the peace process in South Sudan — are hurting the situation by selling arms to South Sudan, making the world's newest country also one of its most highly armed, said Pereira, who is based in Rome at the headquarters of the International Union of Superiors General (UISG), one of the founders of Solidarity with South Sudan.
The coalition was founded in 2008 as a joint project of UISG and the male Union of Superiors General, known as USG, but is now autonomous. More than 260 religious congregations and donor agencies support the work of Solidarity with South Sudan. The coalition has a 16-member board, 15 of whom are religious men and women. In South Sudan, 26 religious men and women representing 19 religious congregations and 15 nationalities work on various coalition humanitarian projects throughout the country.
Solidarity with South Sudan's work includes health care, education and food security projects as well as pastoral work. Security concerns in the wake of the recent violence are now at the forefront for the coalition and allied groups, though Pereira said Solidarity's programs are continuing despite the violence. In a July 10 statement, the South Sudan Council of Churches, a partner of the coalition, noted that the violence has also affected areas outside of the capital of Juba, including Wau in northwest South Sudan. The council also noted the May shooting death of Holy Spirit Missionary Sr. Veronika Theresia Rackova, a Slovak.
Sisters and other church personnel say arms sales to the country must stop.
"The business of selling weapons to them by many countries that also want to help in the peace process is a huge incoherence of the international community," Pereira said. "Weapons are everywhere, in every family. Everybody has had casualties in conflicts, and justice has never been done. Because of the lack of justice, revenge prevails."
In remarks condemning the violence July 16 at the 27th African Union Summit in Kigali, Rwanda, U.N. Secretary-General Ban Ki-moon called for the demilitarization of Juba, saying, "We cannot afford South Sudan slipping back into a civil war." He also told African leaders he would urge the U.N. Security Council to impose an immediate arms embargo on South Sudan.
Ongoing tensions between armed forces loyal to President Salva Kiir and armed forces loyal to First Vice-President Riek Machar have not been fully resolved since South Sudan's independence from Sudan in 2011 and have flared several times since. The Council on Foreign Relations has noted that tensions between Kiir and Machar have taken on "an ethnic character."
"Soldiers from the Dinka ethnic group, one of the two largest ethnic groups in South Sudan, [have] aligned with President Kiir and those from the Nuer ethnic group, the other largest ethnic group, [have] supported Riek Machar," the council noted.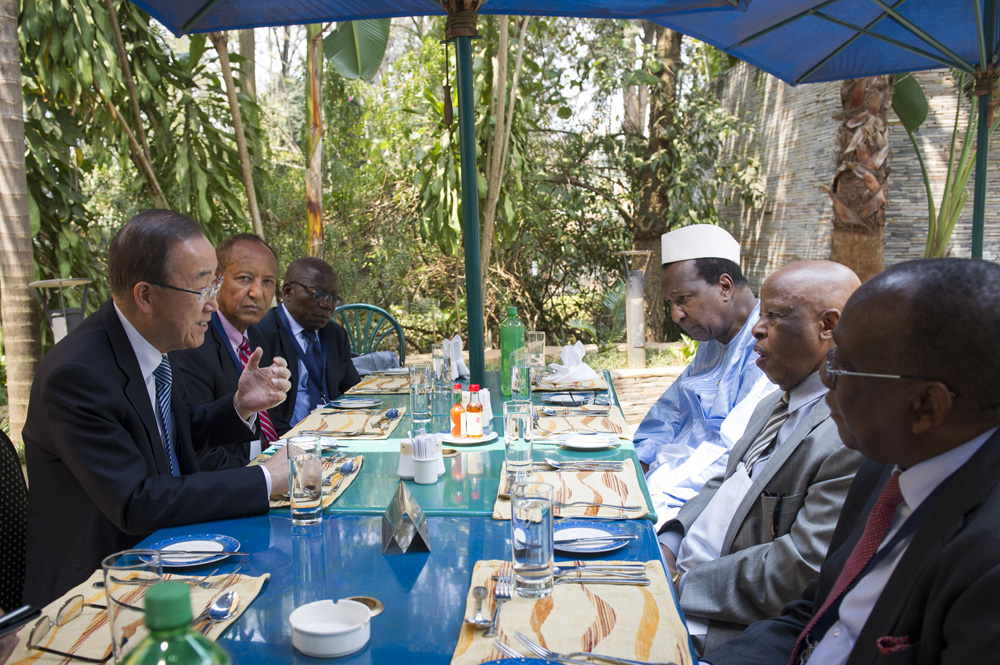 U.N. Secretary-General Ban Ki-moon (left) discusses the situation in South Sudan with Alpha Oumar Konaré (third from right), African Union High Representative for South Sudan, and Festus Gontebanye Mogae (second from right), chairperson of the Joint Monitoring and Evaluation Commission for the South Sudan peace accords. The meeting took place on the sidelines of the 27th African Union Summit, held July 10-18 in Kigali, Rwanda. (U.N. photo)
In the most recent incident, clashes between the two armed groups began July 8. A ceasefire has been in place since July 11, but before that, hundreds died during the fighting. In addition, an estimated 40,000 people, most in Juba, had to leave their homes.
Many fled to United Nations displacement camps and sought refuge in churches and on the grounds of St. Theresa Cathedral in Juba, the site of humanitarian relief efforts, including the providing of emergency food rations.
On July 17, Cardinal Peter Turkson, a Vatican envoy to South Sudan, celebrated Mass on the grounds of the cathedral. He arrived Saturday to deliver a message from Pope Francis to Kiir and Machar.
Turkson, a Ghanaian prelate and president of Vatican's Pontifical Council for Peace and Justice, told those gathered at Mass not to give up hope.
"The big and the crucial thing is that South Sudan must heal," Turkson said, according to Radio Miraya, which is based in Juba. "It must take up all and develop and grow in peace, and that is what must be ensured and assured for the people, and anything that we can do to help and facilitate the realization of that, that's what I think we can do as a church."
Pereira offered similar words of encouragement, telling GSR, "The church, alone and with other churches sends continuous messages to denounce the violence and calls for unity, dialogue and peace."
She added: "The local churches have the power on communities. At the same time, [the church] is providing assistance to the displaced, schooling, and health programs through many institutions, many of them run by sisters. Sisters in South Sudan hold institutions and programs that take care directly of people, in education, health, women's empowerment, agriculture, peace building and trauma healing. 
"The religious in South Sudan, are witnesses of unity being themselves foreigners and diverse, they witness unconditional service and love for the most vulnerable, even risking their lives," she said. "They give hope to the people and reveal the dignity of every person."
Accompanying Pereira was Spanish Sr. Anna Sánchez Boira of the Congregation of Missionary Daughters of the Holy Family of Nazareth. She had earlier told GSR about the crisis situation within Juba. 
Clashes had become the norm in recent years — becoming so common that they were, before the events of the last two weeks, no longer considered news, Sánchez said in an email. At the same time, teachers, soldiers and other government employees have not been paid in months, making the idea of a stable peace difficult.
"The culture of peace does not exist," she said.
Like Pereira, Sánchez said calls for peace from the outside can seem hollow when so many countries provide arms to South Sudan. The flow of arms to South Sudan comes from Russia, China and neighboring countries, according to a 2015 United Nations report.
Yet the work of the church continues in South Sudan's slow reconstruction, including grassroots humanitarian projects, often through the networks associated with Solidarity with South Sudan which provides some "seed of hope," she said.
"Solidarity communities are an example of integrity and dedication to others," Sánchez said. "I pray with them and for them, all people who give their lives in a very anonymous way in South Sudan." 
"Only through peace, equality, forgiveness and respect will South Sudan become a better place to live."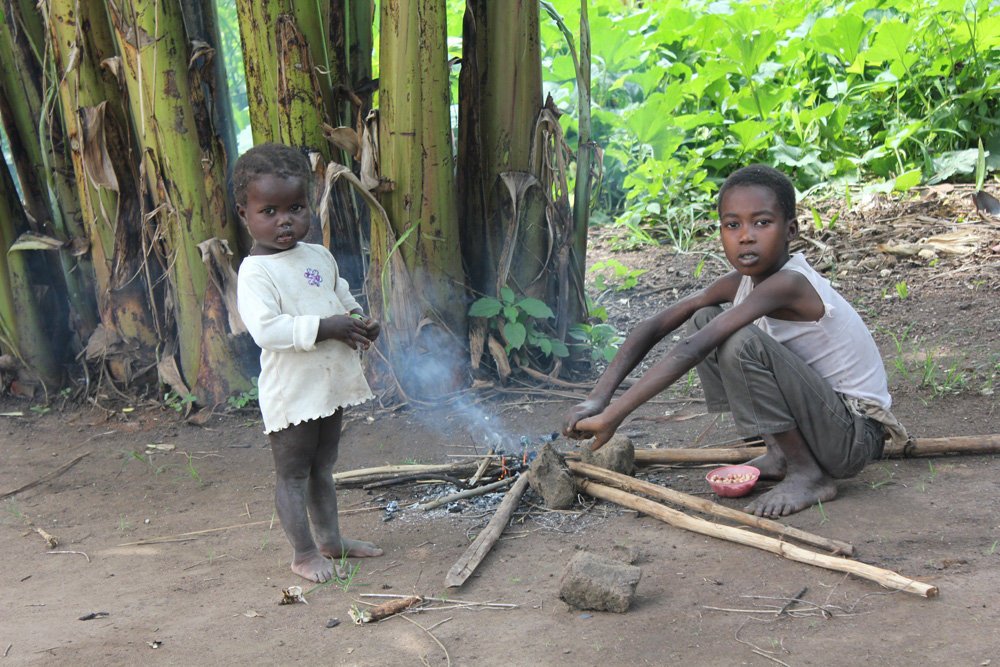 Two children who are not in school outside a hut in the forest outside Riimenze, South Sudan. Extreme poverty and isolation are common in South Sudan as it rebuilds after years of conflict. Sisters in South Sudan hold institutions and programs that take care directly of people in education, health care, agriculture and peace-building. (Provided photo)
Church leaders throughout the region echo those sentiments. In a July 13 statement, the Catholic bishops represented in the Association of Member Episcopal Conferences in Eastern Africa, known as AMECEA, condemned the recent violence.
"In the spirit of solidarity, we, Catholic Bishops in the AMECEA region condemn all acts of violence without exception," the statement said. "Fighting for whatever reason is an act of unjustifiable evil. To all people of good will, let us beg for the strength to resist the hatred that blinds us to our common humanity."
In his remarks in Kigali, Ban said he and others "are all appalled by the magnitude of the violence, the indiscriminate attacks on civilians and peacekeepers, and the immense loss of lives and suffering this crisis has inflicted on the people of South Sudan.
"The renewed fighting is horrendous and totally unacceptable."
Ban called for "decisive and collective action. The people of South Sudan need to hear the region and the world speak with one voice to end this mindless violence."
He also said he was disappointed in South Sudan's political leaders, adding that it was "time to send a strong message to the South Sudanese leadership. The people of South Sudan have been let down by their own leadership. Their hopes and dreams have been tarnished at the expense of warring parties enriching and empowering themselves."
Ban said U.N. compounds had been "caught in the crossfire, our warehouses and food stocks for hundreds of thousands of people have been brazenly stolen, and our premises have sustained significant mortar and small arms fire."
Calling himself "outraged," the U.N. leader condemned targeting of U.N. personnel and other humanitarian personnel as well as reports of "sexual violence, assaults and killings of these personnel and innocent South Sudanese civilians."
"Enough is enough," Ban said.
He told the African leaders that he had spoken to South Sudanese leaders and told them they "must be accountable for their actions. This includes the military chain of command — the chiefs of general staff and other officials who are complicit in perpetrating the violence."
In addition to the arms embargo, Ban said he was also calling on the U.N. Security Council for "targeted sanctions" on political leaders and commanders actively "working to unravel the peace process."
Ban also wants the U.N. Mission in the Republic of South Sudan reinforced with additional support and funding. He said he supports a proposal by the military leaders of Ethiopia, Kenya, Rwanda, Sudan and Uganda to reinforce U.N. peacekeeping troops with troops from regional countries to stabilize the situation.
In the end, though, South Sudan needs a long-term political solution, Ban said, and a comprehensive peace agreement "needs to be fully implemented." Collective action and support from regional governments are needed to "get the peace process back on track," especially given the high stakes involved, the U.N. leader added.
"We cannot and should not allow for the agreement to unravel," Ban said, "especially after all the time and effort regional leaders have put into making it happen."
[Chris Herlinger is GSR's international correspondent. His email address is cherlinger@ncronline.org.]