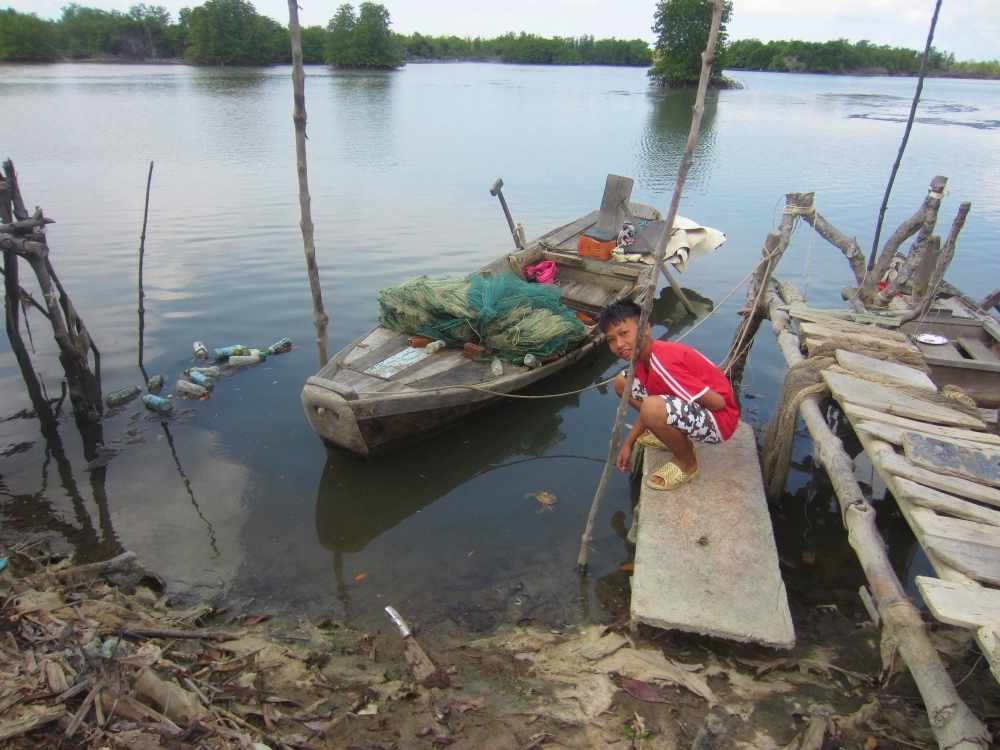 A boy whose parents raise fish plays nearby water. (GSR photo / Joachim Pham)
Ho Chi Minh City, Vietnam — Since 2010 the Daughters of Our Lady of the Holy Rosary had been taking care of children of local fish farmers in the Ba Ria-Vung Tau and Dong Nai provinces, creating a dorm for them in a storage area of the convent. Raising fish on river farms requires long and odd hours in an environment that puts the kids at risk of mishap or drowning while parents are focused on the fish.
With nowhere to turn, the farmers sought help from the sisters, but operating the dormitory was dominating the sisters' time and resources and keeping them from their pastoral ministries. In May, Sr. Benigna Nguyen Thuy Mien, head of the convent, decided they would have to close the dorm in the fall and send its 26 students, ranging from first- to ninth-graders, back to their families.
But then, in preparation for the shutdown, Mien and her sisters visited the fish farmers at their homes on the rivers.
"We cannot leave the students who really need our help," she concluded.
The nuns cook meals, bathe students, wash their clothes, help tidy their rooms and teach them catechism, human values and academic subjects. And they spend a lot of time looking after them at their convent in Tan Thanh District of Ba Ria-Vung Tau Province in southern Vietnam.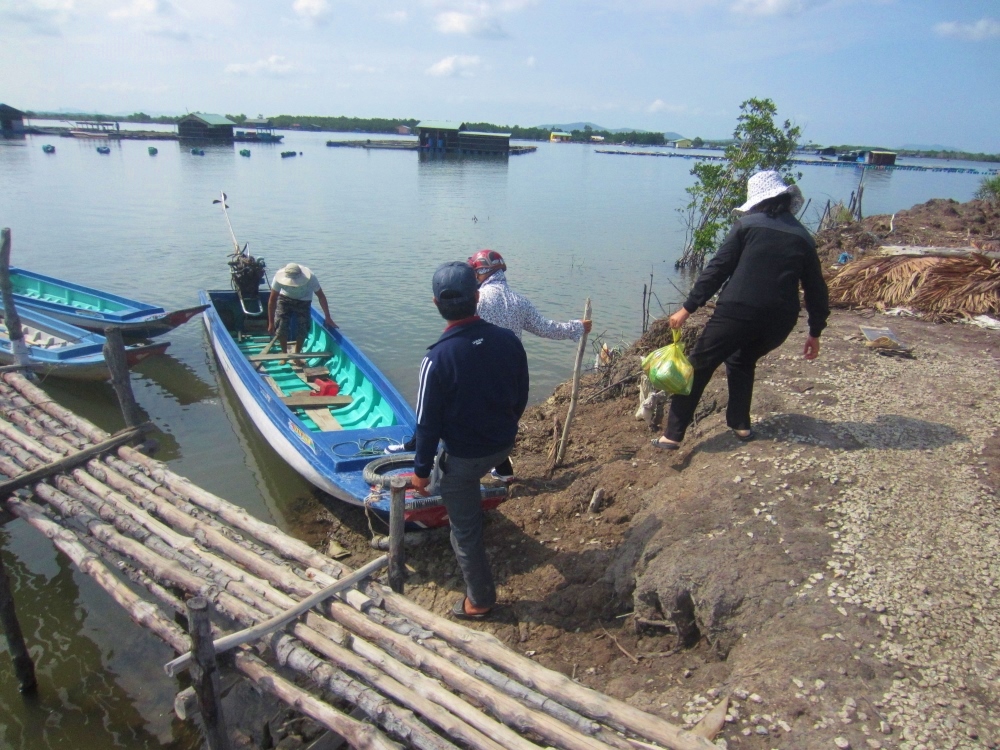 Two Daughters of Our Lady of Holy Rosaries sisters get ready to go with fish farmers to visit their homes. (GSR photo / Joachim Pham)
Life on a fish farm
On a day in July, the nuns rode motorbikes on muddy paths, then traveled by motorboat to visit five of the families. 
Most of the families are renters in this swampy land and make a living raising fish along a stretch of coastline in the provinces of Ba Ria-Vung Tau and Dong Nai and also in Ho Chi Minh City. An estimated 100 families — most of them Catholics who moved from northern Vietnam's Nam Dinh province a decade ago — toil to make a living and raise two to five children each.
They live in small houses built from wood, leaves and old iron sheets, scattered in mangrove forests and surrounded by water. They have no access to electricity or piped water. They collect rainwater and buy additional water for 150,000 dong per cubic meter — about U.S. $6.75 for 264 gallons — for their daily activities.
Some have recently installed solar cells to produce power for lights and television sets.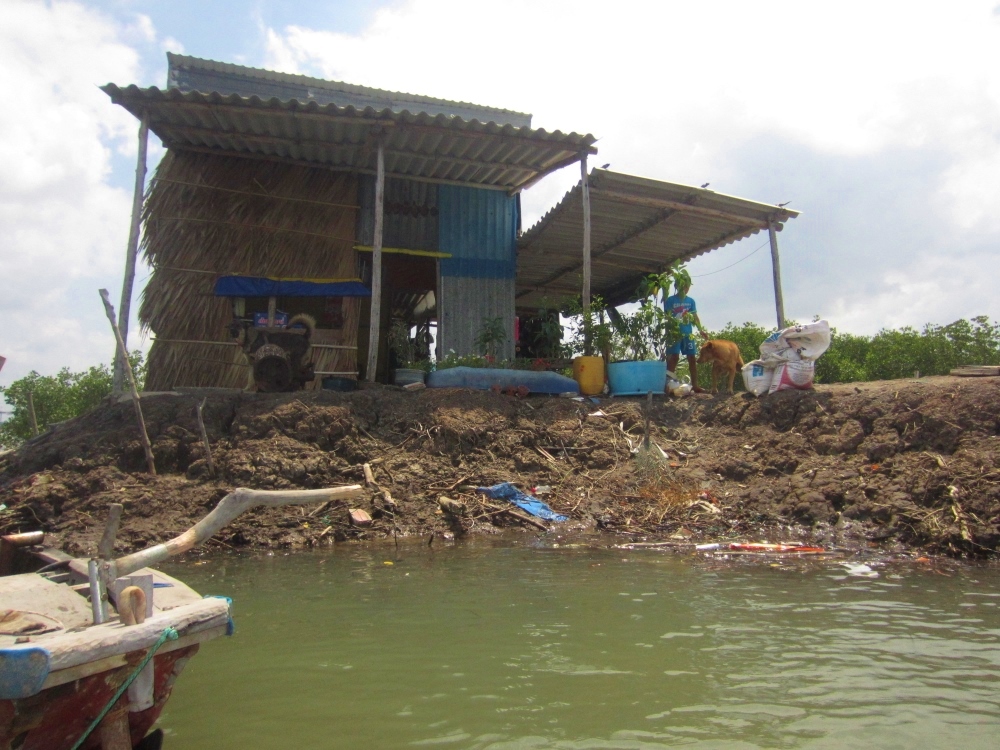 Young children are at risk of falling down into the water from houses like this. (GSR photo / Joachim Pham)
A fish farmer shows the edge nearby his house. (GSR photo / Joachim Pham)
Dominic Nguyen Van Loi, a fish farmer, said he has paid 100 million dong ($4,484) to rent farmspace in the three years he's been here. He and his wife have to make land hedges around the farms and build gates to let water flow in and out of the marshes during high and low tides.
They buy young fish, crab and shrimp from traders and raise them for about five months. Once the creatures mature, every night they trap them in nets and snares to sell them at market.
"We work hard all day and night and earn 100,000 dong to 1 million dong a day, but also make no money on some days," the 41-year-old farmer said. Besides raising the fish, they must constantly repair land hedges damaged by tides to prevent creatures from going out to the river estuaries.
Loi, a father of two, said it is most dangerous for children to stay at home alone while their parents work outdoors. "My son fell into the water and nearly drowned when he was 1 year old. I found him in the water and took him to the hospital immediately, and he was saved."
He said some fish farmers whose children have drowned have left this work. Others take their children to where they work, even at night, to protect them from falling into the water.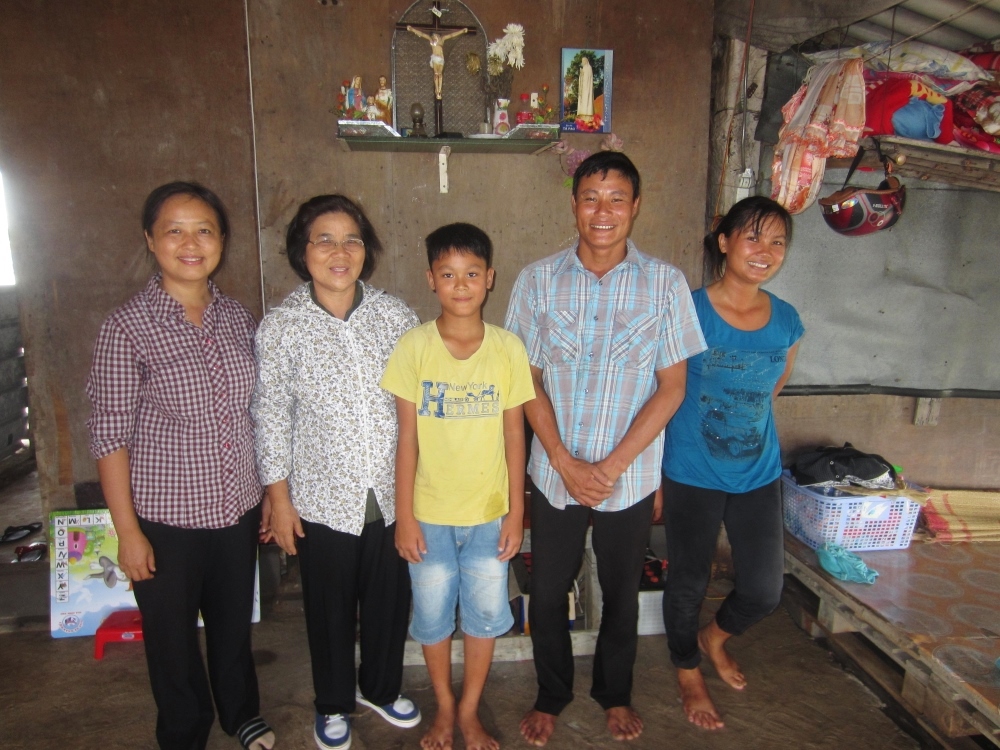 Srs. Mary Nguyen Thi Hong Hanh and Benigna Nguyen Thuy Mien visit Joseph Nguyen Van Hoi, his wife and son. The family raises fish in the Ba Ria-Vung Tau Province southeast of Ho Chi Minh City. (GSR photo / Joachim Pham)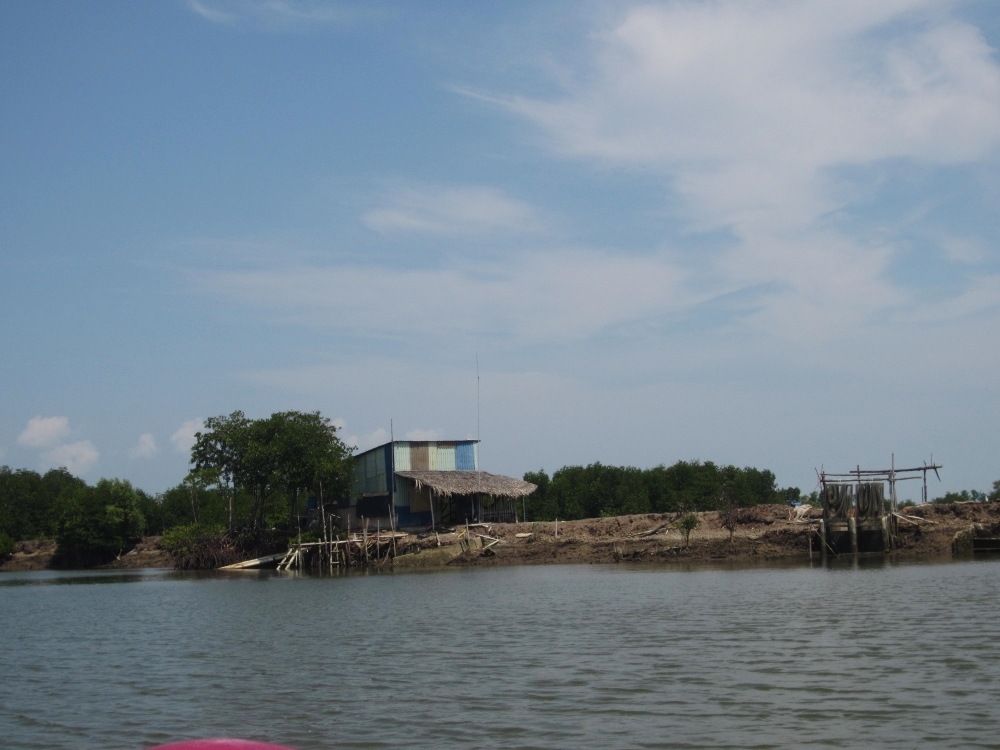 A fish farmer's home is surrounded by water and mangroves. When the tide ebbs, farmers have to walk in deep mud a distance of 100 meters to retrieve their boats for travel. (GSR photo / Joachim Pham)
Loi carries his children with him to a local market at 4 a.m. to sell his fish. Then he takes his kids to school because there is no one to look after them while he works.
Daily travel is difficult for Loi and other fish farmers, who juggle boats and bikes to get where they need to be. When the tide goes out, he said, many farmers have to walk through mud as deep as their knees for 100 meters to get to their boats.
Sr. Mary Nguyen Thi Hong Hanh, who has worked with students since 2015, said nuns used to be dissatisfied with parents who would come to collect their students from the convent late on weekends. Students usually return to their homes on Friday evenings and go back to the dormitory Sunday evenings.
Hanh said, "Now we understand their travel difficulties and really respect and sympathize with them. We will not complain to them."
"It is hard for us to daily take our son to the nuns' day care center in the morning and collect him in the afternoon," Loi said. His daughter, a three-grader, stays at the nuns' dormitory.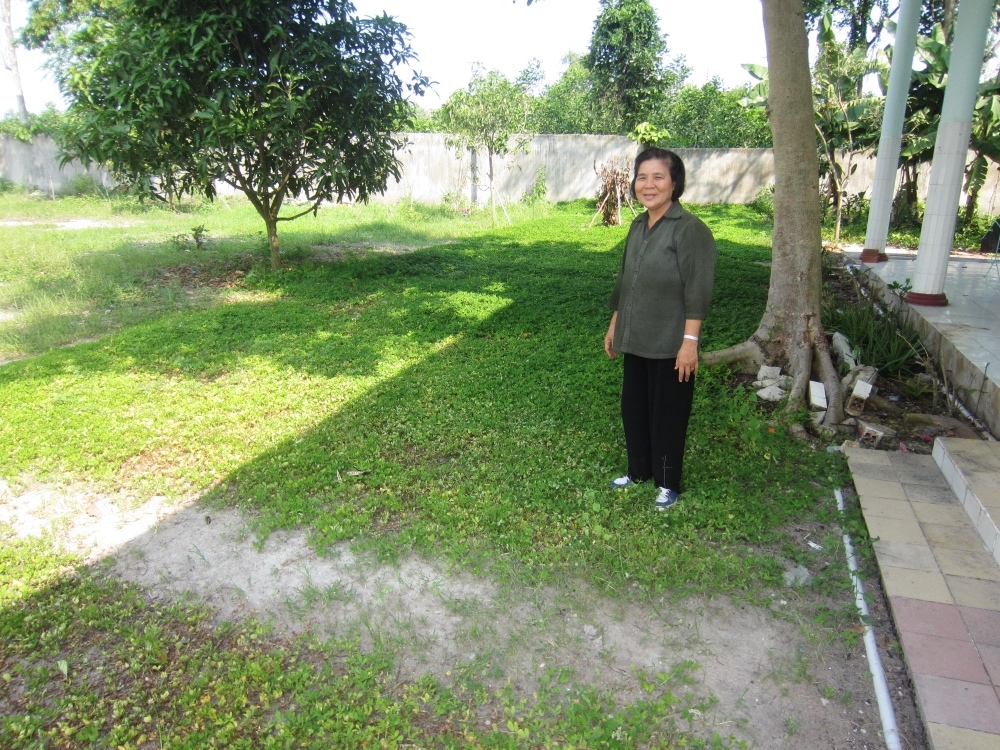 Sr. Benigna Nguyen Thuy Mien shows the plot of land in the compound of her convent where she plans to build a hostel for students. ( GSR photo / Joachim Pham)
Joseph Nguyen Van Dam, a father of four, pays 8 million dong, about $360, a month for his children's studies. "Although we have poor education, we try our best to send our children to school so that they can have a better life than us in the future," he said.
Many students have to drop out because their parents have no time to take them to school, Dam said, and unfortunately, preschool students are too small for the nuns to look after at their hostel.
"We trust the nuns implicitly to look after our children and teach them to be good people," said Dam, who sends three of his children to the nuns' dormitory. "The nuns teach them catechism, daily prayer and help them review subjects at school."
There is no public dormitory in the area as an option for families.
"We are very happy that the nuns continue offering accommodation to our children in the coming school year," Dam said. "We pray for the nuns to build another hostel for our children to stay for their studies."
Mien said she has repaired the dormitory, added more beds, installed air conditioners and a water-purification system to serve the students in the school year that started in September. She admitted 27 students for this school year, declining to take children younger than 6.
She said that, due to a lack of room to separately lodge children entering puberty, boys who finish fifth grade will move out of the dormitory while girls won't move until after they finish ninth grade. The boys either end their schooling to help on the fish farms, go stay with relatives and further their studies, or return to live with their grandparents in the north.
Mien said the sisters hope benefactors will donate toward building a larger hostel to accommodate more students in the future. The new hostel, designed to hold 50 with separate rooms for boys and girls, will be based in the compound of the convent, which is near to local public schools in Tan Thanh District. The sisters are raising money for it now.
"We continue offering accommodations to students as part of our evangelization work and an effective way to express our mercy and reach out to poor people," Mien said.
Also on the convent grounds, her nine-member community runs a day care center with 100 children from the area as their main source of income. They also plant fruit trees and vegetables and do various pastoral activities at a church nearby.
[Joachim Pham is a correspondent for Global Sisters Report based in Vietnam.]