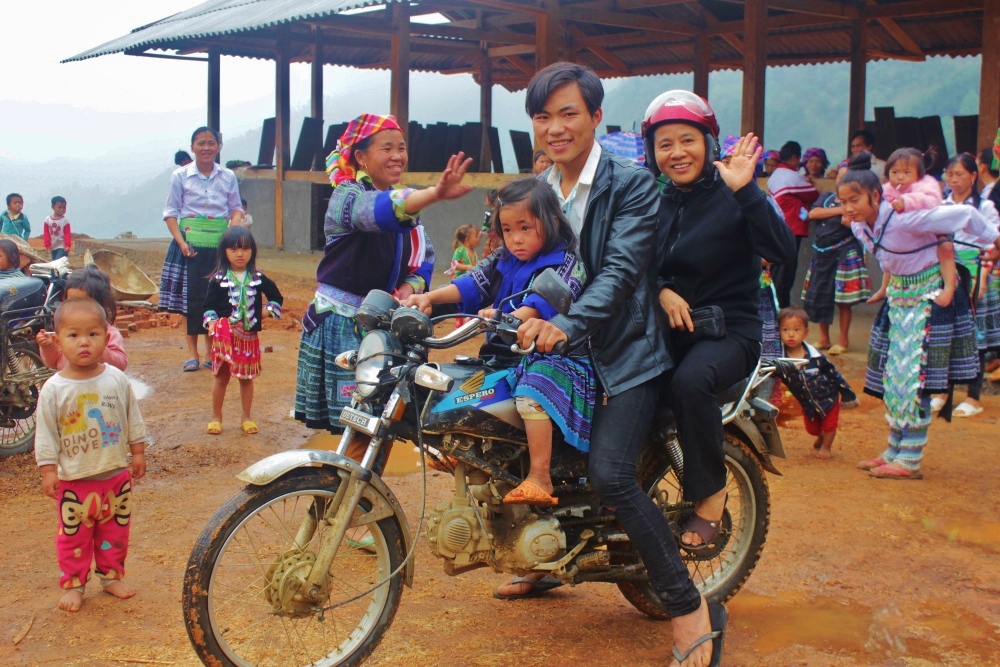 Sr. Maria Kieu Thi Luong waves goodbye as she leaves the chapel. "Pastoral visits paid by clergy and religious help strengthen the Catholic faith of people who live in remote areas," she said. (Joachim Pham)
Yen Bai City, Vietnam — Holy Week took on particular significance for Lovers of the Holy Cross sisters who helped prepare Hmong ethnic villagers in the mountainous province of Yen Bai in northwestern Vietnam celebrate the holiest time of the year for the first time in decades.
Two sisters accompanied Bishop John Marie Vu Tat of the Hung Hoa Diocese, along with two priests and two seminarians, as they paid pastoral visits to nine parishes, subparishes and mission stations, March 28 to April 1 in Yen Bai Province
Sr. Mary Kieu Thi Lien, head of the community, said this was the first time a bishop had celebrated Easter triduum services for the local people since Catholic communities were established by foreign missionaries in the area more than 100 years ago.
For decades, some 30 Catholic families including Hmong and Kinh ethnic people, who have resided in the Mu Cang Chai district for 40 years, could not practice their faith publicly as the smaller area within Yen Bai was recognized by the government as having no religion. That changed late last year.
Lien said that in December, Auxiliary Bishop Alfonse Nguyen Huu Long of Hung Hoa and some priests met and discussed religious activities with the district officials. As a result, priests are now allowed to pay monthly visits to local Catholics.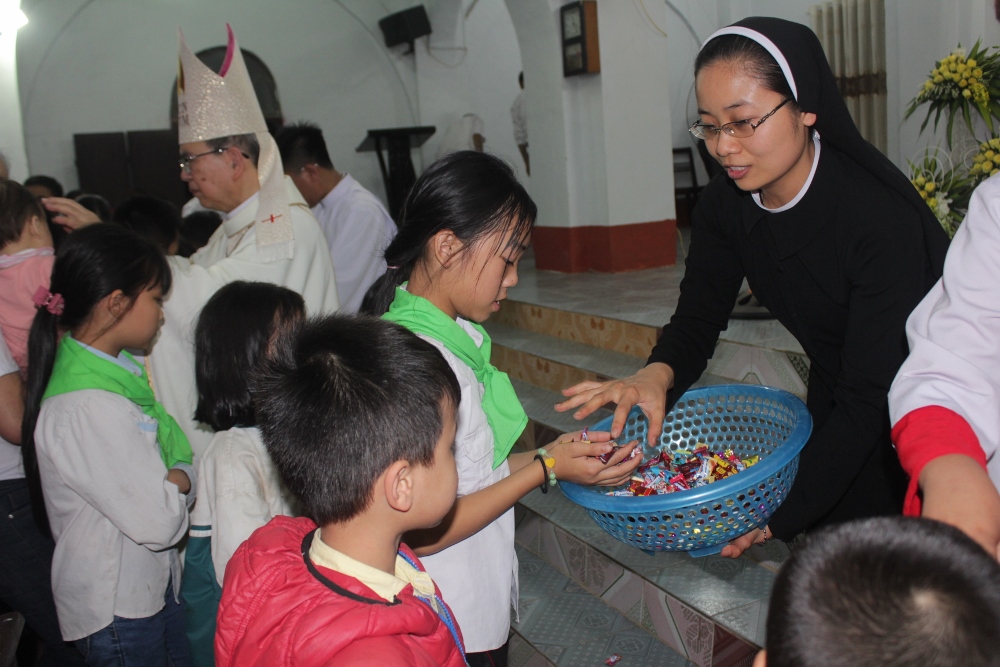 Sr. Maria Nguyen Thi Vinh hands out rosaries and sweets to people after the Easter Vigil Mass at Vinh Quang Church. (Joachim Pham)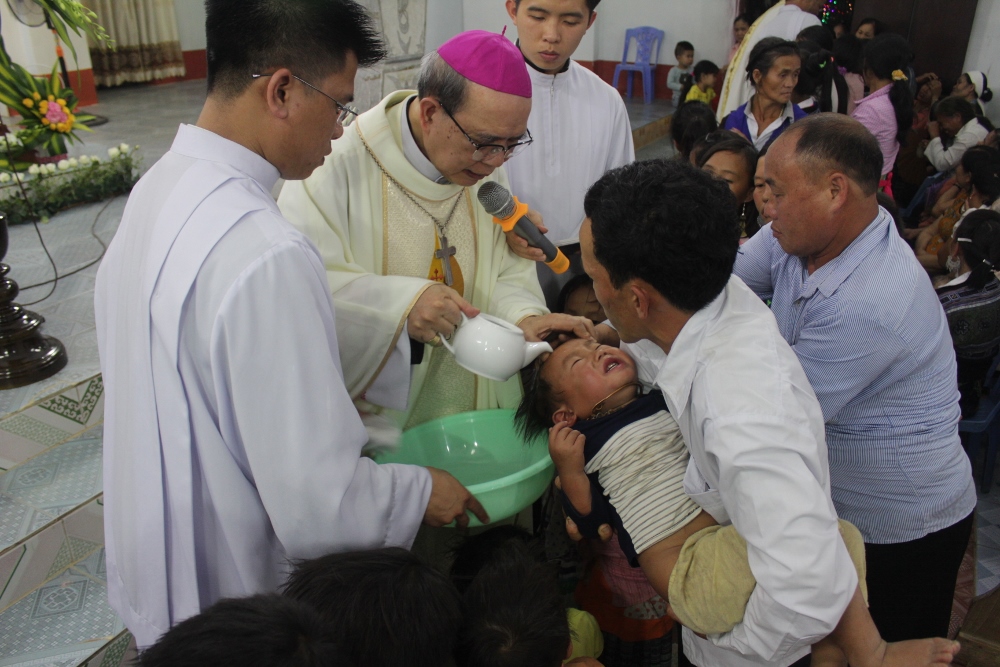 Bishop John Mary Vu Tat baptizes a Hmong child during the Easter Vigil Mass at Vinh Quang church. Bishop Tat baptized and administered Confirmation to 31 Hmong adults and children during the ceremony attended by some 2,000 people. (Joachim Pham)
She said the nuns from the Vinh Quang community have visited the area four times since then.
The nuns had to ride motorbikes over 100 kilometers on winding steep narrow roads to mission stations without chapels where they prepared Catholics for services. They taught people catechism and hymns and how to go to confession and receive the Eucharist, arranged flowers and candles, and made clothes for men to have their feet washed during the Holy Thursday Mass.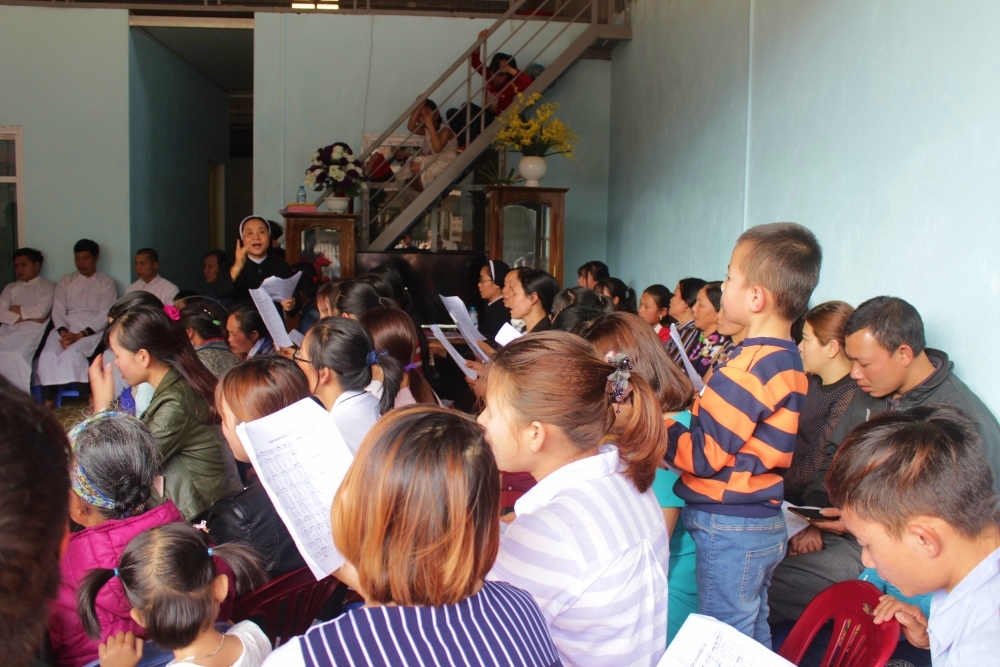 Sr. Maria Kieu Thi Luong served as a conductor and Sr. Maria Nguyen Thi Vinh played the organ during the Holy Thursday Mass. "I am very happy to teach them to sing," the 53-year-old nun said. (Joachim Pham)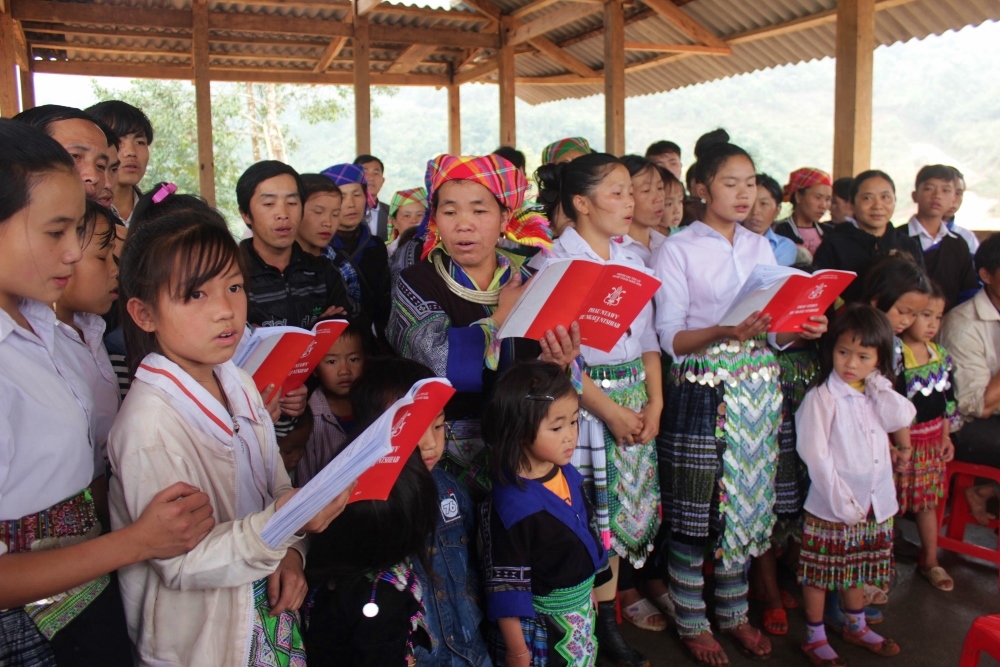 The nuns and Hmong people sang songs in their language to welcome the visiting bishop and priests at Ngon Lanh chapel. (Joachim Pham)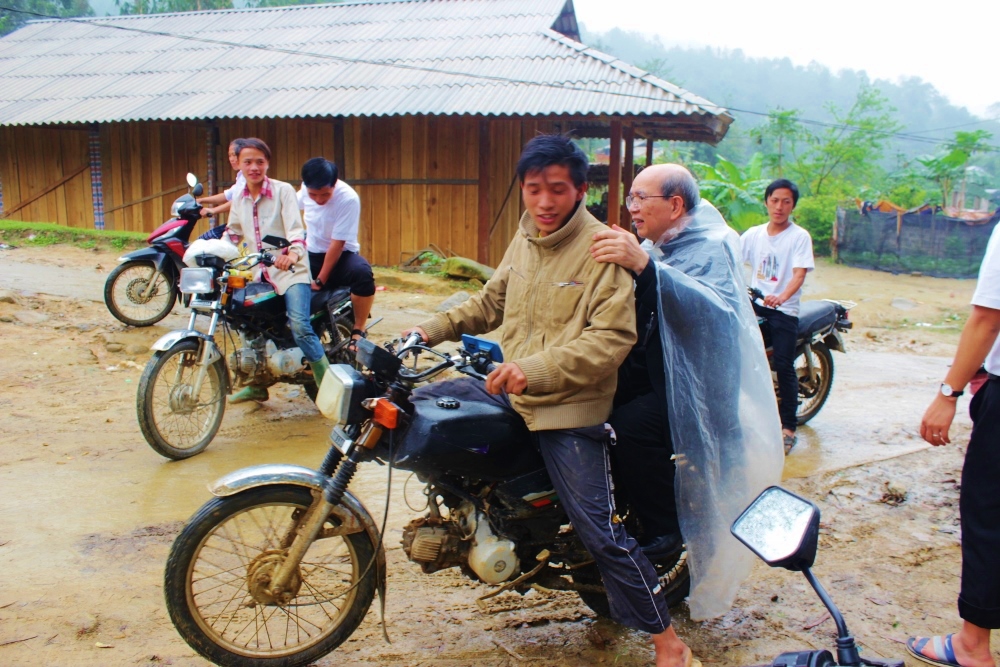 A local man carried 74-year-old Bishop John Marie Vu Tat of Hung Hoa diocese (in raincoat) on a motorbike on wet and slippery paths to Ngon Lanh subparish on the Holy Saturday. Local people call such motorbikes "iron horses," suitable to ride on small paths in the mountainous area. (Joachim Pham)
Vinh Quang community, which has five sisters, serves Vinh Quang parish, six subparishes and three mission stations, with a total Catholic population of 3,600 in two districts of Van Chan and Mu Cang Chai, which are home to many ethnic minority groups.
"Although we were tired out after the visits, we are happy to have brought the joy of Easter to those in remote areas," Lien said, hoping that the nuns would pay more such visits to the communities.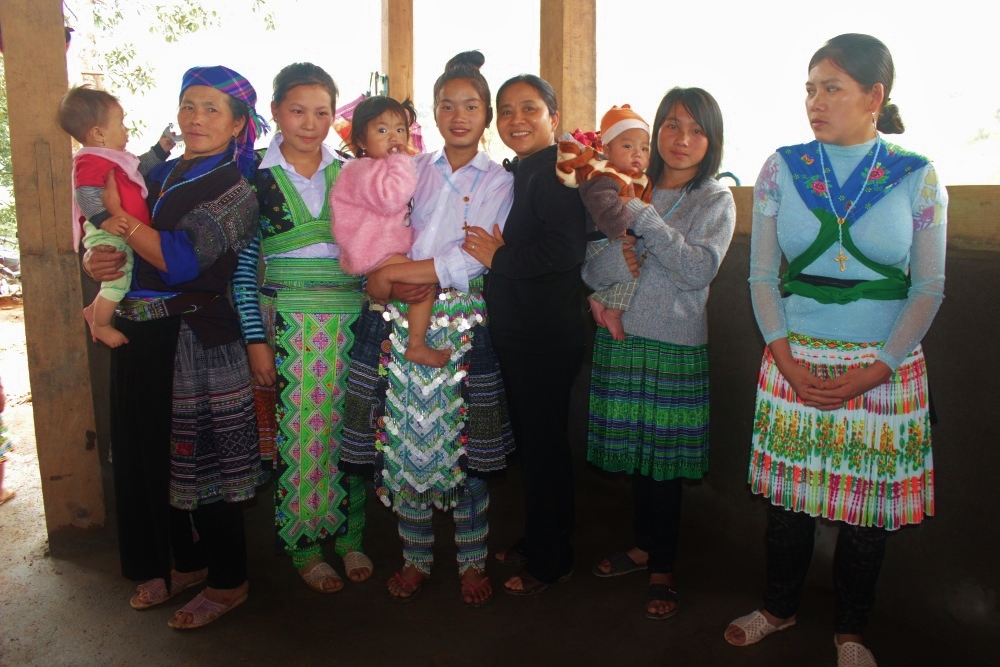 Maria Kieu Thi Luong poses for a photo with Hmong women in their traditional clothes at Ngon Lanh chapel. "We are really impressed by their faith and kind hospitality," she said. (Joachim Pham)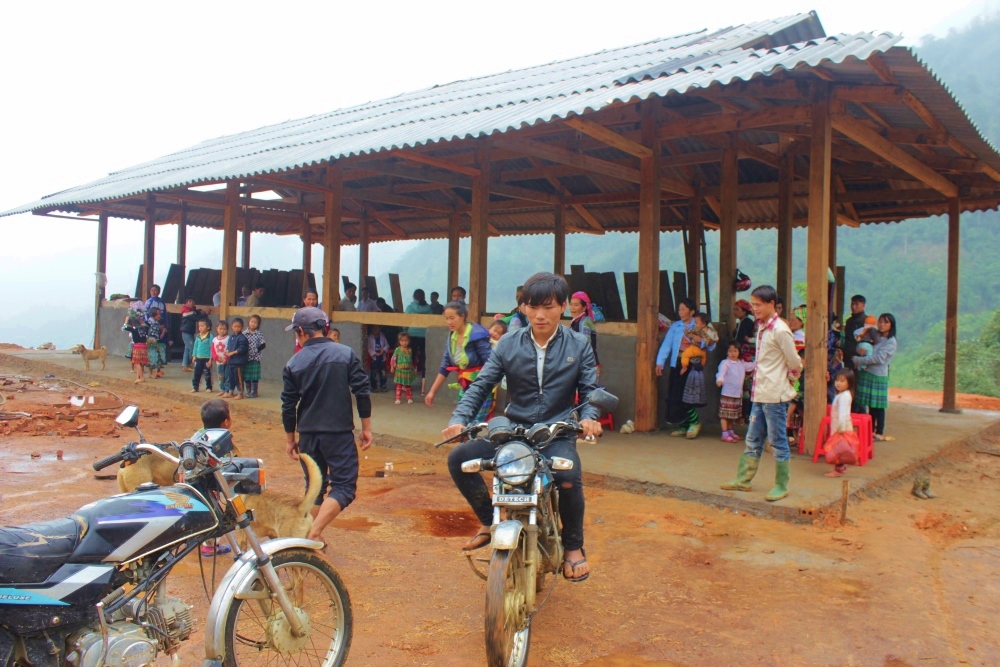 The chapel in Ngon Lanh subparish is under construction and stands on a hilltop. The subparish has some 200 Hmong Catholics. (Joachim Pham)
[Joachim Pham is a correspondent for Global Sisters Report based in Vietnam.]