Ba Sau (her nickname) used to close the gate, shout at visiting nuns and let her dog bark at them when they approached her home. She wanted nothing to do with the sisters because her children work in government agencies, and the communist regime does not look favorably upon Christians and those practicing other faiths.
Although she was baptized as a baby, Ba Sau married her husband, a Communist Party member, outside the church when she was in her 20s. He died decades ago. But during their marriage, she did not live near any churches and had no opportunity to attend Mass. She got into the habit of not practicing her faith for all those years.
After her husband died, she moved to a subparish in Bac Lieu Province, southern Vietnam, still avoiding the church.
But the sisters were persistent. Every time they visited people nearby, they patiently stood in front of Ba Sau's house, hoping she would allow them inside. The dog gradually got acquainted with them and no longer barked when they came.
One of the nuns — Daughters of Mother of God Sr. Gertrude Nguyen Thi Phuong — asked local Catholic women to pray for Ba Sau, now in her late 70s, to return to the church.
"We regularly came to her house and believed that God would change her mind," Phuong said.
She said one day, Ba Sau left the gate open.
"At first, she met us under a tree in the yard and, after many visits, she received us in their home," Phuong said.
Finally, last year, Ba Sau agreed to go to confession and attend services at the church. She now tries to encourage her children and grandchildren to embrace Catholicism.
"We are very happy that we made efforts to work with her for years, and God brought her back to him," Phuong said.
The sister said it is common for Catholics in parts of Vietnam to marry outside the church and suspend practicing their faith, sometimes for decades, when they live in poverty, far away from a church and can travel only by boat in canals.
Others stopped practicing faith because of what Phuong calls trivial concerns with priests, nuns or lay Catholics. Some abandoned the Catholic faith to join the Communist Party to gain jobs. Many of those, like Ba Sau's children, even ban their parents from going to church to keep their positions secure.
"We have to spend much time reconciling," Phuong said in reference to Catholics returning to liturgical services and those who have maintained their practice all along. She added that some refuse to return to church until they come down with a serious illness. 
"Re-evangelizing former Catholics requires our patience and hard prayer because only God awakens their conscience and brings them back to the church," said Phuong, now head of a community in Duong Lang Parish in Soc Trang Province.
She said the insensitive reactions from practicing Catholics also can prevent former Catholics from returning to their faith communities.
A Catholic man in his 30s who recently resumed attending Sunday Mass said, "I feel embarrassed when other Catholics look at me in a curious manner. They should welcome people like me to the church."
Sr. Mary Francis Assisi Le Thi Thom, who heads a community in St. Thomas Parish in Hau Giang Province, said people live in remote areas, struggle for their daily basic needs and ignore faith practices. Nearly half of the parish's 1,200 Catholics married outside the church and stopped practicing or even abandoned their faith.
"Our top priority is to re-evangelize former Catholics in remote areas," Thom said.
She and another sister have access to local families because they look after children between the ages of 3 and 5 on weekdays at their convent. The sisters will visit households, offer food to patients, encourage former Catholics to go to church and teach them catechism on weekends in their homes. The sisters also do daily pastoral work at the church.
Thom said local people for generations are caught in a vicious circle of poverty, poor education and loss of faith.
In March, Phuong installed a water-purification system, funded by the Conrad N. Hilton Fund for Sisters. (The Conrad N. Hilton Fund for Sisters was established by the Conrad N. Hilton Foundation, which funds Global Sisters Report.) All local people are invited to get free, clean water for their daily use and avoid the canal water, which is polluted with chemicals.
"We are happy that many people come to get water. They are interested in parish services, and we have chances to meet them and help them," she said.
Some 250 people attend early morning Mass, she said. Among the parish's 700 Catholics, 200 have left to seek jobs in the cities.
For the first time, a resident priest came to serve the parish in 2014.
"A woman returned to the church and went to confession on July 8 after she abandoned her faith for 16 years," Phuong said with a smile. "We are happy with this event."
[Joachim Pham is a correspondent for Global Sisters Report based in Vietnam.]
Images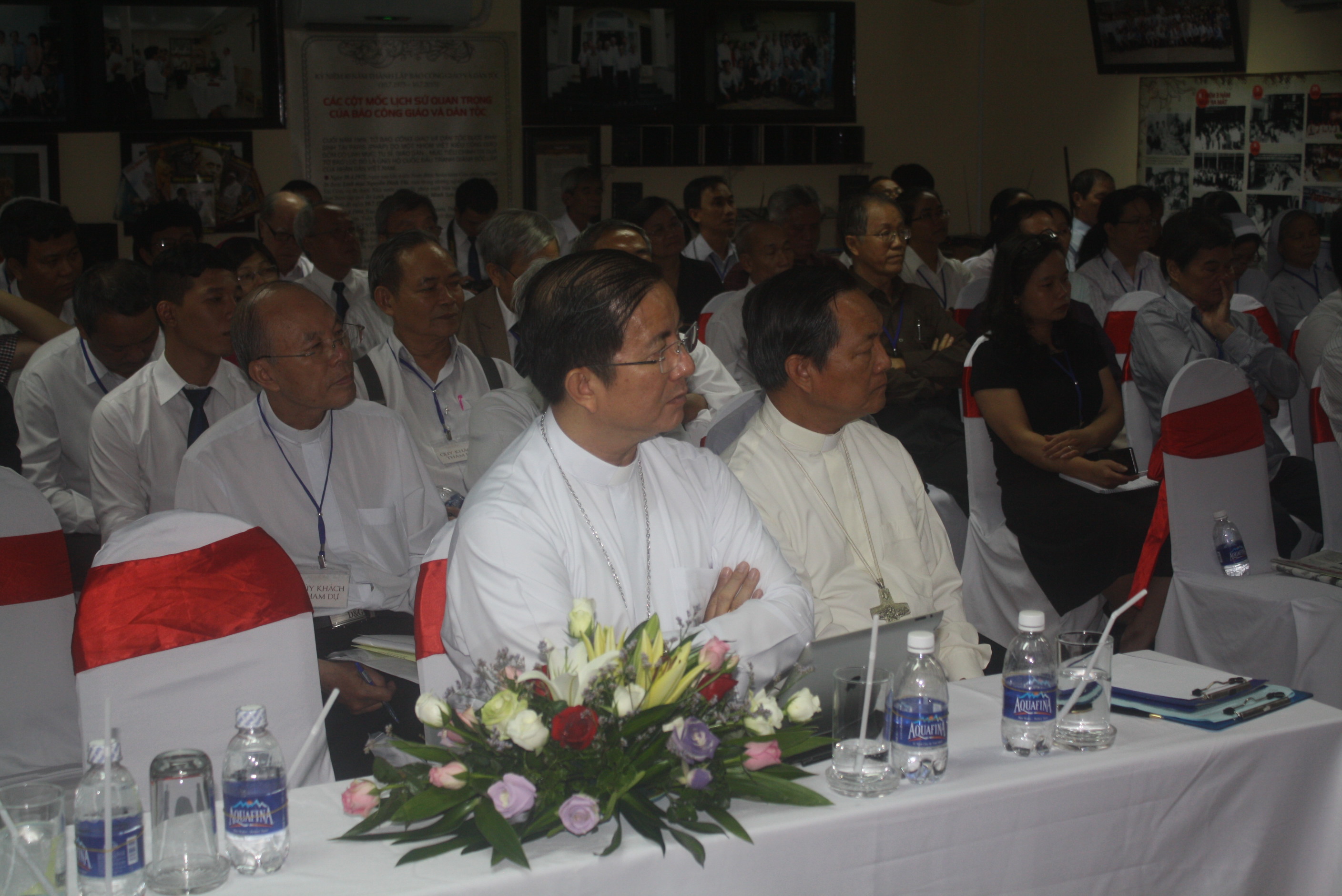 Seventy clergy, religious, laypeople and representatives of other faiths attended the gathering on June 26. (Joachim Pham)