Sr. Adele Korah met Felix Richa for the first time in 2005 inside a state prison in Bangalore, now Bengaluru, a southern Indian city.
"I saw him sitting inside the prison chapel, looking guilty and desperate. I spoke to him, and he poured out his woes to me," said Korah, a Sister of Charity of Saints Bartholomea Capitanio and Vincenza Gerosa, also known as Maria Bambina Sisters.
Richa was serving a prison term for murder and banditry. He told Korah he had joined a gang after he felt ignored and neglected by his parents. He became a gangster, looting and attacking people, but was caught and imprisoned. While in prison, his father died, and his mother blamed the son for his death. It was then Korah met him as a volunteer with Prison Ministry India, which helps inmates leave their criminal pasts and rejoin mainstream society.
Richa joined a group that conducted weekly prayer inside the prison and started reading the Bible. He resolved to reform his life. Once, his former gang members visited him with a bottle of rum, but Korah said he refused and told them he was no longer the man they knew.
Richa, who is now in his early 40s, was released from prison in 2016. Korah is now very pleased Richa is happily settled in life.
"He got a good job and lives with his wife and children," the 77-year-old nun told Global Sisters Report.
Richa is among thousands of people Prison Ministry India has helped since two seminarians launched the program in 1986 in Kerala, a southern Indian state.
Korah joined the ministry in 2004 after she retired from teaching. She now coordinates prison ministry in Bengaluru, the capital of Karnataka state. She is among more than 4,000 Catholic nuns from 200 congregations who volunteer with the ministry across India.
Catholic religious women are the backbone of the prison ministry, said Fr. Sebastian Vadakumpadan, Prison Ministry India's national coordinator since 2011. The nuns regularly visit prisons, meet with prisoners' families and arrange for the rehabilitation of those who are released, the diocesan priest told GSR.
The seminarians who started the ministry, Francis Kodiyan and Varghese Karippery of St. Thomas Apostolic Seminary at Kottayam, used to pray together, inspired by the Catholic Charismatic Renewal movement. They felt the need to do something for the most rejected and neglected in society.
As the duo began visiting a local prison, other seminarians joined. They called their movement "Jesus Fraternity." Within a few years, it became national, and the Catholic Bishops' Conference of India made it one of its offices.
The movement's leaders changed the name to the Prison Ministry India, thinking a secular name could be more effective in a Hindu-majority country, wrote Kodiyan, who is now a priest, in his book about the group, Saga of Divine Providence: The History of Jesus Fraternity and Prison Ministry India. The name change helped the volunteers' entry into prisons, he wrote.
The ministry now works in nearly 900 of the 1,387 prisons in India, said Vadakumpadan.
The volunteers help prisoners "pick up the bits and pieces of their broken life to make a whole that is perfect and holy," he said.
Prison Ministry India volunteers help prisoners' rehabilitation and manage several rehabilitation centers across India. The group also helps release people who are wrongly imprisoned and provides legal assistance to those on trial, helps prisoners marry or remarry, and helps them find work after their prison terms end.
The ministry held its first national convention in Bengaluru in 1994 and elected Karippery, who had become a priest by then, as its first national coordinator. They also chose Bengaluru as its base. The founders wanted the ministry to become a "love bomb": not to kill, but to heal the brokenhearted, as Kodiyan's book states.
Mother Teresa addressed the second national convention in 1995 in New Delhi. "Let us thank God for his great love to share the joy of loving. It is a beautiful gift of God to take care of men and women in jail," she reportedly told the convention.
The ministry has so far organized 11 national conventions for its officers, committee members and volunteers, the last one in New Delhi in 2014. The next national convention will be in October 2018 in Guwahati, capital of Assam state in northeastern India.
Korah said the volunteers experience "great joy and satisfaction" when they see prisoners convicted of violent crimes accept "our help to repent and amend their lifestyle." During her 13 years as a volunteer, she has worked with many prisoners. Like Richa, several have shared their past, expressed their guilt and longed for a new future, she said.
When Richa was released, Korah raised "my grateful heart to the Lord, who touched him, healed him and made him a new person."
Prison Ministry India's national secretary, Sr. Diana Sebastian Mankuzhi, said every congregation of women religious in India has partnered with the ministry at one point. The member of the Congregation of Teresian Carmelites said the organization ministers in every part of the country but the West and the Southeast. The Bengaluru office oversees the other branches of the ministry, visiting the volunteers and motivating them, organizing awareness programs, and visiting prisons.
Sr. Rekha John of the Missionary Sisters Servants of the Holy Spirit, a volunteer in Bengaluru, said the ministry demands "patience, nonjudgmental attitude, a listening and a compassionate heart." She said she loves her ministry and considers it as a blessing to help the least and lost in society.
"It is an enriching experience, how we sisters work together and support the ministry through various ways," she told GSR.
Sr. Inigo Joachim is a member of the team that visits Tihar Jail in New Delhi, which houses approximately 14,500 prisoners and is considered the largest prison complex in South Asia. After serving as superior general of the Society of Sisters of St. Anne from 1990 to 2002, she came to Delhi to work as a volunteer.
Joachim said she finds "great fulfillment" when she work long hours in the prison.
"I spent quality time with them, and I listen to their pathetic and heart-rending stories with love and care," she told GSR. "We are like angels, bringing about lots of hope to the inmates."
The volunteers' work is not without challenges. Sr. Joel Mathew, who coordinates the ministry in the eastern Indian state of Bihar, said finding committed laypeople as volunteers has been disappointing. The 64-year-old member of Sisters of Mercy of the Holy Cross said she and other nuns also face financial difficulties but has managed to get other sisters to join the ministry and conduct awareness classes about Prison Ministry India and its work to parishioners and students of Christian schools in the state.
Korah said scarcity of funds is a problem for her, too.
"It becomes a real challenge when a large number of prisoners ask us for money to pay fines imposed by courts," she said.
Another challenge is infections and communicable diseases within prisons, creating unhealthy situations.
"When proper facilities are not available, we find it difficult to reach out to the prisoners," Korah said.
The ministry is linked to the International Catholic Chaplains Prison Pastoral Care. It won the Spirit of Assisi National Award from the Franciscan Centre for Peace and Dialogue of the Conventual Friars of India in 2002 for its contribution to uplift men and women behind bars.
Joachim said she sees their work as a "biblical ministry that brings fragrance of hope, peace, love and transformation in the life of the marginalized brothers and sisters."
[Philip Mathew is a journalist based in Bangalore, southern India. This article is part of an ongoing collaboration between GSR and Matters India, a news portal that focuses on religious and social issues.]
Images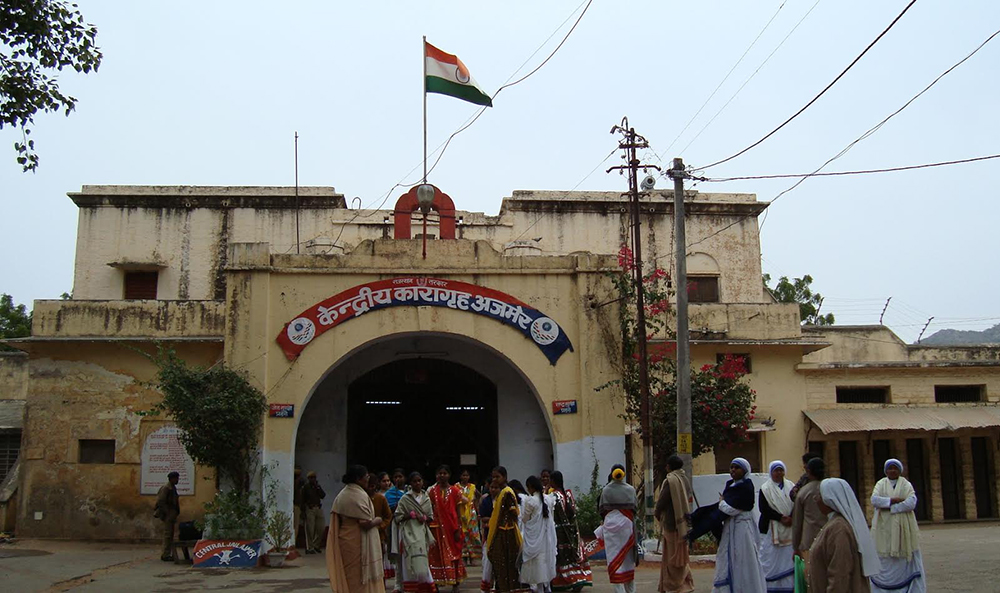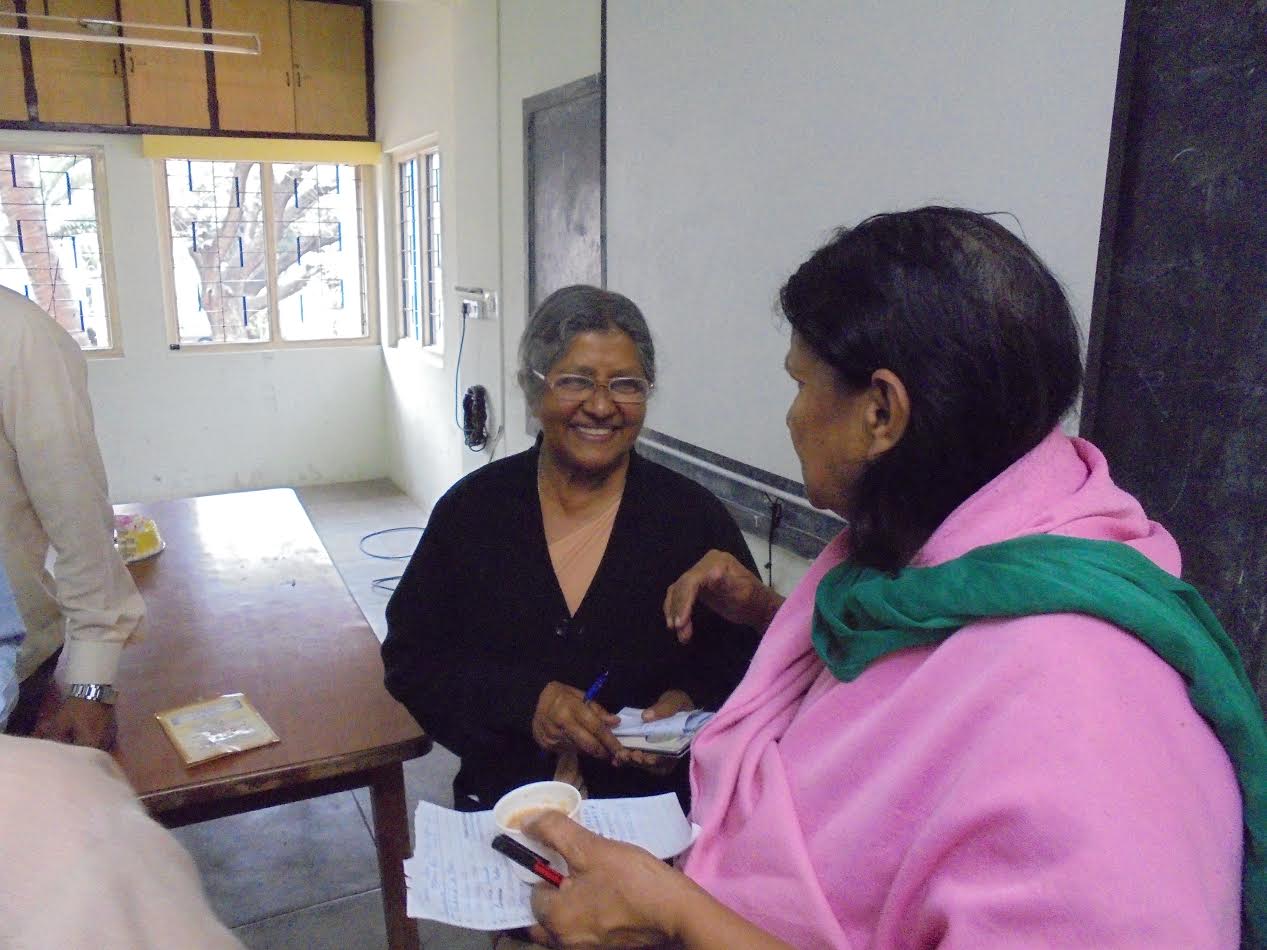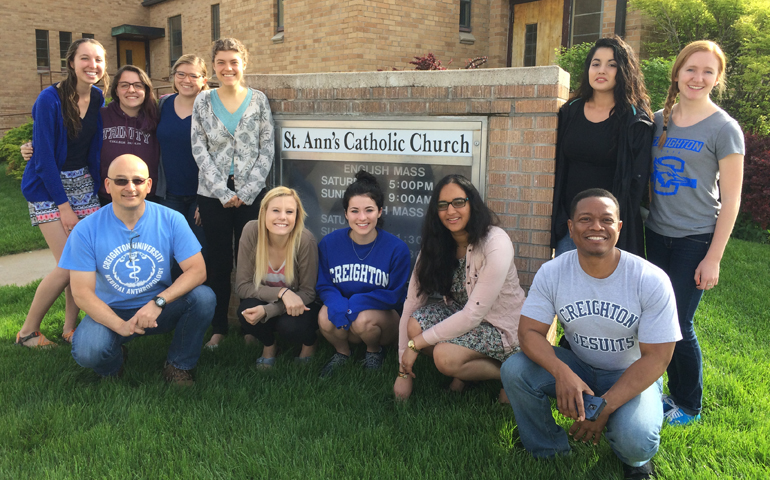 Divine Word Fr. Alexander Rödlach (front, left) with Creighton University students and Jesuit Fr. Renzo Rosales (front, right) at St. Ann's Parish in Lexington, Neb., May 10. (Courtesy of Fr. Alexander Rödlach, SVD)