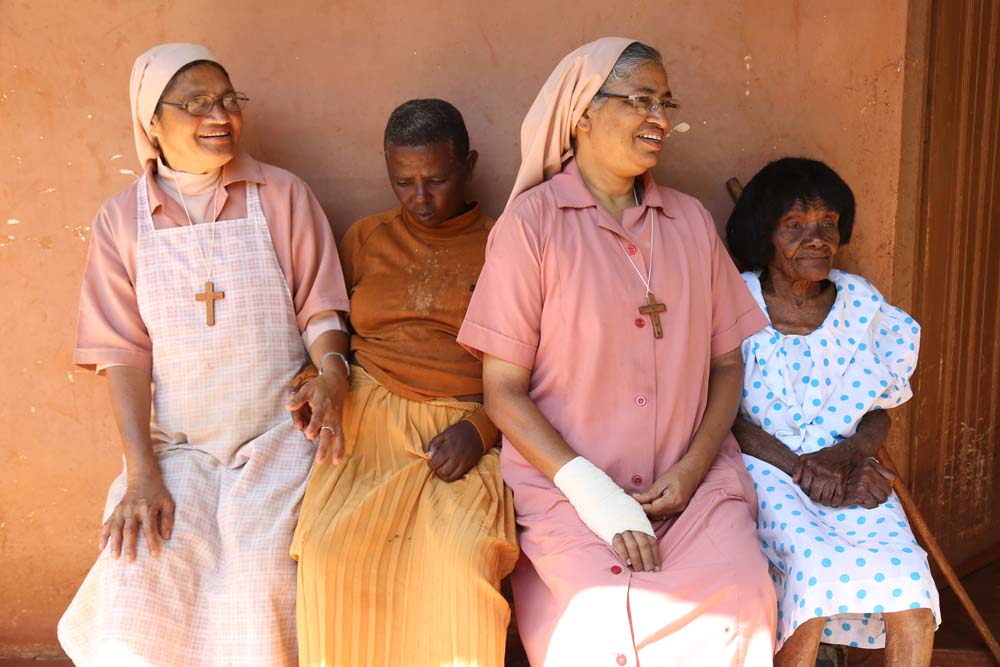 Sr. Roslin Thalakotture, left, and Sr. Rosily Kokandan are two of three sisters from the Society of Nirmala Dasi Sisters running St. Mary's Village for aged and incapacitated women in Sagana, Central Kenya. (Lilian Muendo)
Sagana, Kenya — The old women sit quietly along the veranda, trees extending their branches over the houses, and a vegetable garden surrounding them. Nearby, someone is preparing corn and beans for lunch.
St. Mary's Village of Sagana, located 100 kilometers (62 miles) north of Nairobi, is a home for abandoned elderly and incapacitated women, but it looks like a typical rural homestead in Kenya.
Traditionally, extended African families live together in homesteads with houses grouped together, similar to the way St Mary's is set up. Growing old meant relying on younger family members, such as children, grandchildren, nieces and nephews, to take over the duties and care for the elders in their own home.
But that practice is changing. Countries are urbanizing fast and the younger generation is leaving their villages in droves to work in big cities, or to go abroad to pursue professional careers. More children are abandoning the traditional role of caring for the old as they move away from home.
This means elderly people in Kenya are increasingly being left to struggle alone with disease and health problems in their rural homes.
Most women are brought to St. Mary's home after relatives neglect them. Others don't have close family members to care for them. The home can accommodate 56 women. (Lilian Muendo)
Fr. James Chiomio, an Italian Consolata Missionary who served in Kenya, founded St. Mary's in 1974 to serve blind, deaf and elderly women who were abandoned by the community, especially those who had Hansen's disease, commonly known as leprosy. Leprosy cases have significantly declined in the area, but there are still many elderly in need of care. Nuns from the Society of Nirmala Dasi Sisters in Kerala, India, have managed the home since it opened.
At St. Mary's, 85-year-old Jacinta Njeri spends her days sleeping on a thin mattress on the veranda of her room. Like many other women at St. Mary's Village, Njeri has no family to take care of her. She has been in the home for more than 20 years.
When she can't sleep anymore, she sits up for a few minutes but cannot walk. Her joints ache and her bones have failed to respond as they once did. From dawn to dusk, she lies here until she is moved back inside her room.
"Uzee hauna dawa, dawa ni kifo tu [Old age has no medicine, the only medicine is death]," she laments repeatedly.
"She was brought here in 1995. Only one man who claims to be her nephew comes around to check on her, especially when she is sick," says Sr. Roslin Thalakotture, one of three sisters of the Society of Nirmala Dasi Sisters running the home.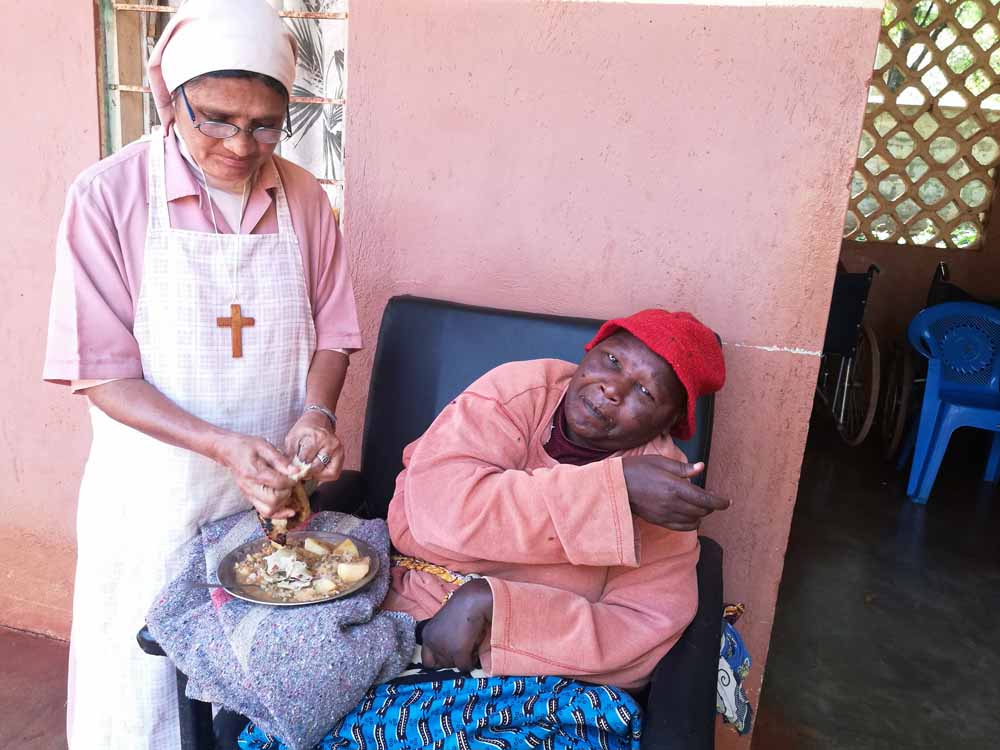 Sr. Roslin Thalakotture, left, helps feed a patient at St. Mary's. Apart from the elderly, St. Mary's also admits disabled women in need of care. They seek refuge at the home after being abandoned by relatives. Good Samaritans bring others to the home. (Lilian Muendo)
"The young people come here and say, 'Please, let us give you a little money for our old mother to stay at the home,' " says Thalakotture, who worries that the African culture of caring for the elderly is fading away. "Then, once in a while, especially during Christmas, they come and visit and that's all," she says.
"Neglecting one's old parents completely is wrong, especially in Africa, where the aged count on their children for care," says Thalakotture. "For example we have an old lady here who is also blind. She keeps on insisting that she wants to see the son and begs me to call him. So, I once called him and informed him that his mother misses him and would like to see him. He said he would come after one month but he never showed up. I called again and he said, 'Shughuli nyingi [there are too many things to do], kazi mingi [work is too much], don't call me again.' I stopped calling him and told the mother not to worry; her son will come one day. They talked on the phone instead."
Sr. Rosily Kokandan is one of the three Nirmala Dasi sisters at St. Mary's Village, and a trained nurse. She is worried about the deteriorating health of the older women at the home due to family neglect and loneliness. A majority of them are depressed and have high blood pressure, she says.
"When no family member visits them for a long period, they become very sad," says Kokandan. "They feel neglected and abandoned by the people they care about. They question the love of their family members very much and become depressed. Most of the medication I administer here is for depression."
As the women took their lunch and shared everyday life experiences, one of them expressed her frustration. "Let's not fool ourselves," she said. "We are here in this home because no one wants us. Our children have no time for us and don't want anything to do with us. They feel we have become a nuisance to them. We shall die in this home and be buried here like people who never had family members."

Video by Lilian Muendo
Francis Murage brought his mother, who is almost 90 and blind, to St. Mary's four years ago. He and his wife became unable to care for her after six years because they had to work to support their three young children in a one-room home in Nairobi. His mother's illness grew worse, and she had suffered from depression since her husband died when their children were little. Murage says his two sisters, both raising multiple children themselves, are no help.
As the only son, he felt responsible for his mother's care. "I really didn't want to take her to the elderly people's home but that was my only option. I fought very much with my sisters about my mother's care because they didn't even want to see her. Life is better for her at St. Mary's than in our house," says Murage.
He and his wife try to visit his mother at least three times a year and also send a monthly stipend to St. Mary's for her needs. "She is our mother and we can never get another. We care for her. We even take our children to visit her and keep reminding them that she is their grandmother," Murage says.
Thalakotture warns against fully blaming the younger generation for neglecting their parents. She says times have changed and Kenya needs to embrace the idea of placing the aged in homes where they can be given better care, instead of leaving the entire burden in the hands of their children.
But it's hard for the older generation to understand why they should spend their sunset years in homes operated by caregivers, Thalakotture says, when they remember when the African culture was intact and the elderly were well cared for by family.
"When the children come to visit the parents at the home, we try to make the parents understand them," she says. "We tell them their children are not entirely bad people, they are young and going through many pressures of life. They should not blame their children much for placing them in a home, because it's better than being left in the countryside with no one to help them."
Thalakotture says she believes the cultural gap between the young, who were educated in Western-style schools, and the elderly, who are linked to tradition, is widening. She tries to help the residents cope with the transition.
Even though homes for the elderly are becoming more culturally acceptable, St. Mary's sets a higher goal, concentrating on taking in the most vulnerable cases.
"We only invite those totally neglected who have no one to care for them at all," said Fr. Jackson Murugara from the Consolata Missionaries, who is currently the director of St. Mary's Village. "When they come here they call it their home because they have no other home. A home is made of people who love and care for you." Some of the residents who pass away are also buried at St Mary's.
Sixty-five-year-old Penina Munini is not happy with the idea of being buried at St Mary's. She has yet to adapt to a life far from relatives and hopes one day her family members will come visiting. She wants her people to bury her near her parents' graves in Eastern Kenya when she dies.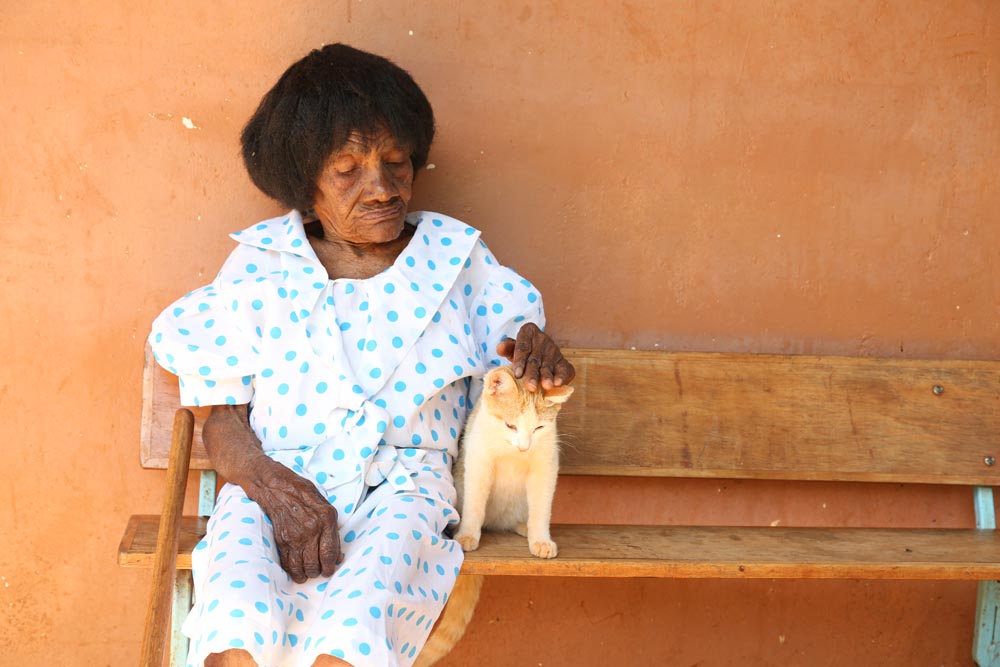 Penina Munini is yet to adapt to life at a home for elderly women. She is horrified by the idea of being buried away from her people when she dies. (Lilian Muendo)
But that doesn't seem possible for now. She was never married and didn't have children. She grew up in a large family but, after growing old, there were no relatives left to care for her. She lived alone in a small house in Nairobi before the government destroyed it because it was near a railway line undergoing expansion. Her belongings and savings were stolen from the rubble. She was sedated and taken to the St. Mary's home unconscious. Later, friends came to the home to deliver her cat and some clothing. It's now been two years. Her biggest fear is to be buried far away from her relatives.
"When I die I want to be close to my parents. I don't want to be buried here or be put in a sack because no one loved me. It is lonely here and I miss the people I grew up close to. I know the father in charge of this home loves us all, though," says Munini.
The home can host up to 56 residents. Today there are 37. The oldest residents at the home are 90 and 88, and one woman claims she is 113.
Thalakotture says the home's target for the minimum age is 50 to 55, but they have younger women who are ill and have no one to care for them. The women suffer from dementia, mental retardation, arthritis, high blood pressure, ulcers, epilepsy and diabetes, she says.
As African countries undergo rapid modernization and urbanization, the demographics are also shifting dramatically. Improved health care means people are living longer. According to a UN report, the number of persons aged 60 or above in Africa is expected to almost double between 2017 and 2050 and quadruple by the end of the century.
Kenya's total population is expected to increase from 40 million in 2010 to 85 million in 2050. Average life expectancy is projected to increase from 54 years in 2010 to 68 years by 2050.
Many older people in Kenya continue to experience deepening poverty and are unable to access services. Although the government promises a $20 monthly stipend to needy people over age 65 with no pension, this doesn't cover basic expenses. Many elderly live in rural areas, isolated from their families, where there are fewer social and health services. Credit scams and fraud targeting elderly people are common.
In the past, placing aging parents in nursing homes was seen as a Western practice and made most Africans shudder in horror. But Murugara thinks Kenyans need to embrace the idea, urging that the nation develop more homes like St. Mary's Village to care for increasing numbers of elderly.
There are very few homes for elderly men and women in Kenya, most of them faith or charity based. One of the oldest homes is the Nyumba ya Wazee ("home for old people") in Nairobi, run by the Little Sisters of the Poor since 1985. It is here where Kenya's first cardinal, Maurice Otunga, spent his last days before his death at the age of 80.
African culture is changing, too, as more families are planning for only one or two children instead of as many as 10 children in the past.
"This change in Africa's family structure means there are fewer relatives to care for the elderly, which has resulted to a growing number of old, neglected people left to suffer alone in the countryside," says Murugara.
 [Lilian Muendo is a freelance journalist based in Nairobi, Kenya.]