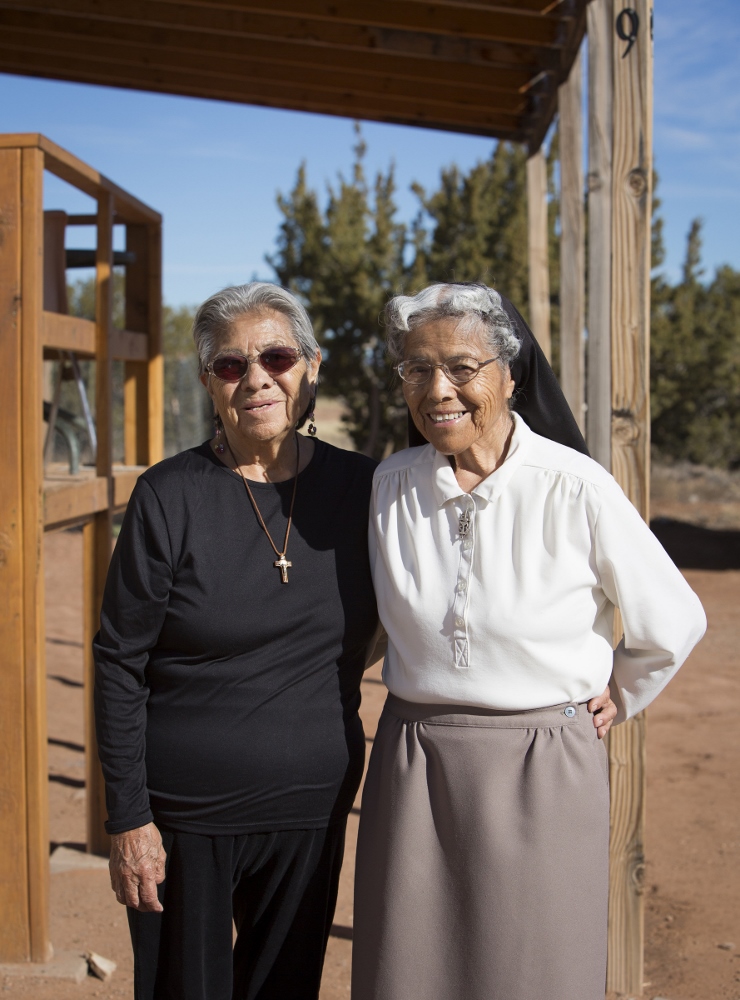 Pueblo Indian Sr. Mary Rosita Shiosee, right, stands with her sister, Rose Shiosee Pino, at Rose's home in Mesita, New Mexico, Nov. 3, 2014. Shiosee's childhood memories of Mesita include tending to crops that were grown by the villagers. (CNS photo/ Nancy Wiechec)
Laguna Pueblo, New Mexico — Sr. Mary Rosita Shiosee beats a small drum as she leads an elderly congregation in song.
"Sing a new song unto the Lord. Alleluia."
Her voice is strong and warm and encourages her frail Massgoers to join in.
There's always drumming in Pueblo life, Shiosee said later. "The drum is the heartbeat of our Mother Earth."
Laguna Rainbow Nursing Center is one of the many weekly stops she makes on her rounds visiting and praying with people in Laguna Pueblo.
The pueblo's pastor, Franciscan Fr. Wayne Gibbeaut, said people call her "the flying nun" because she's always on the go.
"Some people just never stop," he said.
Shiosee is a striking example of Catholic faith prospering in the indigenous communities of this land, where church history has been marked by ups and downs.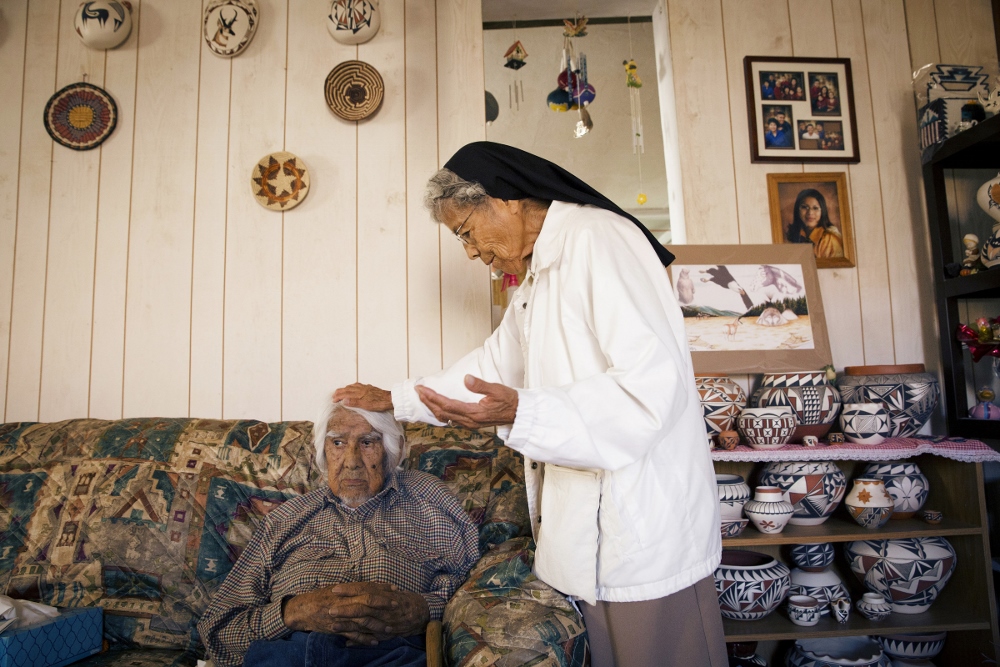 Pueblo Indian Sr. Mary Rosita Shiosee prays with a homebound man in Mesita, New Mexico. (CNS photo/Nancy Wiechec)
She was born, baptized and confirmed in Jemez Pueblo, 60 miles away as the crow files, and spent time as a girl in the village of Mesita in Laguna Pueblo. She still speaks her native Keres language, which has fewer than 8,000 fluent speakers.
While visiting homebound people in Mesita, Shiosee looks out over the village's surrounding landscape. It is wild and barren now, but she remembers it as fertile ground, where the pueblo once tended fields of wheat, alfalfa, corn, chilies and other vegetables.
"As children, early in the morning after the dew had settled on the dirt, we would go out and turn the dirt over. That's how we would water the plants."
Her mother died early and the young Shiosee was sent to attend St. Catherine's Indian School in Santa Fe.
"That's where I was taught English," she recalled. "I learned English through singing from a sister at the school."
She said that in the fifth grade she discerned a call from God and entered her novitiate in 1954 on the Feast of the Presentation of the Lord.
"That day is special to me because it's the day my dad offered me back to the Creator to serve him."
She joined the Sisters of the Blessed Sacrament, the order of St. Katharine Drexel. (The young postulant was at the motherhouse in Pennsylvania when the foundress died there in 1955.)
Shiosee studied in Louisiana and went on to teach in several mission schools in the West.
Now, at age 83, she is back on the land of her ancestors, living near her only sibling and ministering to those most in need. Each week she takes Communion to 28 homebound members of the pueblo and also visits its senior center and inmates at the penitentiary.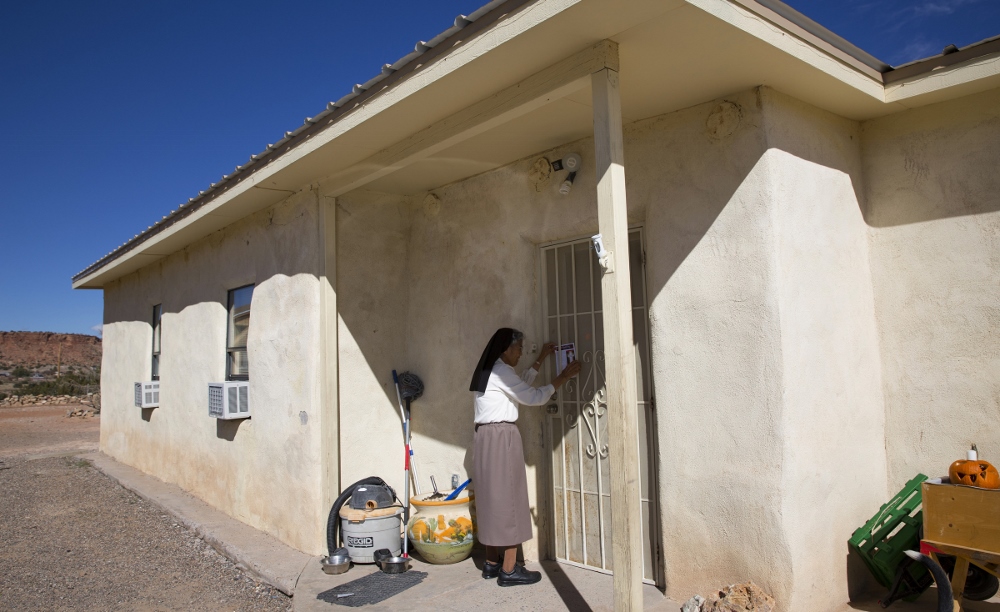 Sr. Shiosee, a member of the Sisters of the Blessed Sacrament, leaves a church bulletin on a door as she makes rounds visiting homebound people in Mesita, New Mexico. (CNS photo/Nancy Wiechec)
"My great spirituality keeps me going," she said. "The Lord gives me all the energy to go on. . . . Taking Jesus to the people gives me a lot of energy."
She has put thousands of miles on her car, driving paved and dusty unpaved roads of the pueblo. Although there are street signs – Coyote Drummer Road, Salt Cedar Loop – she ignores them. She knows where she is.
In Mesita, she peered down a street and said, "See the one house where the pickup is, that's where Joe lives. He is a healer, a very spiritual man. He believes in the Indian ways and the Christian ways intertwined, supporting one another."
That's what she believes, too.
"We believe in one God. And we thank the Creator for all that he's given us," she said.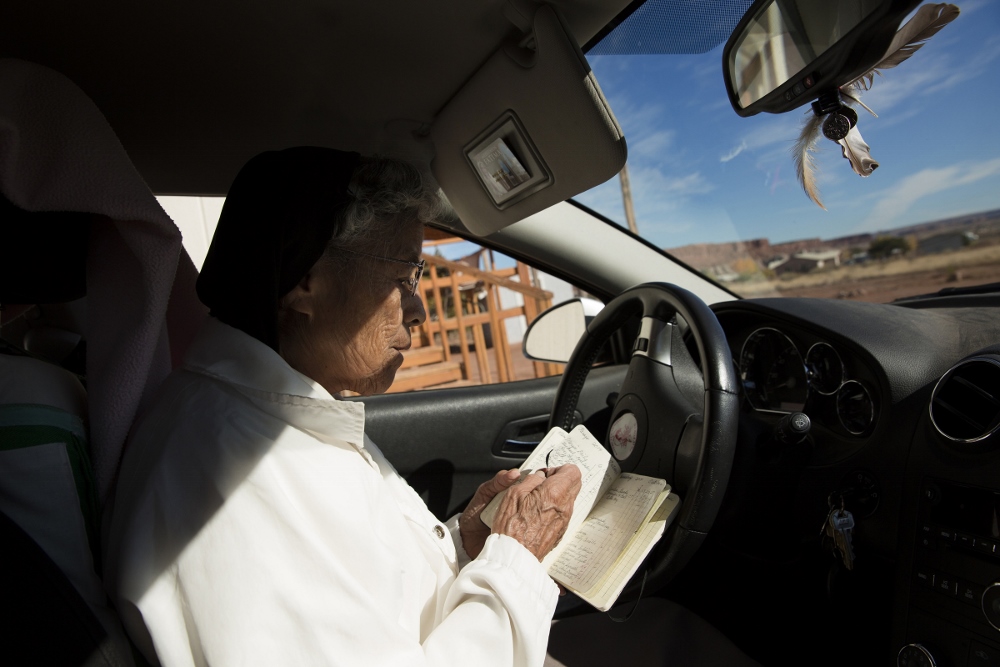 Before hitting the road, Sr. Shiosee consults a book she uses to keep track of visits to the homebound in Laguna Pueblo, New Mexico. The interior of her car is decorated with Catholic medals, cards and feathers, which have sacred value to American Indians. (CNS photo/Nancy Wiechec)
Showing a visitor St. Joseph Mission in Laguna Pueblo, the nun examines the four pillars in the altar screen. The red and green colors wrapped in a spiral around each other symbolize the entwining nature of Catholic and native beliefs, she said. Each distinct, but mutually supporting, they represent the enculturation of "our Christianity and our Indian ways."
Shiosee then leads her visitor to a statue of St. Kateri Tekakwitha. Two small clay pots filled with cornmeal sit at the base.
Corn, because of its life-giving nature, is viewed as sacred to the Pueblos.
"The cornmeal represents our prayers, our thanksgiving and petitions for people in the world who are our brothers and sisters," she said. "We are one people, believing in one God."