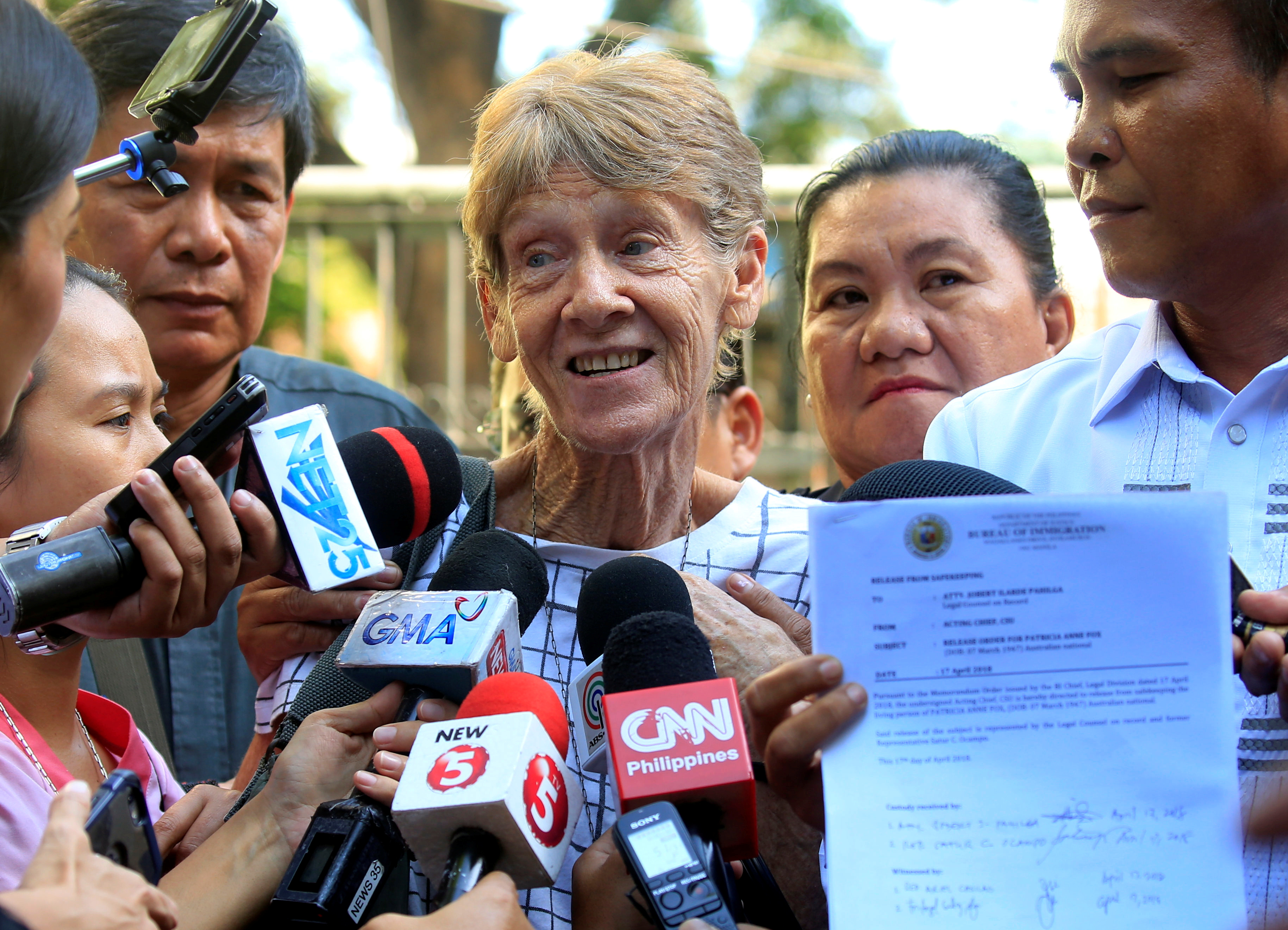 Sister Patricia Fox, superior of the Sisters of Our Lady of Sion in the Philippines, speaks to the media after her April 17 release from the Bureau of Immigration headquarters in Manila. (CNS /Romeo Ranoco, Reuters)
Church groups in the Philippines have launched a support network for Sister Patricia Fox, an Australian missionary nun who has been ordered to leave the country by the government.
Ucanews.com reported the group, Solidarity With the Poor Network, aims to unite faith-based organizations to protest the Philippine government's decision to expel the regional superior of the Sisters of Our Lady of Sion over alleged involvement in "illegal political activities."
Carmelite Fr. Rico Ponce said the network was "an affirmation of the rightness" of Fox's missionary work for the poor. The priest appealed to the public to support the nun and defend her "freedom to exercise Christian convictions, obligations, and duties to the Filipino people."
Manila Auxiliary Bishop Broderick Pabillo said Catholics need to not be silent over events that affect the lives of the poor.
"Everything is interconnected," he said.
The social action arm of the country's Catholic bishops also issued a statement to "stand in solidarity not only with Sister Fox, but with the human rights community as a whole."
"We will not be intimidated by the suppressive measures of the government to curb freedom of expression and to harass the church," said Fr. Edwin Gariguez, head of Caritas Philippines.
Earlier, Archbishop Romulo Valles of Davao, president of the Philippine bishops' conference, appealed to President Rodrigo Duterte to revoke the expulsion order on Fox.
"Let the nun continue serving Filipinos," said the prelate.
On April 16, the Philippines' immigration bureau arrested and detained Fox; she was released on April 17 pending further investigation.
On April 25, the immigration bureau revoked Fox's missionary visa and ordered her to leave the country within 30 days.
In a statement, the nun's newly formed support network said the cancellation of the missionary visa violates Fox's "right to due process."
"It is an apparent legal harassment against a religious person who seeks to give flesh and blood to the church mission for the least, the last and the lost," read the group's statement.
Benedictine Sister Mary John Mananzan said the list of alleged violations committed by Fox "is not a list of sins but rather a list of achievements."
"A prophet must stand up, speak out," said Mananzan, who is known for being a vocal advocate for human rights.