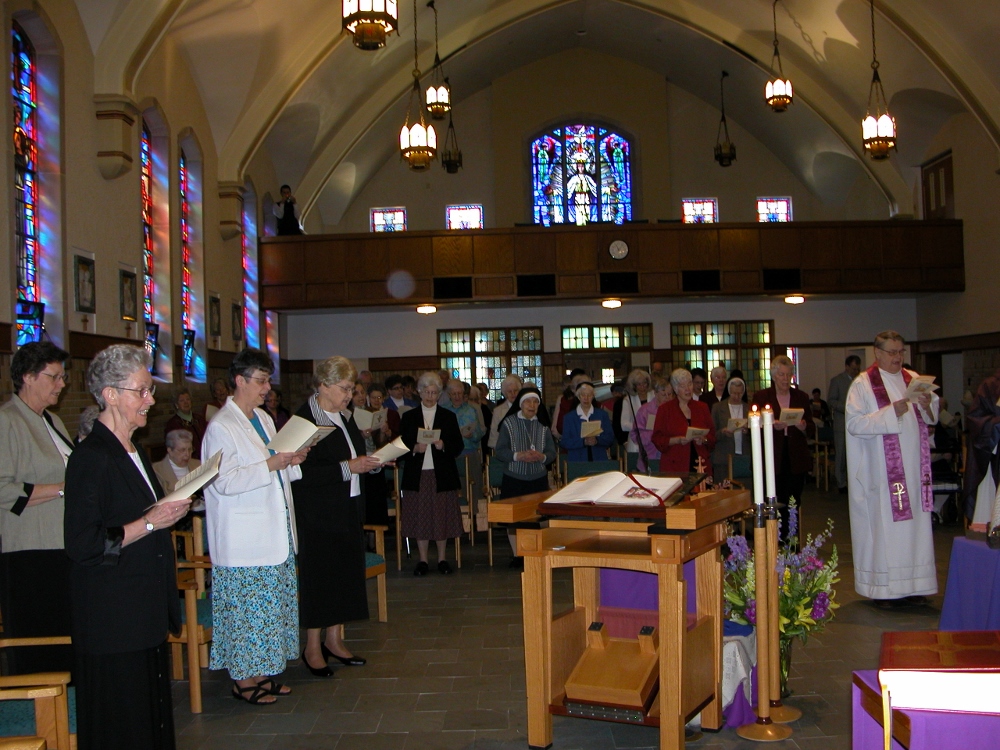 Celebrating Mass at the motherhouse in 2012. (Courtesy of Sisters of St. Francis of the Providence of God)
Pittsburgh, Pennsylvania — Now that their sisters who need nursing care are well placed, the Sisters of St. Francis of the Providence of God in Pittsburgh, Penn., begin planning the best uses for their 33-acre campus. Read more in our retirement series here.
Five years ago, members of Pittsburgh's Sisters of St. Francis of the Providence of God were grappling with the difficult question facing a number of smaller orders: what do we want to be our legacy?
As the needs of the community in which they served had changed since their founding, so had their mission. But now, they faced a challenge: dwindling numbers of active sisters in the United States and a population of older sisters in need of ongoing medical care. Without figuring out a way to make sure their elder sisters were well-situated, it would be more difficult to map out the order's future.
Little did they know that, as they reached out to the local community for answers, a solution would emerge – one that both provided for the future of their elderly sisters and gave them a new purpose and mission.
Over the years, the order founded in 1922 to work with the Lithuanian immigrant populations had expanded its work to include health care (even, at one point owning two Illinois hospitals), pastoral ministry and education.  
In Latin America, the work begun in 1938 by an adventurous group of six sisters working with Lithuanian population of Sao Paolo at the request of a Latin American bishop was flourishing.  Currentlys that branch of the order runs three schools in Brazil, serves in local parishes, and has a mission in Bolivia. They continue to attract enough new vocations to continue the work of the order in Brazil.
But the United States sisters, who once numbered approximately 200 in the 1960s, have not retained any new vocations in a few decades.
Now there are 35 sisters, with roughly 15 of them in need of some form of nursing care. Among them, the median age is 82, said Development Director Nick Rodi, with the youngest sister being 60 and five or six well into their 90s.  
Until recently, the sisters ran their own infirmary, with a full complement of RNs and practical nurses, said Rodi.
Recognizing that the decisions they made about their 33-acre campus would affect the surrounding residential community, the order organized a series of meetings with local municipalities, health care agencies and alumni of St. Francis Academy, the school that had operated on the convent grounds for 50 years, said Rodi.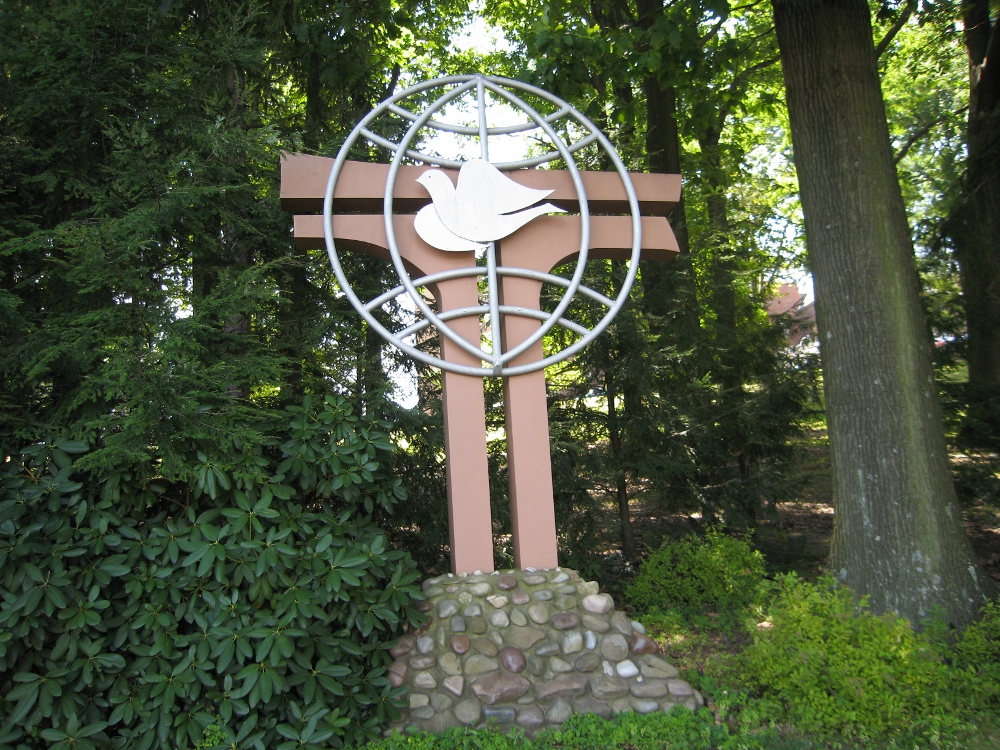 Peace cross on the grounds of the sisters' property. (Courtesy of Sisters of St. Francis of the Providence of God)
One of the groups invited into the conversation as a potential partner was Presbyterian SeniorCare, he said. As it turns out, the organization recently had room open up for the 15 frail elderly sisters in its Oakmont nursing home, a facility about 40 minutes from the convent.  
The decision to move the older nuns had a positive impact in two significant ways, said Rodi in an email:
"All the sisters were able to reside in a single location . . .we have witnessed other congregations who have seen their sisters "scattered" among various other congregations or assisted living facilities, one or two here or there, even in other states." 
In addition, he said: "Presbyterian offered a continuum of services, from those needing minimal assistance to those requiring more personal care. Obviously, it would have been more expensive to provide this continuum of care here at the motherhouse."
In October, the 15 sisters embarked on a new journey as they moved from the motherhouse, where many had resided for decades, to Oakmont, where the ones who needed skilled nursing could all live on the same floor. 
"It was a situation where there was more that  Presbyterian SeniorCare was able to offer, not only in the continuum of care, but with recreational activities," said Rodi, who added that one of the sisters has already become a member of a rosary group at the nursing home, which has a majority Catholic population. She has also actively recruited other sisters to join.
"We look at it as a mission as well as a residence," said J. Lora Dambroski, a member of the order who, as former head of the Leadership Conference of Women Religious, has observed many orders grapple with a cloudy future. "We've had a long relationship with Presbyterian SeniorCare. This is something you might do with another religious congregation, but not another denomination. It's exciting for them, and exciting for us."
While in some ways a sad occasion, the move is also a testimony to the elderly sisters' profound commitment to the itinerant Franciscan tradition, she said.
"At a time when they were thinking of settling down, they are packing their bags and moving to a new mission. Would you do this at 96?"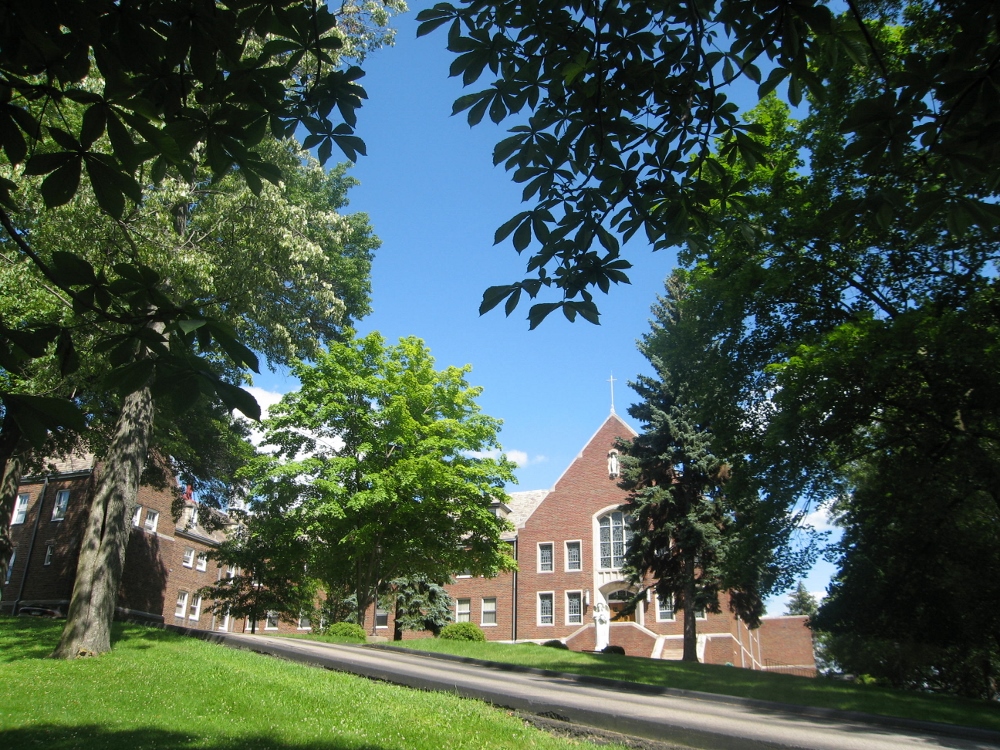 Exterior view of the front of the motherhouse. (Courtesy Sisters of St. Francis of the Providence of God)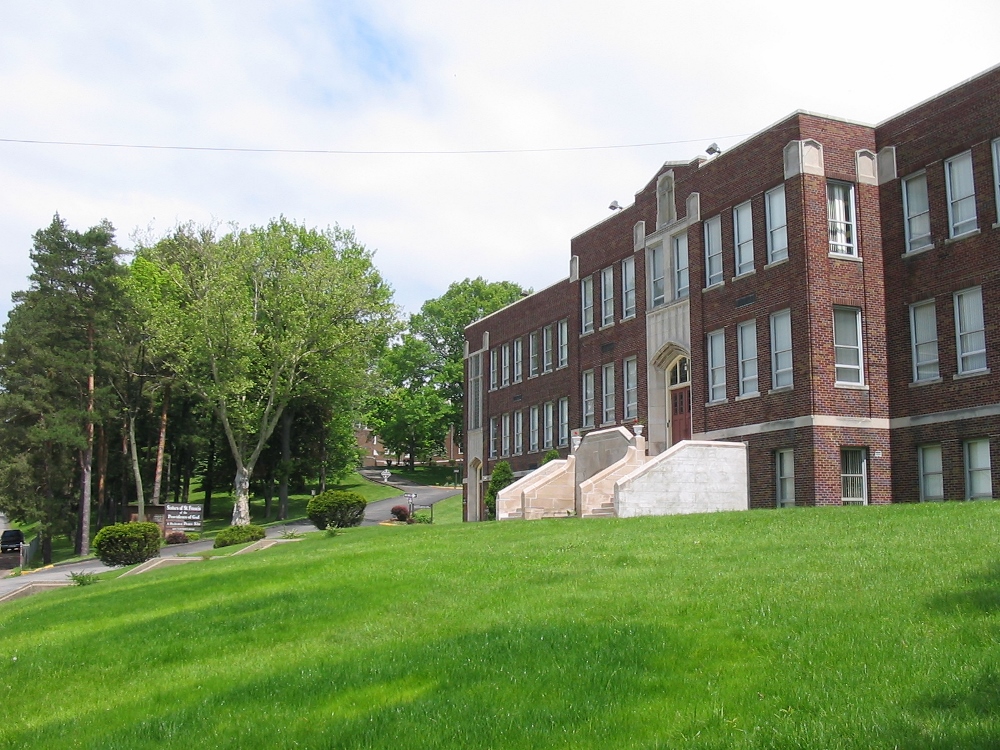 The St. Francis Academy building. (Courtesy of Sisters of St. Francis of the Providence of God)
Every day, one of the sisters from the motherhouse pays them a visit, sharing experiences and keeping them up to date on the work of the active sisters.
Knowing their senior sisters are safe and happy in their new accommodations, the leadership and sisters remaining in Pittsburgh can continue to focus on the future of their spacious property and convent (built in a different time to house hundreds). 
With help from the National Religious Retirement Office, they will evaluate what to do with their campus, and how to address the need to plan for their own future.
"We're hoping to see some change in our financial health because of this move" said Dambroski. "It doesn't necessarily mean that we'll be here, because no one is here forever. We don't have false expectations."
Expressing gratitude for the annual collection for retired religious, Dambroski added that she and her colleagues are finding the planning launched in September very helpful. "They [the NRRO] have a breadth of experience. They understand our concerns about how a congregation can continue to be faithful to its mission, and look at hard questions without being overwhelmed. It's a healthy model."
Though there is still a lot of work to be done, and, consultants holding their "feet to the fire" Dambroski expressed not only confidence in the future, but enthusiasm.
"Our [decision] to move our sisters' care from our own facility to  Presbyterian SeniorCare isn't because we're folding up, but because there is something new and fresh Providence is offering to us – and we have taken the risk to go with it."
[Elizabeth Eisenstadt Evans is a religion columnist for Lancaster Newspapers, Inc., as well as a freelance writer.]