Servant of God Sr. Thea Bowman, a trailblazing African-American sister who was the first black sister in her white congregation, the first black woman to address the U.S. Conference of Catholic Bishops, and an inspiration to thousands of people with her words and songs, is another step further toward sainthood.
The U.S. Conference of Catholic Bishops voted Nov. 14 at their general assembly in Baltimore to advance Bowman's cause, opening the way for a diocesan commission to determine whether she lived a life of "extraordinary and heroic virtue."
Bowman, who was a Franciscan Sister of Perpetual Adoration, was declared a servant of God on May 15, when her home Diocese of Jackson, Mississippi, requested the bishops endorse opening her cause for sainthood. On Nov. 18, in a ceremony scheduled before Wednesday's vote even took place, Jackson Bishop Joseph Kopacz will read the edict opening the investigation, followed by a special Mass. Bowman died of cancer on March 30, 1990, at age 52.
Bowman will be declared venerable, worthy of imitation by the faithful, if the tribunal finds in Bowman's favor and the Congregation for the Causes of Saints in Rome endorses the decision.
"Sister Thea always encouraged people to stand up for their rights and she continues to inspire," said Sr. Eileen McKenzie, Franciscan Sisters of Perpetual Adoration president, in an emailed statement. "As FSPA and the Leadership Conference of Women Religious pledge to unveil white privilege and purge the destructive effects of racism, we recognize Sister Thea's cause to sainthood serves as a sign of the times. We believe she'd find hope that in this canonization process, there's continued movement toward racial equity."
McKenzie said the Franciscan Sisters of Perpetual Adoration will follow the Jackson Diocese's lead as the process moves forward, and that the community's archives are open to commission officials.
There was a buzz in the motherhouse before and after the vote, McKenzie said.
"We're looking around with eyes wide, saying, where is this going?" McKenzie told GSR in a phone interview. "It's a fascinating time, and we're having lots of conversations about how providential this moment is.
McKenzie said Bowman in 1989 challenged the bishops on racism, while today the bishops are themselves again taking up the cause with a pastoral letter on racism, even as they are being challenged by the sex abuse crisis in the church. Bowman's message of reconciliation is again needed, she said.
"We're just kind of swimming in this understanding that there's something happening with the Spirit in the world," McKenzie said in the interview. "She was singing to them her pain, but she had a way of engaging them in the healing."
Born Bertha Bowman on Dec. 29, 1937, in Yazoo City, Mississippi, she was the daughter of a doctor and a teacher. She attended Holy Child Jesus School in Canton, about 38 miles from her birthplace, run by the Franciscan Sisters of Perpetual Adoration. At age 8, she decided she wanted to become a Catholic. She knew by her early teenage years that she was called to consecrated life.
In the 1950s, she studied at Viterbo College in La Crosse, Wisconsin, where the order is based, while preparing to enter the convent. She was the first African-American member of the community, and one of very few African-Americans in La Crosse at the time. She went on to study at the Catholic University of America in Washington, D.C. When she eventually returned to Canton in 1979 to care for her elderly parents, she continued to teach and inspire the people in her community.
Bowman led the Jackson Diocese's Office of Intercultural Awareness, taught at several Catholic high schools and colleges, and was a faculty member of the Institute for Black Catholic Studies at Xavier University in New Orleans.
Renowned for her preaching, she took her message across the nation, speaking at church gatherings and conventions, making 100 speaking engagements a year until spreading cancer slowed her. Music was especially important to her. She would gather or bring a choir with her and often burst into song during her presentations.
In addition to her writings, her music also resulted in two recordings, "Sister Thea: Songs of My People" and " 'Round the Glory Manger: Christmas Spirituals."
Before the vote, Kopacz told the assembly that requests that Bowman be considered for sainthood have been coming to his diocese since before he was installed in 2014.
"She courageously proclaimed that she would live until she died. And she did," Kopacz said. "Her word, witness and song testified to her joy and holiness even as she faced the cross of terminal illness."
He said Bowman believed African-American spirituality had much to offer the church, and now the need for that healing spirituality is critical.
"There is an urgency for her sanctity to be a leaven in our church and our society," Kopacz said.
Sr. Marla Lang professed vows with the Franciscan Sisters of Perpetual Adoration in the same class as Bowman, and will attend the ceremony in Jackson.
Lang said entering religious life is jarring for anyone, and Bowman had the additional pressure of being in an all-white congregation in an all-white city, not to mention the cultural — and weather-related — shock of moving to Wisconsin from the Deep South. But if Bowman was troubled by her circumstances, Lang said, she didn't show it.
"She had her spirituals — the music that was so beautiful. Most of us had been living with little or no contact with anyone of African descent, but her voice was so beautiful, it was just a very rich experience," Lang said. "She was just a very graceful person to be around. But there must have been times when she must have felt like she was in a whole new area or culture."
But Bowman's words and her songs brought people together, she said.
"It just oozed out of her whole life. You give her a microphone and her spirit just moved into the hearts of those around her," Lang said. "She just knew how to let her energy flow. ... Her warmth just kindled people's hearts."
At the order's chapter in 1980, Bowman was asked to sing the Gospel at the final liturgy, Lang said.
"I don't think I'll ever forget that proclamation of the Gospel," she said. "There must have been four or five hundred people there, and she just rang it out. She just called us to live out the Gospel not only with great joy, but with great intent and spirit."
Sr. Mary Ann Gschwind was Bowman's roommate during their first summer studying at Catholic University in 1966. Gschwind is the Franciscan Sisters of Perpetual Adoration's archivist and has been sworn in as a member of the historical commission for Bowman's cause.
Even at Catholic University, Bowman was unique, Gschwind said: There were African-American sisters on campus, but they were all in African-American congregations. Since the sisters still wore habits, it was easy to see that Bowman was from a white congregation.
"It took a lot of nerve for her to join our community," Gschwind said. "I don't think I could have done it if the situation were reversed."
And yet Bowman inspired and moved people everywhere she went.
"She taught at the school here in La Crosse, and of course it was all white, but she was still just a phenomenon," Gschwind said. "They have very precious memories of her."
It may have been growing up in Canton that drove her to bring people together: The small town was so extremely segregated that even in the 1970s and '80s, there were stores African-Americans knew they were not welcome in. When Gschwind and her mother visited Bowman in Canton, her mother was so charmed by Dr. Bowman that she kissed his cheek when saying goodbye. Thea Bowman almost burst into tears.
"She said, 'No white woman has ever kissed my black father,' " Gschwind said.
The investigation into Bowman's life will have no shortage of material to examine. The congregation's archives contain three file drawers of Bowman's speeches — most of which she handwrote on scrap paper to avoid waste — and 20 bankers boxes of documents, Gschwind said. There are also many artifacts, such as Bowman's wheelchair and the academic hoods she received with each of her many honorary degrees.
Dan Johnson-Wilmot was a colleague of Bowman's at Viterbo in the 1970s, where he was a professor in the music department and she taught English and studied voice.
"Anyone who went to her presentations, I don't think she ever had one where she didn't sing," Johnson-Wilmot said. "She had an uncanny gift — it didn't matter who was there, she could weave a song into just about any kind of presentation she was giving, and people were just struck when she began singing because it was always from her heart and soul."
Johnson-Wilmot said the two became fast friends after an incident that started out ugly but became just another sign of how Bowman could bring people together.
There were several African-American students from Bowman's hometown of Canton at Viterbo who formed the core of a gospel choir Bowman established called the Hallelujah Singers. The choral group Johnson-Wilmot directed was invited to sing at a local function, but learned an earlier invitation to the Hallelujah Singers had been withdrawn when organizers found out the singers were African-American.
Johnson-Wilmot said he called the organizers and said his group wouldn't sing unless both groups were invited. In the end, he said, both groups sang and the event was a success.
"[Bowman] asked me, 'Why did you do that?' She knew I was this white boy from Duluth, Minnesota, with very little contact with African-Americans," Johnson-Wilmot said. "But regardless of your background, you can feel the presence of discrimination, and I wasn't going to allow it."
That was the beginning of a deep affection, he said.
"She was an only child, and one day she told me, 'I decided you're going to be my brother,' and she became my big sister," Johnson-Wilmot said. "I have so many letters from her that are addressed like that to me."
Sr. Charlene Smith of the Franciscan Sisters of Perpetual Adoration was a friend of Bowman's for 35 years, is treasurer of the Thea Bowman Black Catholic Education Foundation, and co-authored a book about her, Thea's Song.
"I always say my claim to fame is I was a friend to Sister Thea for 35 years," Smith said. "She was a star and I was in orbit around her."
Smith said Bowman's parents worried about her joining an all-white religious order in the North.
"Her dad said, 'They're not going to like you up there.' She said, 'I'll make them like me,' " Smith said. "She spread joy even during her struggle with cancer. She was always spreading joy and happiness through her songs and her wisdom."
Smith said Bowman's joy came out even when she was seriously ill.
"She didn't know how to not sing. She sang all day long; she sang in the night," Smith said.
In 1989, Bowman traveled back to La Crosse for a symposium, but was so sick Smith was certain she would be unable to speak at the event. "As soon as people knew she was in town, they just streamed into the convent to see her," Smith said.
At the symposium, "they rolled her out in her wheelchair and she absolutely electrified the whole audience there," Smith said.
When Bowman spoke at the U.S. bishops' meeting in June 1989, less than a year before her death from bone cancer, she was blunt. She told the bishops that people had told her black expressions of music and worship were "un-Catholic."
She began her presentation by singing "Sometimes I Feel Like a Motherless Child," a rebuke to the shepherds of a church that often neglects its members of color. "Can you hear me, church?" she asked. "Will you help me? Jesus told me the church is my home."
Bowman pointed out that the universal church includes people of all races and cultures and she challenged the bishops to find ways to consult those of other cultures when making decisions. She told them they were obligated to better understand and integrate not just black Catholics, but people of all cultural backgrounds.
Catholic News Service reported that her remarks "brought tears to the eyes of many bishops and observers." She also sang to them and, at the end, had them all link hands and join her in singing "We Shall Overcome." They gave her a rousing standing ovation.
Gschwind said Bowman challenging the bishops and having them embrace her in response is known to many in the community as "her first miracle."
The legacy of Bowman and her generation is one of both condemnation and redemption, said Shannen Dee Williams, a history professor at Villanova University who is working on a book about black Catholic sisters.
"Along with the possible canonizations of Servant of God Mother Mary Lange and Venerable Henriette Delille, the formal opening of Sister Thea Bowman's cause for canonization will signify that the church is ready to embrace the story of the real sister act in the United States — the story of how generations of devout black Catholic women and girls fought against racial segregation and exclusion in their white-dominated church in order to answer God's calls on their lives and minister as women religious," Williams wrote in an email to Global Sisters Report.
"Sister Thea Bowman was a member of the generation of black Catholic women and girls who desegregated the nation's historically white sisterhoods after World War II. Her story and lived experiences as the first and only (African-American) Franciscan Sister of Perpetual Adoration remind us that the church was never an innocent bystander in the story of American racism."
Williams said that while those in the battle for civil rights often had the protection of the public eye to shame opponents, those desegregating white Catholic institutes did not — which makes their fight that much more inspiring.
But that fight also deeply wounded many.
"Sister Thea's refusal to abandon her call to religious life or succumb to bitterness in the face of unholy discrimination did not come without cost," Williams wrote. "She is one of several pioneering black sisters in white congregations who died young — in their forties and fifties due to stressed-related diseases like cancer."
Smith said Bowman must be "getting a big kick" out of the canonization process.
"She said, 'I just always try to let my little light shine,'" Smith said. "And she did."
[Dan Stockman is national correspondent for Global Sisters Report. Follow him on Twitter @DanStockman or on Facebook. Information from Catholic News Service was used in this report.]
Images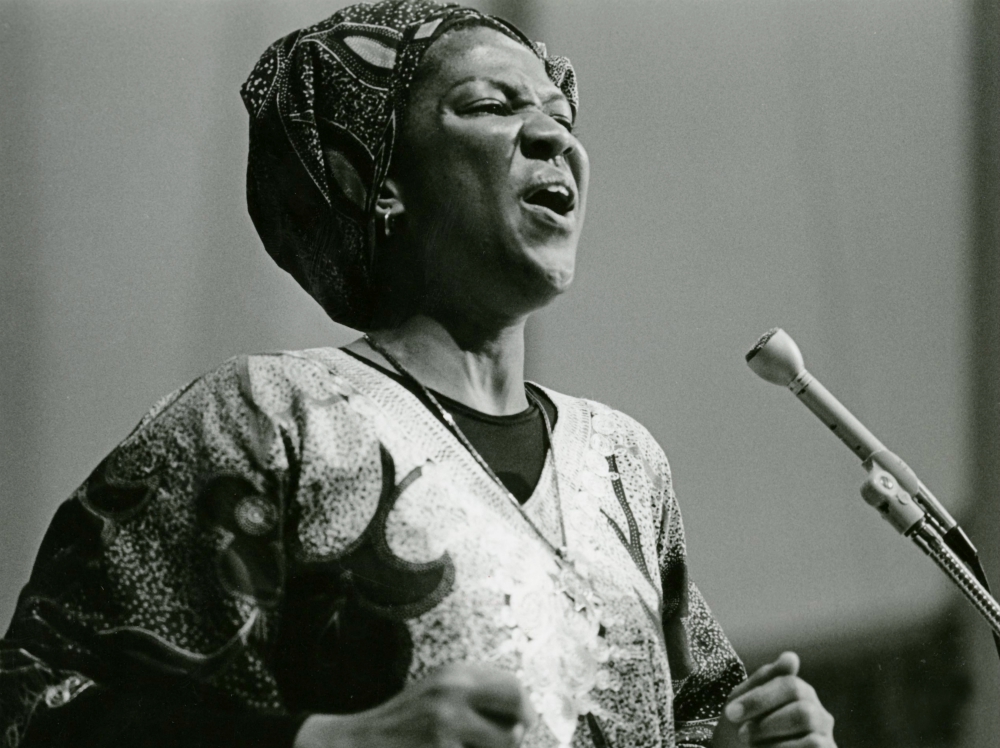 Sr. Thea Bowman, a Franciscan Sister of Perpetual Adoration, is pictured in an undated photo. (CNS / Michael Hoyt)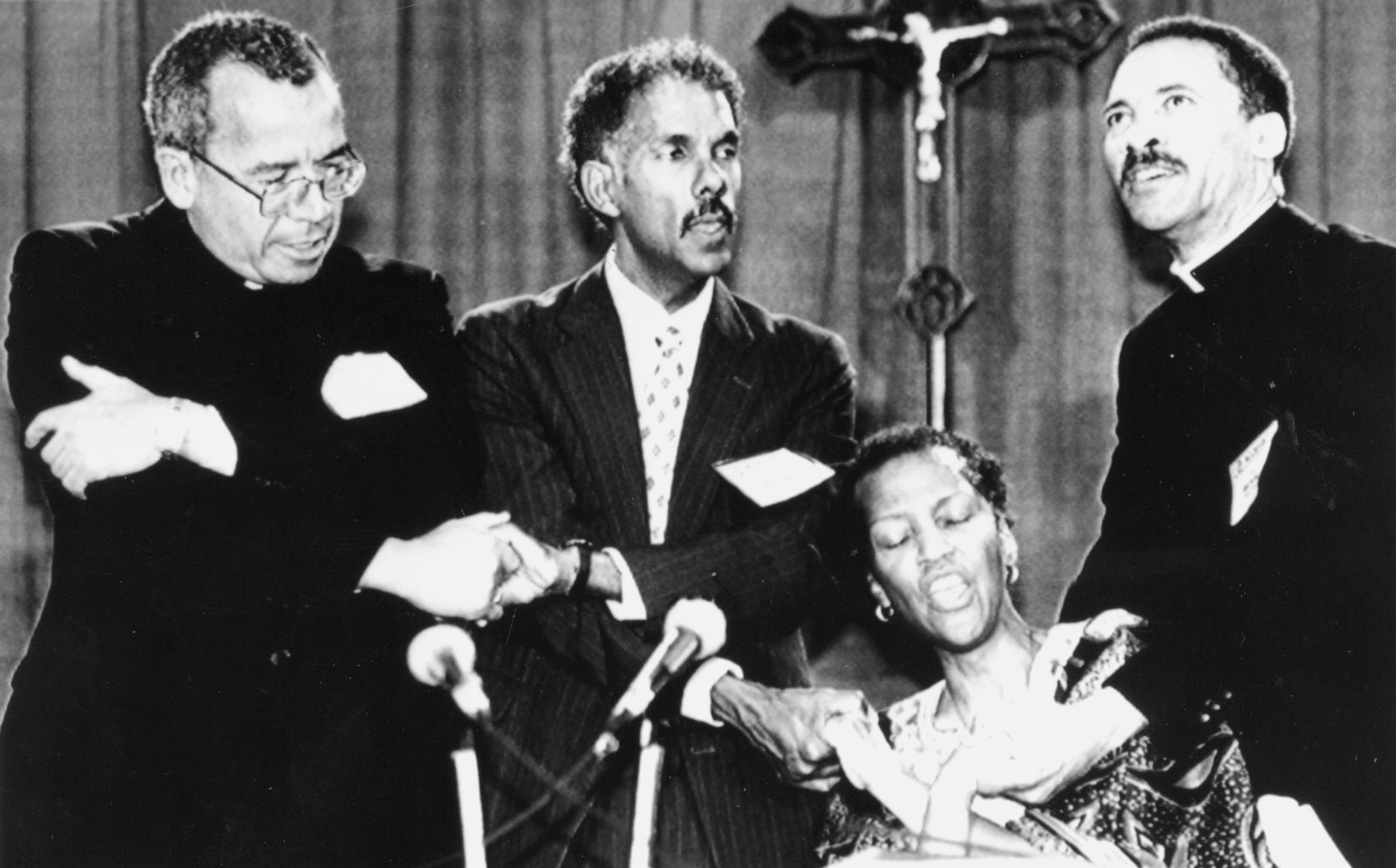 Sr. Thea Bowman, seated, leads the singing of "We Shall Overcome" during the U.S. bishops' meeting in South Orange, New Jersey, June 19, 1989. With Bowman are, standing from left, Atlanta Archbishop Eugene Marino, Albert Raboteau and Baltimore Bishop John Ricard. (CNS)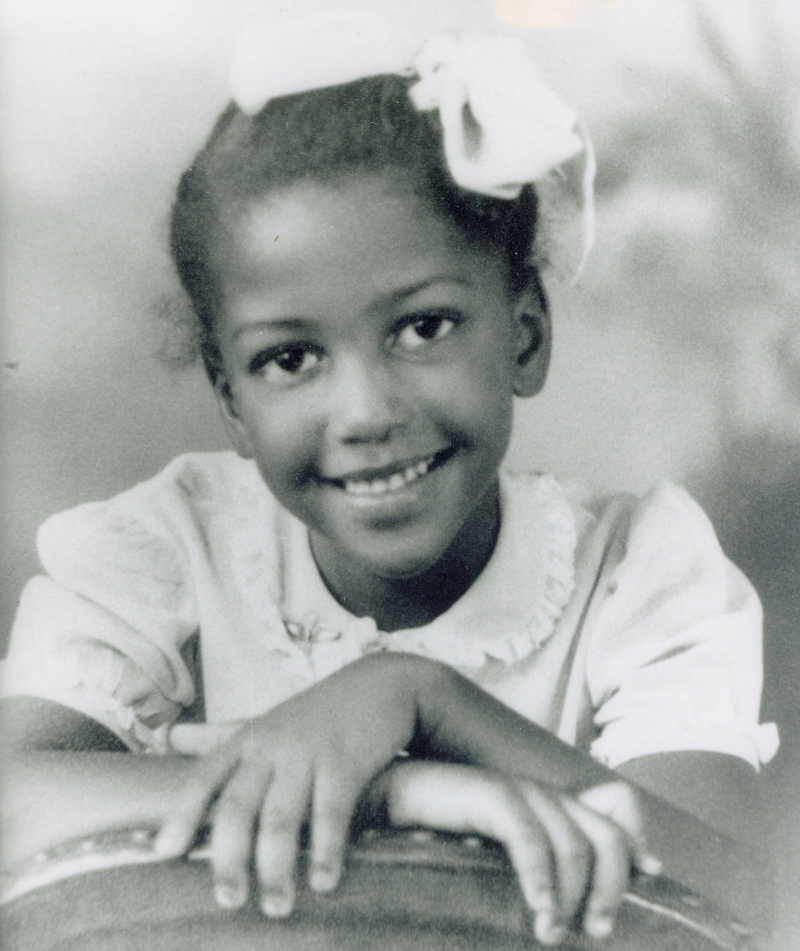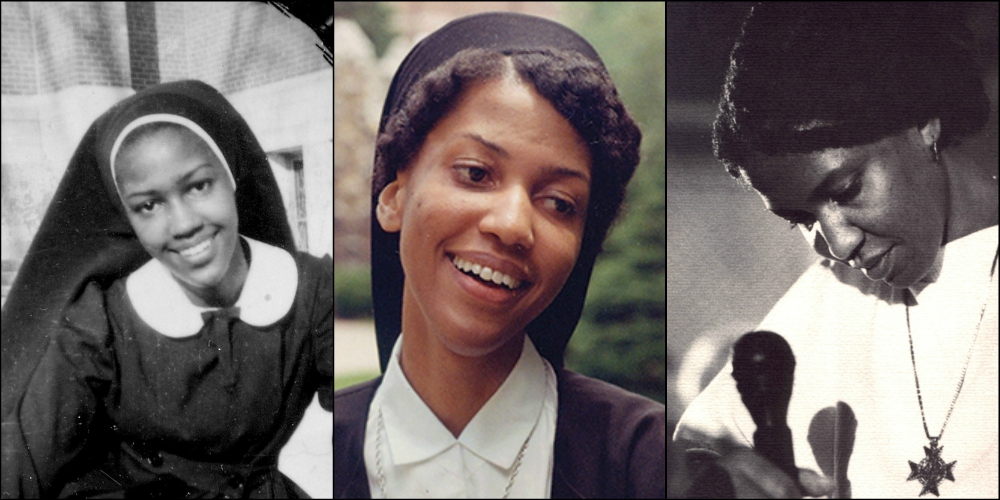 Sr. Thea Bowman through the years (Courtesy of the Franciscan Sisters of Perpetual Adoration)