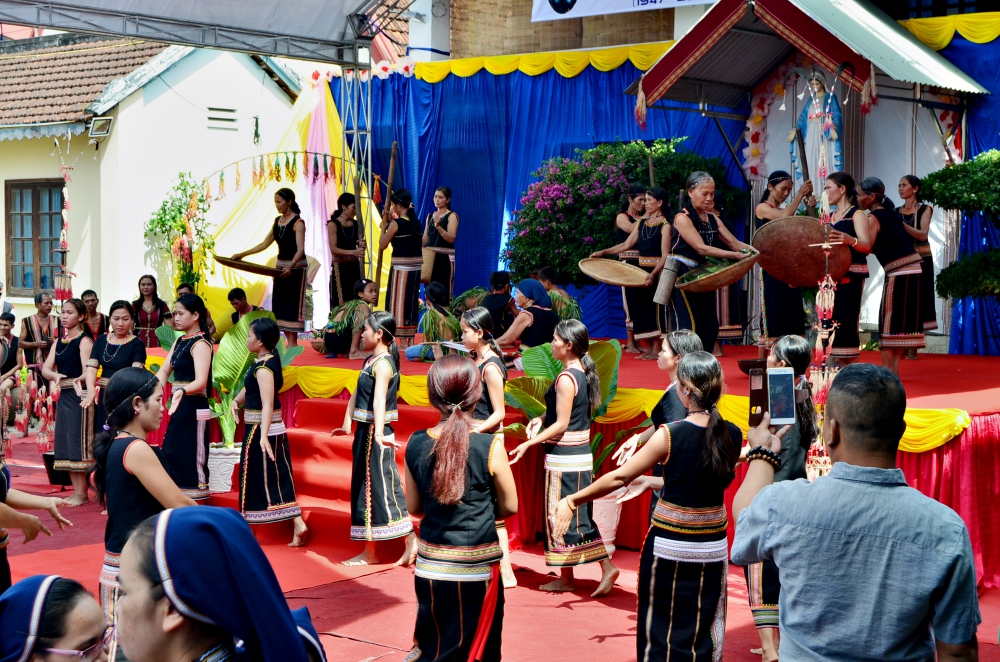 Sisters and ethnic women in their traditional costumes perform a dance to mark the 70th anniversary of the Filles de la Médaille Miraculeuse congregation at the motherhouse Nov. 27, 2017. (Courtesy of Cat Vang)
Kon Tum City, Vietnam — The Filles de la Médaille Miraculeuse congregation is the only order designed for ethnic minority women in Vietnam who are used to living a simple, traditional life.
The 153 sisters from eight indigenous groups look after and offer accommodation, food, health care and education to 800 orphans and disabled children at six centers. They also run hostels for students from remote villages.
They teach ethnic women catechism and ways of educating children to be good Catholics. They provide pastoral care for parishes and villages and grow crops for the welfare of those they serve and to generate income for the congregation.
They also help preserve ethnic groups' cultures and traditions that are being eaten away by modern society. For example, they teach women how to make their traditional clothes, play their music, and use their herbal medicines to cure diseases.
Sisters work in 32 communities in the two provinces of Kon Tum and Gia Lai.
The order celebrated the 70th anniversary of its establishment on Nov. 27, 2017, at the cathedral in Kon Tum City. During the special Mass presided by Bishop Aloisius Nguyen Hung Vi of Kon Tum, five sisters celebrated their 70th anniversary of taking vows, and two others marked their 50th anniversary.
The congregation was founded by French Bishop Jean Sion Kham of Kon Tum in 1947 in Vietnam's central highlands to bring Christianity to local ethnic groups. The diocese serves 323,000 Catholics, two-thirds of whom are from 10 ethnic minority groups.
Three ya, a Bana ethnic word meaning "sister," shared with Global Sisters Report their stories about their vocations, work and the choice to live with the order.
Ya Catherine Y Dem
I am a Sedang ethnic from Kon Tum Province. I dropped out of school when I was a second-grader because my family could not afford my studies. In 1990, a ya who is my relative invited me to take care of orphans from a center. I love orphans who lived in poor conditions, and I wanted to dedicate my life to serving them.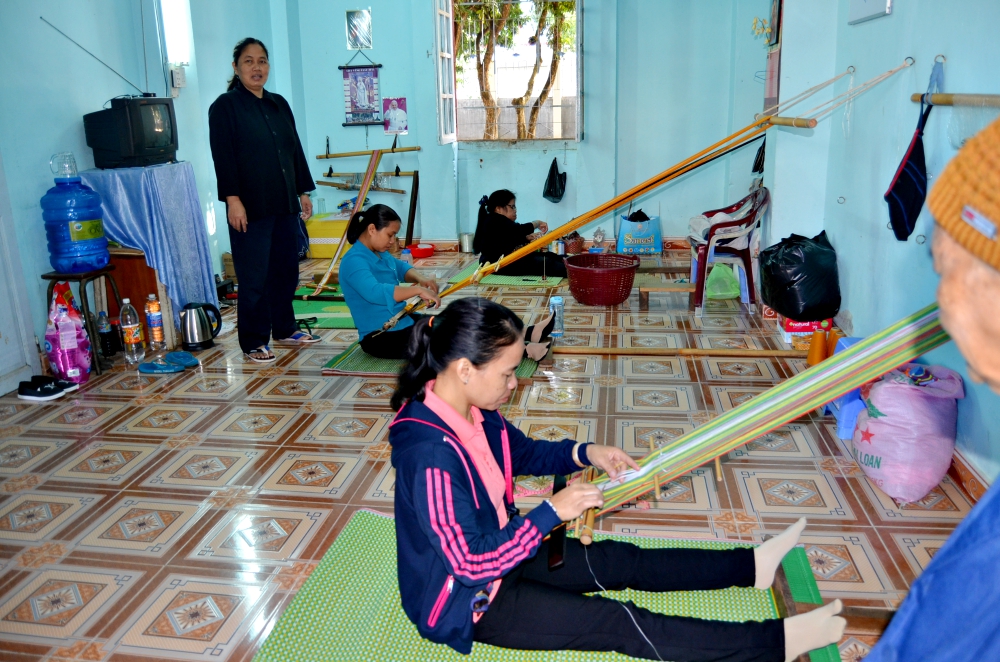 Ya Catherine Y Dem, standing, teaches weaving skills to ethnic women at the workshop. (Courtesy of Cat Vang)
I was admitted to a group of young women who were interested in consecrated life in 1995, when I was 27 years old. This was the first group the congregation gathered since 1975, when the Vietnam War ended. At that time, ethnic villagers lived in extreme poverty and paid little attention to sending their children to the congregation, which had only 58 elderly sisters.
Nine sisters, including me, took first vows in 2001. We were the first nuns of the congregation after 26 years, thanks be to God.
Now I am in charge of the weaving workshop based in the motherhouse. We teach weaving skills to ethnic young women as way to protect traditional weaving skills, which are part of ethnic people's lives. We also produce ethnic costumes, bags, purses, wallets and other souvenir items with ethnic traditional brocades. We provide special orders for visitors, too.
I am happy to make a contribution to the congregation's services and serve our ethnic villagers.
Ya Marie Gérard Grier
I am a Sedang ethnic and was born in 1991. I stayed at a hostel run by the congregation during my period of studies. I entered the congregation after I graduated from high school. I took first vows in 2015.
We serve 80 ethnic students from remote villages at a hostel nearby the cathedral. They study at local secondary schools and colleges. We teach them catechism, the Bible and living skills and help them review subjects at schools. We also grow vegetables for our daily meals.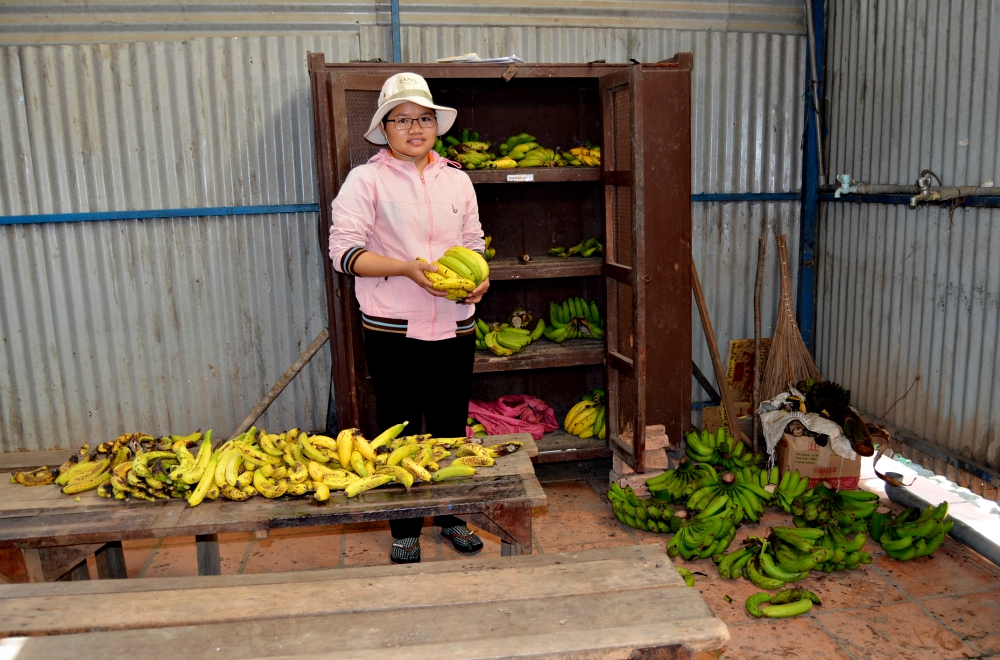 Ya Marie Gérard Grier collects bananas from farms to provide for students at the hostel. (Courtesy of Cat Vang)
We teach students to play gongs and other ethnic traditional musical instruments and to perform traditional dance to serve religious events held at the cathedral. Students are extremely interested in music.
Many sisters and students played gongs and danced at the ceremonies marking the congregation's 70th anniversary.
We have to work hard to protect students from being addicted to computer games and ignoring their studies. We want them to have a better life in the future.
I am a young sister, so I still miss my family a lot. Ethnic women traditionally have close relationships with their families and villages and never live away from them. I abandoned my life to God, so what I can do is pray for my family to be in peace.
Ya Louis Y Eu
I am a Jolon ethnic and 78 years old. When I was a child, I wanted to join the order, but my mother disagreed because I never went to school. I told her, "I will enter the order and yas will teach me how to read and write." Then I asked local French missionaries to ask my mother to allow me to join the order, and she agreed.
I entered the order when I was 20 years old and had to patiently work at the weaving workshop for three years. I fervently prayed to God for my studies, and then I was given basic education.
I headed the weaving workshop for decades until I retired in 2017. I chose Ya Catherine Y Dem to succeed me at the workshop.
Most Jolon ethnic women know how to weave patterned fabric, while men cultivate cotton fields.
All sisters, including the superior, work on rice and manioc fields. Young sisters daily walk 17 kilometers [more than 10 miles] to the farms.
I made new clothes from old ones and cloth for poor villagers. In recent months, I have done nothing because my legs hurt. I feel heartbroken when villagers tell me they have no clothes.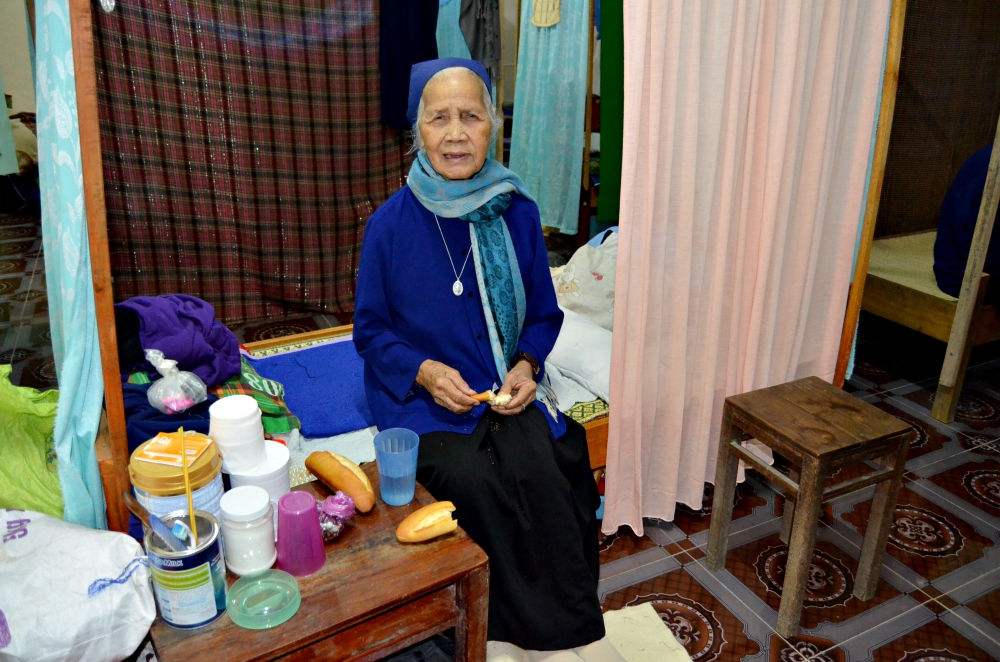 Ya Louis Y Eu, 78, stays at the house for elderly sisters after retiring from her decadeslong job teaching weaving skills to ethnic youth. (Courtesy of Cat Vang)
When I was young, boys loved me and sent love letters to me. That was a long time ago. I have followed God. Last year, I celebrated the 50th anniversary of taking vows, thanks be to God.
Villagers treat yas who have given up their vocations and get married with disrespect. Many of them live in poverty and are considered to have lost God's grace. Those who have to return home because of illness get married and bring up their children well. They often visit the order. But they seem to be generally held in contempt by those in the community.
Please pray for us to tenaciously cling to God. Only if we die in God's house [the order], can we surely fulfill our vocations.
[Joachim Pham is a correspondent for Global Sisters Report based in Vietnam.]