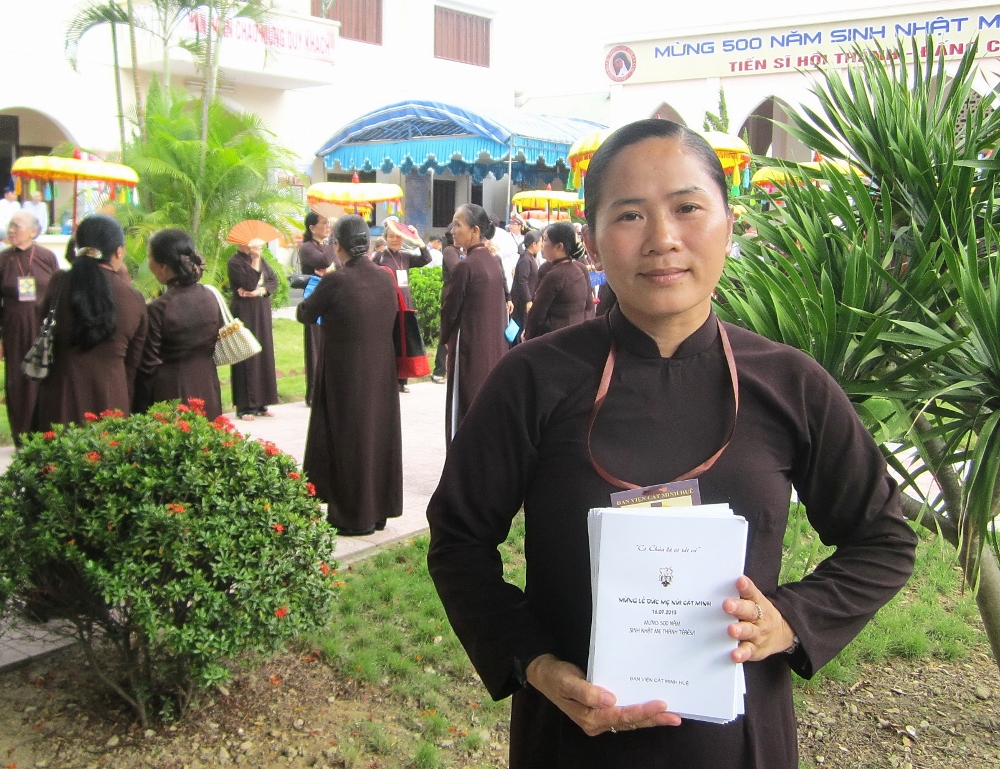 Lay Carmelite Agnes Nguyen Minh Hanh collects hymnals after celebrations marking St. Teresa of Avila's 500th birthday at the monastery on July 16. (Joseph Nguyen)
Hue, Vietnam — Agnes Nguyen Minh Hanh had an unhappy marriage. Her husband, a heavy drinker and gambler, beat her, sold their house to pay off debts, and abandoned her to live with other women. So she moved back to her own mother's home and led a lonely life.
Her life has changed, though, since she entered the local Secular Order Discalced Carmelite Community based in Hue City, central Vietnam, in 2010, after a Catholic woman introduced her to the community.
"I follow St. Teresa of Avila's spirituality and find peace in my mind," said the 44-year-old mother who works as a grocer at a local market to support her two children. "I forgive my husband for how badly he treated me and pray for him to give up his bad habits and return to us."
Hanh spends time praying every day at the church, looking after patients who don't have relatives and visiting people in need. She also shares her story with people in misery and encourages them to seek joy in serving others.
She said this is how she finds meaning in her life. For example, she and other lay Carmelites used to regularly visit and care for an elderly Buddhist woman who was paralyzed from the waist down and abandoned by her children. The woman converted to Catholicism before her death, and her children allowed a priest to celebrate her funeral.
Hanh is among 100 lay Carmelites working in the Hue archdiocese. They gather weekly at churches to pray, care for patients, visit people who ignore practicing the faith and serve at funerals.
They also wear habits at liturgical services and take vows of obedience, poverty and chastity in marriage.
Mother Mary Agnes of Jesus Nguyen Thi Nhan, prioress of the Order of Discalced Carmelites based in Hue, said local people today are still inspired by the example of a life of contemplation, action and community set by St. Teresa of Avila, who reformed the Carmelite Order and founded the branch of Discalced Carmelites.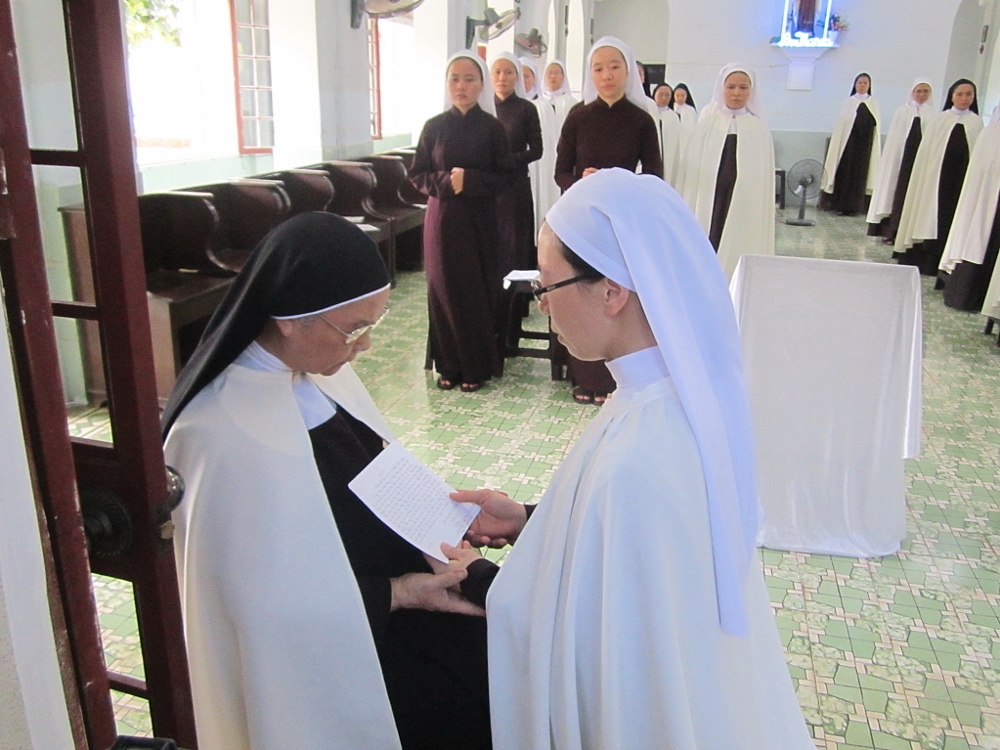 A young Carmelite (in white habit, right) takes her first vows in front of her prioress on July 14. (Joseph Nguyen)
Mother Nhan said 650 youths, lay Carmelites and men and women religious, attended gatherings July 13-15 to study St. Teresa Avila's spirituality at the 106-year-old monastery. Two Carmelites took their first vows at this special event.
Archbishop Francis Xavier Le Van Hong of Hue Archdiocese celebrated the saint's 500th birthday on the following day.
Mary Magdalene Tang Nu Van Trung Anh from Tri Buu parish is interested in Carmelite spirituality. "I am eager to be a Carmelite because I want to lead a quiet intense life of prayer and contemplation — and be a lover of God," the 18-year-old said after she met Mother Nhan.
Anh said in the past her grandmother had told her that Carmelites lived alone in small rooms praying day after day, "but it is not true. Carmelites spend time praying, working, entertaining and resting."
Anna Phan Thi Loc, 60, a lay Carmelite, said she gives the Discalced Carmelites 40 kilograms of rice every month so "they can spend all their time praying for the church in the tradition of St. Teresa of Avila."
Among her six children, one is a Carmelite and another is a St. Paul de Chartres sister.
"I plan to spend the rest of my life praying for people to live a happy life and serving people in need," Loc said.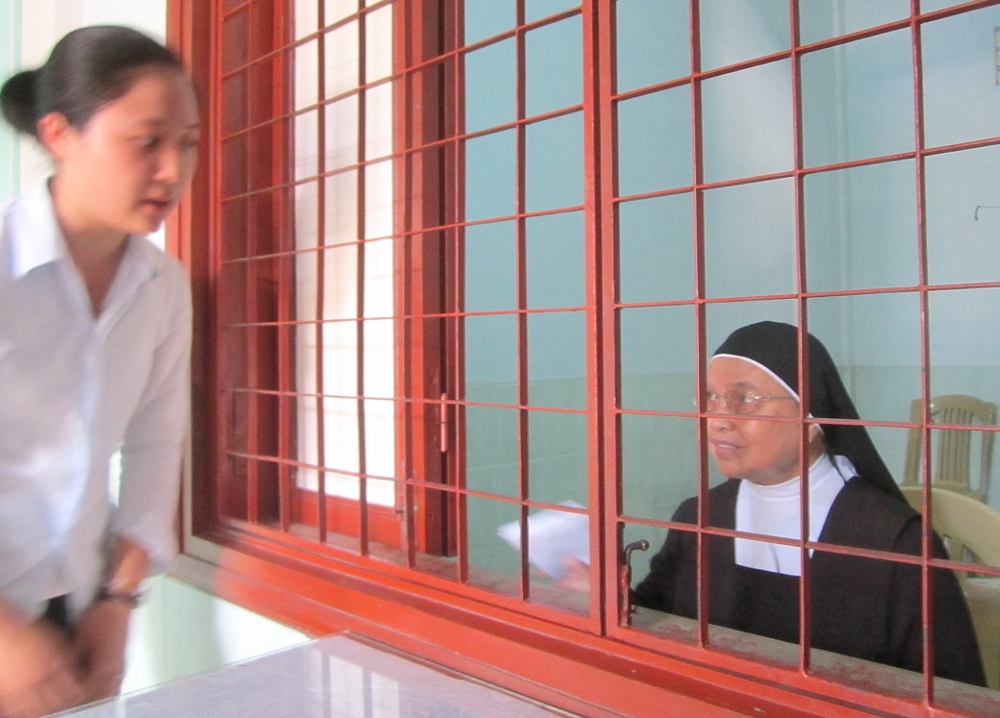 Mary Magdalene Tang Nu Van Trung Anh, left, talks with Mother Mary Agnes of Jesus Nguyen Thi Nhan, prioress of the Order of Discalced Carmelites based in Hue. (Joseph Nguyen)
Mother Nhan, 77, told Global Sisters Report, through a divider in a metal window frame, that on average 15 young women candidates enroll in courses on Carmelite spirituality each year.
She said Discalced Carmelite communities are required by rules to have a maximum membership of 25 each so that they can save doing housework and spend more time being with God. However, her community currently has 45 members, too many for them to fulfill their duties.
"It is great news that a new monastery is under construction in Dalat City, and we plan to move 20 members to there at the end of this year," Mother Nhan said.
[Joachim Pham is a correspondent for National Catholic Reporter and Global Sisters Report, based in Vietnam.]