Editor's note: Global Sisters Report is focusing on the efforts of sisters to end human trafficking, as Talitha Kum, the international anti-trafficking network of religious, marks its 10th anniversary and launches its Nuns Healing Hearts campaign. The special series will run periodically through September, when Talitha Kum will hold its first general assembly. Since its founding in 2014, GSR has dedicated a section of its coverage to sisters who in various ways fight human trafficking. Read all of our coverage.
_____
Global efforts to combat human trafficking must focus on pressuring national governments to take action against traffickers and to eliminate systems of injustice that create the conditions for trafficking, sisters and other anti-trafficking advocates declared on the international day focused on the problem.
"It is here, in our neighborhoods, and requires attention now," Sr. Michelle Loisel said July 30, the United Nations' World Day Against Trafficking in Persons. Loisel heads the migration, anti-trafficking and anti-slavery work of the Company of the Daughters of Charity-St. Louise Province.
"It's an extraordinary crime which deserves extraordinary action," said Verbite Fr. Robert Mirsel, executive co-director of VIVAT International, a nongovernmental advocacy organization that works at the United Nations and has a membership of more than 25,000 Catholic sisters, brothers and priests from 13 religious congregations.
At an event July 30 at the Church Center for the United Nations exploring how anti-trafficking advocates can strengthen connections, religious active against human trafficking hailed progress made in recent years. But they also noted that the United Nations itself designated this year's annual commemoration as a call to governments to take more action.
This is necessary because "despite many countries now having national trafficking laws in place, women, children and men continue to be trafficked," said Society of the Sacred Heart Sr. Sheila Smith, her congregation's representative at the U.N. "What is more, in many countries, victims may still be criminalized while the impunity of traffickers prevails."
"We're still taken aback and appalled by the need for human trafficking on any scale. And it's still undiminished," said Patricia Cole, a consultant with the Religious of the Sacred Heart of Mary office at the U.N. and the NGO Committee to Stop Trafficking in Persons. "We're equally shocked and saddened by the inability [of people] to recognize our shared and inherent human dignity."
Despite that obstacle, there are some signs of progress.
Smith noted that in 2009, only 26 countries systematically collected data on trafficking cases. In 2018, the number had risen to 65, making it easier to criminalize and prosecute traffickers and protect those who have been trafficked, Smith said, quoting the most recent U.N. report on trafficking.
However, Smith said, the U.N. report cautions that "the absolute numbers of convictions remain very low" and, overall, "there appears to be hardly any risk for traffickers to face justice."
And, Smith said, law enforcement efforts are only part of the solution. Trafficking, she said, "cannot be prevented at its root unless it is seen as integral to the achievement" of the United Nations' 17 sustainable development goals, which seek to end poverty and improve social conditions globally.
"While the theme of this year's world day against human trafficking focuses on government action, there is a call in there for us to continue pushing governments to do their work [on the social front]," Smith said.
Sr. Winifred Doherty, the U.N. representative of the Congregation of Our Lady of Charity of the Good Shepherd, was a panelist with Loisel and Mirsel at the July 30 event in New York, discussing ways advocacy groups and networks at global, national and local levels can better coordinate their efforts.
She acknowledged that advocacy at the United Nations can often be a "struggle" given the power of governments and the fact that they are ultimately responsible for their own social policies.
"It's a national responsibility," Doherty said of social protections for the most vulnerable.
But the pressure must continue, she said.
"[Trafficking] happens because women and girls, boys and men don't have opportunities for a dignified life," Doherty said.
Another panelist, Comboni Missionary Sr. Gabriella Bottani, international coordinator of Talitha Kum, a sister-run ministry of the International Union of Superiors General, was also a speaker at a separate July 29 event at the United Nations. The event was co-sponsored by Talitha Kum, the Holy See's Permanent Observer Mission to the United Nations, the Pontifical Academy of Sciences and the Galileo Foundation.
That event, "Faces in the Fight Against Human Trafficking," focused on the work of sisters in anti-trafficking and anti-slavery efforts. It took place in concert with a weeklong photo exhibition at the United Nations, "Nuns Healing Hearts," which features photographs by humanitarian photographer Lisa Kristine and was previously exhibited at the Vatican.
Bottani touted the work of Talitha Kum — grounded, she said, by a belief that "another world is possible. We are working together toward freedom."
She said there are "great laws against trafficking in persons, [but now] they need to be implemented."
"There is a need to have more programs to address the root causes of trafficking in persons, such as social, gender and economic inequality and poverty," she added.
And, she noted, "We face problems with long-term assistance for survivors of trafficking, offering jobs alternatives, education and psychosocial services."
Sr. Melissa Camardo, a Sister of Charity of Leavenworth, Kansas, and director of development for LifeWay Network, a New York City-based ministry to assist trafficking survivors, noted those challenges, as did Ansa Noreen, a Pakistan-born trafficking survivor and self-described LifeWay Network "alum."
But both also accentuated the positive. Camardo said LifeWay's ministry is based on the idea of "encounter and accompaniment," saying, "It is the face of Christ that invites us to something new."
And Noreen, a fashion and web designer, said her encounter with the sisters at a LifeWay Network safe house has prompted her to consider entering the social service field. "The sisters have been my inspiration for that."
Archbishop Bernardito Auza, the Vatican's permanent observer to the U.N., was not able to attend the U.N. event. In prepared remarks, he praised the work of sisters involved in anti-trafficking efforts but also summed up the state of such work globally.
"Progress is certainly being made, and for that, we give thanks," he said. "But the progress is slow and is not commensurate with the scale needed to eliminate the scourge. Much more mobilization is needed."
The United Nations was not the only locale of anti-trafficking commemorations.
In Washington, D.C., the U.S. Agency for International Development's Center for Faith and Opportunity Initiatives in collaboration with the Center of Excellence on Democracy, Human Rights and Governance hosted a "Critical Conversation on World Day Against Trafficking In Persons" on July 30.
The conversation, which included top officials such as John Richmond, U.S. ambassador-at-large to monitor and combat trafficking in persons, and Ludy Green, the agency lead on counter-trafficking for USAID, centered on the importance of cross-sector efforts and sharing best practices to combat trafficking.
Speakers at the two-hour session emphasized their optimism that global human trafficking can be eradicated at some point in the 21st century.
Panelist Rodney Ferguson, president and CEO of Winrock International, an international development organization, said he does not often get discouraged by the overwhelming issue of human trafficking but instead uses the example of William Wilberforce, who worked for 54 years in the 18th and 19th centuries to abolish the slave trade in England, as inspiration for what is possible.
"It takes a long time," Ferguson said. "It's taken us a long time to fight some of the scourges of this country, but we did it, and we succeeded, and we'll succeed on this one, too. Technology, access to information, artificial intelligence — all of these frontier technologies will be harnessed. And there will be a day when business, transnational interactions and diplomacy will be transparent to the point that it will be increasingly difficult and someday impossible to hold other people in physical or psychological or economic bondage."
Ferguson said faith groups bring a more explicit "moral imperative" to the anti-trafficking cause as well as powerful "moral networks" of people.
Jennie Lichter, deputy director of the Domestic Policy Council at the White House, added that faith groups can help with the psychological and spiritual healing of individual victims by letting them know they are "seen, and they are loved."
[Chris Herlinger is GSR international correspondent. His email address is cherlinger@ncronline.org. NCR Bertelsen editorial intern Jesse Remedios contributed to this story from Washington, D.C.]
Images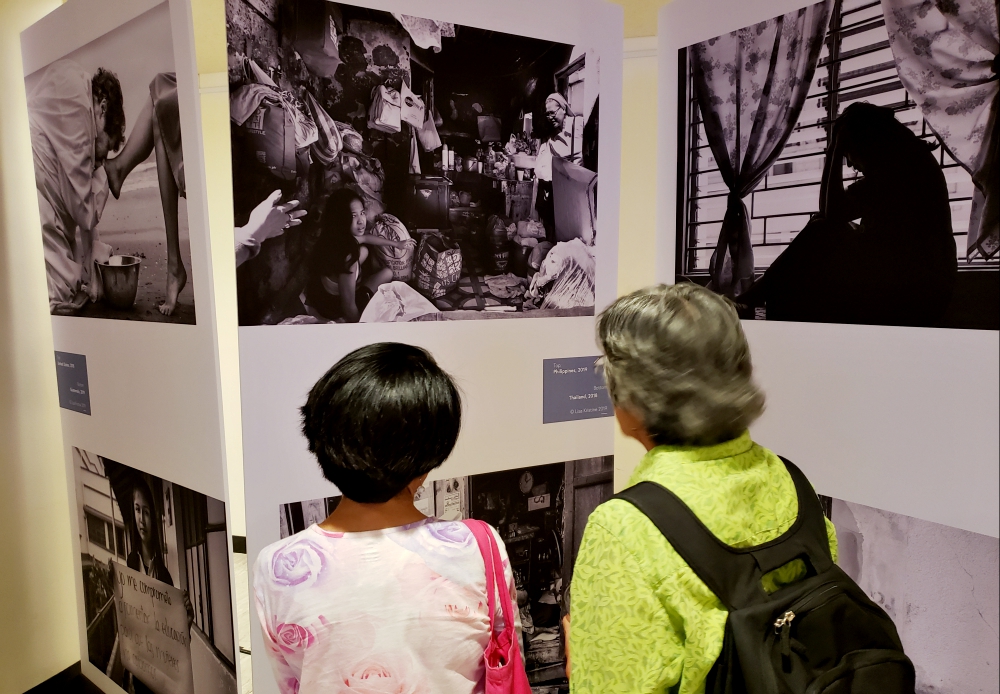 An event July 29 focusing on the work of sisters against human trafficking took place in concert with a weeklong photo exhibition at the United Nations. The exhibit, "Nuns Healing Hearts," features photographs by humanitarian photographer Lisa Kristine and was previously exhibited at the Vatican. (GSR photo/Chris Herlinger)