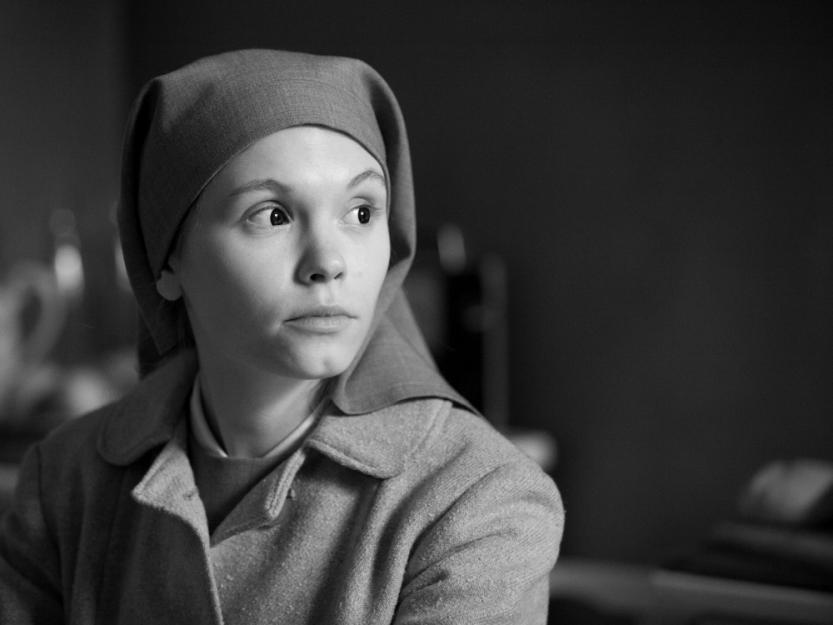 Ida/Anna, played by Agata Trzebuchowska, in a scene from the 2013 Polish film just released in the U.S., "Ida." (Courtesy of Music box Films)
The first world we see in the remarkable film "Ida" is that of a young Polish novice living in a cloister in the early 1960s – a quiet, serene and seemingly timeless place.
Yet almost immediately, because of the film's striking black-and-white photography and slightly off-kilter camera angles, the viewer comes to realize that there are other worlds (and shadows) lurking to command our attention – and the attention of Anna, the 18-year-old novitiate.
Few other films I have seen take seriously (and respect) the claims and beauty of the monastic experience while also not dismissing the pressures and tensions (and not to mention pleasures) of the world that abuts those who have embraced the monastic life.
Indeed, "Ida" – which has been playing in New York and is making the rounds of the independent movie circuit throughout the country, as well – is masterful in showing that these worlds are never really isolated from each other, ever.
I spoke of worlds. There are several here. There is the world of Anna's past and Poland's history, intertwined and always lurking in the background. Anna, sheltered and innocent, is a war orphan raised by nuns who looks like she has never questioned her life's circumstance. This begins to change when Anna's mother superior tells her that before Anna takes her final vows it would best if she visited her only known relative.
The meeting with the relative, an aunt named Wanda, is as much a jolt for the audience as it is for Anna, who is played with quiet but riveting reserve by the young actress Agata Trzebuchowska. Aunt Wanda's world is the world of a brusque, scarred and cynical hard-bitten Communist – an apparatchik and insider who has secured a real plum, a job as a judge.
In her personal life, Wanda (played with fiery defiance by veteran Agata Kulesza) is worlds away from her niece – she drinks and has unashamed sexual relations with men, for example. Wanda moves with a confident swagger. And, being the truth-teller she is, Wanda isn't afraid to tell Anna (spoiler alert) that, in fact, Anna is Jewish; that her real name is Ida Lebenstein; and that her parents were two of the many victims of the Nazi occupation of Poland.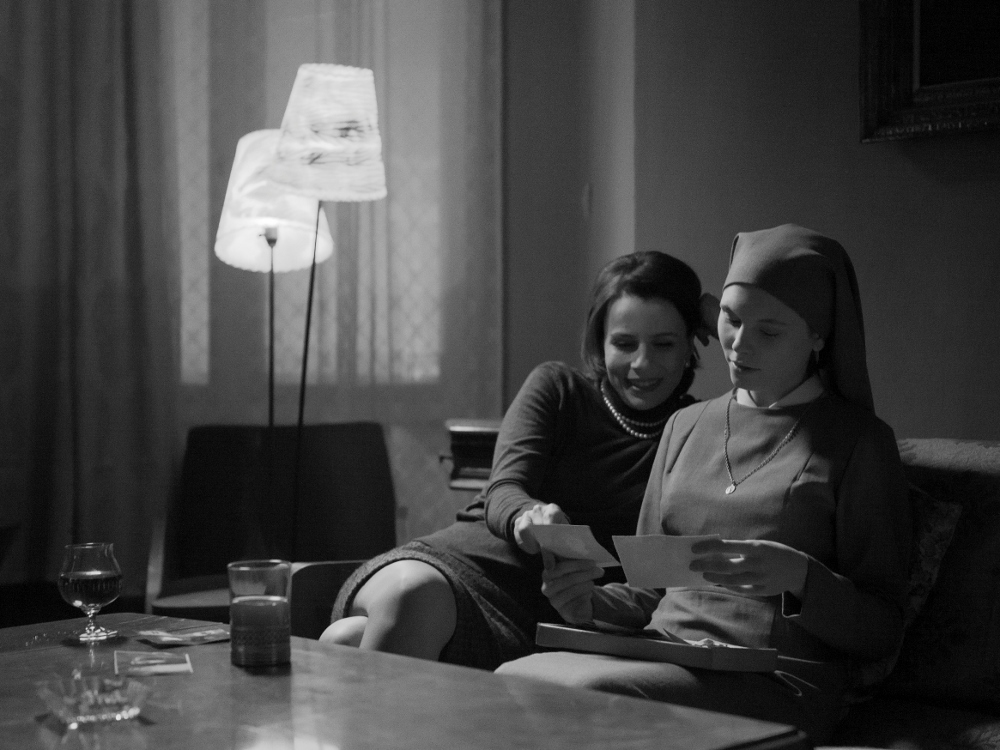 Wanda, Ida's aunt, played by Agata Kulesza, and Ida/Anna, played by Agata Trzebuchowska, reminisce in a scene from "Ida." (Courtesy of Music Box Films)
The startling revelation comes near the beginning of "Ida." What follows is the depiction of a ripening relationship between the two women. It is not an easy relationship. Wanda questions the veracity of Anna's religious faith and Anna is clearly uncomfortable with aspects of her aunt's life. Yet as the film goes on, there is a sense of growing respect between aunt and niece, particularly as the film takes on the world of journey – the journey to learn more about the fate of Anna's parents. (Some critics have compared "Ida" to a road movie. Not far from the truth.)
Here things turn wrenching, when the two women return to the family home, now occupied by a Catholic family, and eventually discover more than they probably wanted to about the fate of Anna's parents. These are among the most difficult parts of the film to watch, and a scene in which Wanda and Anna end up in a deserted and desecrated Jewish cemetery is particularly searing. The ultimate fate of Wanda is tied to these moments, and it is anguishing.
We see real change in Anna, though. We find this once-timid young woman being bold enough to postpone her final vows amid the changes and new experiences in her life. And in a short but remarkable and telling moment, Anna begins laughing at the solemnity displayed by some of the older nuns.
This hints at the world of the future – not merely for Anna herself but for entire generation of women who came of age in the 1960s. It becomes more explicit as Anna, during her journey with her aunt, begins a romantic relationship with a young Polish jazz musician who reveres John Coltrane. Some might find this romance – encouraged, of course, by Anna's aunt – as gratuitous. But, in fact, it is a sweet, warm and understated relationship and feels organic to the film's narrative.
There is just the right amount of ambiguity to the film's ending. Anna's world has changed so inalterably that her future is uncertain: Will Anna take her final vows? If she does, what kind of nun will she be? If not, what will she do? The Second Vatican Council, the cultural changes of the 1960s, the ultimate collapse of communism, the emergence of feminism and the papacy of a Polish pope all await this young woman.
In this striking and often beautiful film, Polish director Pawel Pawlikowski has given us much for reflection and much to savor. "Ida" respects the depths of both the Catholic and Jewish traditions and the choices that a young novice of the early 1960s might have, and could have, made. Our identities are always fluid, the film suggests. Anna would now be in her 70s. Who would she be? Would she be Sr. Anna? Or might she be known as Ida Lebenstein?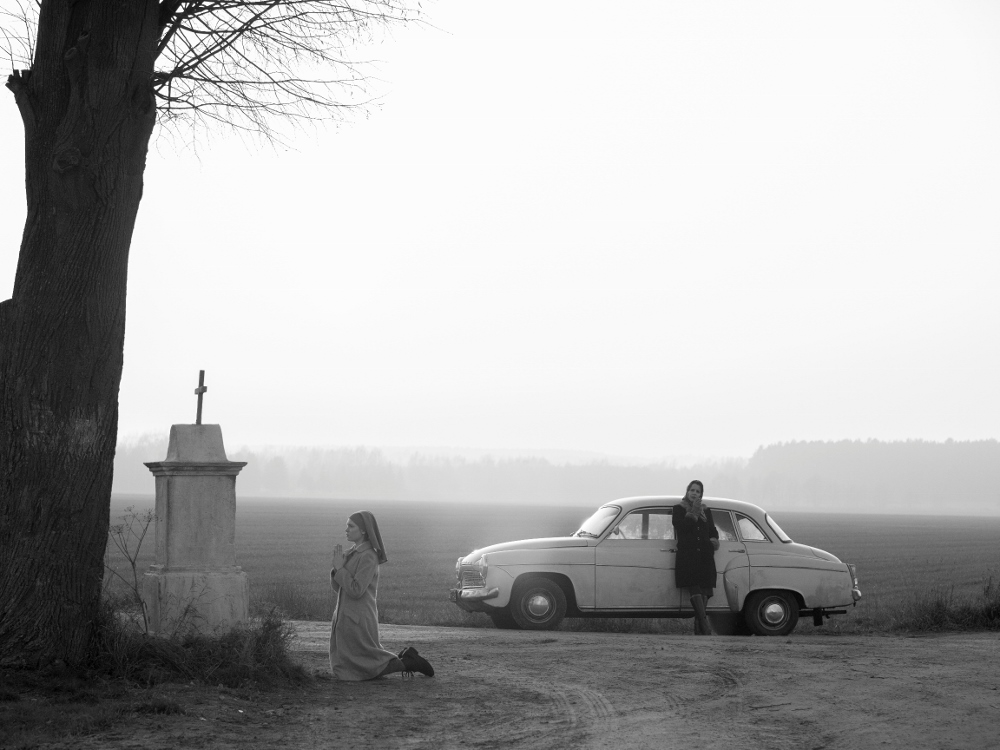 A scene from "Ida," showing Ida/Anna and her aunt, Wanda. (Courtesy of Music Box Films)
[Chris Herlinger, a frequent contributor to NCR on international and humanitarian issues, is a contributing writer to Global Sisters Report. He is also senior writer with the humanitarian agency Church World Service.]